Supermassive Games, developer of The Dark Pictures Anthology, has reportedly trademarked five new titles for upcoming projects in the franchise. As spotted by Gematsu, the European trademark filings also came with designed logos which may indicate the direction of each upcoming title.
The leaked names include:
The Dark Pictures: The Craven Man
The Dark Pictures Presents: O Death
The Dark Pictures: Directive 8020
The Dark Pictures: Intercession
The Dark Pictures: Winterfold
The only real oddity here is that O Death includes a 'presents' before its name, but fans have speculated this is because the game is inspired by classic Appalachian folk song 'O Death', which features a person begging Death (the entity) to spare them, even as Death sings of its power.
While the song is assumed to have been penned in the 1920s, it's since crossed over into modern popular culture, via appearances in TV shows like Supernatural and Altered Carbon. Weirdly, a version of the song also featured in Until Dawn, the game that inspired the Dark Pictures Anthology.
Whether or not this game has a connection to Until Dawn is a tantalising mystery.
The image included in the logo reveals little, but there is what appears to be a tarot card with a suited, faceless man on it. Potentially, this is meant to represent Death in one of his many guises.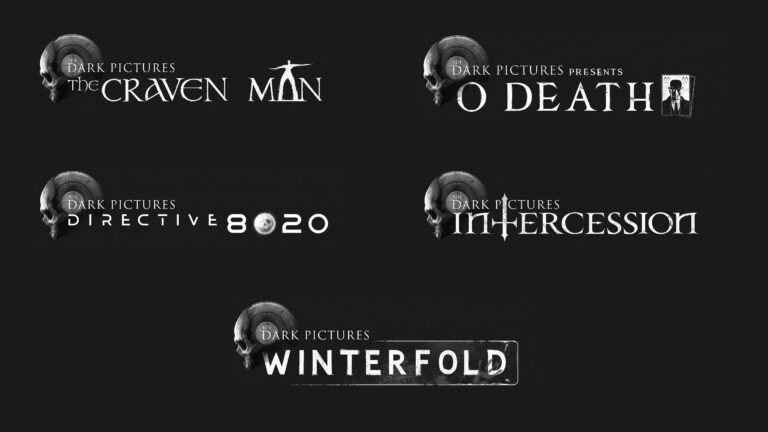 The Craven Man is a weirder logo – this one appears to show a tall, slim figure rising from the ground. It could be a thin man, or it could be an effigy for burning, reminiscent of The Wicker Man seen in the horror classic of the same name. This film is about a secluded village that practices a perverted, sacrificial form of Celtic Paganism.
The font bears a strong resemblance to The Wicker Man logo as well, making the connection between these titles stronger. Whether they do connect, or feature similar themes, is currently unknown.
Directive 8020 is the most different logo here – it features a glowing moon and a traditional 'sci-fi' font, which may indicate this entry takes place in space. There's certainly plenty of iconic horror films set in space, and this could be another chapter in the highly effective, often skin-crawling genre.
Intercession also seems to take inspiration from genre films, with the font and sword-like logo bringing to mind the European and Celtic monarchies of the 1400s and 1500s. This could be a complete guess, but a medieval setting seems likely, based on the design choices here.
Finally, Winterhold rounds out the leaked quintet. This logo features a frosty banner that appears to resemble a road sign, and has bloody/frosty fingerprints across it. 'Winterhold' has actually been mentioned in the Dark Pictures before, in a post-credits teaser in House of Ashes.
It appears to refer to a forest in the UK, which would align with the road sign look here. Given the Dark Pictures games are horror titles, we can expect the forest to come with a number of grisly secrets, should it feature in this entry.
While nothing is confirmed about these games just yet, there are a number of important context clues that could give fans an idea of what to expect. Going forward, there'll likely be a lot more news from Supermassive Games as it works on expanding the successful horror franchise.