Valve's Steam Deck was a revolution when it launched in early 2022. It changed the expectations of PC gaming, and inspired new demands for freedom. After years in lockdown, gamers didn't want to be tied to desks – they wanted gaming on the go. The ability to couch surf. To play games anywhere, even in the great outdoors. This shift has encouraged a new generation of handheld PC gaming consoles, as technology manufacturers rise to meet new demands. The ASUS ROG Ally is the latest device aiming to disrupt the status quo and compete with Valve's flagship gaming companion.
But with packed-in Windows 11 capability, and the ability to play games from Steam, The Epic Games Store, EA Play, Ubisoft Connect, Battle.net and other popular PC distribution platforms, more robust hardware specifications – not to mention that the Steam Deck is not available worldwide – there's a fair chance the ASUS ROG Ally already has a major leg up in the handheld PC race.
During a recent media preview, ASUS lifted the lid on the highly-anticipated console, revealing more about what keen players can expect. Here's everything we learned.
ASUS ROG Ally: Everything you need to know
---
ASUS ROG Ally: Confirmed Specifications
ASUS has now dived deep into the specifications of its upcoming ROG Ally device, detailing its hearty innards, robust graphics capabilities, and multi-function use. Here's what to expect from the major Steam Deck competitor when it eventually launches.
COMPATIBILITY
The ASUS ROG Ally will run on Windows 11, and as such, features compatibility with the following PC game platforms:
Xbox Game Pass for PC
EA Play
Steam
Epic Games Store
Ubisoft Connect
Battle.net
As mentioned in the recent media preview, everyone who purchases an ASUS ROG Ally will also get a free 3-month subscription to Xbox Game Pass, a service that runs natively on the console. Cloud features will be supported with the device's Wi-Fi 6E capability.
As an aside, the console's gameplay and functionality can be enhanced with other ASUS ROG devices. For example, a ROG gaming controller can be attached for easier controls, ROG gaming charger docks can be used to fast-charge the Ally and connect it via HDMI to a TV screen, and the XG Mobile graphics dock (which allows the attachment of graphics cards up to the newest 4090 GPUs) can also be hooked up for ultra 4K performance.
GRAPHICS
The ASUS ROG Ally will sport a custom AMD Ryzen Z1 APU processor with Zen4 architecture, RDNA 3 graphics, and RSR and FSR resolution compatibility.
Twin internal fans will aid meaty performance, and these are reportedly 'cool and quiet' thanks to ROG Intelligent Cooling systems. During the media preview, it was claimed that the device produces just 20-30dB of sound while playing your average game. An ASUS spokesperson claimed not to hear the console running at all during everyday gameplay.
DISPLAY
The ASUS ROG Ally features a 7-inch 1080p display with a 120Hz refresh rate, and compatibility with FreeSync. The screen is in the 16:9 aspect ratio, sports a 7ms response time, features an sRGB 100% colour gamut, and boasts a 1000:1 contrast ratio.
It can reach up to 500 nits of brightness, is protected by DXC Gorilla Glass, and is designed not to reflect poor lighting conditions, or retain fingerprints. With all these features, it should look pretty snazzy.
BATTERY LIFE
So far, the battery life of the ROG Ally has not been discussed by ASUS.
Stay tuned for more details on this particular aspect of the device.
AUDIO
The ASUS ROG Ally features virtual 5.1.2 channel surround sound powered by Dolby Atmos, and also supports Smart Amp and Hi-Res Audio technologies, which help boost sound quality and bass across the audio spectrum.
WEIGHT
The ASUS ROG Ally weighs 608 grams.
This was reportedly made possible by a rigorous prototyping process which allowed the ASUS development team to deeply analyse their builds. In this process, weight was trimmed from the internal console fans, and the top case was also hollowed out. As a result, the device is fairly lithe, and shouldn't put too much strain on hands.
To aid this goal, ASUS has also developed the chassis with a 2-degree angle, which will aid the overall ergonomic design and ensure gaming sessions are smooth and hassle-free.
STORAGE
The ASUS ROG Ally features 512GB of storage via a PCIe 4.0 SSD, as well as a MicroSD card slot which allows for additional storage expansion.
---
ASUS ROG Ally: Price and Release Date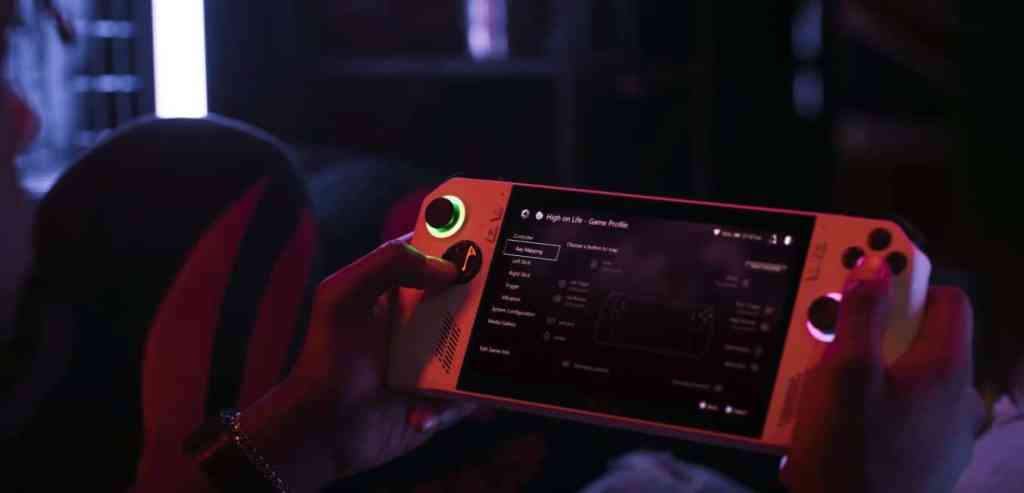 A specific price and release date for the ASUS ROG Ally was shrouded in mystery during the recent ASUS media preview – but clues were presented.
During the presentation, a ROG Ally 'launch day' celebration was announced for 11 May 2023. This was not specifically confirmed as the release date for the console, but we can assume the launch isn't far behind this global event.
As for the price, an ASUS spokesperson refused to comment on exact details, but did indicate the device would be under US $1,000. Stay tuned for a firmer answer – and what this means for pricing in your local region.
---
ASUS ROG Ally: Will it be available in Australia?
GamesHub is an Australian-based website, and as such, we have a vested interest in the status of local technology releases. While a global launch has not specifically been detailed by ASUS just yet, the ROG Ally is more than likely to launch in Australia.
As part of the device's global media preview, GamesHub was specifically contacted by a local Australian ASUS PR representative. This is a positive indication that ASUS plans to launch the device in the Australian market.
Given the Steam Deck has still not been released locally, ASUS will certainly have an opportunity to capitalise on a hungry and covetous audience that desires a robust, easily available handheld console.
---
Stay tuned to hear more about the ASUS ROG Ally as we approach launch. In future, ASUS will likely have much more to say about this hearty handheld, and where it sits in the modern gaming market.