Xbox Design Lab is finally launching in Australia and 10 additional countries around the world in June 2022. The launch of the service will bring controller customising capability to keen players who've waited literal years to get their hands on a custom creation. While the wait has been excruciating – nearly six years total since the service initially launched in North America and Europe – the good news is Xbox Design Lab is worth the wait.
As part of an early preview, GamesHub was able to jump into the local Australian version of Xbox Design Lab and play around with creating our very own custom controllers. My goal was to create the funkiest, most colourful design I could manage – while GamesHub editor Edmond Tran went for a more subtle, retro-inspired approach.
What resulted were two beautiful, custom Xbox controllers that perfectly represented the visions we had in mind.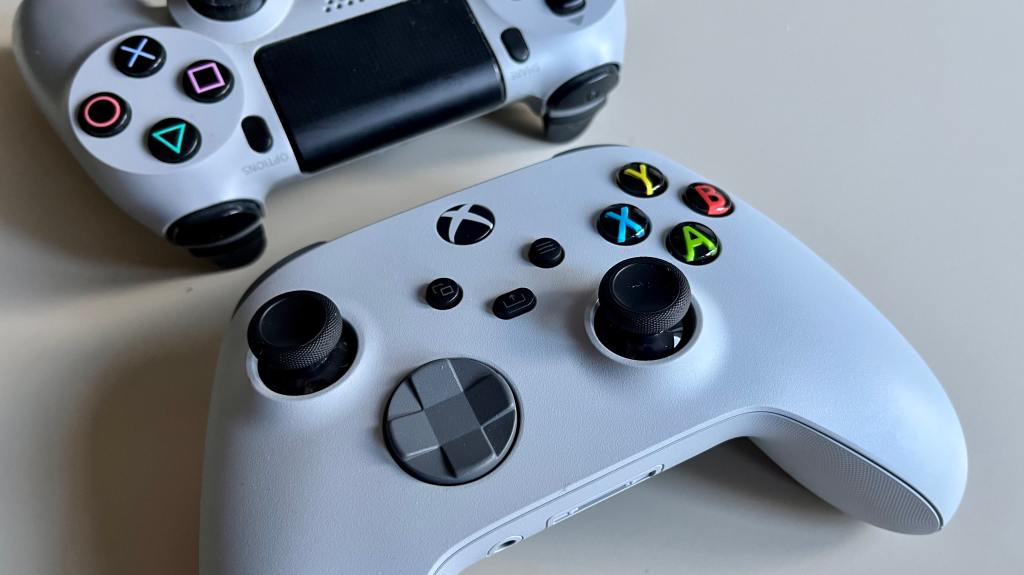 How to create your own custom controller in Xbox Design Lab
Xbox Design Lab rocks a very simple menu system that allows you to see changes to your controller with every new item and accessory you select. You can customise multiple parts of your controller body, from the colour palette to directional pads, joysticks, back buttons, hand grips, XYBA buttons, share buttons, and a personalised engraving.
Some of these options are available in metallics – purples, blues and others – while some are only available in colourful matte shades. But no matter which direction you choose to go, there's plenty of customisation available.
The palette choices for the controller body are particularly juicy, with 20+ options. While some align closely with existing controllers – and you'd probably prefer to purchase a retail version of a controller if the colour is freely available – there are some Design Lab exclusive shades, including coloured camouflage and the previously-exclusive Pride design.
The Pride design was the background I went with – not only for its gorgeous, eye-popping colours, but for its message: gaming is for everyone, as has always been the case. This design is actually a new addition to the store, launched in celebration of Pride Month, however, a similar version of this controller was previously an exclusive given to select influencers.
Read: Support queer game creators on itch.io this Pride Month
In addition to playing around with my controller's background, I also chose to add the following features, for a flash bit of pizzazz:
Hot blue joystick controllers
A named engraving
Purple metallic directional buttons
Purple metallic black bumpers
A black rubberised handgrip for comfort
For full disclosure, these controllers were gifted by Microsoft due to the nature of Xbox Design Lab's closed beta launch, but the final total of the custom controller, with the added additions (metallics, engraving and grips cost extra), came to AU $145.70 before shipping.
That's a fairly steep price – but when you consider that Xbox controllers already cost AU $99.95 at retail, the additional amount for a custom creation with extra bells and whistles isn't too unfair. For comparison, Edmond's retro controller above didn't opt into any metallic or rubberised options, and cost the usual AU $99.95.
How long Xbox Design Lab takes to ship to Australia
The entire process of creation was extremely smooth, and shipping to Australia took around two weeks – which is particularly reasonable when you consider the custom controllers are manufactured in China (at the same factory that manufactures retail Xbox controllers, we're told), which has been dealing with major coronavirus lockdowns for the last two years. Many warehouses are currently shut or operating at limited capacity, and the same goes for shipping routes – so again, a very welcome turnaround time, all things considered.
The controller arrived in pristine condition, and well-packaged in a custom box with a holographic controller logo that shines brightly in the sun.
Every part of the controller itself is equally impressive. The metallic components, which aren't available at retail, are appropriately shiny, every colour pops – the bright blue joysticks are rather fetching – and the custom name engraving looks sharp and stands out well.
It's an extreme novelty to have your own name printed on your controller – but it's a flex that's worth having, if you're willing to fork out the extra cash. Sure, it might be a little bit self-indulgent, but so is having a custom controller. You might as well go the full monty if you can.
Life is short – sometimes, a bit of novelty goes a long way. Having a custom controller certainly isn't a necessity, but it is a good bit of fun.
Xbox Design Lab launches in Australia, Japan, Korea, New Zealand, Singapore, Czech Republic, Greece, Hungary, Norway, Slovakia, and Switzerland in June 2022. When the service launches, you'll be able to jump in and customise unique Xbox controllers to your heart's content.
---
Be sure to check out all of our Summer Game Fest coverage to catch up on the game announcements you might've missed out on.
You can also view our wrap-ups for all the news from the Summer Game Fest kickoff showcase, the Devolver Digital showcase, the Xbox and Bethesda showcase, the 2022 PC Gaming Show, and the Capcom Showcase.