WWE 2K23 is officially set to launch on 17 March 2023 for PlayStation 4, PlayStation 5, Xbox One, Xbox Series X/S and PC via Steam. This year's edition of the annual franchise will spotlight 16-time world champion John Cena, with 2K Showcase mode set to focus on his impressive, long-running career. After a month filled with rumours and hearsay, we finally know more about what to expect when this series returns.
As in past years, WWE 2K23 will play host to a range of game modes, each providing new ways to play the game and spice up your digital wrestling career – whether as a General Manager guiding the modern generation of wrestling stars, or as your very own DIY wrestler in MyRISE career mode.
WWE 2K23 features an all-new 2K Showcase mode
This year's big series twist arrives in 2K Showcase mode, which features a franchise-first change to gameplay. Rather than playing as John Cena, you'll be working on taking him down. Each of the 14 matches included in 2K Showcase for WWE 2K23 will be inspired by an iconic match that's been lost by Cena in his career. As the 'final boss' of these encounters, you'll be tasked with conquering a real titan of the wrestling world.
Read: WWE 2K22 review – A phoenix rises from the ashes
'John Cena loses all of the historical matches in Showcase,' Dino Zucconi, Showcase Lead Designer at Visual Concepts told GamesHub of the unique game tweak. 'That's the kind of idea – never give up. It's easy to say when you're winning all the time, and you're preaching it to other people … we wanted John Cena to talk about what that meant, when he's lost a match, or he's lost a championship.'
'What did he have to do to regroup and keep going? That starts with his debut. He lost his first match on television, and you know, anyone can quit right there and go, "this isn't for me." Here we are, 20 years later, and he's one of the greatest of all time – so I think that really plays well. It's been a good mantra for him, and it just worked perfectly for us.'
While Cena's cover star slot may disappoint some fans, given he's been a frequent feature of WWE video games (last covering the game in WWE 2K15) – the timing was simply too perfect for Visual Concepts and 2K Games to pass up. This year marks the 20th anniversary of Cena wrestling for WWE. While he's become a part-time star on Raw and Smackdown recently, only appearing for one-off shows, celebrations, and special events like Wrestlemania, there's no doubt he's earned his place as the cover star of WWE 2K23.
Visual Concepts aims to celebrate his achievements with this accolade. While there's typically debate around each game's cover star, it was reportedly easy for the team to decide on this year's lucky face.
'We usually meet up to have a few talks and whittle it down to who we think is the best person for this year,' Zucconi said. 'A couple of years ago, we did the first women's Showcase. Last year, I wanted to focus on Rey Mysterio so we could do a little Lucha Libre shout out. This year, it just seemed right, with John Cena celebrating 20 years of WWE.'
'Our first John Cena Showcase was really based on a certain feud [John Cena vs. CM Punk] and it didn't hit all these major beats. Now, we're going back to his debut, all the way to SummerSlam 2021 … we're going to lean into [the fact that] John Cena is the baddest dude in WWE for the 2000s – he's the number one guy. He's held every championship you can imagine … he's just been that high watermark, so we wanted to showcase that greatness by making him the big, bad boss.'
To face Cena, you'll embody a range of opponents, each with their own finishing moves and specialties. While the 14 included matches in Showcase mode have yet to be detailed, we can expect plenty of tenured wrestlers in the mix.
WWE 2K23 will include a freshly updated roster
Beyond the flagship 2K Showcase mode, WWE 2K23 will also integrate new modes, and new wrestlers. WarGames is the standout debut feature of the lot, with this unique match type allowing players to take part in 3v3 or 4v4 single and multiplayer action, set across two rings. This should help keen players live out their NXT and Survivor Series dreams, complete with new interactions and multi-ring mayhem.
Another change from the stellar WWE 2K22 will be seen in the game's roster. WWE 2K22 ran into the issue of being outdated by the time it released, as a tough year of budget cuts and wrestler redundancies reshaped the roster too late for the Visual Concepts team to make extreme changes.
'Anytime the roster changes, it creates challenges for the dev team,' Lynell Jinks, WWE 2K Creative Director explained. 'When you're working on a yearly title, we try to lock the roster down sooner rather than later, so we can actually start in production – we gotta go get mocap. We gotta build the attire that they're wearing, get audio lines – everything that goes into creating. It creates really tough decisions for us, to figure out how to get these fan-favourites and new additions into the game. Sometimes, people don't make the cut on time.'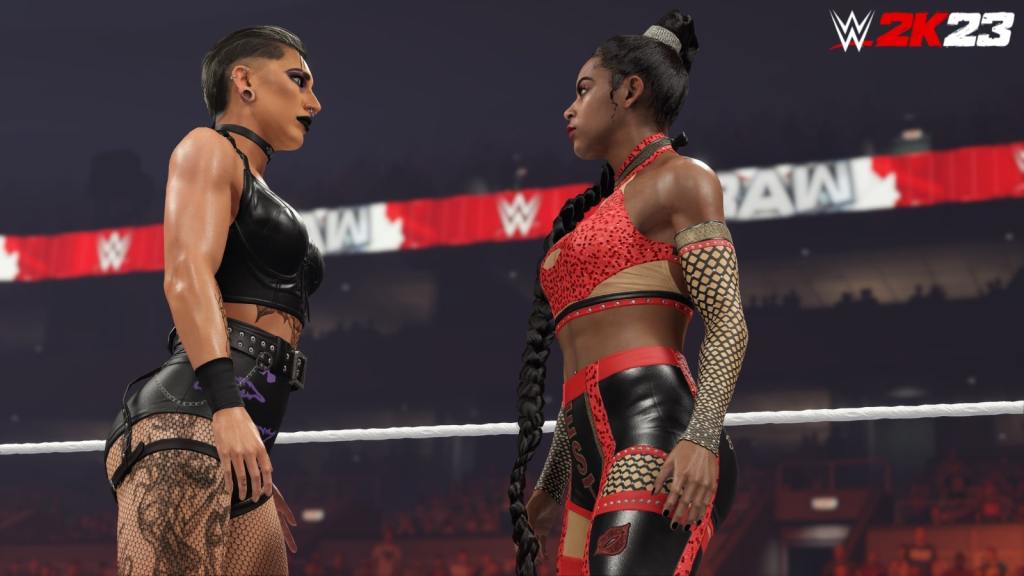 'We're open to any type of return,' Jinks said, jokingly. 'As long as it's within our timeline and our schedule. It's basically [about] just working with the WWE [and logistics]. At some point, we have to start working on next year's title.'
While Visual Concepts is able to remain swift with many of its character choices, forming attire and placing wrestlers in MyRISE career mode in an appropriate form, the fast-paced events of WWE do occasionally provide an obstacle to the team.
Despite this, and despite the quick turnaround between WWE 2K22 and WWE 2K23, there are plenty of new, fan-favourite wrestlers that have made the cut for this iteration of the game. Cody Rhodes, who notably just missed out on inclusion last year, will be fully playable in WWE 2K23.
Bad Bunny, the award-winning Puerto Rican music artist and phenomenal guest wrestler in WWE, will also appear in WWE 2K23 as a Deluxe Edition bonus – a well-earned spot, after several impressive showings in major WWE events. He'll join fellow stars like Roman Reigns, Brock Lesnar, Drew McIntyre, and 'Stone Cold' Steve Austin on the roster, which has yet to be revealed in full.
WWE 2K23 Editions and Pre-Order Details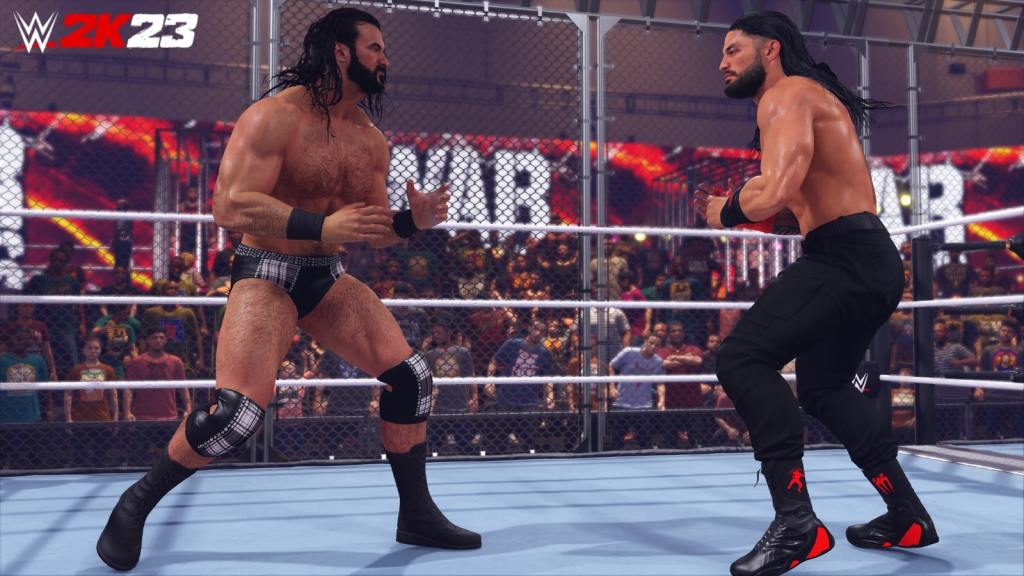 Those keen to get their hands on WWE 2K23 will have a variety of options for purchasing the game, as detailed by 2K Games. Here's every major edition to expect when the game launches on 17 March 2023:
Standard Edition – Available for current and previous-gen consoles in physical and digital format.
Cross-Gen Edition – Available digitally between PlayStation and Xbox consoles, for AU $119.95.
Deluxe Edition – Available for current and previous-gen consoles in physical and digital formats. Includes Bad Bunny Bonus Pack, Season Pass (includes five post-launch DLCs), MyRISE Mega-Boost and Super Charger, Ruby John Cena MyFACTION Evo Card, Gold Edge MyFACTION Card, Emerald Bianca Belair MyFACTION Card, Gold Asuka MyFACTION Card, three Basic Premium Launch MyFACTION Card Packs. Available early, from 14 March 2023.

PlayStation 4, PlayStation 5, Xbox One, Xbox Series X/S, Windows PC – AU $149.95
Icon Edition – Available for current and previous-gen consoles in physical and digital format. Includes all content from Standard and Deluxe Editions, as well as the Ruthless Aggression Pack 'celebrating 20 years of John Cena's WWE career by featuring John Cena's early "Prototype" character, as well as "Leviathan" Batista, developmental rookie versions of Brock Lesnar and Randy Orton, the John Cena Legacy Championship and WrestleMania 22 Arena.' This also includes an Emerald Paul Heyman MyFACTION Manager Card, and three Deluxe Premium Launch MyFACTION Card Packs. Available early, from 14 March 2023.

PlayStation 4, PlayStation 5, Xbox One, Xbox Series X/S, Windows PC – AU $179.95
WWE 2K23 launches for PlayStation 4, PlayStation 5, Xbox One, Xbox Series X/S and Windows PC on 17 March 2023.
GamesHub has affiliate partnerships. These do not influence editorial content. GamesHub may earn a small percentage of commission for products purchased via affiliate links.