Blizzard has formally announced its first video game designed specifically for mobile devices, after its existence was briefly mentioned earlier in the year. Warcraft: Arclight Rumble is the developer's take on mobile tower defence games, and puts a unique twist on the real-time strategy roots of the Warcraft series.
It also represents what appears to be a concerted push into the lucrative mobile space for the storied but currently embattled developer – in tandem with Diablo Immortal – and also happens to be the developer's first foray into a whole new kind of genre since 2016's Overwatch.
Taking place on a portrait-oriented battlefield, Blizzard describes Arclight Rumble as a 'tower offence' game. The goal is to build units to send onto the battlefield, to break through waves of enemies and structures to eventually defeat the leader unit on the other side.
Units are funded by a currency that gradually accumulates and can be harvested on the field, and have natural weaknesses and strengths in a familiar 'weapon triangle' concept – melee units beat ranged, ranged units beat flying, and flying units beat melee.
There are over 60 units from the Warcraft universe for you to create your team from, a lengthy single-player campaign full of bite-sized missions, as well as cooperative and competitive modes.
Arclight Origins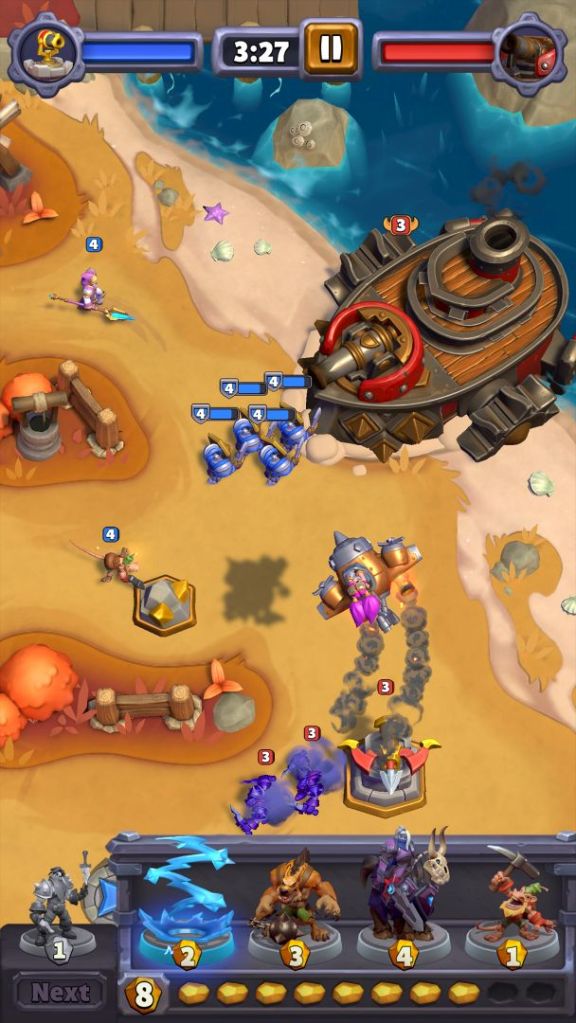 According to Tom Chilton, game director on Warcraft: Arclight Rumble, the idea has been kicking around for a while. He cites an obsession with GungHo's Puzzles and Dragons as the spark, a mobile game that was legitimately engaging on a mechanical level; something that didn't rely on a rote series of daily tasks to advance progression for the sake of it.
As the team at Blizzard finished up work on the Legion expansion for World of Warcraft in 2016, mobile games like the cartoonish tower defence game Clash Royale were beginning to take the App Store charts by storm.
With the more playful and microcosmic side of the Warcraft universe already well-established by Hearthstone, injecting their brand of playful fantasy into a mobile strategy game like Clash Royale seemed like a no-brainer.
It's been years since that point in time, however. Chilton cites an internal passion for the idea that helped keep it alive to get to the point of closed beta, where the game sits today.
'We're at our best when we create games that we have a passion for, and a very specific idea for. When we saw other MMOs. we thought to ourselves, "Wow, we could really create an MMO that can advance the genre"'. And now we have a clear vision for how to advance this genre.'
Art-light Rumble
If there's one thing that benefited from the years spent in production, it's the strong visual aesthetic that Arclight Rumble has adopted. Taking the concept of the 'game within a game' from Hearthstone, the action of Arclight Rumble takes place in a kind of meta pinball cabinet within the Warcraft universe.
Like the user interface of Hearthstone, the one seen in Arclight Rumble has a strong sense of physicality – its fictional origins in Gnomish engineering means that plenty of wooden panelling, iron plates, and moving cogs gives the game a satisfying crunchiness that makes navigating the menus its own unique and tactile experience. The Arclight team is largely made up of artists, and it shows.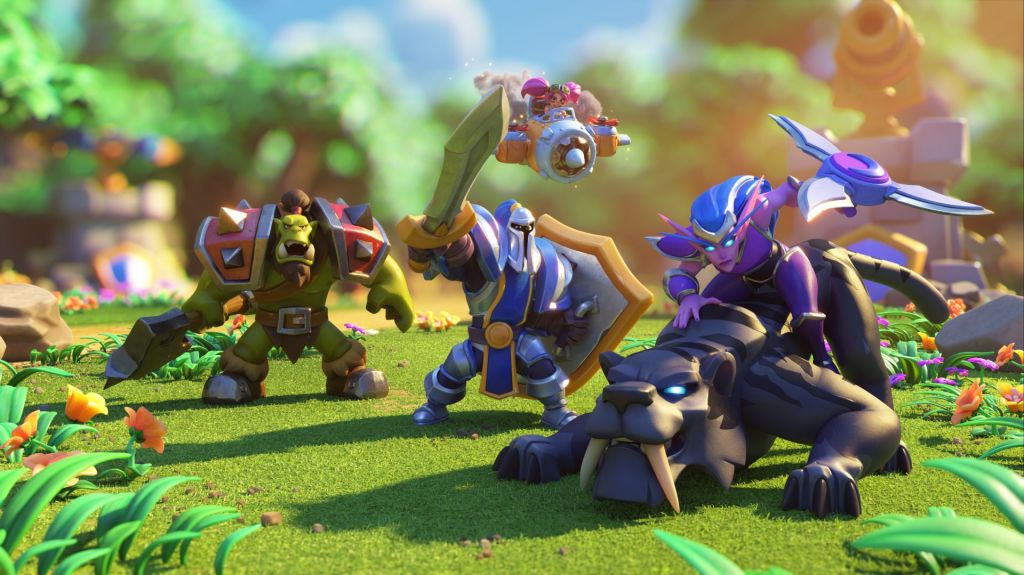 Key to the action is the mini-figures, which represent the game's units, and take on a decidedly toys-to-life aesthetic. Initially appearing in the game as static objects, they spring to life when thrown down into the playfield – think the physical NFC figurines of Activision Blizzard's Skylanders series, or Nintendo's Amiibo.
'These are toys,' said Justine Hamer, Senior 3D Artist. 'We really wanted players to feel like they were able to reach in and grab them, to say "You want to play with these."'
Though the real-world toys-to-life is largely on hiatus since its mid-2010's heyday – which, coincidentally, was about the time when development on Arclight Rumble was beginning in earnest – it's clear this approach has brought back some interest in the real-world figures.
'We definitely have members of the team who have been printing their own versions from the (in-game 3D) models. I can't speak to the future, but it would be really great if we could show off all the hard work that the character artists have been putting into it, because everything looks really good.'
The result is humorously playful and expressive, a style that serves both to charm and act as clear visual indicators to easily interpret the action on the platform (small mobile devices).
'We wanted this to be a game that anyone could pick up and really engage in the gameplay, where previous knowledge of Warcraft wasn't necessary', said Justine Hamer, Senior 3D Artist on Arclight Rumble.
The game is designed so that it's easy to pick up what each of the 60 Warcraft units do, just by virtue of seeing them on the battlefield and going through the motions. Even though the tutorial doesn't specifically give you a rundown of each of the units, it's something the developers hope those unfamiliar with Warcraft will easily pick up via play.
What mobile-first development really means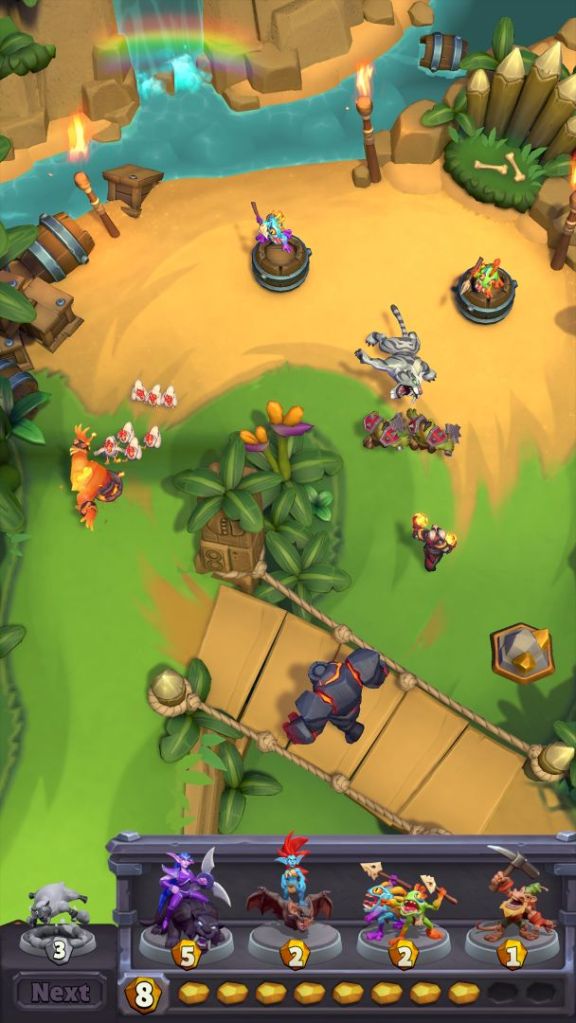 Blizzard says Warcraft Arclight Rumble was developed as a mobile-first title, and it certainly feels that way – everything from its bite-sized mission time of (roughly) 3 minutes, to its portrait orientation, and its careful balance of interactive and automated gameplay elements.
Compare this with the yet-to-be released Diablo Immortal, which translates Blizzard's action-RPG experience for phones, but keeps its grips firmly on that traditional gameplay experience, and was announced to be coming to PC anyway.
With mobile development comes a number of other considerations, including the fact that people interact with their phone differently. How do you design a strategy game that people can be playing one-handed, without sound, while standing on the bus? How do you also make it engaging enough for people who have taken the time to fully immerse themselves with headphones and an hour on the couch?
'It was a very interesting learning experience for us', said Chilton. Not being able to rely on audio cues for gameplay mechanics, strict UI constraints, and the screen resolutions of the most common devices were all restrictions they had to take into consideration to craft the most optimised game possible.
'The space constraints end up driving a lot of design decisions,' Chilton said. 'The size of the maps that we have are very much predicated around what works on a phone, and we really tested the thresholds where the player started to feel like they needed a minimap to find out what was happening off-screen.'
Harmer added, 'And also making sure that each mission was only a short burst of time,' referring to the 3 minute limit on most missions, suggesting it was the minimum amount of time to make play engaging enough, complete with ebbs and flows to the action. As with any game, the experience is frustrating if you have to leave it prematurely, but you can keep stacking more missions on your plate if you desire.
The monetisation philosophy
The long history of Blizzard means that virtually all of its properties are beloved by fans all over the world – especially in Asian countries, where gaming tastes can often differ dramatically to those in the west.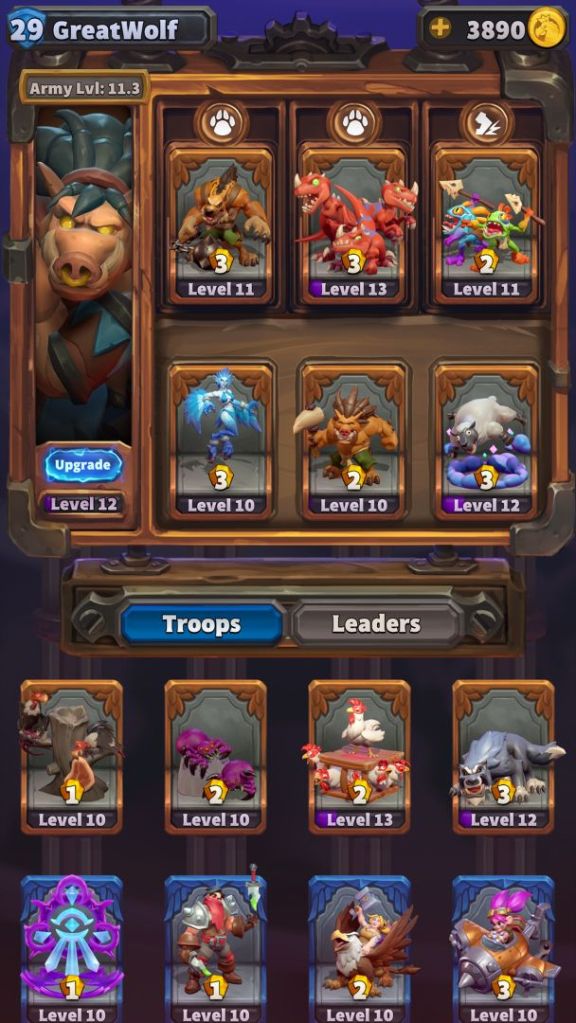 But in catering to a global audience, and with Warcraft: Arclight Rumble's mission to reach players who aren't Warcraft fans, Blizzard has also run up against different global attitudes in terms of what is acceptable in mobile games in terms of monetisation, progression, and randomisation. Models which are more or less acceptable in some countries are often seen as unscrupulous or predatory in others.
Chilton didn't want to speak specifically to the model currently in Arclight Rumble, since the game was still in beta and was constantly being tweaked, but offered this philosophy:
'At Blizzard, we tend to be more free-to-play hostile, and we know in a lot of ways, our fan base is too. It's a very delicate subject. So we tend to approach it very much from the lens of "longtime PC gamers", and what are those expectations?'
'There's certainly times where games become predatory, but it's always been a value of our team to try to make sure that we are an ally of the player,' said Chilton.
Blizzard's Overwatch was one of the key examples put in the spotlight in mid-2016 as part of the controversy around randomised loot boxes, which players could purchase – though Overwatch's loot boxes didn't contain items that altered gameplay, unlike other offenders.
'Hopefully players will feel like we're, first and foremost, trying to make a game that is awesome and fun to play, whether you're paying $0 or whether you're paying… whatever.'
Blizzard have not revealed any final details about whether Arclight Rumble itself will have an upfront cost, or will adopt a free-to-play model. Those details will presumably arrive closer to the game's full release, the time of which is also yet to be pinned down.
For those eager, Warcraft Arclight Rumble will soon be launching on mobile iOS and Android devices in beta for players in select regions. Visit the Arclight Rumble website for more details.