The Sims 4 Growing Together expansion pack aims to shake up how players can interact with their Sim families. Using the pack, players will be able to raise babies from birth, shaping their teenage years and adulthood with positive memories, holidays, and other memorable Milestones. Adult Sims will also have to deal with annoying older relatives, and determine how their family operates as a unit. For the first time, growing a family in The Sims 4 will be cohesive, and guided by memories, activities, and growth.
Here's every major new feature arriving in the Growing Together expansion pack, and how these inclusions will change the way families can be played in The Sims 4.
---
The 'Infant' life stage will play a major part in Growing Together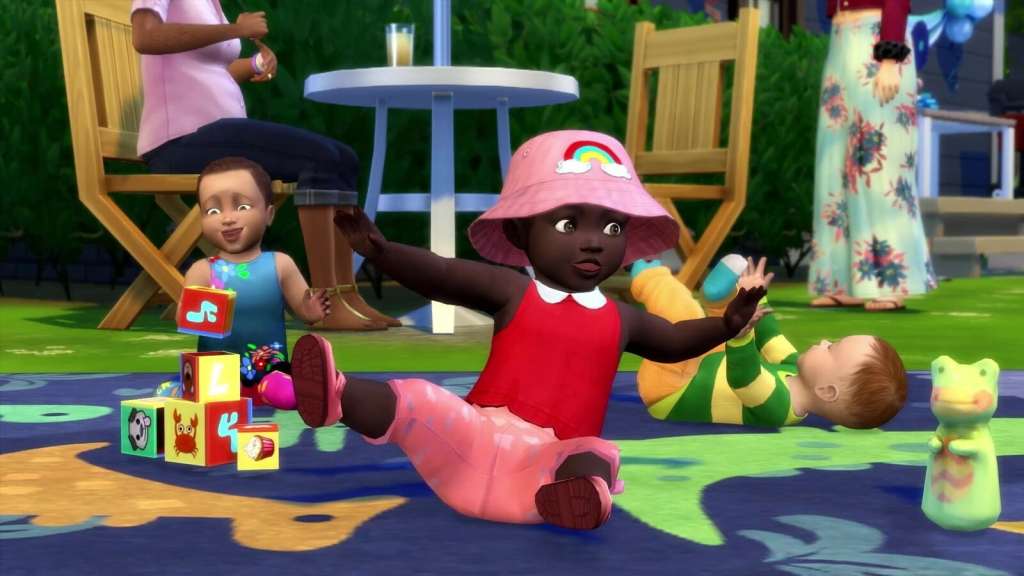 As detailed in a recent livestream, the upcoming free 'Infants' update for The Sims 4 will change how Sims can raise children massively. Infants are completely new to the game, and they arrive with their own personalities, and needs. Players will need to change diapers to keep infants happy, while also teaching them life skills and playing with them. They're strongly dependent, and need plenty of care. Infants grow by earning various gross motor and fine motor skills, and by hitting major milestones.
Here's a quick rundown of other details about infants and children in The Sims 4 Growing Together and the upcoming base game update:
There are 18 infant quirks players will discover, with each changing infant behaviour.
Toddlers will also have 18 new quirks that change their behaviour.
Infants will be defined by a starting trait: Cautious, Intense, Sensitive, Wiggly, Calm, or Sunny.
Infants can be picked up and carried with new carrier items.
Children will get four brand new aspirations in Growing Together – Slumber Party Animal, Mind & Body, Playtime Captain, and Creative Genius.
The pack introduces the Baby Shower event.
New items included in the base game infants update include a big plush llama, new bassinets, high chairs, lamps, and new toys including a rattle, squeaky toy, and a plush elephant, baby gates for toddlers, four new crib types, and a travel crib.
There is a new 'Science Baby' feature, which allows players to have a child without WooHooing.
---
Infants have plenty of customisation options
In Create-A-Sim, players will be able to customise their infant to an impressive degree. There are new skin tones available for infants and toddlers now, as well as a variety of hairstyles and accessories. You'll be able to dress your infant in cute outfits, including an adorable parka, and fluffy bear and duck costumes. Those with the Nifty Knitting pack will be able to create even more cute outfits.
The infants updates also introduces new scars – stork bites – which can be applied to Sims in all life stages. They will fade as infants grow.
This impressive level of customisation extends to infant personality traits, which determine how infants interact with the world, whether they enjoy certain foods, and how fussy they are. It will also determine their relationships with any pets in the household, as infants have unique interactions with animals.
---
San Sequoia is a peaceful new town packed with activities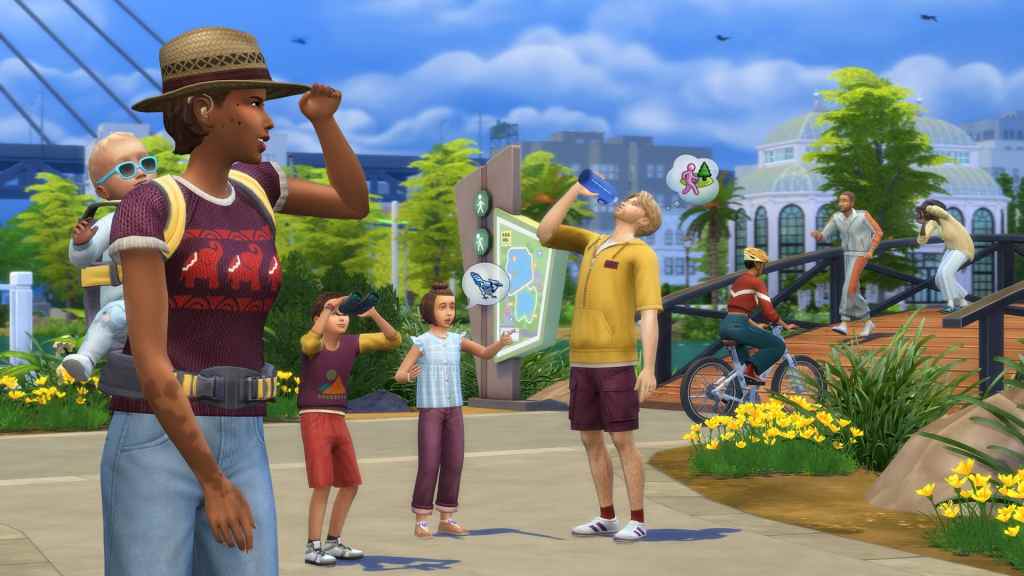 The Growing Together expansion pack will introduce players to San Sequoia, a new bayfront town filled with family activities, open space, and plenty of gorgeous sights. The town contains an urban park to explore, a library filled with children's books, a movie theatre, a water park, and plenty of other places to enjoy.
Various activities and new family interactions will be introduced in Growing Together, to enhance San Sequoia and its surrounds. Elder Sims will be able to power walk through their local park, or take on a calming puzzle to relax. They can also look after a new 'keepsake' box, or use their time wisely by choosing a favourite grandchild.
Meanwhile, younger Sims will be able to build and play in a treehouse with their families, splash on new splash pads, learn to ride a bike, use sleeping bags at slumber parties, and make friendship bracelets, amongst other new activities.
---
New objects included in The Sims 4 Growing Together
The Sims 4 Growing Together includes a number of new objects, largely focussed around entertaining children, caring for infants, and forming new memories. These include:
A new swing set
A bear-themed mini activity gym
New playing mats
A new toy box and board game decorations
Rideable bikes for children
New splash pads and slides
A giant customisable treehouse, which can function as a miniature house
As always, a new range of basic items (decorations, chairs, tables) will also be included in this pack.
---
Milestones are being introduced in Growing Together
Milestones are a major new feature introduced in Growing Together. They will track the growth of your current Sims, with some achievements providing object rewards – certificates, and other memorabilia.
A wide variety of existing events, including finding love, running into career obstacles, and making a new friend, will provide Sims with milestones. These will be tracked in a special Milestones tab, with each recorded as they happen. Milestone categories include: Firsts, Life, and Social.
Sims will remember these Milestones, and they will occasionally pop up in their memories or current moods. For example, if a Sim loses control of their bladder in a particular location, they may remember this incident when they next visit that location.
New family dynamics will determine togetherness
'Family dynamics' are another major focus of Growing Together, with these shaping how your family interacts, and whether or not they actually like each other. Your social likes and dislikes will become part of this system, and contribute to the formation of new dynamics.
Some family members can be ostracised if they're weird or unlikeable, and others can become close companions. You can determine the level of drama in your family, and whether or not your relationships are harmonious and 'Compatible'.
When creating your family, you'll be able to set these dynamics for yourself – with options ranging from 'Supportive' to 'Difficult'. These will also be shaped by new Sim Characteristics and Conversation Topics 'Likes and Dislikes', which can be set in Create-A-Sim.
On the surface level, it appears this system has the potential to make or break your Sim family. Whether they survive the incoming heartbreak and turmoil will be up to you.
---
The Sims 4 Growing Together Release Date
The Sims 4 Growing Together expansion pack launches for PC and consoles on 17 March 2023. It will be preceded by the base game 'Infants' update on 14 March 2023, which will free the baby from the bassinet, and introduce a new playable life state.