"The goal with this game is to have people just constantly surprised," Johnathan Biddles, co-founder of All Possible Futures and designer on The Plucky Squire, recently told GamesHub. "All the way through, they're like 'wow, wow, wow' – everything's just always surprising them, with new things all the time."
While it's easy to say in theory, The Plucky Squire managed to achieve this sense of delight with a careless ease, in a 40-minute game preview session charting its fourth chapter. While the demo was guided, rather than hands-on, the early glimpse at the game solidified the ambition and creativity backing the journey.
Heart of whimsy
In this hybrid 2D-3D adventure, you play a hero named Jot – pure of heart, talented with a sword, and blessed with a winning streak against the villainous Humgrump. But when a moment of clarity strikes, the Humgrump achieves sentience, and finally understands his place in the world of Jot's book. As a villain, he will always lose – so he sets about changing the story, unleashing a powerful magic that pulls him from the book's pages and allows him to explore the 'real' world.
As you'd expect, chaos results as Jot's heroic adventure is suddenly in peril – and the young hero must learn how to free himself from the pages of his book to tackle the Humgrump and prevent him from changing destiny.
Read: The Plucky Squire is an adorable platformer from former Pokemon dev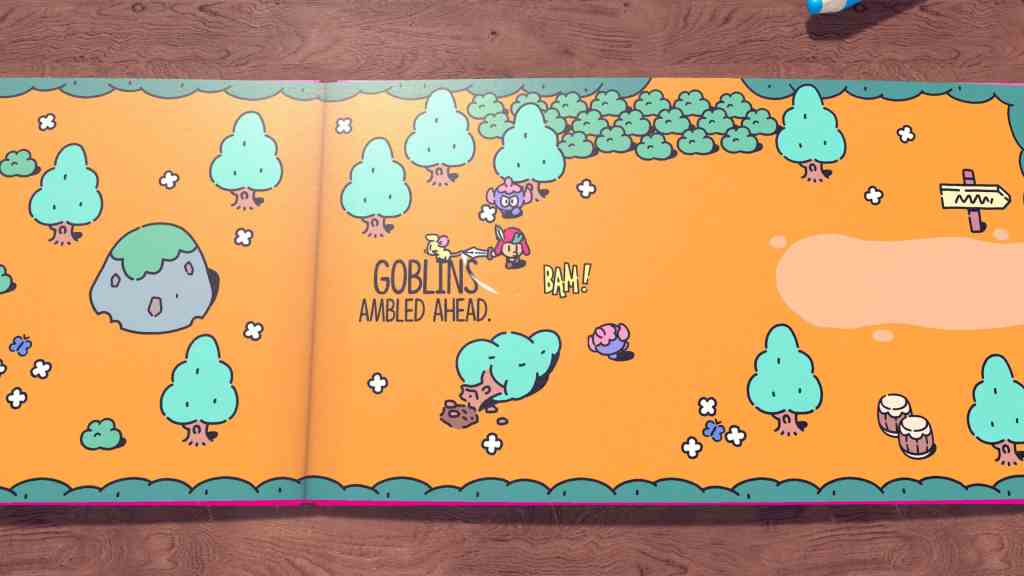 According to Biddles, the idea for the game's main story and innovative mechanics arrived in rapid succession. It began with All Possible Futures co-founder James Turner (a veteran of the Pokemon franchise) pushing for a game about a living book, with a storybook-like art style.
"We had this 2D thing, and a 3D book. What we needed to do is meld those two – so we wondered, 'what if you can leave the book, and get onto the desk.' I've done a lot of pitches and creative ideas across my career – and I've never had a gift like that before, just kind of come up and you know straight away that this is one of those ideas that was sitting somewhere to find."
From this initial concept, ideas for The Plucky Squire flew. Turner and Biddles questioned the nature of books, their level of interaction, how players would explore both 2D and 3D worlds, and what it means to manipulate a living story.
"We just took the idea and ran with it," Biddles said. "We went a bit too fast and had to bring it back in, because there's just too many things that are possible – but that's really where it came from." In the creative process, some ideas were left on the cutting room floor, like the potential ability to portal through copies of books to new worlds, but in harnessing a core, solid heart, The Plucky Squire began to take shape.
The power of the storybook
Our early glimpse at the Plucky Squire showed off a game with plenty of promise. By the fourth chapter – and very mild spoiler alert here – Jot has become self-aware, harnessing the ability to exit his storybook under his own steam.
This translates to a seamless transition between 2D and 3D worlds. Jot simply heads to the end of a page on the 2D storybook, rendered with colourful pastels and a cartoonish art style, and he 'pops out' onto the table that occupies the game's 3D world.
Read: For Devolver Digital, developer freedom and creativity is key
The process for achieving this transition is complex. In conversation with GamesHub, Biddles described it as an exercise in balancing in-engine sub-levels, which he described as "different worlds that you bring into the main world."
"We have one main level, which is the desk, and it's all 3D and everything on it," he said. "We have the outside [out the window] that changes based on the weather, and we have arrangements on the desk that change every chapter … Just sitting above the room, there is actually another 3D space. We basically take the data and we draw it to a texture that's actually projected in 3D onto the page."
That data is drawn onto the mesh of the book, allowing for a seamless marriage between the game's 2D and 3D worlds, which mirror each other.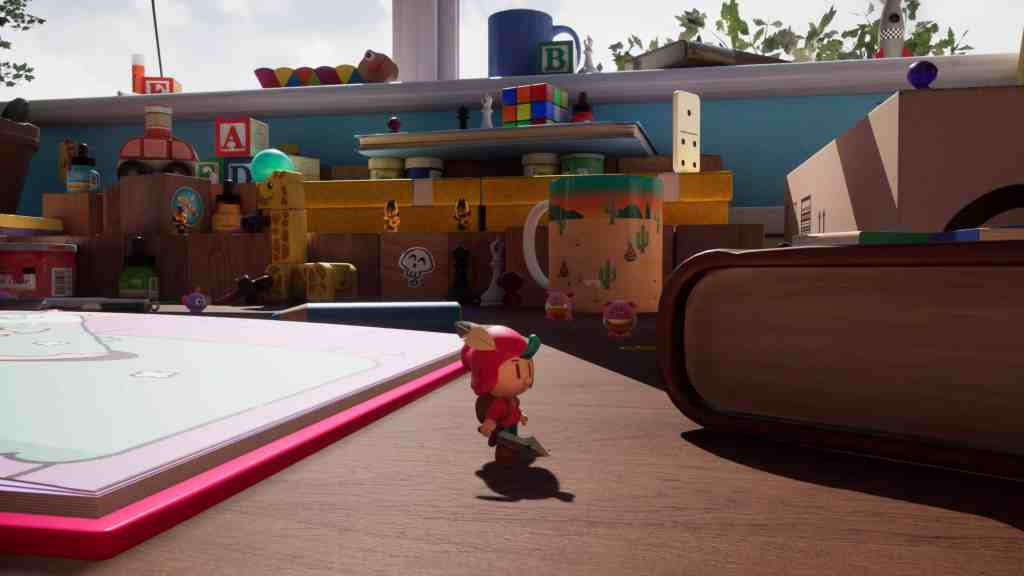 In the 2D world, Jot wanders a gorgeous and whimsical fantasy landscape filled with adorable creatures, like talking frogs. It's an ever-changing world, and one that adopts mechanics similar to indie hit, Baba Is You. As Jot wanders, he'll come across a range of environmental puzzles and blockages that can be changed by collecting and swapping out descriptor words.
A small lily pad won't help with crossing a flooded stream – but grabbing the 'large' text from another sentence in the storybook and swapping the words allows the world to shift to Jot's desires. As Biddles describes, this system will be expanded in the final version of The Plucky Squire, with players able to reshape Jot's world with a variety of adjectives – some helpful, some silly.
"If the sentence makes sense, we want something to happen," Biddles said. In that way, players can manipulate the 2D environment by jumping in and out of pages, collecting words, storing them, and eventually finding exactly the right effect.
An abundance of surprises
Beyond this creative wordplay, the 3D world of The Plucky Squire allows Jot to venture through toybox dioramas with platformer-like gameplay. In a way, these segments make The Plucky Squire feel like a game of two halves.
Within the storybook, you're fighting for peace in an immaculately presented, cartoon world. On the desk, you're taking on more ambitious challenges with real-time (and some turn-based) battles, as well as environmental puzzles seemingly inspired by The Legend of Zelda: A Link Between Worlds, and its 2D drawing-themed exploration.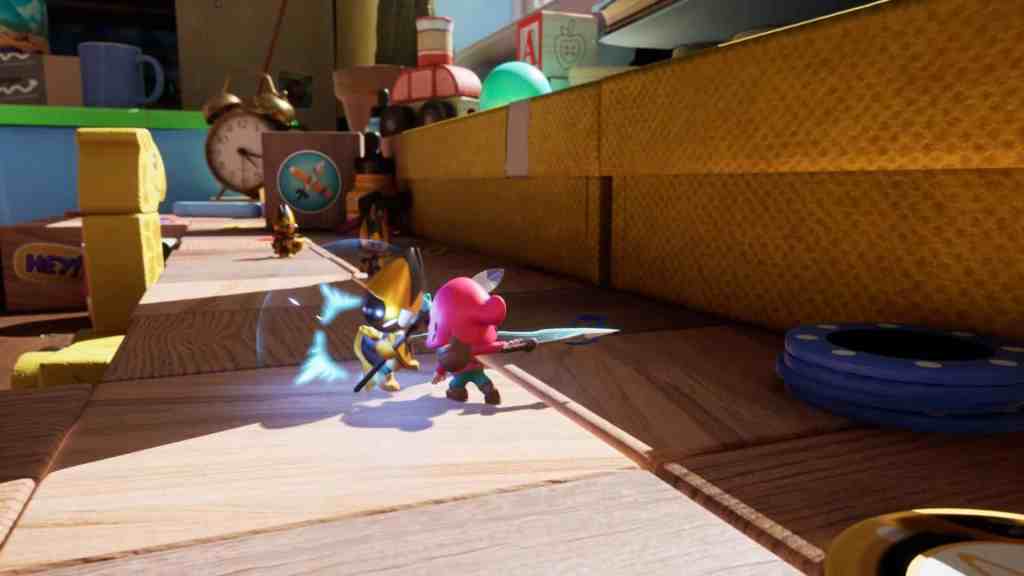 It's also in this 3D world that The Plucky Squire reveals some of its greatest surprises. One memorable segment shown off in the preview sees Jot facing off against a magical elven warrior, who takes the form of a Magic: The Gathering-like playing card.
On encountering the card, Jot attempts a friendly conversation to gain the aid of her bow – but the encounter soon turns hostile, with the action zooming in as a Pokemon-like turn-based battle with words begins. Rather than attacking, Jot must converse with the warrior, placating her until she joins his cause. Through this dialogue, he gains the use of a magical bow – which can then be transferred into the 2D plane and used for a variety of fun mini-games.
While not implemented for the gameplay demo, Biddles indicated that items collected from the 'real world' will maintain their art style in the 2D realm, allowing for a neat mishmash of art styles that speak to Jot's wild adventures.
Culminating the journey
During our early look at The Plucky Squire, the game's lofty ambitions and sense of ingenuity were clear. It's a game that's tough to relate to others in the genre, with its compelling mix of mechanics, story, and gameplay solidifying it as an original and compelling project.
Speaking to GamesHub, Biddles put much of the game's mainstream attention and social media success down to the work of James Turner, who he calls "a genius" – but it's clear the meshing of multiple talents has contributed to making The Plucky Squire feel like a breath of fresh air.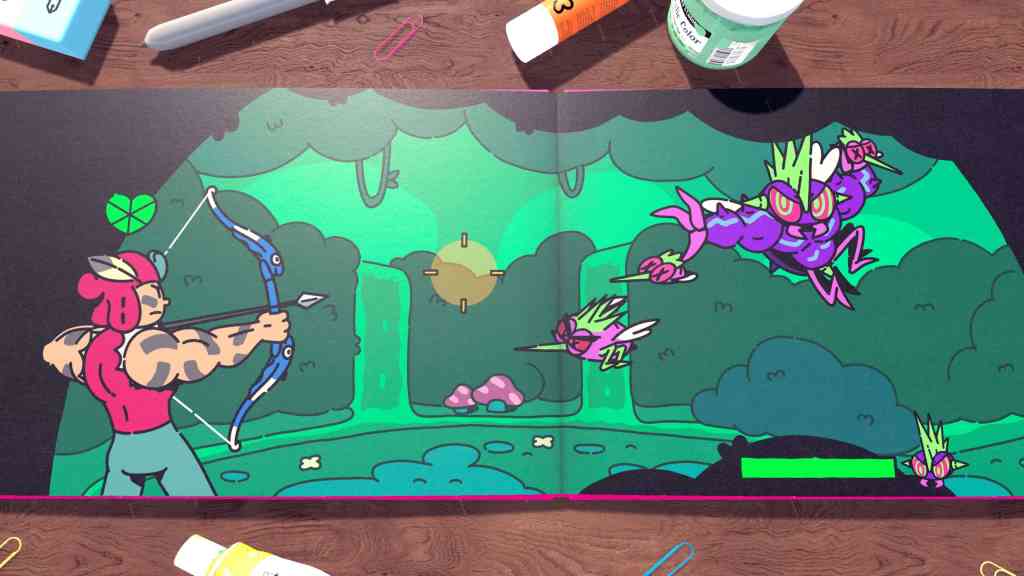 "Jamie [Turner] is very much the creative, the artist, he's the world … I'm more the nuts and bolts," Biddles said. "We don't cross over a lot, but we do cross over in some of the stuff we've done … we both have great experience, and that means we're quite comfortable doing this stuff."
Work on past titles including The Swords of Ditto: Mormo's Curse has informed Biddles' approach, as has a strong working relationship with Devolver Digital, who handle much of the speciality marketing, QA, and publishing needs for the game.
It's only with support on all sides, and developers working across multiple regions including Australia, the United Kingdom, Japan, New Zealand, Canada and the Phillipines, that The Plucky Squire has inched closer to completion.
Biddles, who now resides in Australia, is grateful for this widespread support, and for how the local Australian games industry has embraced The Plucky Squire. While not only an Australian-made game – the team, after all, is made of global talent – The Plucky Squire is currently shaping up to be an adventure well worth claiming.
The Plucky Squire is currently set to release for PC, PlayStation 5, Xbox Series X/S, and Nintendo Switch in 2024.