When Ubisoft announced The Crew Motorfest, it put a lot of attention on the cars. That's not a huge surprise or anything – this is a game about racing cars, after all. But in focusing on its lush new setting of an open Hawaii, and solely on its car racing, I was worried that Motorfest would try too hard to be more like Forza Horizon, and forget about what set it apart in the first place.
I enjoyed The Crew 2, and what made that game special to me was its wild ambition – recreating the entire United States as an open world map? Are you nuts? – and its ability to send you straight into races on breathtaking tracks, as well as the fantastical but incredibly fun mechanic of being able to instantly transform from a car to a plane and take to the skies, and then transform into a boat and come crashing down again.
And even though Ubisoft hasn't talked about the vehicle switching in Motorfest up to this point, I am pleased to confirm that it continues to exist, and it's still very entertaining. In a three-hour preview session of The Crew Motorfest, I don't think there was a single attendee who didn't try flying their plane to the top of the world's skybox, only to plummet several kilometres down to the ground in a car, just to see what would happen. And who could blame them?
But beyond the hijinks, being able to take to the skies and easily skim around on the seas adds much to the experience of exploring an open world while you're stuck in a vehicle. Some of the best open-world games emphasise joy in traversal and getting around (think Marvel's Spider-Man), and with The Crew's vehicle switching, that's exactly what it achieves, with its generous handling and its casual approach to physics. It's an open world superhero game. But you're a car.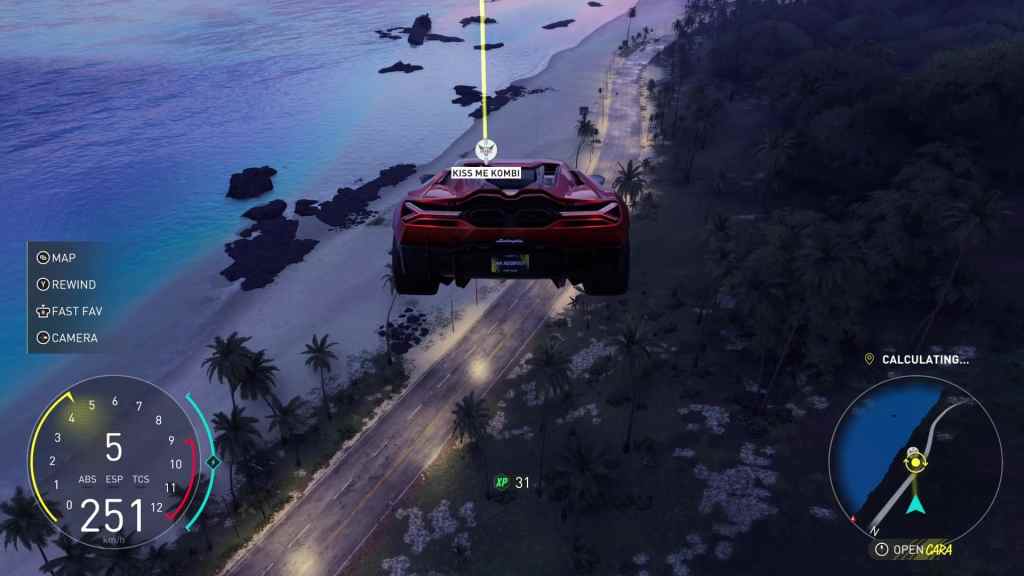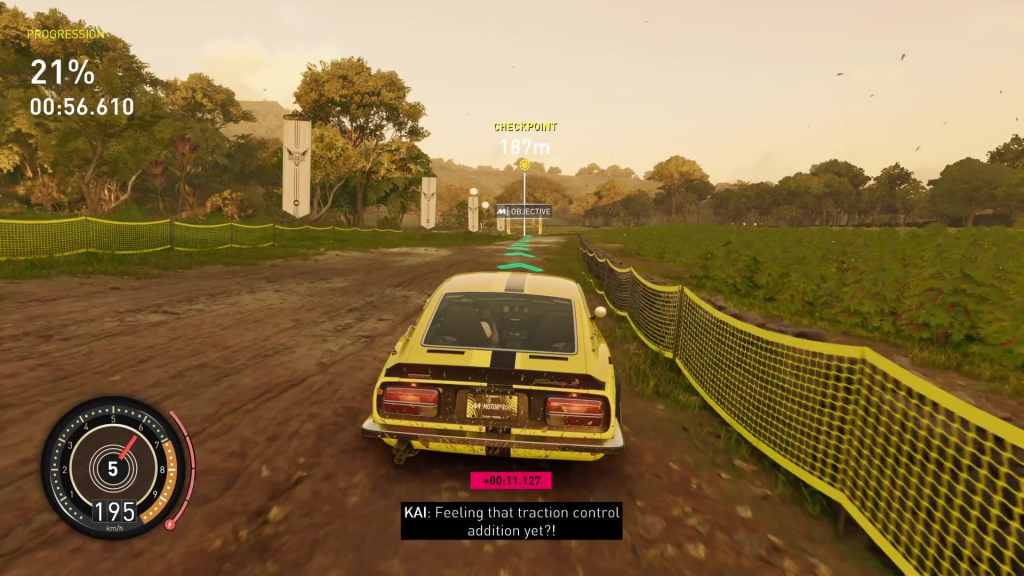 Did you opt into a race that finished at the top of a really high mountain, with a windy road all the way down, and 8 kilometres to your next desired destination? That's the kind of situation that can feel like a drag in Forza Horizon (at least, before you have enough spare cash to fast travel), but in Motorsport you simply drive off a cliff, switch to your plane, and away you go. Some of the open world race activities even require you to change vehicles mid-race.
Coming in for a landing and effortlessly changing back into your favourite car just above the ground feels like a Transformers-style power trip, and when you're tasked with performing activities all over the island, it makes the idea of doing them that much more enjoyable.
Part of The Crew Motorfest preview included a simulation of what will be one of the game's limited-time events, called Main Stage events, where you're offered three different progression bars to try to fill – each pertaining to different styles of events like curated races (Revisit), head-to-head PVP races (Compete), or open-world activities (Explore) – with a limited time reward offered upon completion.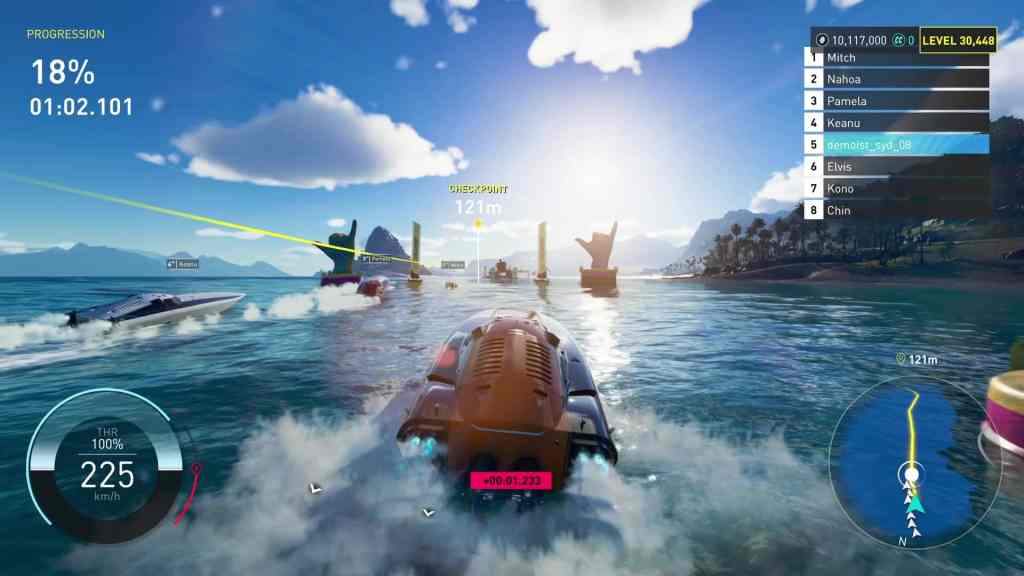 In deciding to spend most of my limited time with the Explore track, the game's in-game navigation system led me through a constant stream of short activities like speed traps, slaloms, and short point-to-point races. It's something I would usually find tiresome, but the ease of getting from place to place really streamlined the process, and diminished the friction I expected to come up against. Very fast event restarts when I messed up also helped a lot, and I was speeding through activities at such a pace that I was halfway complete with the Explore track in about 30 minutes.
One of the things I also think fondly of in The Crew 2 were some of the really exciting and slightly over-the-top curated tracks, namely, any time you're throwing yourself down a mountain in an off road race. The Crew Motorfest continues to aim for these kinds of memorable moments in its Playlists – short campaigns of bespoke and diverse race experiences, themed around certain vehicles or styles of driving.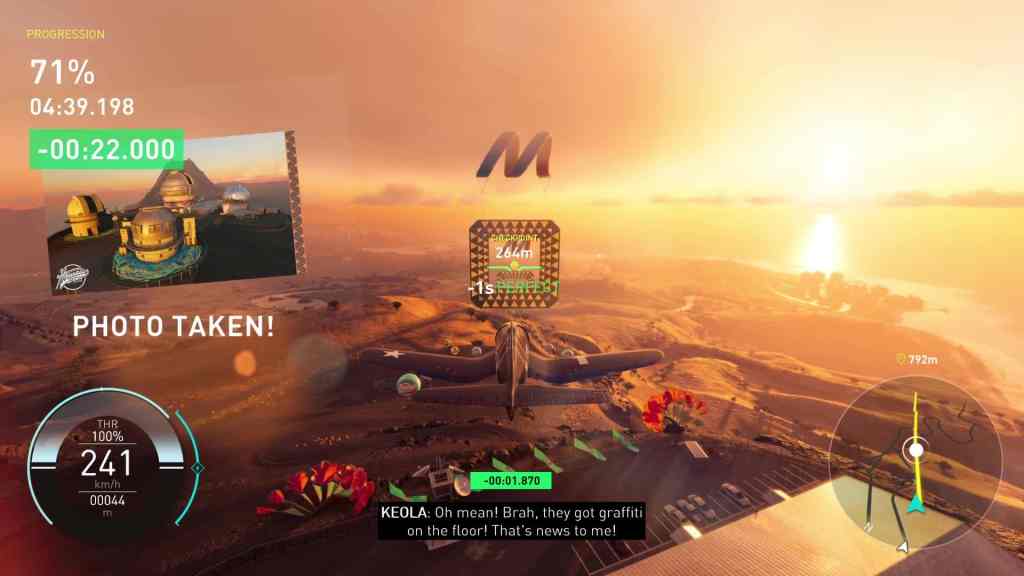 In my prior preview of The Crew Motorfest, I got a glimpse of the Vintage Garage playlist, which seemed to be the most divergent offering since it focused on not just racing, but events where you would try to navigate to a point on the map based on provided photos, to imitate a time before GPS existed. Having gone back to try the whole playlist, I was a little disappointed to find that event was probably the most unique available, though Kombi races do have their charm, especially when your competitors are throwing shakas out the window.
Unsurprisingly, my favourite events were the ones that took particular note and advantage of the Hawaiian setting. The Hawaiian Scenic Tour Playlist was a delightful journey around the island's various environs, coloured with some real-world trivia and brief lessons in the Hawaiian language. Any time I went off road was also memorable – a 1970s-themed rally in the Vintage Garage playlist featuring a Nissan Fairlady and music straight from a retro cop show was a highlight, as was a Main Stage rally event, which involved ploughing through a forest and down a mountain in the pitch black of night, in the rain.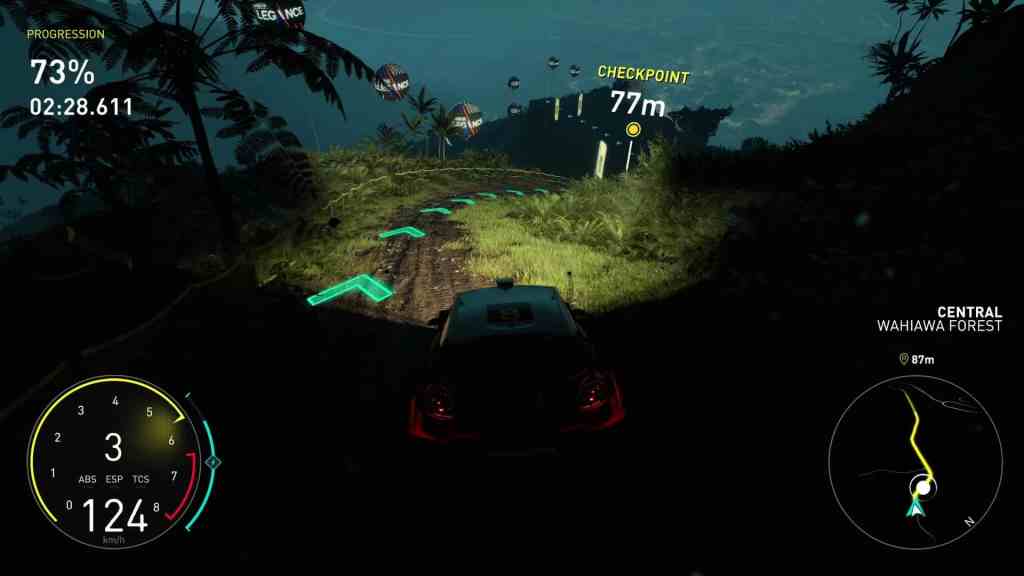 The prolonged appeal of The Crew Motorfest will likely lie in how strong the rest of the many Playlists prove themselves to be, and what kind of ongoing experiences will help keep things interesting. I had my eye on a few of the other unique Playlists on offer, but will I be penalised if I don't care about Porsche enough to run through the Porsche campaign? Will I burn through all the activities too quickly? Can I get a Kombi to the place where they filmed Jurassic Park?
At least I know the journey to getting there will probably be a hoot.
---
The Crew Motorfest is slated for release on 11 September 2023 for PC, PlayStation 5, PlayStation 4, Xbox One, and Xbox Series X/S.
A closed beta will take place on 21-23 July 2023.
GamesHub has affiliate partnerships. These do not influence editorial content. GamesHub may earn a small percentage of commission for products purchased via affiliate links.