Five games in, it's safe to say that team at Playground Games have got this Forza Horizon recipe down very well.
Forza Horizon 5 has the great ingredients you expect: an expansive, varied, and beautiful open world; more real-world vehicles than you would ever care to drive; approachable simulator-style driving mechanics with a slew of assists should you need them; a wealth of different driving events that cover all kinds of different kinds of terrains, vehicles, and styles of objective.
It's all framed in the very welcoming presentation of a festival that celebrates the joy of driving more than it does podium finishes, and has a reverence for the beauty of the land you're racing on – even if it doesn't make mention of the undoubtedly massive CO2 output that would contribute to ruining it all, were this a real-world event.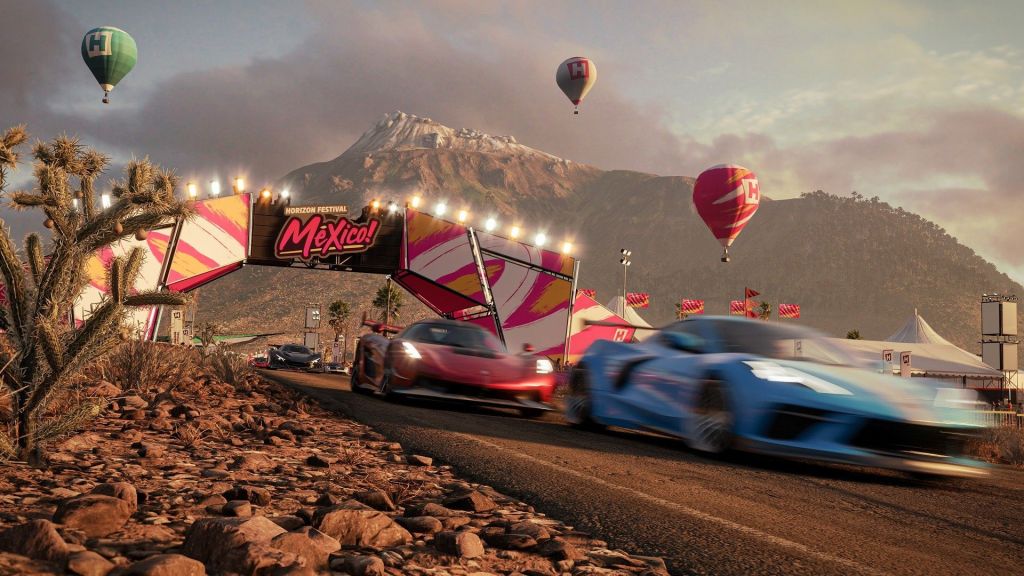 Forza Horizon speaks to me more than any other car-focussed game because that approach to driving and car culture clicks with me. It largely revolves around racing events of course, but whether you come first or twelfth, driving cleanly or clumsily, Horizon rewards you. It just wants you to get involved and have a good time, no matter your ability. It's about the places your car is taking you through as much as it is about the act of driving itself. This doesn't change with Forza Horizon 5.
In fact, not much else has changed with Forza Horizon 5. The map is different of course – Horizon 5 is set in a homunculus of Mexico, which is large, varied, and wonderful to explore. There are a few improvements to the seasonal weather aspect introduced in Forza Horizon 4, namely intense weather occurrences like blinding sandstorms and spectacular thunderstorms, which are incredible to speed through – there's a palpable sense of danger driving in one.
Some adjustments to online Forzathon multiplayer events makes it a much more enticing activity than it was in the past but aside from that, Forza Horizon 5 doesn't feel like a fundamental improvement in the way past games did. The car-specific skill point upgrade system is still intact, player-created races and seasonal events are there too.
There's a great deal of distinct variety in its racing events. The heavily authored showcase races against vehicles that aren't cars are still equal parts silly and exciting. But Forza Horizon has set itself a fantastic baseline. It's still a comforting, morish, and inspiring experience, even if it doesn't cut quite as sharply as it once did. It's still sharp.
Part of that missing edge could be because of diminishing returns in the sorts of improvements Playground could feasibly make. But at least a little bit of that is a personal thing, too.
I love real-world driving and taking long road trips. Forza Horizon 3 and Forza Horizon 4 particularly resonated with me to an exceptional degree because of the strong virtual tourism aspect – driving across Australia and the UK are recent memories I was all too happy to immortalise with evocative virtual reproductions. I've travelled through Mexico before, but I haven't driven across Mexico before. I haven't seen Mexico through a windshield, which is its own unique kind of experience. I don't have that same degree of emotional connection with the world of Forza Horizon 5 that I've been able to enjoy previously.
But I am grateful Forza Horizon 5's Mexico exists. I am pleased there is a depiction of modern Mexico in video games that is vibrant, full of colour, and has at least some appreciation of its thousand years of cultural heritage and sacred sites – even if you can crash your car through some of them. Forza Horizon 5 makes its best attempts to lovingly portray the true-to-life beauty of Mexico's varied landscapes and cities with nary a mention of drug cartels, and that's worth celebrating.
Forza Horizon 5 is the roadtrip holiday I've really needed after two years in and out of COVID-induced lockdowns. It brings me great solace to be behind the wheel, covering hundreds of kilometers of distance across an awe-inspiring piece of Earth. And even when I'm careening through the mud on a cross-country race, crashing into strangers on the internet, my mind is in an untroubled, fulfilling place. In 2021, Forza Horizon 5 is where I want to be.
Five stars: ★★★★★
FORZA HORIZON 5
Platforms: Xbox, PC
Developer: Playground Games
Publisher: Xbox
Release Date: November 5, 2021
A copy of Forza Horizon 5 was provided and played on an Xbox Series X for the purposes of this review,