In 2023, the Grammy Awards introduced a brand new award category, the 'Best Score Soundtrack for Video Games and Other Interactive Media'.
Finalists for the inaugural award included composers like Austin Wintory, Bear McCreary, Richard Jaques, and Christopher Tin, for their work on games like Aliens: Fireteam Elite, Call of Duty: Vanguard, Marvel's Guardians of the Galaxy, and Old World. Stephanie Economou ended up taking out the award for her Assassin's Creed Valhalla: Dawn of Ragnarok score.
It's not the first time that a video game score or game-related music had been recognised by the Grammy Awards – composer Christopher Tin had previously won 'Best Instrumental Arrangement Accompanying Vocalist(s)' for Civilization IV's 'Baba Yetu'. But the formal introduction of the category speaks to a shift, and a newfound respect for composers of video game scores, from the music industry.
In an interview with GamesHub, Stephanie Economou shared similar enthusiasm about the category's introduction: 'It absolutely validates game composers and their work,' she said.
'There's nothing more immersive than interactive media. It offers the player a chance not only to be close to art, but to embody it, to live in it, to become it, and the music has a lot to do with that.'
'That's why gamers love to listen to these soundtracks on their own. It elicits this ineffable emotional response; a memory, a visceral thrill. We are meaningfully connecting with audiences everywhere, and I think this category endorses that.'
Economou spoke to the fact that several orchestras and groups around the world, big and small, have begun bringing video game scores to concert halls, opera houses, and stages for enthusiastic audiences.
The new Grammy Award category is 'an excellent catalyst to continue highlighting and celebrating game composers,' Economou said. She also hopes the award will help those who aren't familiar with video games to 'experience how powerful this music can be.'
Read: How video game music is bringing orchestral scores to new ears
Composing for an interactive medium
The introduction of the award also rightly recognises that composing music for video games and other interactive mediums requires its own set of techniques, which require unique skills, talent, and acuity, above and beyond linear musical composition.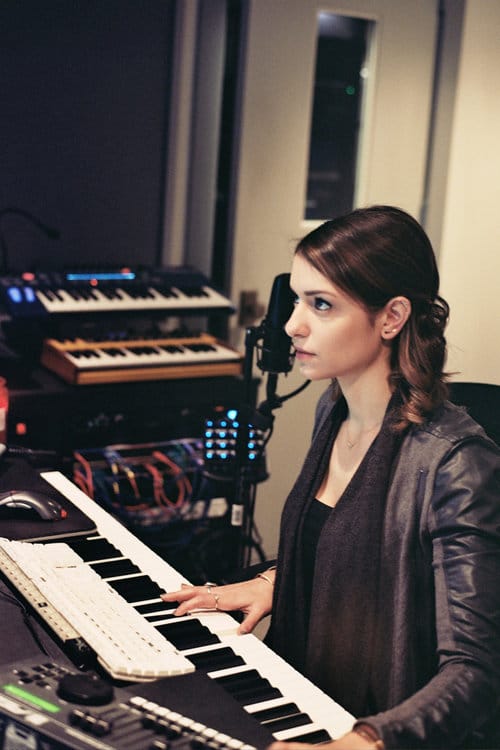 'Because game music is non-linear, loopable, and layered, I find the biggest challenge can be as simple as choosing the right tempo for a piece of music,' Economou explained. 'When you have all of these puzzle pieces that need to work together in a multitude of ways, sometimes there is a right answer for pacing, which will make the intertwining layers most effective together (perhaps in a half-time/double-time relationship, or a duplet against triplet feel).'
'It all can get very technical in that way, but I find it's a fun ground for maximizing and exploring musical rudiments.'
Further to her sentiment around having the audience meaningfully connect with something, Economou said she loves that her work is able to 'get into people's heads and influence their interactions,' with regards to what the player is doing on screen, and in relation to the narrative unfolding in front of them.
'I love curating sound worlds that are ever-evolving for the player. The score has a big hand in shaping environments,' she said.
'I also love how collaborative the process of working on games is. I may be writing the music, but the music supervisors and directors are integrating and arranging it to function within all of these gameplay permutations. It's highly creative for all parties involved, and I like that the score gets to be alive in that way.'
Read: Black metal and cigar boxes: Composer Stephanie Economou on scoring Dawn of Ragnarok
On her winning score for Assassin's Creed Valhalla: Dawn of Ragnarok
GamesHub previously spoke to Economou about her creative process on the score of Assassin's Creed Valhalla: Dawn of Ragnarok in some depth, covering the fascinating influence of black metal and primitive instruments in her Nordic-style score. In the wake of her win, we asked Economou about her personal favourite flourishes, and in continuing the spirit of collaboration, she chose to spotlight the work of the musicians she worked with.
'There's a dark, descending black metal riff used for our nemesis, Surtr, which pops up on distorted guitars and vocals throughout the game. It's performed by the band Wilderun, and I love each iteration of that motif because I think it encapsulates how commanding and terrifying he is.'
'There's also a vocal signature for Sinmara, performed by singer, Ari Mason, which consists of layers of this badass, warrior-esque shrieking. I can't think of Sinmara without hearing that sound.'
With the Best Score Soundtrack for Video Games and Other Interactive Media category now established at the Grammy Awards, there's hopefully an exciting and productive future to come for the composers who have already been creating iconic video games scores for many years – a number of whom were represented as finalists, alongside Economou – as well as fresh talents.
We can only hope this formal show of respect for the music side of the games industry will have wider ramifications for the recognition of the medium as a whole. The level of creative aptitude that goes into the making of video games deserves to be respected and celebrated, after all, and certainly in the same breath as other screen media. 
'I have enormous respect for all of the other nominees and have looked up to them my entire career,' Economou said of her win. 'I truly believe that, regardless of who won, this year was always going to be a massive victory for our industry.'
'We collectively made history with the introduction of this category.'
---
Stephanie Economou's Assassin's Creed Valhalla: Dawn of Ragnarok score is available to stream and purchase on most major music services.