Samba de Amigo is one of Sega's oldest and least appreciated franchises, having debuted in arcades in 1999 to high praise – and yet never achieving mainstream longevity. While the original game was remastered twice, in the form of a Ver. 2000 release with additional songs, and an upgraded port for Nintendo Wii with even more tracks, the upcoming Nintendo Switch-exclusive Samba de Amigo: Party Central marks the first true sequel for the series.
More than two decades on from launch, Amigo has been given another chance to connect with modern audiences beyond his appearances in titles like Sonic & Sega All-Stars Racing and EyeToy game, Sega Superstars. After an hour-long preview session with his latest outing, it feels like high time he reclaims his status as one of Sega's flagship mascots.
Party on, dudes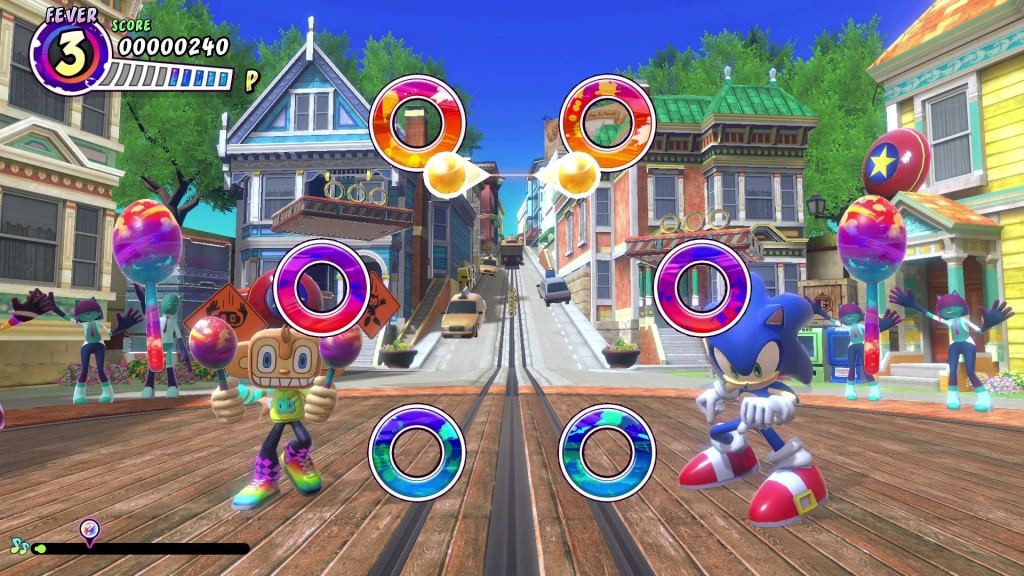 Samba de Amigo: Party Central adapts rhythm-based gameplay to a variety of modes, each of which throws up its own set of challenges or rewards. In the game's main gameplay mode, you'll spend hours jumping through classic tracks, using the Switch's Joy-Cons as dual maracas, shaking and bopping them to lively beats.
You can also dive in with various two-player modes (a maximum of two players can boogie together in local co-op mode) and mini-games, where you can test your compatibility with a virtual 'love checker' and take on logic puzzles that require quick thinking and rhythm.
The story-based StreamiGo! gameplay mode further allows you to take Amigo and his pals through an influencer-inspired world of musical performances, where every successful track provides you with new followers. Talented dancers can also jump into the game's competitive online World Party mode, where up to eight players can compete in rhythm battles.
For every beat you hit, and every track you complete, you'll earn points that slowly rack up to unlock new outfits for Amigo, and other in-game goodies to customise your samba avatar. These cosmetics are largely tacked-on, but provide a sense of style as you boogie your way through the game's tracks.
Something old, something new
Samba de Amigo: Party Central has a solid array of modern and classic tracks on board – and while I didn't recognise all of them, the lineup crosses enough genres and musical tastes that there'll likely be something here for most players.
'TikTok' by Kesha remains a certified banger, as does 'I Will Survive' by Gloria Gaynor, and the forever-classic 'Macarena'. The flagship hit that had me ripping through beats was 'Move Your Feet' by Junior Senior, one of the best party anthems of the early 2000s.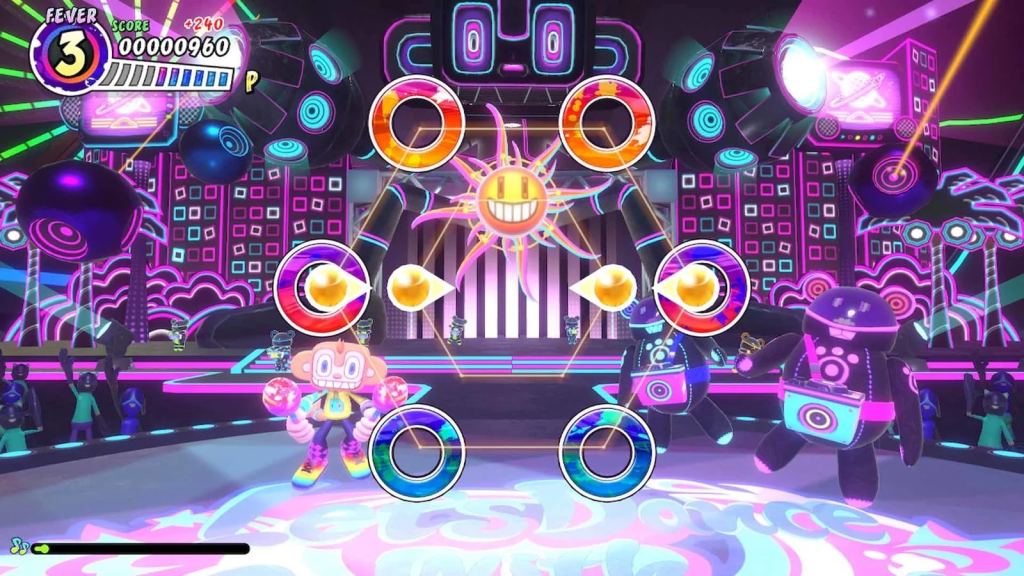 With around 40 tracks available in the full game, there's a solid array to keep you shaking. That said, I can see a future where players easily burn through their favourite tracks and go hungry for more. It'll all depend on personal taste, really – and what tracks land in the game's planned, post-launch DLC.
Whatever music you do or don't like, it's hard to deny how infectious the rhythm in Party Central really is. Three days on from my preview session, my forearms still ached from the effort of grooving, in the attempt to destroy the lovely Samba PR reps with my skills. I couldn't help it. Those Joy-Cons were in my hand, and my latent Just Dance abilities kicked in.
Shake those maracas
Those familiar with rhythm games, and particularly the Just Dance franchise, will find a lot to like in Samba de Amigo: Party Central. It functions similarly in practice, although you'll mostly be honing your upper body movement and strength in manoeuvring the game's maracas.
Read: Just Dance is the perfect exercise companion for your mind and body
Each track in Party Central is mapped to a six-point wheel on screen, which effectively represents the positions you'll take while playing: both arms raised above your head, a casual T-pose, and both arms lowered.
Blue and orange orbs matching the musical beat fly out from the centre of the screen, and your job as Amigo is to fling your arms out in time to catch them, and occasionally shake your Joy-Cons for a shimmy, or pose correctly for added drama.
On easy mode, this makes for a pleasant rhythm ride, as you throw your arms in rapid succession, then soak in maximum glory with a well-timed pose – which can include dynamic arm swings, leaps into the air, and occasionally, flossing. On harder modes, the beat gets more frantic – and you'll spend the majority of your time getting red-faced and puffed as your arms awkwardly twirl and spin to make the beat on time.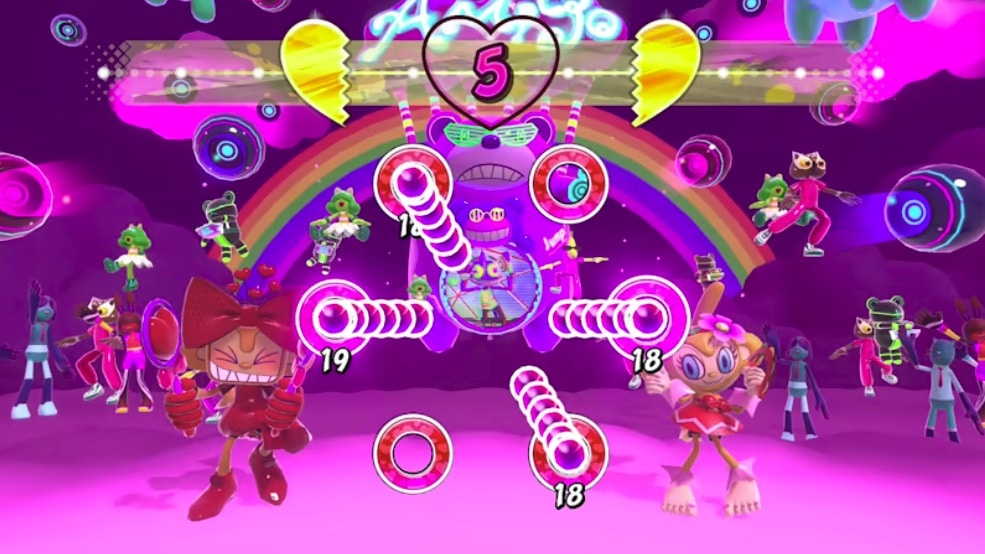 In either mode, you're in for a fairly vigorous workout – which makes the art of completing a round perfectly all the more satisfying. You'll be sweaty and breathless in the aftermath, but it's a good spot of fun.
The secret codeword for GamesHub's Nintendo Switch OLED Console + Samba De Amigo: Party Central competition is "BANANA SPLIT"
I can see Party Central becoming a mainstay at real-life parties, largely due to its nostalgia-infused appeal. Since the mid-2000s, we've really lost a whole genre of mainstream games designed solely for group enjoyment – SingStar, Guitar Hero, Rock Band, and the like. Party Central has the potential to fit in this much-missed genre, as a title to crack out at parties when the mood's high, or the drinks are free-flowing.
Whether you're approaching the game with rose-coloured nostalgia, or discovering this classic franchise for the first time, Samba de Amigo: Party Central is shaping up to be a solid and worthy new entry in the rhythm genre. Between funky bops and ridiculous posing, there's plenty of tension relief waiting in the arms of Sega's joyfully resurfaced franchise. After the last few years we've all had, its silly maraca dances feel like healing remedies.
Samba de Amigo: Party Central launches for Nintendo Switch on 29 August 2023.