Exercising in 2021, in a time when gyms were closed and time outside was limited, meant being creative and finding new solutions for modern problems. Some people turned to walking. Others built a home gym. While a combination of those things was my ticket for staying fit, it was really getting into Just Dance that saved my entire lockdown.
While Just Dance is generally considered a party game — something to bring out when everyone's a bit drunk or excited, or something to entertain young kids — its value goes far beyond that. In fact, it's an incredibly valuable exercise tool.
In lockdown, exercise-based games experienced a massive boom. As gyms closed, games became a tidy answer to exercise woes. VR titles like Beat Saber forced people to work up a sweat as they played. Nintendo's Ring Fit Adventure gamified exercise in a way that motivated people to continue, and proved to be so popular it was frequently out of stock.
For me, Just Dance became the perfect, bite-sized snack for a lively afternoon workout, and to burn off some stress. While it wasn't the sole tool I used for exercise, but lockdown helped me fall in love with the franchise.
New entries often feature songs that make me feel old (Just Dance 2022 only has a handful of songs I recognise, and 2020/2021 are only a little better), but the music rarely matters because the games are so fun.
Read: Relaxing games to help curb your doomscrolling habit
You've got two options when it comes Just Dance games: playing the base game, which includes a selection of around 40 songs, or subscribing to Just Dance Unlimited, a paid service that gives you access to hundreds of Just Dance songs from across the decades.
At $5.95 a month, the service does come at a premium — but if you're looking to experience everything Just Dance has to offer or you just want to dive in with hits of the past, it's a neat additional option.
There's a great collection of 70s and 80s hit via Unlimited (my preference), and you can certainly get your money's worth if you're in the grips of a Just Dance obsession.
During lockdown, I was certainly there — playing it every chance I got, and perfecting dances to hits like 'Starships' by Nicki Minaj and 'Lean On ft. MØ' by Major Lazer and DJ Snake.
At first, playing Just Dance was something else to do — there's only so many times you can walk past the same set of trees or visit the same parks before it starts getting really, really boring.
Then Just Dance became something more.
I'm not somebody who typically enjoys dancing, unless I'm a bit tipsy and the mood is just right. Part of that is to do with growing up as the youngest in a family and feeling embarrassed to perform. Some of it's to do with social anxiety. But playing Just Dance during the pandemic helped me get over those reservations.
It helped me stay fit and active, and it loosened me up a lot. It made dancing fun, and not something to feel ashamed about. It was dancing for a purpose, in a way that made it feel consistently exciting as new tracks were added and unlocked in the game.
I tried the game on a whim, and quickly fell in love. I spent hours perfecting dances. I even streamed some of my efforts. I wasn't good, and I'm still not — but that's not the point of Just Dance.
No matter how well you perform dances, whether you fail completely or only deliver an average performance, the game is encouraging. You can play dances for as long as you like, learning them as you go or blasting through them one at a time. There's no judgement. There's nobody to point and laugh.
In Just Dance it's just you, your screen, and your funky little arms trying to match what's on-screen.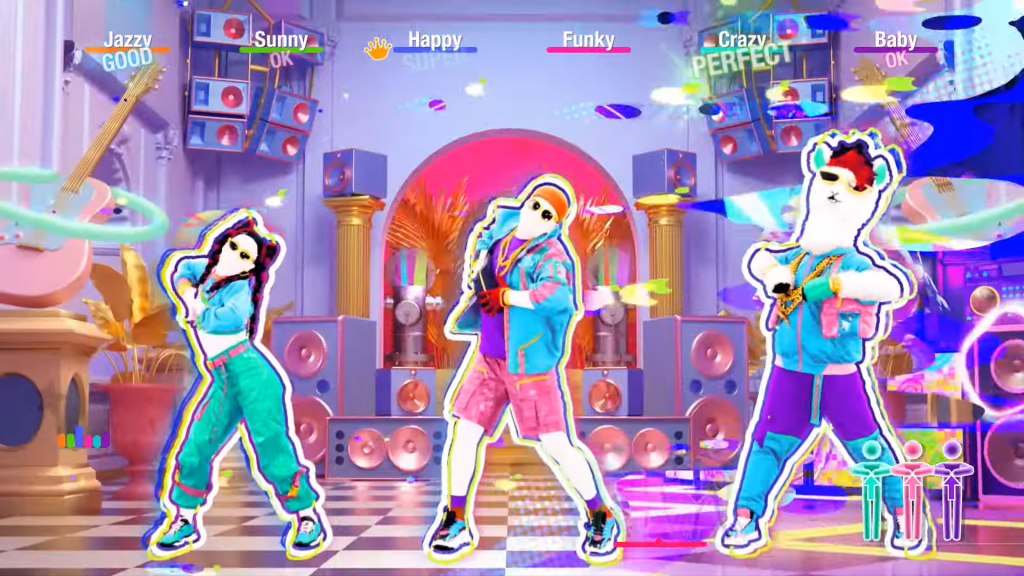 During the pandemic it was the perfect stress relief, with the added benefit of being great for keeping fit — to the point where I returned to the gym when New South Wales opened up and found I could exercise for longer than before.
Just Dance is silly good fun, and while it is easy to dismiss the series now that's in its second decade, there's still plenty to love about the games. Even if the songs make you feel old, or you don't think you're very good at dancing, it's a great title to exercise with and keep yourself active.
Games can do all kinds of things for people.
They can be tools for escapism, or for experiencing a whole new world. They can also keep you fit and healthy, even during a pandemic. Regardless of age or experience, the Just Dance series is fantastic for keeping yourself entertained, happy and fit.
It was one of the highlights of my pandemic, and my love for the series has only grown since.