As you venture into the gorgeous vistas of Horizon Forbidden West, a thousand years into its dystopian future, you might hear a familiar voice accompanying your travels. Underscoring the words of Aloy (effortlessly brought to life by Ashly Burch) is the gentle, evocative mezzosoprano of Julie Elven. She communicates in lyricless song all the things that Aloy doesn't say. When you hear Julie sing, you're really hearing what Aloy feels.
After her initial collaboration with composer Joris de Man in 2017's Horizon Zero Dawn, Julie Elven returns to embody Aloy's musical voice in Horizon Forbidden West.
'Singing on Horizon again felt like coming home, because this world is very dear to my heart', says Elven about her sophomore turn in the series. 'The Aloy you meet in Forbidden West is no longer the frustrated outcast trying to figure out who she is. She has much more of a purpose and is more steadfast in her path, so we are exploring her world in new ways.'
Joris de Man similarly returns, alongside fellow composers Niels van der Leest and The Flight (Joe Henson and Alexis Smith). Three new creative forces also join the Horizon Forbidden West fold: composer Oleksa Lozowchuk, and vocalists Melissa R. Kaplan and Ariana Gillis, not to mention a slew of virtuosic instrumentalists who make the score come alive.
'If Zero Dawn is Star Wars, then Forbidden West is The Empire Strikes Back', quips de Man. 'Things are going to get a lot worse before they get better, and Aloy's struggle is now of a different nature. Musically, this will take you in new directions.'
The origins of Aloy's theme
The two artists began collaborating as early as 2015, when Guerrilla Games were preparing to reveal Horizon Zero Dawn to the world. Joris de Man set out to create a theme that would capture this brand-new world and its flame-haired protagonist, and he found the voice of his theme in Julie Elven.
'I'd worked with Guerrilla Games before on the Killzone series, where the music was all about big, epic orchestral stuff,' de Man recalls. 'With Horizon Zero Dawn, they wanted a decidedly "anti-blockbuster" approach, with a distinct hybrid between multicultural percussion, eclectic solo instruments, and smaller string ensembles – much more minimalistic and pared back than the grand musical gestures for which they knew me. Thankfully, they were happy with what I was writing.'
The developers sent de Man a version of the E3 announcement trailer, after which they would get together on a Skype call (that relic of communication from a time before Zoom) and discuss ideas. 'Up until that point, I'd only heard the general concept, seen some concept art, and watched some very early footage, when there was barely anything to show. When I finally saw the full trailer, replete with characters and actual gameplay, I said "oh my god, I didn't realise I had been working on this!"'
Halfway through the video, de Man paused the call, ran up to his studio, noodled on his keyboard for two minutes, and then returned to the team and said, 'I think I've got it.' Aloy's theme was born. It was the fastest a musical idea had ever gone from spark to execution for the composer, who calls it one of the most wonderfully bizarre things to ever happen to him.
The theme felt like the right place for the human voice, which in turn became the right place for Julie Elven. She was recommended by fellow composer Ian Livingstone, with whom Elven was working on Total War: Attila. de Man asked if he could 'tack on' to their session and record Julie singing this short phrase he had written – no longer than a minute and a half.
'I hadn't really seen anything from the game when we began recording,' Elven says, 'but I could already picture Horizon's luscious nature in my mind when I heard Joris' melody. As a cinematic vocalist, you often have to convey all the emotion of a scene in a moment, without leaning on lyrics. Your voice becomes almost like a non-vocal instrument, as the case is on Horizon.'
'Julie nailed it, first time around,' de Man expresses with a smile. 'Her original take is in the final version of the main theme. She captured it all so well, and her performance just carried so much emotion. At this point, it's unimaginable for me to compose music for Horizon without her, because she really embodies the voice of Aloy in the score – she is a distinct part of the character.'
'For those moments where you need the emotional punch, it almost seems ridiculous not to feature Julie.'
Solo power
Elven's work on both Horizon scores is emblematic of the composers' anti-blockbuster approach, where the musical emphasis shifts towards soloistic performances and improvisations from a wide array of instrumentalists.
Gareth Mclearnon, for instance, plays all manner of flutes on both games, including a bellowing beast known as the contrabass flute. Soaring cello melodies are provided by Sarah Davison and Reinoud Ford, the latter of whom also plays on scores like Dying Light 2 and Assassin's Creed: Odyssey.
String ensembles of no more than eight people play in lieu of an orchestra, complemented by a chamber choir and a smattering of various sounds. Horizon Forbidden West also features new musicians, such as woodwind expert Kristin Naigus, who shares her massive arsenal of instruments from around the world on countless games (ABZU, Immortals: Fenyx Rising, and Ori and the Will of the Wisps to name but a few).
'Musicians within the context of a really big orchestra won't rely on improvisation', says de Man. 'It's a very different ballgame with great soloists like Julie Elven. You give them your musical idea, offer them context, and let them interpret it all. They'll take what you've written, do their own thing, and transcend what you've imagined. When you don't constrain your soloist, I think you end up with a better performance.'
Elven agrees. 'Joris offers me a lot of creative freedom with how I phrase his melodies and the kind of vocal ornamentations I perform,' she says. 'I really like the way we work together, and I appreciate the kind of space he affords his soloists.'
'We also often work remotely", adds da Man. 'Besides seeing each other at public events, Julie and I haven't occupied the same physical space when collaborating. She records from her own studio in Germany, and it's quite like the night before Christmas: I prepare the music and send it off, and then in the morning, it's like "ooh, there's a link in my inbox – what's Santa delivered today?" And 99% of the time, it exceeds my expectations.'
Voices of the West
Aloy's evolution in Forbidden West comes with an evolution of musical themes. 'We're always trying to find this balance between both sides of the character: Aloy's heart and fragility on one side, with her courage and strength on the other,' Elven explains. 'Part of how I convey that is playing with changes to my vocal register. The balance skews more towards vulnerability in Zero Dawn, so you'd hear more of my head voice, and then it shifts towards purposeful determination in Forbidden West, where my chest voice would be more prominent.'
Elven only performed on de Man's part of the Horizon Zero Dawn score, but she collaborated with multiple composers on Horizon Forbidden West, namely Oleksa Lozowchuk and The Flight, as well as vocalist Melissa R. Kaplan. While Lozowchuk and Kaplan are newcomers to the world of Horizon, they are no strangers to the art of video game music. Lozowchuck previously composed for the Dead Rising series and the FIFA games, while Kaplan is known for her vocals on the Assassin's Creed series, especially singing one of its most celebrated themes, Ezio's Family.
Elven explains her collaboration with Kaplan on Forbidden West and the relationship between their performances. 'I still represent the musical voice of Aloy,' she says, 'while Melissa represents the voice of a new significant character in this story. The interplay between our voices reflects the interactions between these two characters. In our duets, my voice would signify more of Aloy's strength and persistence on her path, whereas Melissa's performance would capture more of her character's vulnerability.'
While Forbidden West tells a serious story, it brought its collaborators a lot of fun. 'Being a vocalist himself, Oleksa had some very specific ideas in mind, so he would summon his inner soprano and demonstrate to me and Melissa how he would like us to perform our parts. If you listen to the soundtrack very closely, you might even be able to hear his voice somewhere mixed in with ours.'
In one of Horizon Forbidden West's new lands, your ears are graced by the chorus of a new tribe, singing in lush, tender harmonies. Their songs were also composed by Lozowchuk, and recorded by the musica intima choir, appearing on the soundtrack in both their full form and as fragmented echoes in other cues. Lozowchuk's prowess as a vocal composer additionally extends to In the Flood, the song performed by Ariana Gillis in the opening credits.
'I'm just such a big fan of Ariana,' says Julie of her fellow vocalist, brimming with loving enthusiasm. 'In the Flood sounds so amazing. It was originally written by Guerrilla Games' Lovisa Berghdahl, and then fleshed out by Oleksa with additional lyrics and the sound palette of the score, in collaboration with Lucas van Tol, our music supervisor, and Ariana herself. I love that we have an even wider collaborative approach this time, evident in the number of tracks that make up this album, which features both versions of the song.'
Sounds of a new land
As Forbidden West takes you to hitherto unknown parts of its world, its composers explore musical ideas that set these new lands apart, while expanding on what made Zero Dawn so special in the first place. The Horizon story exists in a unique place outside of time, where past, present, and future converge in unusual ways, and humanity has had to begin anew. People have formed new tribes and built new cultures from the ground up, while the 21st century as we know it is ancient history. Technology is both a relic and a marvel, not to mention the very basis of this world's machine antagonists.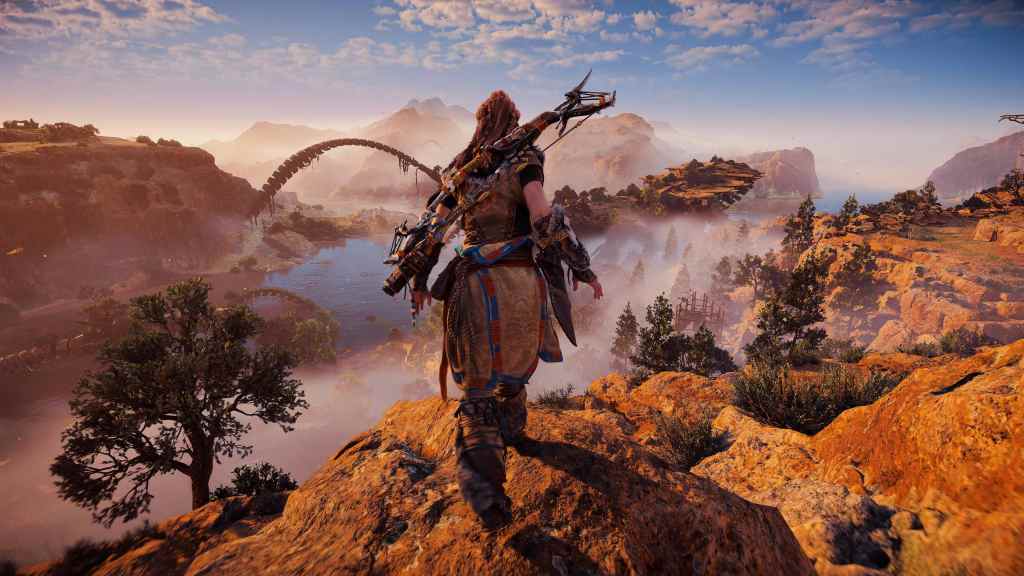 'What makes composing for the Horizon games very interesting is that you're constantly trying to figure out how to take something familiar, and twist it in unexpected ways,' Joris says.
'We still have a lot of acoustic instruments in Forbidden West, just like we did in Zero Dawn, but we always try to perform them in ways that don't reference a particular culture or point to the present day. The first game, for instance, features a large Slovakian flute known as the fujara, but my first thought when I hear it isn't where it comes from, but rather how rich and interesting it sounds. When you overblow it, you get this upper range of harmonics that are beautifully aggressive, fitting in perfectly with the world of Horizon.'
To create these new sounds from familiar sources, the composers would experiment with playing instruments the 'wrong' way, transforming objects into percussion, and creating bizarre ensembles like a harmonica orchestra. Many of these experiments would also involve manipulating acoustic recordings by electronic means.
'There's a part in Forbidden West where the cultures of the olden days are explicitly referenced, and it features one of the central instruments from the baroque era of Western classical music: the harpsichord. The sound of a harpsichord often imbues a character with an air of cultural and artistic elevation, alluding to them being ostensibly more intelligent. However, the events surrounding the scene weren't exactly great, so I needed to make that harpsichord sound a little unnerving. As you hear it play, part of its signal is running through strange delay/echo effects that bend its pitch and twist its timbre. Anytime you hear a melody, you get a little follow-up, almost like a twisted memory of that instrument.'
The composers also brought in more electronic influences to help shape the sound of the sequel. 'We are still in a world populated by tribes, but we are also in a future of technologically developed robots. We shifted the emphasis to more synthetic and electronic elements, so synthesizers are a big feature of the score. We didn't want to go too 'modern', and our approach involved recording vintage sounding synthesisers, reminiscent of the Vangelis Blade Runner era, and processing them in new ways, such as infusing them with glitchy effects.'
Putting the world together
Given the sheer size of Horizon Forbidden West's open world, and the complexity of its music system, it's little wonder the eventual soundtrack release had to span three volumes. 'We realised that we needed more music than the three original composer entities could possibly write,' elaborates de Man, 'and that's where Oleksa came in.'
'When it comes to Niels, The Flight, and myself, we have quite distinct areas in which we work. Niels is generally percussion based – that's his expertise, and he's excellent at that. The Flight tend to create amazingly rich sonic textures with music that is more production-based. I tend to be more thematic and melodic, and it was really interesting working with Oleksa, because he's probably closest to me in terms of how we write, but he's very comfortable reaching into those other areas as well.'
While most video game music is written to dynamically adapt to the player, its implementation can vary wildly from title to title, even within the same series. 'In the first game, we wrote music that was more based on location,' explains de Man. 'Meridian and the Nora had their own themes, and different areas had their own pieces. This time around, we approached the score differently, where the music system would adapt to the player's overarching experience, looking not just at what you're doing now, but also what has gone before.'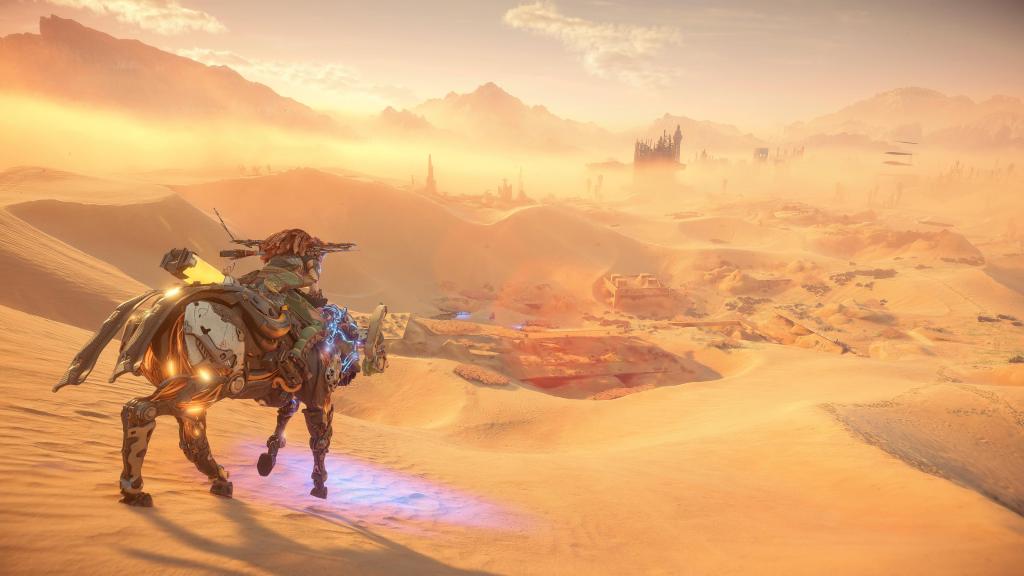 'So we were writing music where the game tries to figure out, "what's just happened to Aloy, and how is she feeling now?" If you've just had a cutscene where someone dies, it's very likely Aloy is going to be sad, and we'd write in-game pieces tied to that emotional state. Then there are certain states where Aloy might be fighting or exploring, and we'd write pieces specific to those situations.
The music system would then combine the pieces written for Aloy's emotion with those written for her activity, so if she's sad while she's fighting, it will sound distinctly different to her feeling relatively happy in the very same fight.'
To facilitate this undertaking, the composers wrote most of the music around the same key, with different layers from each piece corresponding to each of those different states. The audio team would then carefully mix and match these layers to create just the right mood when you walk around.
'It's a massive shift from what we'd previously done, and from what I've played so far, it seems to be quite seamless,' says de Man, with a knowing joy. 'Getting it to sound that seamless, however, is a task that cannot be underestimated. Lucas van Tol and the sound team deserve massive kudos. Not only was it a humungous task to write this score, but also to implement it, and I think everyone has done a brilliant job.'
Horizon Forbidden West is available now for Playstation consoles. The full three-volume soundtrack is available to stream and purchase on most major music services.