Hello Kitty Island Adventure is an ambitious game – one combining the wholesome aesthetics and characters of Sanrio with cosy, life simulator-style gameplay. It wasn't until a private media preview that I understood exactly how ambitious the game really is – and how much I was underestimating its scope.
In describing the game, developers at Sunblink called it a cross between The Legend of Zelda: Breath of the Wild and Animal Crossing: New Horizons. They also indicated the game has around 40-50 hours of content to play through, with even more arriving in post-launch content updates. While its nature as a mobile game, and as a licensed adventure, may create misconceptions amongst its audience, the early preview of the game pretty much blew away every doubt about its potential.
Read: Apple Arcade: Every game arriving in July 2023
Here's everything you need to know about Hello Kitty Island Adventure, and everything revealed during the media preview.
Hello Kitty Island Adventure takes place in a theme park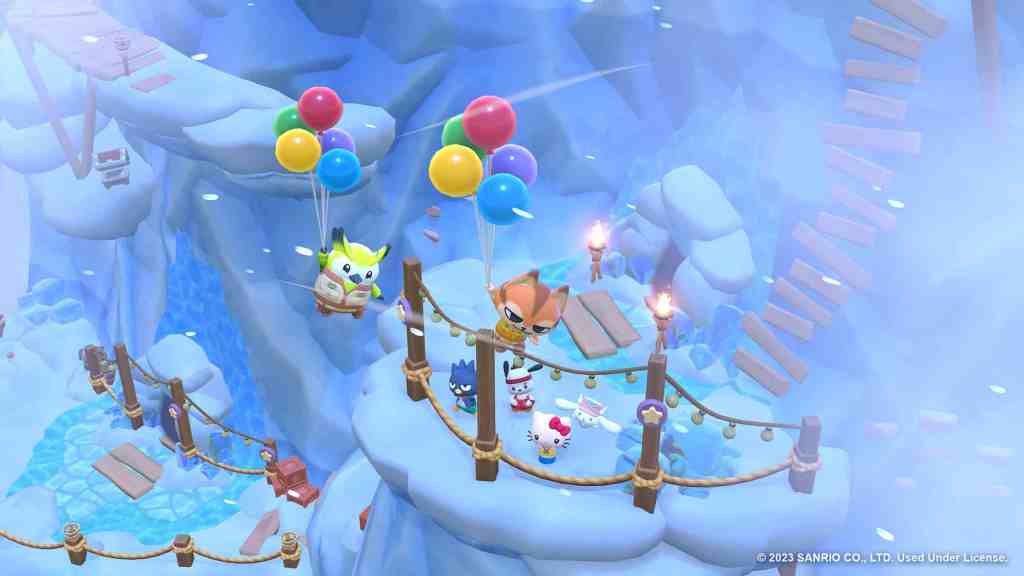 Hello Kitty Island Adventure begins on a plane. You create a custom character, and then you're sent to live in a realm known as Big Adventures Park, a theme park located on Friendship Island. You've arrived to support My Melody, one of Sanrio's most adorable characters, in her quest to open a gift shop at the theme park.
But when you arrive, it turns out the island is in disrepair. It's up to you to restore the park's many biomes by tackling a range of tasks, building your friendship levels with your companions, and discovering new secrets along the way.
Each Sanrio character is in charge of one part of the Friendship Island park:
Kuromi is a citizen of the Spooky Swamp, which houses a puzzle-filled Haunted Mansion.
Retsuko (of Aggretsuko fame) keeps the lava hot at Mount Hothead.
Hello Kitty runs a bakery where you'll find a handy oven.
Keroppi runs the Nature Reserve, which is filled with animals.
My Melody runs the gift and furniture shop.
They're not alone, either. You'll journey to Friendship Island with 12 main Sanrio cast members – and more will be added in post-launch updates. Beyond the fine folk running reach part of the park, other characters also have handy roles.
Cinnamoroll helps you activate fast travel to each of the game's main biomes – Mount Hothead, Spooky Swamp, Gemstone Caverns, Coral Reef, and more. Meanwhile, the lazy egg Gudetama also has an important role to play.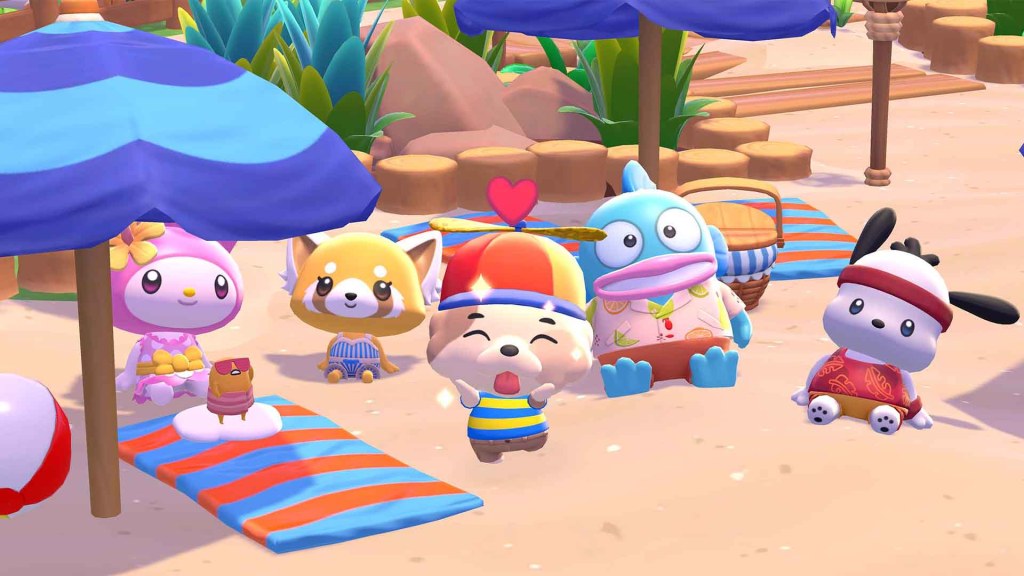 As you journey through Hello Kitty Island Adventure, working to up your friendship scores, solve puzzles, and restore Friendship Island, you'll also be able to take part in a cute mini-game known as 'Gudetama Snap'.
Gudetama Snap essentially requires you to search through island landscapes to find dozens of little Gudetamas, each in unique poses (on the beach, by the mountains, and so on). By taking a selfie with each Gudetama you find, you'll be rewarded with egg-themed clothing, furniture, and other items.
The power of friendship
Making friends is essential in Hello Kitty Island Adventure, with high friendship scores with individual Sanrio characters unlocking new story quests, cosmetics, cooking upgrades, crafting recipes, companion abilities, and more.
To level up a friendship, you'll need to spend time with each character and gift them their favourite goodies. Hello Kitty likes baked goods, fruity things, and fancy things – and other characters all have their own preferences. There are dozens of item types available in the game, and each character will like a mix of different item types.
For the best result, and to go from 'New Friend' to 'Best Friend' you'll need to pay attention to their likes, collect and craft the right items, and make sure to visit them frequently.
You'll also be able to meet new 'guest' characters in special island cabins, and they'll help you collect even more items to aid your friendships. Sunblink has confirmed five guest characters so far, including Dear Daniel, Mimmy, Azuki, Chiffon, and Cappuccino.
According to Sunblink, gameplay isn't strictly tied to real-life days, outside of special events, character birthdays, and character friendship levels (these will reset on a 24-hour cycle). Each in-game island day takes around 24 minutes, at which point you'll be able to begin your non-essential daily tasks – item collecting, fishing, and exploring – all over again.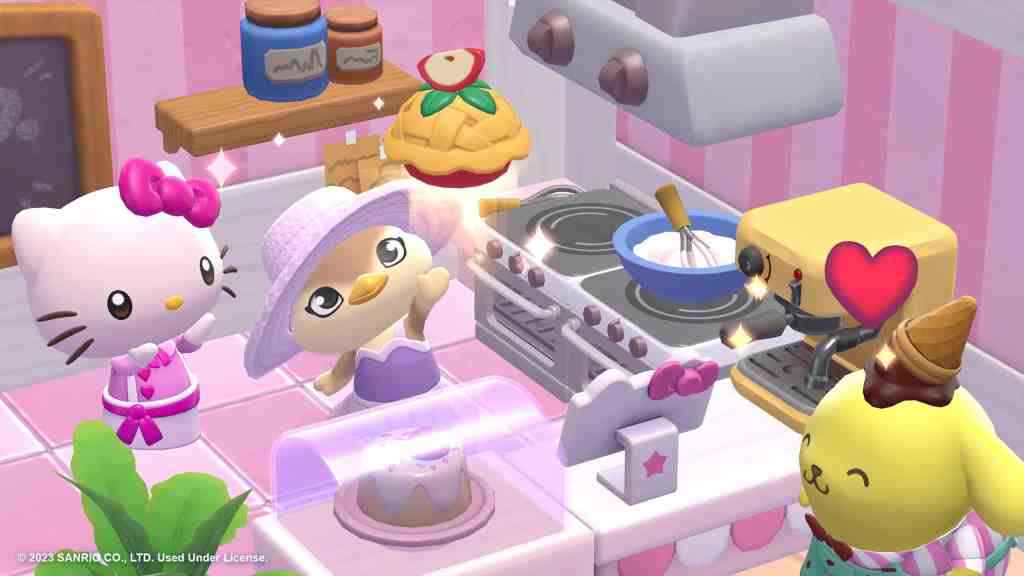 Speaking of friends, you'll also be able to take your real life friends on your travels through the game. Hello Kitty Island Adventure supports multiplayer, so you can invite friends to your island, or visit theirs. While exact details of this functionality have not been revealed, we expect multiplayer mode will function rather like Animal Crossing, with players able to catch bugs, fish, and craft together.
Activities for everyone
Beyond making friends, your time spent in Hello Kitty Island Adventure will involve a range of special activities – many of which will be familiar to life simulator fans. Here's a rundown of what to expect from the game:
Puzzle-solving – Hello Kitty Island Adventure will include a number of environmental puzzles to solve, particularly in the Haunted House area of Spooky Swamp. These puzzles will require you to push and pull levers, analyse your environment, and solve clues to complete challenges.
Critter catching – In the game, you'll have a range of critters to collect with a net, including adorable chickens, frogs, bugs, turtles, and ladybugs.
Fishing – Likewise, you'll be able to catch special fish using a fishing rod in locations across the island.
Exploration – In each corner of Island Adventure, you'll find hidden secrets – so you'll also need to make time to explore your surrounds. There are a number of huge biomes in the game (which is large enough that you'll need fast travel) and each hides mini-puzzles, Gudetama Snap, and other secrets.
Crafting – On your island, you'll find a range of items to collect and turn into useful goods by crafting. As you make friends and explore, you'll gain new recipes, and these can be used to create furniture, clothing, and handy tools.
Cooking – As with crafting, you can also spend your time on Friendship Island gathering ingredients to cook delicious meals. There are five different cooking stations on the island, and each lets you make a different kind of food – pizza, drinks, baked desserts, soda, sweet pies, and more. It all looks very delicious and very cute.
Every day, you'll also be able to take part in special events. To kick off the launch of the game, Sunblink will host a special Launch Celebration – and players will be able to earn new cosmetic items for logging in and participating.
Hello Kitty Island Adventure will get frequent updates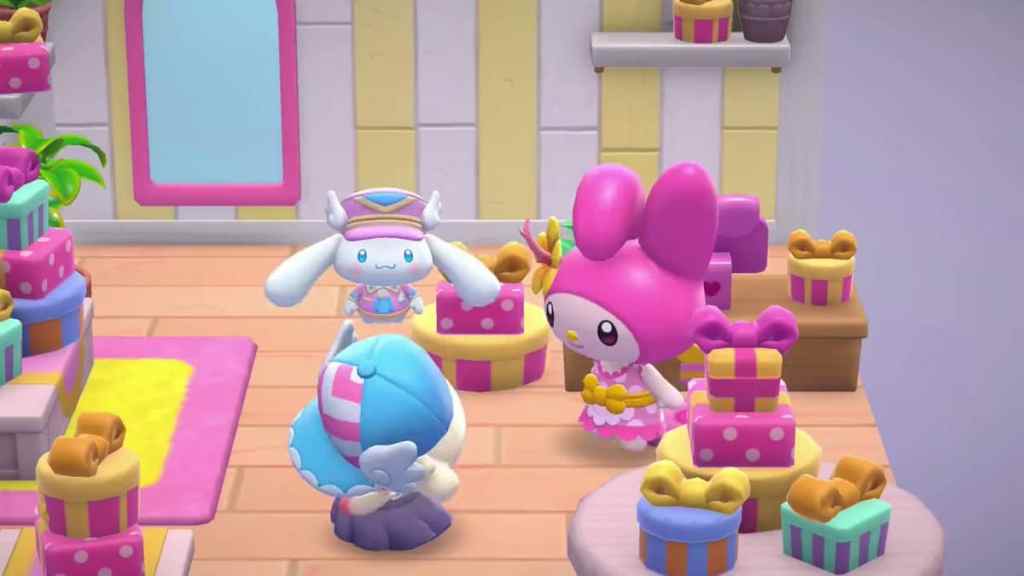 While these are the major features included in Hello Kitty Island Adventure at launch, Sunblink has promised plenty of fresh updates in the months following the game's launch. Its first post-launch update, planned to arrive in August 2023, will introduce two new characters: The Little Twin Stars, Kiki and Lala.
They'll come with their own special story and biome – The Cloud Islands – as well as new Dreamy-themed furniture and clothing items. They'll also be joined by other new characters, including Mocha and Espresso.
Should Hello Kitty Island Adventure find its desired audience, Sunblink hopes to continue expanding the game's world, to create a place where 'everyone feels welcome'.
Given the wholesome vibes and gorgeous gameplay shown off during our early preview of Hello Kitty Island Adventure, there's certainly plenty of hope for a thriving community to grow around this upcoming game.
---
Hello Kitty Island Adventure launches exclusively for iOS via Apple Arcade on 28 July 2023. You will need to be an Apple Arcade subscriber (AU $7.99/month) to access the game.
GamesHub has affiliate partnerships. These do not influence editorial content. GamesHub may earn a small percentage of commission for products purchased via affiliate links.