The Game Developers Conference (GDC) in North America is the largest gathering of creatives in the games industry. As a week-long event that highlights numerous high-end panels about different facets of game development, the latest trends in gaming culture, and upcoming challenges that the industry needs to face, it's an excellent place for those in the industry to learn about the latest innovations, and discuss where things are going next.
The event is also an excellent place to check out some of the latest games from indie developers and larger publishers. Pulling from the GDC show floor, ID@Xbox, the Day of the Devs, The Mix Indie showcase, and other meetings with developers, here is a rundown of some of the fantastic games we saw during GDC 2023.
Read: GDC Awards 2023: All the winners and finalists
---
Bramble: The Mountain King
Release Date: 27 April 2023
Platformsm: PC, PS5, Xbox Series X/S, Nintendo Switch
Bramble: The Mountain King is an interactive dark fantasy fable emphasising its gorgeous yet dangerous world. Inspired by nordic fairy tales – the type that venture into grim territory – you play as a young boy named Olle, who has to rescue his sister from the many goblins, trolls, and other mythical creatures residing in the countryside. It channels a similar horror vibe to games like Little Nightmares and Inside, but leans further into its personal story of survival and overcoming the odds.
What impressed me most about Bramble was how it juxtaposes vibrant and colourful environments with some unnerving encounters — similar to Ari Aster's Midsommar. One particular stand out is a stealth sequence in a swamp, where Olle has to evade a weeping siren in the distance. It's a gorgeous sequence for its visuals, but also a tense encounter as you must get Olle out of the water and away from the siren.
Bramble: The Mountain King features a type of minimalist horror storytelling that makes for a compelling journey for its protagonist, and it's a game I definitely have my eye on.
---
5 Force Fighters
Release Date: TBD 2023
Platform: PC
What was exciting about playing 5 Force Fighters is that it not only wants to make you feel like you're an experienced fighter, but it also efficiently presents its mechanics in a clear and approachable way. As a tribute to anime-style fighters like Dragon Ball Z Budokai, Skull Girls, and BlazBlue, 5 Force Fighters keeps its mechanics simple, to give way to some thrilling bouts with its cast of characters.
Immediately after getting accustomed to the unique systems, I could jump in and go toe-to-toe with an experienced fighter, and I still had a blast powering up and unleashing some satisfying combos. With a style that echoes the humour and exuberance of Adult Swim's The Boondocks, 5 Force Fighters is looking to be a contender amongst the growing field of anime fighters, with the mettle to keep up with the action.
---
Dr Fetus' Mean Meat Machine
Release Date: 22 June 2023
Platforms: PC, PS5, PS4, Xbox Series X/S, Xbox One, Nintendo Switch
As a spin-off of the notoriously challenging Super Meat Boy series, Dr. Fetus's Mean Meat Machine takes on the familiar, relentless pace of the classic platforming games, and adds in puzzle mechanics. As a parody of the oddball Sonic The Hedgehog spin-off, Dr. Robtonik's Mean Bean Machine, the antagonist of Super Meat Boy subjects a Meat Boy clone to various twisted experiments involving puzzles, all while avoiding buzz saws, and other bad guys within the facility.
Each level functions as a simultaneous puzzle lair and a meat-grinder, with you guiding cloned, multi-coloured Meat Boys into organised positions while avoiding gory deaths. It's essentially a game of Puyo-Puyo, but with buzzsaws. It's a clever spin and homage to classic puzzle games, while still having that familiar and fun Meat Boy vibe.
---
Ra Ra Boom
Release Date: TBD
Platform: PC
Ra Ra Boom has got spunk and style in spades. It blends the energy and pace of the beat-em-up and run-and-gun genres together, and showcases a cast of fun and loveable characters eager to bash and blast killer robots. As something of a mix between River City Girls and Metal Slug, Ra Ra Boom sees a cast of teenage brawlers leave their remote space station to travel to Earth, which robots have taken over.
What Ra Ra Boom has going for it is its fast-paced and exuberant gameplay style. You'll juggle between long-range and close-range attacks, allowing opportunities to mix up your tactics in each fight. The cast of characters, which includes a heavy-soldier type, a ninja, and an all-around brawler type, all have an infectiously cool and fun personality. Ra Ra Boom keeps up with a chill, Saturday morning cartoon-style vibe for its exciting action gameplay, which gives it such an awesome aesthetic. This throwback brawler/shooter hybrid has got the makings of a knockout action game, and I can't wait to see more of it.
---
The Lamplighters League
Release Date: TBD
Platforms: PC, Xbox Series X
The Lamplighters League is a bit of a change for developer Hairbrained Schemes, who are mostly known for working on the popular reboots of Battletech and Shadowrun. As its first new IP, The Lamplighters League brings the dev's familiar and engaging strategic gameplay into a pulpy, action-filled world where a group of vagabonds must save the world from cults and criminal organizations bent on total control.
Essentially, the game blends the squad-based gameplay of XCOM with the aesthetic and plot of a 1930s action serial – all complete with a cast of rogues with their own set of traits and quirks. It's an exciting mix of genres, and coming from one of the creatives behind the fan-favourite Crimson Skies: High Road to Revenge, it carries a sense of swagger and personality that you wouldn't normally see in a turn-based strategy game. The Lamplighters League puts its cast of rogues, who reluctantly have to save the world, in the spotlight, and that gives it a compelling hook for a strategic turn-based action game.
---
El Paso, Elsewhere
Release Date: TBD 2023
Platform: PC
El Paso, Elsewhere was one of the wildest games that made the rounds during GDC 2023. As a tribute to the classic, low-polygon action games from the 1990s – especially Max Payne and the Die Hard Trilogy – it sees its protagonist fight off vampires, ghouls, and other unsettling monsters in trippy, supernatural environments, such as a hotel public bathroom that never seems to end. It's a fever dream of a game, which mixes the intensity of classic PC shooters with the melancholy and surreal vibes of Silent Hill.
What's admirable about El Paso, Elsewhere is that it's not only a fun and satisfying shooter, but also a passion project for its developer Xalavier Nelson Jr. – who previously released An Airport for Aliens Currently Run by Dogs. Not only does he voice the protagonist, he also wrote the lyrics for many of the hip-hop songs that punctuate the action of the game's intense gunfights.
With several shooters now borrowing more from the tenets of classic games, El Paso, Elsewhere is looking to channel an aesthetic and vibe not often seen these days, and that makes it something to watch out for when it releases later this year.
---
Bomb Rush Cyberfunk
Release Date: TBD 2023
Platforms: PC, Nintendo Switch
The Jet Set Radio series from Sega has a serious cult following. While the franchise has largely remained dormant since the release of the HD remaster of the original game in 2012, we do have the next best thing with Bomb Rush Cyberfunk, coming from developers Team Reptile. Bomb Rush Cyberfunk is a tribute to Sega's classic game, and a spiritual successor which aims to bring those funky, high-flying inner-city antics into the modern era.
Playing Bomb Rush Cyberfunk felt like diving back into Jet Set Radio Future, but with some much-needed updates to the traversal and platforming action. Unlike JSRF, though, the successor seeks to add more customisation and play styles to its tagging and city-trekking. Along with the familiar skates, you can also skateboard, bike, and even free run across the city. So far, the game's frantic pace and head-bobbing soundtrack keep up with that familiar style. BRC doesn't seek to reinvent the classic series, but rather give us more of a cool, trippy thing that deserved more life – and I can't wait to see more of it.
---
Botany Manor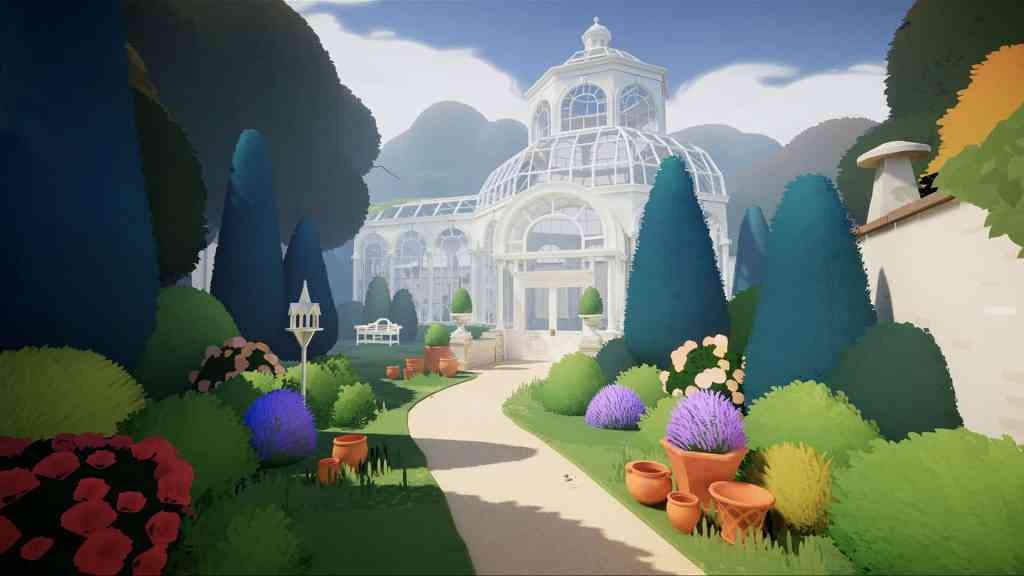 Release Date: TBD 2023
Platforms: PC, Xbox Series X/S, Xbox One, Nintendo Switch
If there's one thing to say that best describes Botany Manor, it knows how to get you settled into a certain vibe. As a relaxed and thoughtful puzzle adventure game, Botany Manor puts you in the role of a botanist who explores a massive mansion and its surrounding estate to uncover the secrets and origins of mysterious seeds.
Essentially, it's Gone Home, but filled to the brim with details about botany, geographical data, and the state of technology during the 19th century. It's an unusual premise for an adventure game, but spending some time with it got me very much invested in where this botanist's journey would go next.
---
Pacific Drive
Release Date: TBD 2023
Platforms: PC, PS5
Pacific Drive takes a particularly unique approach to an open-ended survival game – it's a driving game and an atmospheric survival-scavenging game all rolled into one. Set in a section of the Pacific Northwest of North America that's taken over by mysterious forces, you play as a survivor who has to keep their station wagon up and running as they trek further into the corrupted zone filled with chaotic weather anomalies and odd threats. Your car is the essential tool to survive the wilderness, but it's slowly breaking down amid the hostile world.
Along with scrounging for basic supplies, you'll need to trek to abandoned gas stations and homes to find parts to keep your car running, as you won't survive long on foot. It's a compelling mix of genres, and it was tense trying to fix up parts of my car just as a dangerous storm approached. With Pacific Drive coming later this year, it's poised to be one of the more unorthodox and intriguing games to launch within the landscape of the survival sub-genre.