In 2020 the borders between Australia, New Zealand, and the rest of the world shut down. It meant travel largely became a thing of the past. In its stead, virtual tourism and exhibition spaces thrived, as people looked for new ways to experience the world from home. Now, there's a fresh new way to travel: through Fortnite, and the brand new 'Lands Down Under' themed creative hub.
Lands Down Under is a digital creation from community builders Alliance Studios and Zen Creative which aims to 'capture the spirit' of Australia and New Zealand, and allow visitors to experience local culture on a virtual stage.
From November 25, Fortnite players will be able to visit the new hub from the game's creative mode to discover all the sights and sounds of Oceania for themselves.
Read: The Joy Of Creating A Pandemic Art Island in Minecraft
What they'll discover is a mini-museum dedicated to the beauties of the Southern Hemisphere.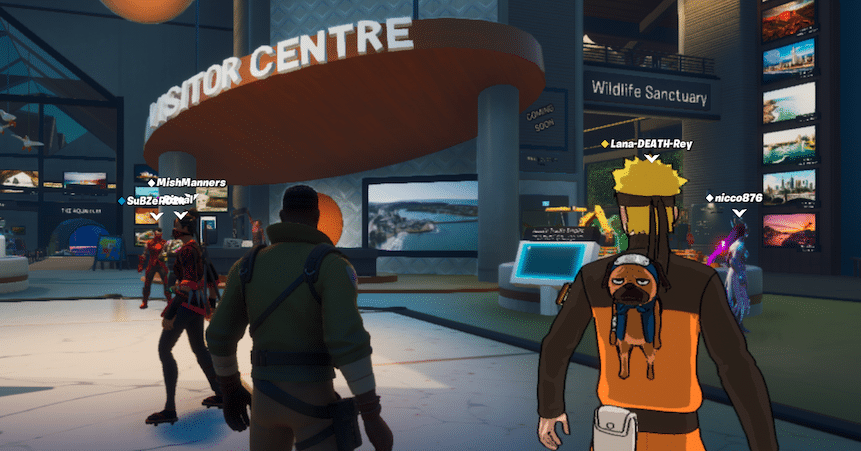 While the hub has been created to celebrate the launch of Fortnite's ANZ social channels on Twitter and Instagram, the content here is a little more than skin deep.
When players first arrive in the hub, they'll come to a Visitors Centre, which feels very reminiscent of Melbourne's real-life Visitor Hub.
Out the front, there's a bin being attacked by model 'bin chickens' (ibises). Inside, there are walls covered in images from across Australia and New Zealand, as well as a wildlife sanctuary populated by a variety of local creatures.
There's also a distinctly Aussie-feeling cafe, which serves drinks to passing players and looks out over flourishing bushland.
It's a neat locale, made even neater by the inclusion of museum-like exhibitions which share more about the surrounds of both countries. On one wall, you see Matamata's Hobbiton tourist set. On another, the Sydney Harbour Bridge and its surrounds. These images are accompanied by plaques sharing more about each country.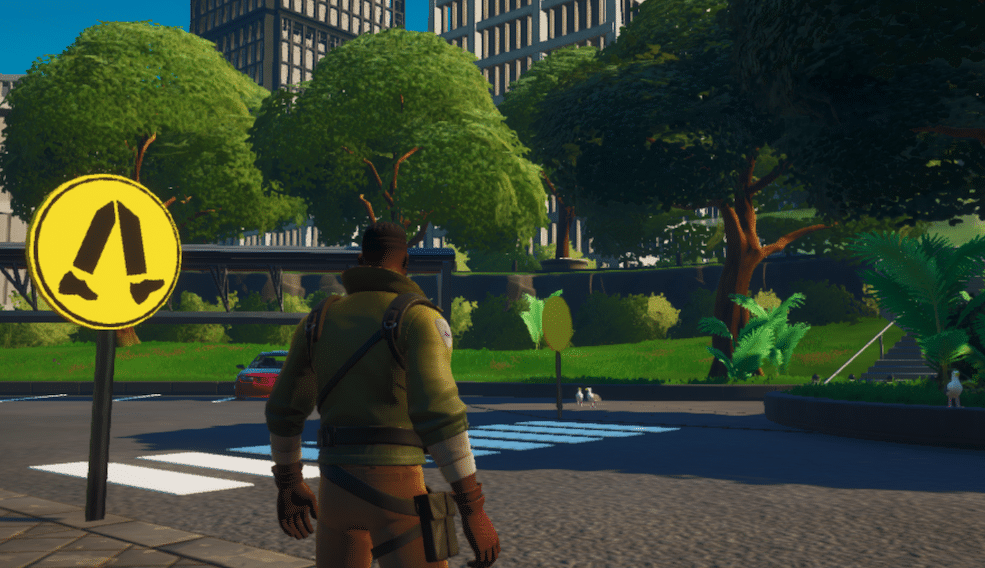 There's a clear attention to detail in Lands Down Under, and each corner is packed with neat tidbits and pieces of Aussie or Kiwi culture.
However, the hub feels like a missed opportunity in that it does not seem to highlight Indigenous Australian or Māori culture at all. When asked about it, Epic representatives did not provide any specific comment about the matter.
Read: The biggest Australian-made games coming in 2021-22
Fortnite Lands Down Under mini-games
Outside of the actual Visitors Centre, the new Fortnite creative hub also includes a number of themed mini-games for players to take part in, either solo or via multiplayer battles.
The four games — Sydney Surf, Aussie Tradie Empire, Bake vs. Batter and Kiwi Hideout — all focus on some aspect of Australian or New Zealander culture.
Sydney Surf is a classic surfing slalom set in the Great Barrier Reef. Aussie Tradie Empire lets you build a home via construction challenges, and become the best builder around. (There's even a replica Bunnings in this mini-game.) Bake vs Batter is set on a Sydney Fish Market-style pier, and sees players competing in cook-offs where fish, chips, and pies are the key to victory.
Meanwhile, Kiwi Hideout is the sole New Zealand-themed game, and follows players as they attempt to rescue a pack of Kiwis that have escaped from their zoo enclosures.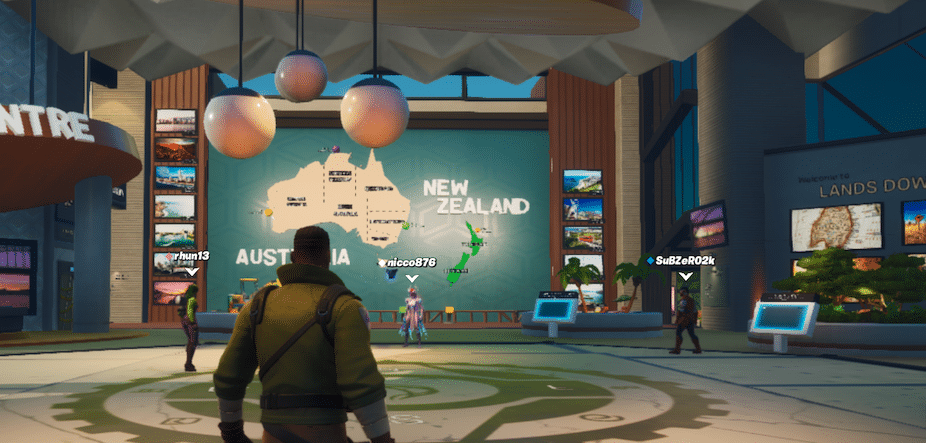 Aussies and New Zealanders will enjoy the nods to local icons (particularly the bin chickens), and anyone who's never been to either country will get a great introduction to distinctly local flavours.
In light of tourism slowing down during the 'covid' era, Lands Down Under has the potential to be something far more than just a simple gimmick. It also makes a very effective case for why virtual tourism is so valuable. While there are some missed opportunities in its presentation, it remains a nifty idea.
In lieu of real travel, it's a great alternative for experiencing and learning more about modern life in Australia and New Zealand.
The Fortnite Lands Down Under creative hub is now available via Fortnite Creative mode. Simply search 'Lands Down Under' and head on down for a quick kip with your fellow Oceanians.