Disney Villainous is an exceedingly popular modern board game that pits villains from across the Disney universe against each other in tense, card-based bouts. With lush art, well-designed gameplay, and a cast of beloved characters, it's fostered a passionate community hungry for new expansions. Publisher Ravensburger has largely kept up with demand, launching multiple new expansion packs over the last few years – but it appears some fans want more from the game.
Between major content drops for Disney Villainous, its player community has begun working together on home-made digital and print-and-play homebrew expansions, starring whole new villains and gameplay mechanics.
The well-established Disney Villainous Homebrew Wiki is just one avenue for these fans to share their custom creations, and it's grown considerably over the last few years.
To date, the wiki has tracked the release of 17 major, unofficial Villainous expansions, adding in lesser-known villains to the game: Bill Cipher (Gravity Falls), Governor Ratcliffe (Pocahontas), Chernabog (Fantasia), Judge Frollo (The Hunchback of Notre Dame) and even non-Disney characters, like Bowser from Super Mario, and King Dedede and Zero from Kirby.
While many of these expansions are exclusive to the digital Tabletop Simulator version of Disney Villainous, a strong contingent are also available for home print-and-play, allowing anyone to download and adapt new characters into their own physical version of the board game.
Over on Etsy, many of these expansions have even come to life with special fan-made, 3D-printed tokens and character movers, for that added sense of immersion.
Read: The best board games for beginner players
The best custom Disney Villainous characters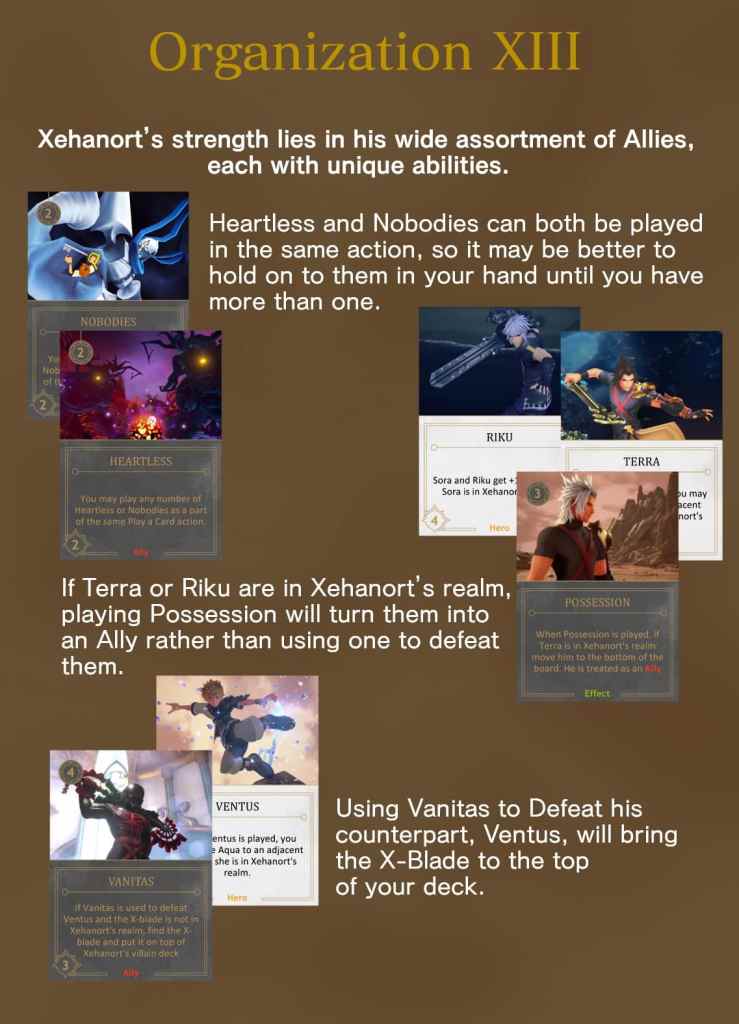 Browsing the Homebrew Wiki, you'll find reams of excellent, sleekly-designed character expansions, each with custom-created decks and home realms that integrate well into Villainous gameplay. Each villain has their own themed mechanics, goals, hero cameos, and more, with many designs adapting official artwork for a touch of familiarity.
These packs are a clever way of expanding the game for those who've already exhausted the villains available from official sources.
Once you've played through the base version of Disney Villainous and its main game expansions, you can keep playing near-endlessly. You can print-and-play boards for underrated Disney villains like Prince Hans, the Sanderson Sisters, Shere Khan, Monstro, Zurg, and Magica De Spell.
If you're looking to become more adventurous, you could even journey to the world of The Simpsons, with Principal Skinner, Mr. Burns, and Sideshow Bob available for a near-complete transformation of gameplay. For more Disney-adjacent content, Master Xehanort from Kingdom Hearts has a Disney Villainous build, as does Regina Mills / The Evil Queen from Once Upon A Time.
Beyond these options, you can shake things up with even wilder crossover characters, like Rita Repulsa from Power Rangers, Norman Bates from Psycho, Frank Fontaine from BioShock, or Shao Kahn from Mortal Kombat. The possibilities are impressive.
While this homebrew scene exists in a legal grey area, with custom content at the mercy of Ravensburger and Disney, it should be allowed to grow for as long as passion for Disney Villainous remains.
These expansions do not work alone, and require the base edition of Disney Villainous (physical or digital) to run. They're simply a means to keep players involved in the Villainous ecosystem, with demand for alternative characters being filled by the talent and ingenuity of keen players.
There's extremely clever plays to be found in these custom card decks and realms, with rigorous testing by homebrew community members allowing many of the new guest characters to feel like legitimate and worthy inclusions.
Print-and-play expansions may lack the quality and design of Ravensburger's native offering, but if you're looking to keep playing Disney Villainous after the base game novelty is over, there's certainly plenty of snazzy new characters to be found online. The homebrew scene for the game is thriving – and with its wild cast of characters, it has the potential to ensnare even more players into the Villainous franchise in future.
Disney Villainous and its official expansions are available from Amazon and other board game retailers. Visit the Disney Villainous Homebrew Wiki for a complete list of custom characters available for download.
Disney Villainous - Ravensburger
Buy Now
GamesHub has affiliate partnerships. These do not influence editorial content. GamesHub may earn a small percentage of commission for products purchased via affiliate links.
09/25/2023 10:34 am GMT