Crash Team Rumble continues a wild tradition for the Crash Bandicoot franchise: completely divergent multiplayer spin-off shenanigans with a colourful and boisterous cast of characters. Treading in the footsteps of Crash Bash and Crash Team Racing, this upcoming multiplayer strategy game combines the free-form platforming on the mainline Crash Bandicoot games with the chaos of high-speed Wumpa-grabbing for a competitive game packed with tricks.
During a recent media preview, we were able to get a detailed overview of what to expect from Crash Team Rumble when it launches later in 2023. Here's everything we learned about the spin-off.
---
Crash Team Rumble: Release Date and Beta
Crash Team Rumble is set to launch on 20 June 2023 for PlayStation 4, PlayStation 5, Xbox One, and Xbox Series X/S. It is not currently confirmed to launch on PC.
Preorders for the game will open on 21 March 2023.
When the game launches, it will come in two editions:
Standard Edition (US $29.99 | AU $44.95) – Includes Premium Battle Pass for Season 1
Deluxe Edition (US $39.99 | AU $64.95) – Includes Premium Battle Pass for Season 1 and Season 2, 25 Tier Instant Unlock for Season 1 Battle Pass, 'Proto Pack' with Eight Exclusive Prototype Skins, and Gear
Ahead of the launch, developer Toys for Bob will host a beta, with preorder customers invited to take part in online team battles from 20-24 April 2023. The five-day event will include five main heroes – Crash, Coco, Cortex, Dingodile, and Tawna – as well as four main powers (explained later on in this article), and three playable maps. Stay tuned for more news on this beta.
---
Crash Team Rumble: Gameplay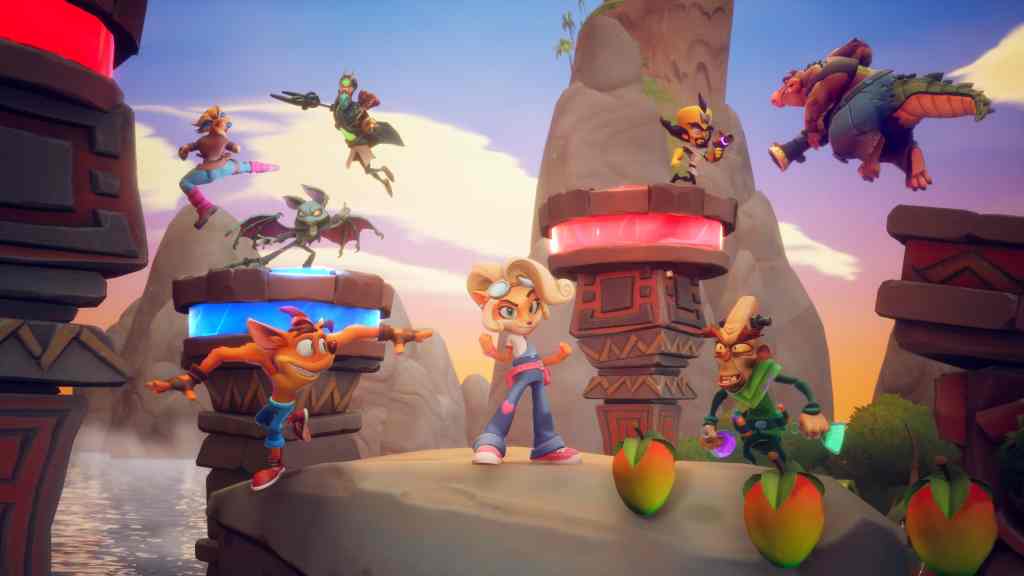 Crash Team Rumble is a 4v4 team-based multiplayer strategy game where players must stomp through various maps collecting Wumpa Fruit to fill a metre. Whichever team fills the metre fastest is declared the winner – although the path isn't easy, as players can attack each other along the way, utilise environmental features to cause chaos, and multiply their Wumpa supply with clever thinking.
There are three core tactics players can deploy to succeed in rounds of Crash Team Rumble:
Collecting the most Wumpa Fruit possible
Capturing 'Gem Pads' to secure bonus Wumpa
Activating Relic Stations to gain additional abilities
Let's start with the basic gameplay: Wumpa Fruit collection. Players enter each round of Crash Team Rumble with the ultimate goal of collecting the most Wumpa Fruit. This is achieved by exploring maps, and breaking open crates, then depositing collected Wumpa into a team 'bank'. If you get hit by another player, you'll lose collected Wumpa and health. If you hit another player, they'll lose collected Wumpa and health. Simple.
You can easily spend your entire time with the game just pursuing this goal – but if you want to maximise your gains, you'll want to deploy additional tactics.
On each map, you'll find two types of unique features: Gem Pads and Relic Stations. Gem Pads function a bit like Capture the Flag bases – you'll need to capture them by jumping on multiple platforms, then defending your position until the Gem Pads activate for your team. While active, they provide a percentage boost for the worth of your Wumpa deposits. Maximise your captured Gem Pads, and you'll get a stackable boost that makes collecting Wumpa much easier.
To further ensure victory, your team can also seek out Relic Stations. In each map, you'll find collectible relics scattered around the field. Collect enough of these and deposit them in Relic Stations, and you'll eventually unlock a special ability – for example, a giant roller ball to smash enemies, or various mask-powered moves. So far, Relic Stations revealed include:
An Uka Uka Station that gives every player on the team a fiery ball of protection, and transforms the battlefield into a dark wasteland.
A Lani-Loli Station that briefly turns teams invisible.
A Beach Ball Station that encases players in a high-damage, giant beach ball.
A Nitrous Oxide Station that summons Nitrous Oxide to fire lasers at enemy players.
A Bank Barrage Station that summons a rain of fire.
These Relic Stations can change the tide of battle dramatically, so it's best that players keep an eye on enemy tactics, and watch for any relic collectors on the field. Get caught off-guard, and you'll suffer the consequences.
Crash Team Rumble: Maps
The action will take place across multiple distinct maps, including:
Just Beachy – A tropical island surrounded by water, littered with gem stations and plenty of opportunities to take down enemies by drowning.
Calamity Canyon – A giant canyon stage with three gem stations and a sharp drop into an abyss for unsuspecting players. This stage contains a Nitrous Oxide Relic Station.
Tiki Towers – A platforming-heavy ruin that appears to be inspired by classic Crash boss, Papu Papu. This stage contains an Uka Uka Relic Station.
Footage shown off during a media preview also revealed a purple cave level that feels distinctly inspired by the second level of Crash Bandicoot 4: It's About Time, 'N. Sanity Peak'. We'll likely see more of these maps revealed as Toys for Bob gears up for a larger reveal.
---
Crash Team Rumble: Heroes and Powers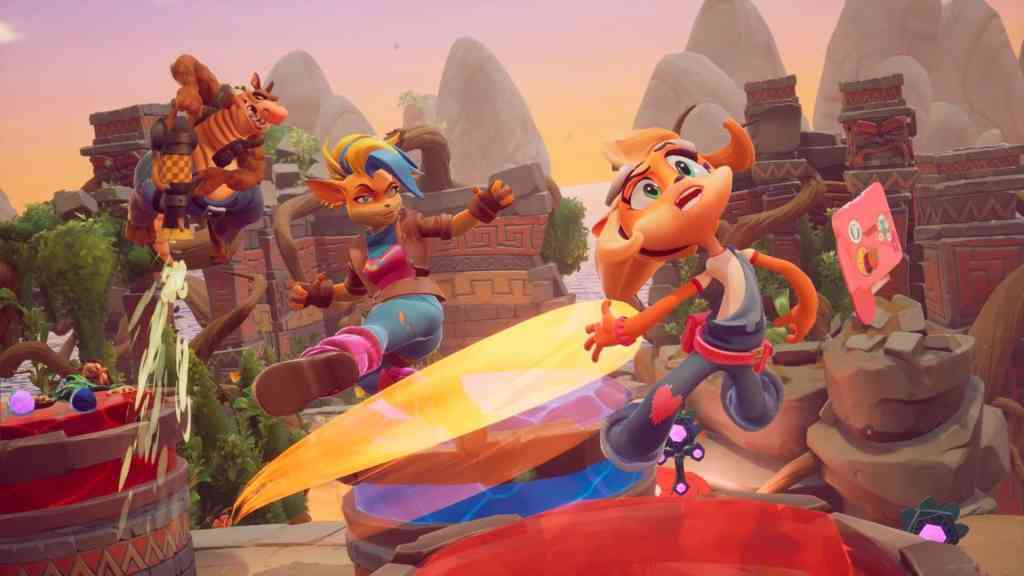 So far, only a handful of playable characters have been revealed for Crash Team Rumble. That list includes:
Crash Bandicoot
Coco Bandicoot
Tawna Bandicoot
Dingodile
Cortex
A mystery bat character rocking a punk look has also been seen in early trailers for the game, alongside returning villain N. Brio – but Toys for Bob has not revealed more about either character just yet.
Each hero in the game will have their own specialties, with three unique categories dividing them by skill:
Scorer heroes (Tawna) will have an easier time traversing the battlefield and collecting Wumpa Fruit.
Blocker heroes (Dingodile) are heavier, better at defence, and pack more powerful punches.
Booster heroes (Coco) can easily collect relics and turn gem pads for their team.
While these roles aren't strictly locked – players can pursue their own goals – they will determine how well certain heroes can perform in certain duties.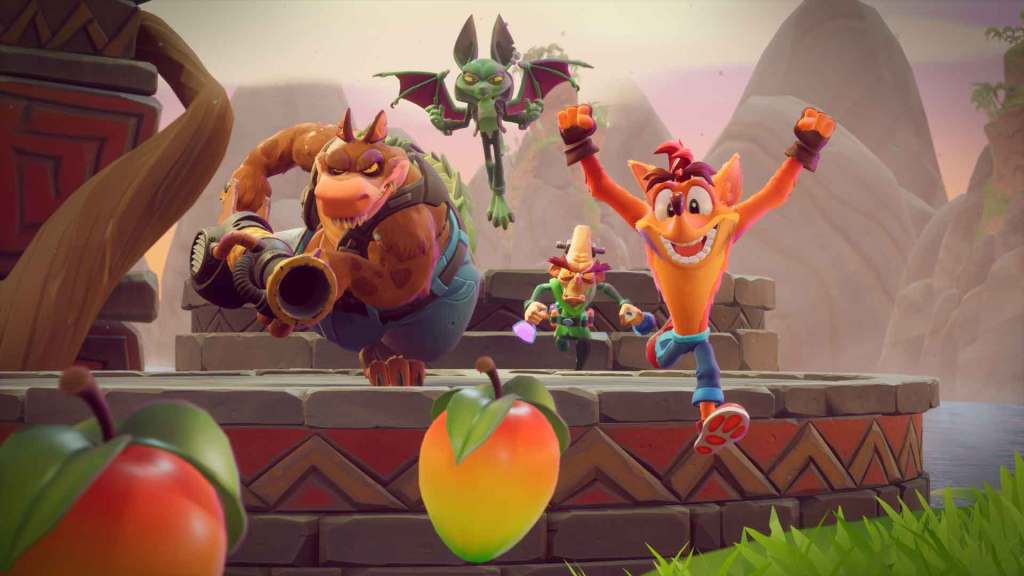 Once this choice has been sorted and players are ready to enter the battlefield, they'll gain a variety of 'Power' options to choose from. These are special items carried on the battlefield that each provide a handy boost. So far, Toys for Bob has revealed the following Powers:
Healing Fridge – A literal healing fridge that can be deployed (and destroyed) on the battlefield. Players in or near the fridge will have their health slowly healed over time.
Wumpa Stash – A collection of Wumpa Fruit that can be activated. Players must stay alive for around 30 seconds so the Wumpa can develop, and then they can be banked for 100 points.
Gasmoxian Guard – A large, summonable guard that lands on the battlefield and unleashes electricity on a chosen spot. This can be deployed near team goals or gem pads for maximum chaos.
Other Powers and Heroes are likely to be revealed at a later date.
---
Stay tuned as more details are revealed for Crash Team Rumble. With a unique hybrid gameplay style and multi-layered maps to explore, it looks like a colourful, inviting multiplayer romp – but we'll have to wait patiently to see how it differentiates itself in a crowded and highly competitive multiplayer game market.