The Barbie film has brought in a lot of love for Barbie, her history, and her legacy. Among a wave of retrospectives, there have been several spotlights on Barbie's presence in video games.
The most famous Barbie game is arguably Barbie Fashion Designer, which is usually credited as spearheading the hyper-gendered "girl games" movement in the '90s. And while Barbie Fashion Designer was immensely appealing and innovative for its printable outfits, it tends to overshadow the larger catalogue of licensed Barbie video games – several of which were created by Australian development studios.
Read: The Voice of Barbie, in Her Own Words
Australians love sport, and so does Barbie
Barbie Beach Vacation – which recently appeared on a Guardian list of top 10 Barbie games – was the first Barbie game to come out of Australia, developed by Krome Studios in 1999.
Krome would later work on Star Wars and Spyro the Dragon games, but they'd first made a name for themselves through early surfing games – Mike Stewart's Pro Bodyboarding, Championship Surfer, and Sunny Garcia Surfing – work which likely led to Barbie Beach Vacation.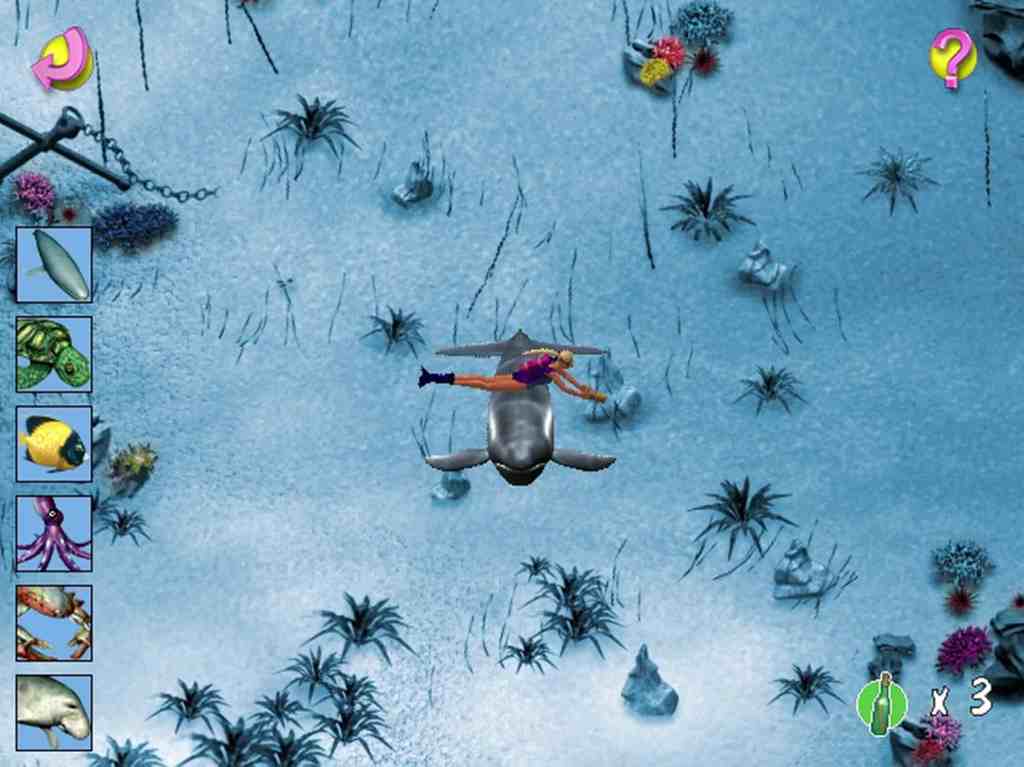 Even though Barbie herself is a Malibu girl, it seems fitting that Australians would be behind a beach game – Barbie goes surfing and even scuba diving in the Great Barrier Reef. It's only a shame that Barbie Beach Vacation was developed before Barbie's Australian boyfriend Blaine Gordon came onto the scene.
Contrasting with the beach theme, Krome Studios would later go on to develop Barbie Sparkling Ice Show. Players pick between Barbie, Theresa, and Christie and perform in the Sparkling Ice-Skating Tour which travels from snowy mountains, to tropical islands, to eventually the clouds in the sky itself.
Players get to decorate each skating rink, like snowmen in the wintery mountains. But the sky setting takes the magic to the next level with rainbow decorations, pegasus, and unicorns. The game of course also features impressive wardrobes of activewear, casual clothes and some enchanting figure-skating costumes designed by Australian developer, Nicole Stark.
Australian Studios and the Fee-For-Service Model
Barbie may be an icon of the American conglomerate Mattel, but Brisbane-based Krome Studios' contribution to the franchise isn't surprising, given the landscape of the national industry at the time.
For publishers and IP rights holders, Australia was an attractive location for outsourcing game development in the 1990s and early 2000s. The Australian dollar against the US and other currencies was low, there was a wealth of technical expertise, and the talent spoke English.
Because of this, Australian studios usually took on short fee-for-service projects. Studios like Krome, Torus, and Tantalus largely developed more console ports and licensed tie-in games than their own IPs. The games themselves were made quickly and cheaply, though the contracts brought in significant funding for these Australian studios.
Read: Ty the Tasmanian Tiger: Looking back with Krome Studios
The Play It Again 2 Project is currently in the process of collecting and preserving Australian games from the 1990s, with many being licensed projects that come packed with stories of technical challenges and unique creativity.
Some of Australia's earliest, iconic games were from such projects, like Beam Software's The Hobbit, Shadowrun, and True Lies. The Barbie games are likewise compelling in their own way. They invite feminine play, like decorating and outfitting dolls, into games that also celebrate athletic skill and leisure.
The era of US publishers licensing out games to Australia would fizzle out after the Australian dollar increased with the Global Financial Crisis. But in the 2010s, young girls would come to hold a strong market position with the rise of casual mobile gaming and the success of Nintendo's Wii and DS consoles – and Australian studio Torus would continue to contribute to the Barbie franchise.
Read: What happened to 'Girl Gamer'? Searching for Nintendo's forgotten pre-teen girl magazine
Barbie, Evil Supercomputers, and Puppy Training
Torus Games started out doing mostly Game Boy conversions in the 1990s. Today, they have a massive catalogue of games which is still largely made up of licensed content – many being children's properties.
Like Krome, they worked on two Barbie games – Barbie Dreamhouse Party (2013) and Barbie and her Sisters: Puppy Rescue (2015). Both were released for PC, Wii, WiiU and 3DS, with Puppy Rescue also being released on the PlayStation 3 and Xbox 360.
Barbie Dreamhouse Party is especially a hoot because it includes some subversive themes. It's based on Barbie Life in the Dreamhouse, which is a satirical web series formatted as a reality-tv show. It skews a little older in its tone, and the self-referential humour feels like an early inspiration for Greta Gerwig's recent Barbie film.
Torus' game leans into the satirical humour, and probably takes the Malibu Barbie airhead stereotype even further with cheesy writing that really ramps up the fashion-obsessed trope (ie. they play a video game called Intergalactic Supermodels: Voyage to Fashion Planet).
But there are also some unexpected pop culture references. The plot of the game centres around Barbie's home supercomputer system (named "Closet") who also appears in the web series and seems to be inspired by 2001: A Space Odyssey's villainous HAL 9000 – although Closet's love of dessert convinces me it's modelled just as much off Portal's GLaDOS, as it is HAL.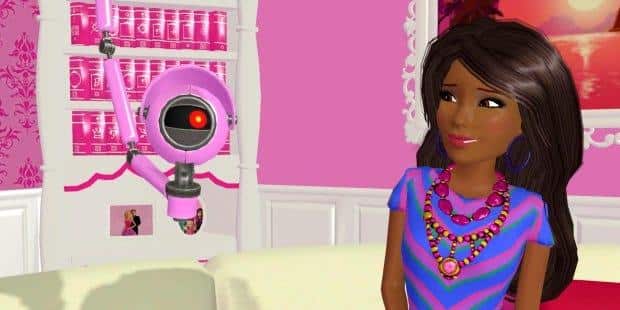 Steel metal doors lock Barbie and her friends inside the dreamhouse, where Closet makes them compete in mini-game challenges to free themselves. Just like GLaDOS, Closet offers monotone words of encouragement throughout that sound nothing short of sarcasm: "And Nicky nails it." "Really tight Theresa."
Two years after Dreamhouse Party, Torus went on to develop Barbie and Her Sisters: Puppy Rescue, showing the more everyday career side of Barbie. As Barbie, you cycle around town searching for lost puppies before taking them back to her sisters at the rescue centre to train and look after them.
This game stands out for involving some pretty un-glamorous activities, like scraping plaque off dogs' teeth, removing fleas bouncing off their backs, administering vaccines into their mouths, and cutting their nails.
There's also an impressive matchmaking system between puppies and potential owners based on interests, personality, and home type. It's nice to see these more ordinary career-oriented activities being made in addition to the glamourous and fantastical, like ice-skating in the clouds.
---
These Barbie games represent a historical era of the Australian games industry.
A lot of the licensed tie-ins won't necessarily be remembered as the greatest Australian games, but they constitute a major part of the national industry's history and ongoing identity – when the fee-the-service model was more commonplace, and international publishers looked to Aussie studios for outsourcing projects.
Though there were few women involved in making the games, it's interesting to see how Australian studios brought their own voices to the Barbie franchise, inserting humour and creativity to these short-term projects.