Infinite paths lead to careers in the Australian games industry: William Hinz is an award-winning playwright and narrative designer with an interest in queer non-linear aesthetics; Emma McCaw is a passionate producer and QA tester; and Sunny Tandoc is a multi-disciplinary artist and 2D animator who is working on a game set in Melbourne's culturally diverse inner West suburb of Footscray.
These are just three of the ten talented young Australian game creatives currently being mentored, networked and professionally developed, as part of IGEA's 2023 SMART program. All the mentees are receiving tailored mentoring and have direct access to a collaborative workspace in South Melbourne, helmed by Samurai Punk (Screencheat, The American Dream, Killbug) and filled with other independent game studios.
IGEA – the Interactive Games Entertainment Association, the peak industry body for games in Australia and New Zealand – first ran the mentoring initiative in late 2021 through to early 2022, with a cohort of 25 emerging games creatives. Helmed by IGEA's Ceri Hutton and supported by the City of Port Phillip council as part of its four-year Games Action Plan, the SMART program was designed to create career pathways, and support the growth of emerging talent and underrepresented peoples within the Australian games industry.
Read: Meet the SMARTies: IGEA's 2023 mentorship recipients
GamesHub had the pleasure of getting up close and personal with Will, Emma and Sunny to talk about their pathways, dreams and challenges. We look forward to seeing what they do next.
Table of Contents
William Hinz (they/them)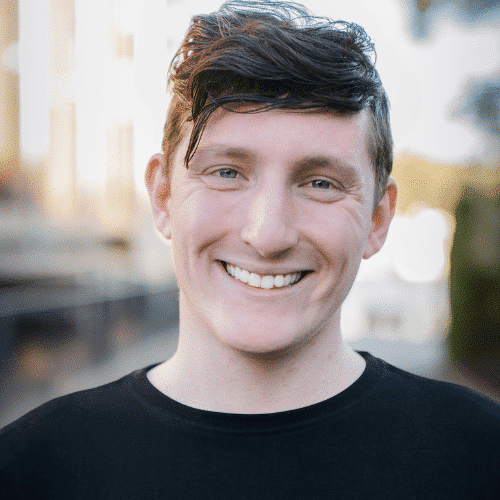 William Hinz is an award-winning playwright turned narrative designer, with a Masters of Writing for Performance from the Victorian College of the Arts. They are a recipient of the Orloff Family Charitable Trust for Excellence and an inaugural La Boite X APT grantee. In 2020, after the New York premiere of their work Guerilla Sabbath, Hinz was listed as one of Playbill's '34 LGBTQI+ Artists to Keep an Eye On'.
According to their bio, Hinz is 'fascinated by queer history and the lack thereof, non-linear debauchery, and queers as perpetrators of violence. Also… Queers… To them, every game is its own universe with its own set of rules for how story operates within. Is there text? Is there not? Is there dialogue? Is it voiced? Is it linear? Non-linear? Static? Malleable? Is it everything above or nothing at all? There's no scaffold for the perfect game, only a demand for reckless curiosity and relentless care. And that, to William, couldn't be more wonderfully queer.'
Their work has been performed globally, taught in the Queensland State Syllabus, and published by Australian Plays Transform.
GamesHub: With your background in playwriting and theatre, how and when did you make the jump over to games?
Hinz: It's hardly a unique story, but COVID hit the theatre industry extremely hard, particularly on the indie scale. At the time I'd only really been living in Melbourne for a year, I was living by myself, and my family were back in Queensland. So I had this thing that I'd (for the most part) come to Melbourne to do, and now it was all but impossible, I had no family around, and I was living by myself. So there was an abundance of time to kill and it was also the first time in a number of years I'd had the chance to dig into my backlog of games.
I think in all that I stumbled across gems like Journey, Spiritfarer, and Inscryption, and I rather rapidly became enamoured with the notion of narrative in games. That then led to deep dive into the GDC Narrative talks available on youtube, and I basically haven't stopped since. I was fortunate last year to be a part of the IGDA Foundation's Velocity cohort, which is a development program specifically catered to professionals transitioning into games from other industries, and I can't speak highly enough of how invaluable that experience was. I'm extremely proud to be a part of the foundation, and I'm currently volunteering as their mentorship coordinator for 2023.
As to how I made my way in (if I can even say that), I think the best advice I've found is to exist in as many spaces as possible. That means, yes, that you do need to make a Twitter, and you do need to find those Discords. I really wish the pathways were clearer and more accessible, but as someone who had zero community in the industry when I started out, I know I wouldn't be even close to where I am right now without those forums. My first professional contract literally came from a screenshot of a Twitter post posted in a Discord, and that's the level of obfuscation you're dealing with sometimes. I think 'when' is a tricky thing to nail down, because it's such a human thing to want a clear 'this is the point that I "got in"'. I'd say I started trying to make things happen in mid-2020, but I didn't land my first professional contract until late last year. 
What were the first games you played?
My first game came from my Grandpa, Pokemon Blue. That absolutely set the tone for me as a Nintendo kid, but my favourite games often fell closer to the CRPG/Wizard's Chess-style games. Neverwinter Nights 2, Final Fantasy Tactics, Devil Survivor. Games that made (and continue to make) me feel smarter than I actually am.
Is your trajectory unique, or are there lots of screenwriters and playwrights crossing over into games and narrative design?
Some of this is conjecture on my part, since I can only speak to my own experience. But truth be told I'm a little shocked I haven't met more people who've moved between games and theatre (the jump seems more common between film and games, and I've also noticed a decent amount of cross-over between comic writers as well). I think the parallels are fascinating, and I'm eager to explore them more in-depth once I'm a little more settled into the industry.
Theatre, much like games, is built (or should be built) with collaboration at its core. When you're writing for theatre or doing dramaturgical work (see: narrative design), you're constantly asking yourself 'what is the role of text in this work'? What part of the story is mine to tell, and what part of the story belongs to lighting, or sound, or the actors sitting in beautiful silence? Theatre, much like games, is so often about understanding that your contribution is part of a whole, that you're painting on a shared canvas, and you have to leave space for your peers. And if that doesn't excite you, maybe you should be writing a book.
Whilst I can't speak to specific numbers, there is something to be said about the fact that narrative design is one of the specialties most likely to pull in folks from a wide range of backgrounds. Conversely, there's also something to be said about the nature of narrative design as a component of games education. There's very little opportunity for young designers to study narrative both widely and specifically, and I think it's a field that quite often demands both that breadth and precision. In that sense, it makes sense to me that games often pull their narrative specialists from other mediums, where writers and storytellers have the opportunity to hone their skillset with a little more specificity.
What are the best ways for a person to train to become a narrative designer?
The wonderfully exciting (and sometimes terrifying) part of games as a medium is that they are infinitely iterative, and so wonderfully resistant to standardisation. You cannot take the narrative scaffolding of Journey and apply it to Halo. You can, however, take the narrative scaffolding of The Godfather and apply it to The Pokemon Movie, or take Hamlet's and apply it to Cats. These scripts have a start and an end, as all film or play scripts do. Sure, the content may be different, but they all start on page one and end on page X.  In many ways, game narratives defy that standardisation of form, and I believe that rejection is an inherent part of the ways that these stories manifest themselves. When we think about narrative in games, we have to think about the role of narrative in that 'mini-universe', and we have the potential to build those frameworks with a wonderfully exciting level of specificity.
I say this to emphasise my own belief that the best narrative designers are cross-medium, if not cross-disciplinary artists. Write for a wide array of mediums and platforms, because chances you'll end up doing that in games regardless, often to carrying degrees of diversity even within the same game. Don't just play games, and don't just think about the text when you do. How do design elements frame the dialogue (or lack thereof)? When the mood shifts, what shifts it? Sound? Lighting? Dialogue? Mechanics? How does the lighting sound? Where does the silence sit, and when it does, what is it making space for?
Can you tell us about the project you're hoping to develop during the mentorship and residency with Samurai Punk?
I wish I could talk about one specific project, but unfortunately I'm stuck behind a cheeky little NDA right now. I can say that it's marvellously labyrinthian, and it's been such a beautiful experience into my first foray of professional work in the industry.
Besides that, I'm also tying up my work as the writer for Partita, a branching instrumental game that follows the story of a queer couple abandoning their positions in the Moscow Orchestra and fleeing Russia during the fall of the Soviet Union.
I'm also volunteering with the IGDA Foundation, where I'm responsible for coordinating mentorship for both our virtual exchange and GDC programs.
What was the process of applying for the SMART program like?
One of my favourite facets of any application is a gosh darn word limit. I think it's a really useful guardrail for folks trying to distil their application down to what really matters. I've done a lot of applications across theatre and games, and I'm well accustomed to rejection at this point.
Every now and again though, I'll find myself writing an application that genuinely clicks. One of my biggest struggles transitioning into this industry has been coming in cold. It was, especially for the first year, surrounded by COVID, an incredibly lonely journey. I'm a social creature, I come from theatre, I work best with others. But the SMART program has been the first opportunity I've had to sit in with a group of other Australian artists, on the day-to-day, and just exist in a shared space. When I saw that was such a core focus of the SMART program, I knew I'd benefit so immensely from the experience.
What are the biggest challenges for you as an artist at this stage of your career?
I think I'm finally coming off the back end of it, and it really was the loneliness of trying to find my way into an industry with no one on the inside. There are, of course, infinitely difficult aspects of trying to make one's way as an artist in any artistic industry, but so many of those are made infinitely more bearable by having a community to share the load.
Can you give us some examples of games that have really queer, non-linear narrative design?
I'm not sure if this is a controversial take, but I'm extremely fascinated with what queerness looks like in games when it isn't necessarily coming from the narrative. What does a queer game look like with no explicitly queer characters? Can it? What is queer lighting? What is queer audio design? What is queer technical art? What is queer gameplay? In theatre, we often think of queerness as being best defined by its inherent rejection of definition (a wonderfully queer paradox, I know). But I'm always struck by how much that line of thinking parallels my personal beliefs on how games reject standardisation. I think that games are an inherently queer medium, and I'd love to see a world where we embrace those parallels.
But to stop dodging the question, I'll start with a game that's absolutely, wonderful queer in both form and content, Queers in Love at the End of the World.
Whilst I wouldn't describe it as queer, I'm endlessly enamoured with the narrative framing in Spiritfarer, and I think it does such a marvellous job of balancing its narrative weight with a world so wonderfully comforting.
Finally, and were time limitless I'd love to talk more about why, but I truly believe that Journey is a wonderful display of queer design in action. Consciously or unconsciously, Journey manages not only to pack such a beautiful narrative into a wordless word, but it does so in a way that capitalises on that lack of text and dialogue in order to support that narrative so wholeheartedly.
---
Emma McCaw (she/her)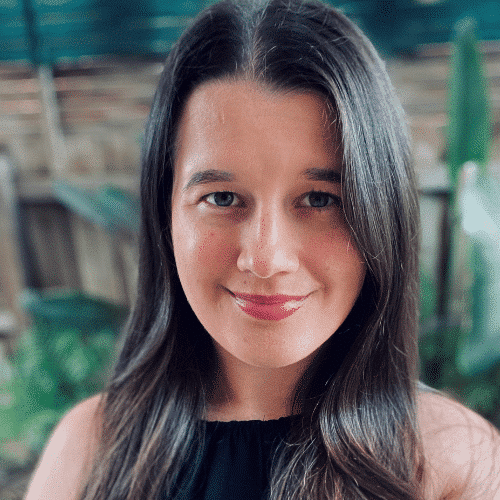 Emma McCaw recently graduated with a Bachelor of Games Development (Game Design) at SAE Melbourne and is a passionate game producer and QA tester. She is working on a series of mini-projects with two other game dev graduates and plans to increase the team size as each project develops.
According to her bio, McCaw seeks to 'gain knowledge in all aspects of the game industry to improve her skills in production and QA. Over the years, she plans to delve deeper into accessibility and develop fun, innovative, engaging, and accessible games that all players can enjoy.'
GamesHub: How did you come to be passionate about games? Does this go way back to childhood?
Emma McCaw: My older brother introduced me to gaming in my early childhood. I played his games until I got my first consoles, the GameBoy, Nintendo DS and PlayStation Portable (PSP). My favourite games on those consoles were Pokemon Emerald (Game Boy), Nintendogs (Nintendo DS), and The Simpsons Game (PSP). When my brother got a PlayStation 3, I was introduced to RPG action-adventure games, such as Grand Theft Auto IV, Assassin's Creed Brotherhood, and Elder Scrolls: Skyrim.
I started considering game development as a career option in my early 20s. My career began when a friend suggested studying game development at SAE Melbourne in 2020. I've always been interested in the development of games and their intricacies, so it felt like home to me.
What kinds of games do you love playing and QA testing?
I enjoy playing action-adventure games and games with incredible graphics, intricate level design, and emotional narratives. I play various games on PC, PlayStation, Switch, mobile and VR. My favourite genres would be RPG action-adventure games on Playstation, casual idle and puzzle games on mobile, action-adventure platformer games on Switch, and action RPG survival multiplayer games on PC.
I am an explorer and achiever player type; I love exploring every corner of the game and collecting all achievements. From a QA perspective, having an explorer trait is important, as you have to be inquisitive and think outside the box to find interesting bugs.
My favourite games of all time are Elder Scrolls: Skyrim, Assassin's Creed Valhalla, Horizon: Zero Dawn, Horizon: Forbidden West, Red Dead Redemption 2, Ghost of Tsushima, God of War (2018), God of War Ragnarok, Maneater, Egg Inc., and Tribes of Midgard.
What are the key skills a great QA tester possesses?
The key skills a QA tester possesses are clear and concise communication, especially with bug reports, teamwork, learning to ask open-ended and closed-ended questions, knowing other disciplines' pipelines, time management and being able to prioritise your own time versus the features of the game, as a QA's work generally builds up closer to the end of the production phase and into the post-production phase.
Producers share the same key skills plus emotional intelligence, i.e. self-awareness, which enables me to develop my skills quickly and efficiently in both roles. These are all valuable skills to have, not only in production and QA but in all disciplines.
What are you hoping to achieve during the SMART mentorship?
I plan to gain more experience and skills in production and QA by developing my project and testing other recipients' projects, gain on-site studio experience in the Samurai Punk space, and expand my network with the SMART recipients, Samurai Punk, Summerfall Studios, and VectorStorm developers. Also, gaining invaluable knowledge from my producer and QA mentors during the program.
Can you tell us about some of the games you've worked on as a producer and what you'd eventually like to do in the games industry?
I have been a producer in four of my five projects, mostly through university, except for my current project.
The first project I worked on as a producer was Labyrinth of Trepidation, a game based on psychology and provoking emotion. In the game, you traverse through a dark ancient labyrinth with one thing in mind: collect as much treasure as possible. However, upon finding the secret treasure hidden deep inside the labyrinth, you awake an ancient entity whose existence is to hide and protect its treasure. You must find your way out of the labyrinth by solving puzzles to unlock hidden pathways and collect as much treasure as possible, while avoiding eternal imprisonment if caught. I managed a team of eight for three months – this was my first big project during my studies at SAE Melbourne.
The second game I worked on as a co-producer was an Android and PC endless runner platformer game called Vapurrwave. This project was designed through marketing and research. You play as a scientist who finds yourself transformed into a cat during an experiment that went wrong. You must run through the lab and defeat security guard robots along the way before you become a test subject yourself. I managed a team of 12 for three months. I presented this with my team during SAE's exhibition in May 2022. We had a whiteboard to record and display the top five players who ran the longest. This gained the attention of the attendees and had most returning to beat their high score or keep their name in the top five.
The third game I worked on as a producer was a VR experience through an internship at Liminal VR. The VR experience is called Ocean's Paradise VR, where you immerse yourself in an underwater environment guided through a peaceful meditation. You participate in a relaxing breathing exercise as you learn details about the aquatic life you encounter on the beautiful coral reef. I managed a team of 10 for nine weeks. Ocean's Paradise VR is my proudest achievement, as it was published on the Liminal Platform in early 2023. Ocean's Paradise is ranked 5th and the best-performing student experience in the Calm Arena.
I am currently the producer and QA tester in a mini project I am working on with two other graduates. The project is a VR multiplayer festival duck shooting gallery game. The player must hit more targets than their competitor within the time limit. We are currently starting to prototype in the pre-production phase. I'm looking forward to testing the prototypes, as this is my first VR multiplayer game, and it will be interesting to learn first-hand the differential challenges between multiplayer VR and PC/mobile testing.
My overall career plan is to work in QA for at least five years. This will help me achieve my ambitious goal of gaining invaluable industry and QA knowledge. Afterwards, I plan to work in production with the QA knowledge I gained – this will immensely improve my skills as a producer, which will further broaden my industry knowledge and grant me the skills to produce fun, innovative and engaging games that everyone can enjoy. Over the years, I plan to learn more about how I can improve accessibility in games and give all gamers the best gaming experiences in my projects.
How did you come to apply for the SMART program?
The application process was fairly straightforward. I got notified by one of my SAE Melbourne lecturers that the SMART Program applications were open. I jumped straight to it and submitted my application one hour after they opened. In the application, I filled in details about myself, how being part of the program would benefit my career, and what project I'd like to work on during the program.
Three weeks later, I received a confirmation email from Ceri Hutton (IGEA's Director of Industry Development & Programs) to book a time to have a quick chat about the program. During the chat with Ceri, I talked more about myself and what I expected to gain from this program and after the chat, I was welcomed into the SMART program.
Who are two game producers and/or QA testers who inspire you?
Emily Cox (QA tester/manager at Digital Lode Immersive Media and QA mentor), and Nik Pantis (Production manager at Ubisoft Quebec).
---
Sunny Tandoc (they/them)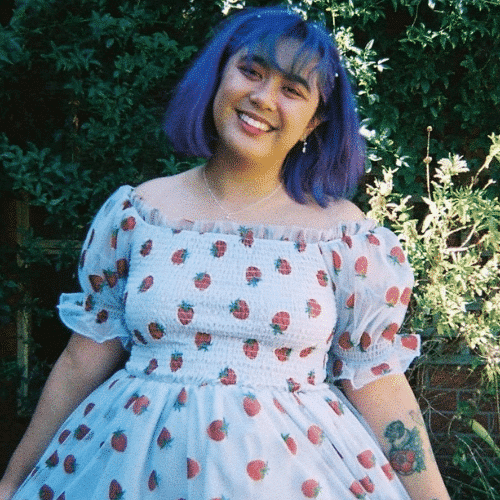 Sunny (or Sun) Tandoc is a multi-disciplinary artist and animator located in Melbourne, with a particular interest in working in mixed media. Sunny graduated with a Bachelor of Design (Animation and Interactive Media) from RMIT in 2021, and as an animator, they specialise in 2D animation and compositing.
According to their bio, Sunny is 'the creative director of an up-and-coming experimental and cultural games project supported by the Museum of the Living West. The game is set in a fantasy version of Footscray and incorporates real life elements of Footscray's rich cultural diversity, LGBTQ+ community and history.'
As an artist and animator, how did your interests come to intersect with games? Does this go back to childhood or did it emerge at uni?
Sunny Tandoc: My interest with games started in childhood. I mostly grew up playing Nintendo games, primarily playing Pokemon and Animal Crossing. Pokemon has honestly been really formative to my life, I even have two Pokemon tattoos. However, growing up I always viewed myself painting but I hated VCE art. On the flip side, my visual communication teacher was very supportive of my endeavors so I decided to do a Bachelor in Design (Animation and Interactive Media) at RMIT University. I ended up assisting in a couple of public art installations with RMIT Creative. There I met Michelle Chen who was doing her PhD. She asked me to join a game jam (where you create a game in a set amount of time) for young people with lived experience with depression and anxiety. I also met Luke Rotella (our artistic lead) at a digital media collective.
What can you tell us about this game set in an imaginary Footscray?
The game is currently under a working title – Untitled Baseball Game. Its premise is the player has returned to a fantasy Footscray after living years abroad. You join the local baseball club to reconnect with your high school classmates. The plan is to incorporate different elements of visual novels, RPGs, dating sims and baseball mini games. The intention is to use a 1-bit inspired aesthetic. It is in early pre-production. The other members of our team are Luke Rotella, Melanie Avent and Bree Herman.
How did you come to be involved with the Living Museum of the West?
It was a stroke of luck, my friend and classmate at RMIT, Melanie Avent, ended up stumbling upon the museum after moving to Footscray. She ended up working there as an archivist and she agreed to become our official researcher. The museum's President, Dr Kerrie Poliness, happily agreed to us using their resources for research to help us form our fantasy Footscray. The staff are incredibly helpful and the museum is full of useful resources for both researchers and artists.
What are you hoping to achieve during the SMART program mentorship?
I would like to achieve further visual development of Untitled Baseball Game and learn more about the game production process. I really would like to engage my passion for animation and art into our game and bridge these interests. I would love to explore how to combine these aspects in our game's narrative.
What are the biggest challenges for you as an artist at this stage of your career?
Honestly, the biggest challenges I have had as an artist at the emerging stage is finding my footing after graduating and finding my confidence in my artistic voice. I found that after graduating, I felt lost in that I loved learning about animation, but my interests started diverging towards more experimental animation and moving towards incorporating different mediums in my work. I remember finding myself too shy to fully articulate my ideas in my final year of my degree. It has been a learning process to believe in myself and to have faith that people want to hear my voice.
Who are three artists, animators or game designers that inspire you?
Helen Kwok and Chad Toprak are two Melbourne artists and game designers that really have inspired me. I have attended two of their workshops in non-digital games. I find their multimedia work and practice of games an art practice so inspiring as games have typically been created as products. It's amazing how they break out of the concept that games are purely for consumption and portray games as artful and accessible. I really enjoyed their work with the NGV.
This might be an abstract third choice, but Yorushika has been a big inspiration to me the past few years. They're a Japanese music duo but also my top artist on Spotify of 2022. I have always been a music video fiend. I honestly think music videos are my favourite form of short film. Due to the nature of the medium, the short will be influenced by the music which makes art direction of these films so engaging to me. I believe Yorushika has beautifully curated the movement and aesthetic in their music videos. Also I just love their music.