Varney Lake is the perfect place to spend vacation as a growing, rebellious teen. But much like Shell Beach, Crystal Lake, or Summerisle, its name does not reflect its true nature. There is something hideous residing by the lake's waters, biding time to strike, even as children frolic, and contemplate their future beyond warm days of summer.
It's in this fertile, 'coming of age' setting that the events of LCB Game Studio's Varney Lake kick off. Much like Stranger Things and Stephen King's IT, this text and image-based narrative adventure game plays off childhood innocence and trust to build its creeping horror tale, which explores what really happened in Varney Lake's Summer of 1954 – and how it connects with the events of prequel, Mothmen 1966.
Like its predecessor, Varney Lake utilises minimalist storytelling mechanics that replicate 1980s retro adventure games. Short lines of dialogue populate sparse, pixel illustrations, and there are only select choices to be made in mini-games and flashback story twists. But this approach leaves room for the game's narrative beats to settle, as LCB unravels its tale of mystery and woe.
As in Mothmen, Varney Lake opens on warm scenes, as childhood friends Jimmy, Doug, and Christine – aka The Only Child Club – explore their neighbourhood, over the hills and across grassy plains. The sky turns overhead, and they spend their summer vacation spotting clouds, debating relationships, struggling with their feelings, and creating games to keep themselves occupied.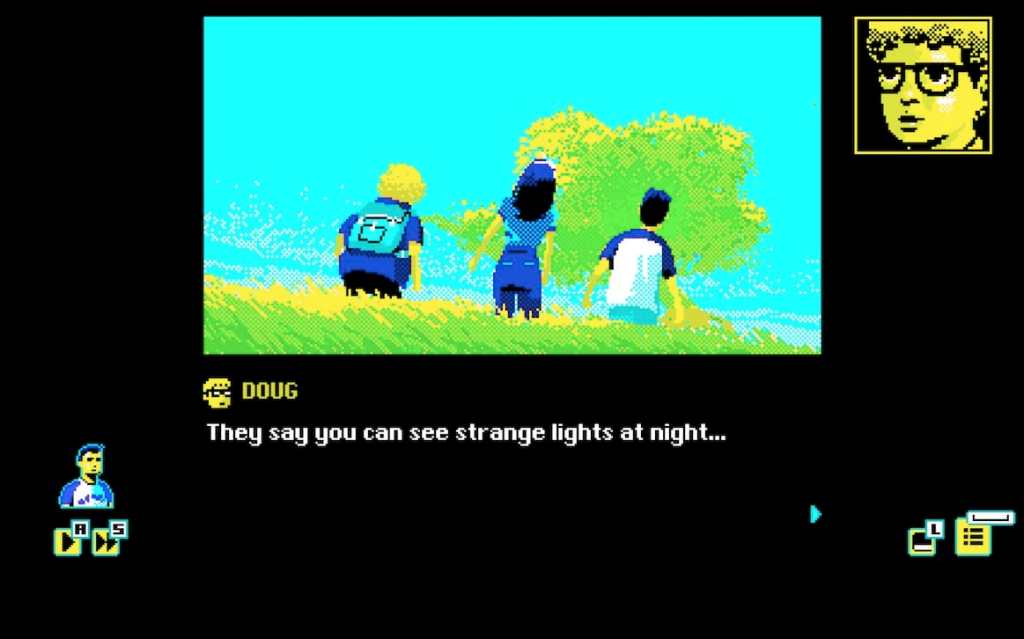 Jimmy has a crush on Christine, but won't vocalise it. She has a boyfriend, and she's preoccupied with their budding, young romance – despite her closeness with Jimmy, and a longing for something more. Meanwhile, there's Doug – the youngest of the trio, and the most eager to take on the world. Beneath a sycamore tree, he introduces Jimmy and Christine to a card game he's invented, which involves nabbing and trading cards to the value of 10.
Read: Mothmen 1966 review – a chaotic cryptid pulp
The scenes play out in a slow, languid fashion, reflective of the sluggish pace of summer, and that distinct childhood feeling that time will go on forever. But as Jimmy and Christine eye each other over Doug's creation, there's a distinct sense that peace won't last – and indeed, their summer games are soon disrupted in a way that changes their relationships forever.
It begins with the advance of bullies, as most coming-of-age tales do, and a frantic dash for cover as danger mounts. But as our heroic trio escapes one frying pan, they wind up in a blazing fire – as their cover, a nearby barn, reveals an injured vampire trying to hide from the sun.
Varney Lake's minimalist narrative choices are a boon for this twist, as the grand reveal literally shatters on screen, as the barn devolves from brightly-coloured pixels, a quiet soundscape, and single lines of text, into total darkness. In that moment, you see yourself reflected on screen, with a minor, silent beat injecting yet another layer of drama and anxiety into the story.
Then: Lou Hill, Autumn 1981.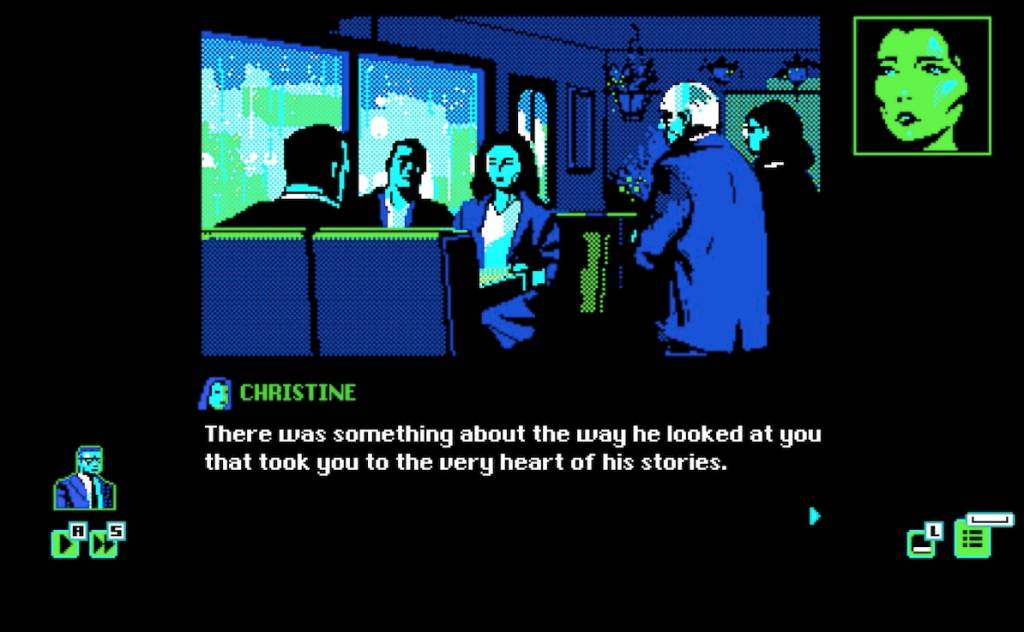 The drama, in its infancy, is quickly ripped away as the scene flashes forward to a lonely cafe, where author Lou Hill meets Jimmy and Christine – but strangely, not Doug – to interview them about the events of 1954, now long in the past. Notably, 27 years have passed, which may be a reference to Stephen King's work, which often features the motif of evil returning in a 27-year cycle.
Since his idyllic summer vacation, Jimmy has lost everything, and lives on the streets. Christine is a working professional with a child. They both avoid eye contact – and their strange distance forms a rigid tension in each of the foreboding diner scenes. Lou Hill, returning from Mothmen 1966, attempts to piece these disparate clues together, with pointed questions leading back to Varney Lake, and winding another twist in the tale.
The most pressing is haunting: What happened to Doug?
As summer dawns again in 1954, the vampire is once again revealed – and his relationship with Jimmy, Christine, and Doug is explored in innocent scenes.
He tells them stories, riddled with horrific imagery. Doug teaches him how to play with cards. But even as their tale evolves, a sinister note of horror creeps behind the seeming camaraderie, speeding the narrative towards its rapidly-paced conclusion with each joke, and each innocent laugh.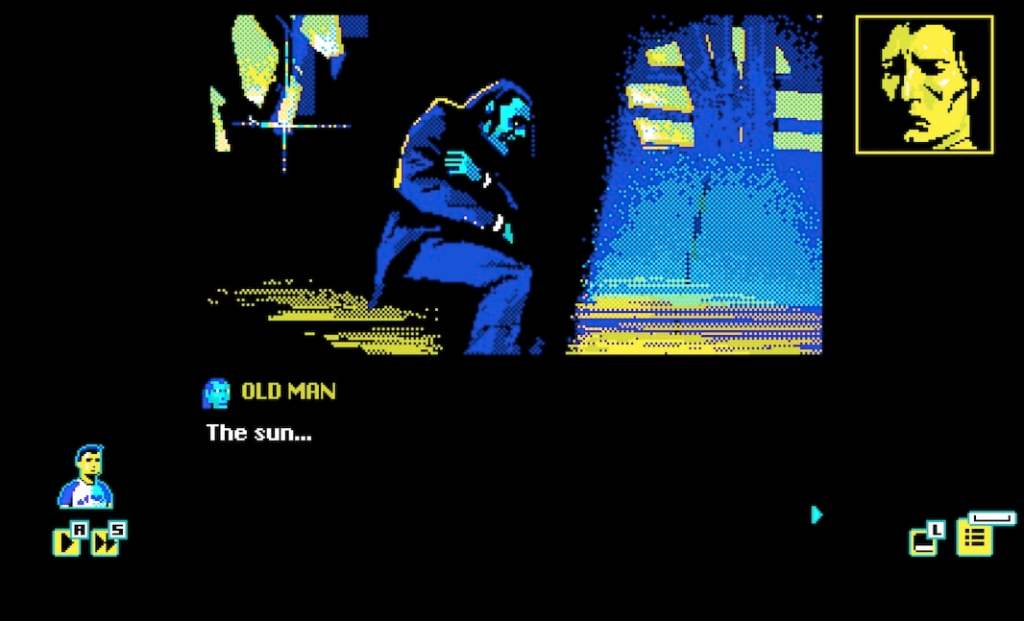 While the end arrives at hyper-speed, solving the mystery in one fell swoop and drawing a close to this chapter of LCB's Pixel Pulps, the tension at every turn gives each hook real claws that dig in.
Slow pacing, while uneven, is deftly deployed in the game's opening to draw parallels between childhood freedom, and the realities of adulthood. Meanwhile, flashbacks form a mystery backbone that heightens each of the game's quieter moments – when The Only Child Club goes cloud gazing, or fishing.
Even in these moments, there's a pressing sense of time running out.
Minimalism breeds great impact in this adventure, with a sparse narrative approach allowing the game's inner mystery to grow deeply as the corners of its story darken. Its lack of interactivity renders players largely as passive observers of an unfolding tale, but this powerlessness arguably strengthens Varney Lake. As summer dies, you can only watch in horror as each story beat unfurls.
Four stars: ★★★★
VARNEY LAKE
Platform(s): PC, PlayStation, Xbox, Nintendo Switch
Developer: LCB Game Studio
Publisher: Chorus Worldwide Games
Release Date: 28 April 2023
The PC version of Varney Lake was provided and played for the purposes of this review.