SpongeBob SquarePants: The Cosmic Shake is a colourful throwback to a brighter era – one ruled by simple 3D platformers with basic controls, limited levels, and linear paths. As a successor to the SpongeBob SquarePants: Battle for Bikini Bottom remake, which managed to capture a nostalgic audience, The Cosmic Shake is largely successful. But its devotion to the platforming tropes and mechanics of the past leaves it feeling like a momentarily pleasant, but forgettable funfair ride.
Its opening levels sparkle with a real sense of joy. In splashes of colour and snappy dialogue, we meet SpongeBob and Patrick, and the stage is set for a wild adventure. In this tale, SpongeBob meets a mysterious fortune teller, who gives him a potion designed to 'realise his dreams'.
What SpongeBob doesn't realise is the potion is genuine magic, stolen from King Neptune himself. Each wish he makes becomes real instantly – from Patrick turning into a balloon, to Sandy finally being recognised for her talents. Wish upon wish breezes past, until the land of Bikini Bottom splits itself apart to meet the demands of SpongeBob's desires. In this act, reality is torn, and SpongeBob's friends disappear into new, broken realms where they're famous movie stars, pirate lords, and towering monsters.
This 'Cosmic Shake' presents a twist on the traditional SpongeBob formula, creating new and unique scenarios to traverse with SpongeBob's trusty bubble wand – although there's rarely a surprise in these worlds.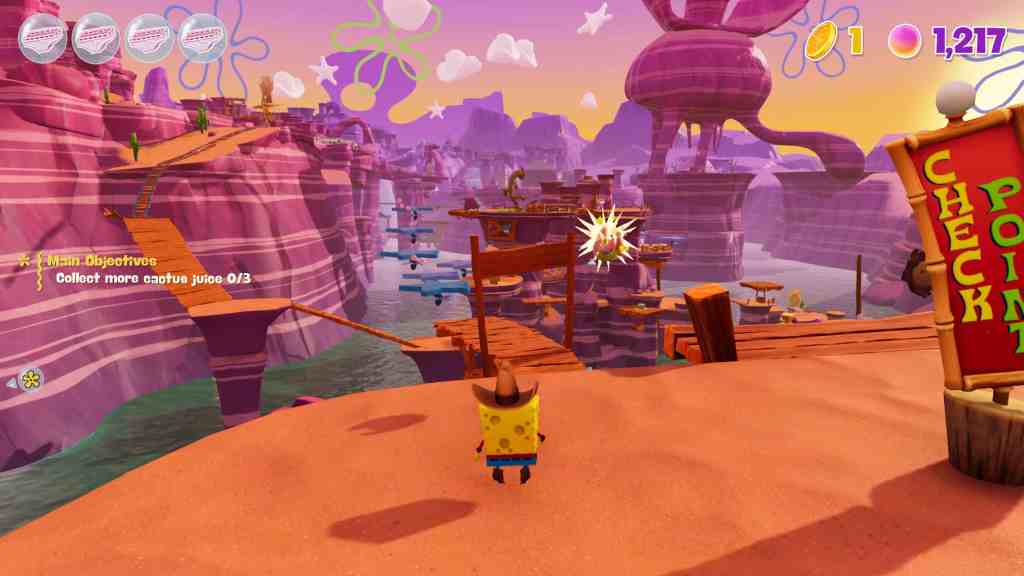 The first Cosmic realm in the adventure, Wild West Jellyfish Fields, is perhaps the most inventive and joyful of the levels on show. Here, you're tasked with donning a cowboy outfit and collecting Cactus Juice for an alternate reality Mr. Krabs. In collecting the juice, you'll traverse a purple-hued desert, jumping across a range of standard obstacle courses (pillars that dip with weight, roving platforms, ledges to climb) while fending off enemies, and discovering hidden collectibles along the way.
You'll also ride a seahorse, take part in races, and come to terms with the game's odd bubble wand swings (SpongeBob does not hit 'forward', but in a circular sweep, complicating combat and making attacks feel less precise).
Wild West Jellyfish Fields doesn't present much of a challenge – a recurring theme throughout the game – but does provide a colourful and funny romp through a new twist on Bikini Bottom. Having each original SpongeBob actor reprising their roles adds to this joy, and makes each level feel like its own special, gorgeously animated SpongeBob tale.
Sparks of imagination also present themselves in Medieval Sulfur Fields, which contains a unique boss mini-game, and wonderful traversal across castle grounds filled with lakes to cross, beams to climb, and goofy enemies to hit.
But subsequent worlds – including prehistoric, Halloween, and pirate locales – don't feel nearly as creative. Platforming ideas become repeated in these locales and eventually grow stale, despite the entire game only lasting between 5-6 hours.
This feeling is compounded by a lack of real surprises in each realm. Some end in a big, memorable boss fight. Others simply conk out with a whisper, leaving you to head to the next chapter after a brief story cutscene. You perform similar actions in these levels too, hitting enemies, collecting jelly, and completing menial (sometimes repetitive) tasks.
A pleasant soundtrack and colourful visuals help the action bob along at pace – but each level in The Cosmic Shake lacks a much-needed sense of pizzazz. They're fairly linear, push you along on a single track, and rarely hide genuine secrets. As a result, there's no real impetus to explore the nooks and crannies, or spend more time in each world. They become forgettable.
A number of references in the game do point to another objective for the game: servicing the nostalgia crowd. At one point, Sandy dons a Kill Bill jumpsuit, and plenty of memes are referenced, including in character costumes and entire levels. But even if you do get a kick out of these references, they don't help the relative simplicity of the actual game itself.
While its reverence for Battle for Bikini Bottom and adoption of classic platforming mechanics may momentarily delight those who've grown up with the original SpongeBob games (of which there were surprisingly many), Cosmic Shake's lack of new ideas is unlikely to hold the attention of those that have become accustomed to more modern and interesting takes on the genre. This is Battle for Bikini Bottom: Redux, a slightly new spin on the classic, using similar assets, gameplay, and ideas. The 'alternate reality' theming does provide a point of difference from past SpongeBob games, but there's a real sense of reservation towards going 'all out' with these ideas – and this limits the scope of the game.
Snappy dialogue brings the occasional laugh, and the experience remains pleasant enough throughout its entire runtime – but a devotion to the past, and a seeming lack of interesting ideas means The Cosmic Shake simply slides off the brain, like a passing thought.
3 Stars: ★★★
SpongeBob SquarePants: The Cosmic Shake
Platforms: PlayStation 4, Xbox One, PC, Nintendo Switch
Developer: Purple Lamp Studios
Publisher: THQ Nordic
Release Date: 31 January 2023
A PlayStation 4 copy of SpongeBob SquarePants: The Cosmic Shake was provided and played for the purposes of this review. GamesHub has affiliate partnerships. These do not influence editorial content. GamesHub may earn a small percentage of commission for products purchased via affiliate links.