If there was ever a crossover event that was going to pull me into Sea of Thieves, it's Guybrush Threepwood and The Legend of Monkey Island.
First announced at the Xbox and Bethesda Games Showcase 2023, it translates the scenario of the classic LucasArts point-and-click adventure game to Rare's open-world pirating simulator in three separate 'Tall Tale' chapters. After playing the first chapter to completion in a cooperative setting, it certainly feels like the kind of Monkey Island experience that the current intellectual property holder Disney would approve of, because it feels like a flashy, well-crafted, but somewhat hollow theme park attraction.
Return To Monkey Island, Again
But first, some background. The original creator, writer, and director of the first two Monkey Island adventure games, Ron Gilbert, was not involved in the Sea of Thieves crossover, and was for the most part unaware of the project.
The series had already taken on a life on its own without Gilbert after the second game in 1991 of course, (Monkey Island 2: LeChuck's Revenge), but the general consensus is that the initial series highs were never quite recaptured. The curious timing of the Sea of Thieves crossover, which continues the Monkey Island narrative in its own unique way, is also worth making a big note of.
The Legend of Monkey Island arrives less than a year after Gilbert's homecoming to the series in 2022, when he created what's regarded as the 'definitive' third and final chapter in his vision of the Monkey Island narrative – the sensational Return To Monkey Island. It was developed by Gilbert and original Monkey Island designer Dave Grossman, and published by Devolver Digital.
But where Return to Monkey Island's… return… to the setting of Melee Island used nostalgia to explore themes like the fallacy of memory, stubborn sentimentality, and the unavoidable, melancholy passage of time, The Legend of Monkey Island takes the complete opposite approach, which is to say that it's much less nuanced.
Read: Return to Monkey Island Review – Sail away home
Return to Melee Island
As a Monkey Island die-hard, it's really difficult not to take your first steps on the Sea of Thieves recreation of Melee Island and feel something flutter inside you. You immediately want to rush around and marvel at how well-realised the whole location is in 3D space. From the SCUMM Bar, to the Lookout, to the Governor's Mansion and every single street and building in between, Rare's artists and level designers have done an exceptional job in The Legend of Monkey Island.
The premise, without giving away too many details, essentially revolves around your Sea of Thieves characters seeking out Monkey Island protagonist Guybrush Threepwood by retracing the steps he took to become a 'mighty pirate' at the beginning of his adventure. The first chapter of The Legend of Monkey Island takes place exclusively on Melee Island, and closely mimics the first act of the original Secret of Monkey Island game, where you need to somehow gain access to the Governor's Mansion.
To do that, you'll need to do Adventure Game Stuff – that is, an extended chain of puzzles that all interlink with one another. You'll need to talk to the town's citizens and pay close attention to the world's flavour text to get clues on what you need to do, and several of the beats are directly reminiscent of puzzles in Secret of Monkey Island. Most of the characters you know and love are there – the Pirate Leader, Murray the talking skull, and Cobb, aka the Loom Guy.
There are a few foibles in playing through the game in cooperative multiplayer – one person engaging in dialogue doesn't mean that everyone can listen in, each has to do it individually to find out what is said, or have the primary conversation holder relay the information and any jokes contained within. But there are also some tasks that feel like they could drag in single-player – you'll need to scour every nook and cranny of the island for pieces of eight to solve several puzzles, for example, and some key items can't be stashed in your inventory, only held and (sometimes mistakenly) dropped, which can cause issues if you can't remember where you dropped something.
The first chapter of The Legend of Monkey Island takes about an hour to get through, and there is very little combat in this chapter, save for a climactic moment toward the end. But beyond the cliffhanger ending, which does well in building anticipation for where the next chapter will head, there is little substance to really chew on here.
Completing the quest chain is a nice, mild brain massage, and seeing every inch of Melee Island in a new light is very entertaining, but because the process feels like it relies so strongly on visual wonder, memory triggers, and nostalgia – not to mention your character's status as a mute stand-in – I couldn't help but feel a little unfulfilled once the initial awe of its shiny sheen had worn away.
The Monkey Island theme got tears welling up in my eyes, yes, but it would do that out of this context, too. The perfect construction of Melee is very great, but something also feels lost when nothing is left to the imagination. At the end of the hour, you find yourself staring at what feels like an animatronic Guybrush Threepwood as he monologues to your team of silent protagonists, his eye line looking well off into the distance.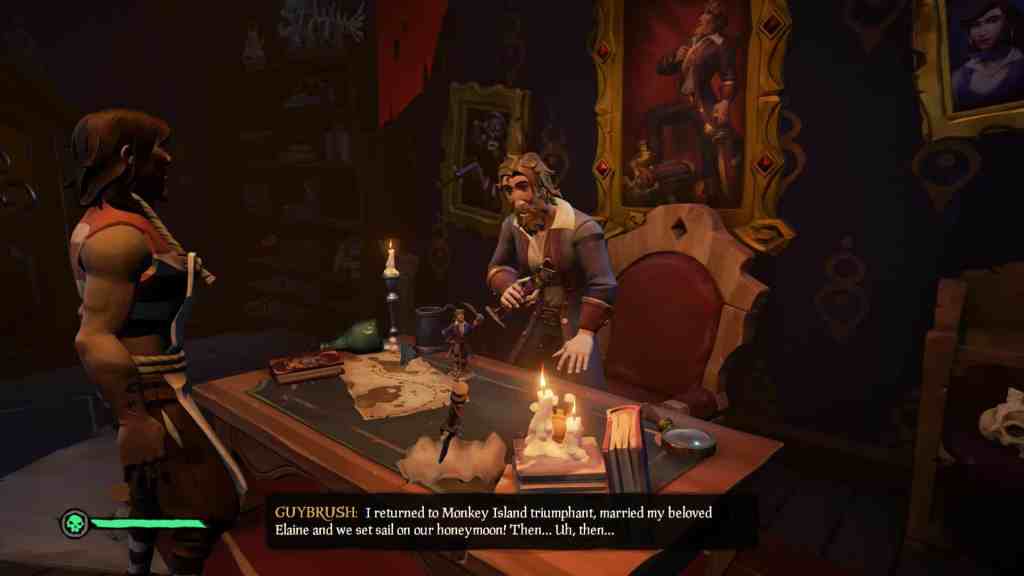 Tales of Monkey Island is undoubtedly going to be an experience that seasoned Monkey Island enthusiasts will flock to. For me, it was hard not to have the very recent accomplishments of Return to Monkey Island in the back of my mind as I went through it, and in retrospect, think about how relatively un-nourishing Sea of Thieves: The Legend of Monkey Island is by comparison, at least so far.
This is only the first chapter, of course, and serves as the first act and introduction to what will be a three-act trilogy. Now that the spell of nostalgia has been cast and disappeared, there are plenty of chances that what's to come will really dig into what makes Monkey Island so timeless.
Three Stars: ★★★ (Review-in-Progress)
Sea Of Thieves: The Legend of Monkey Island
Platforms: PC, Xbox, Xbox Game Pass
Developer: Rare
Publisher: Xbox Game Studios
Release Date: 21 July 2023