The Norco CDP (Census Designated Place) sits nestled on a bend of the Mississippi River, around 30 kilometres up-river from New Orleans. Throughout the 18th century, the area was dominated by European colonial settlers and their sugarcane plantations, worked by imported African slaves, many of whom later took part in the German Coast Uprising, the largest slave revolt in US history. Eventually, the area was renamed after the New Orleans Refining Company, a subsidiary of the oil multinational Shell, after the company established a refinery in 1916.
The refinery itself cuts a wedge up from the coast and in through the land, a brown-grey patchwork of silos, treatment units and flare stacks through which piping and industrial access roads weave.
In 1973, a sixteen year old boy and an elderly woman were killed and a house completely incinerated when a Shell pipeline began to leak along the fence line between the NORCO facility and a neighbouring community, causing an explosion that was sparked by a lawnmower being started; their families were paid US $500 and US $3,000 respectively.
In 1988, an explosion at the facility killed seven Shell employees and injured 48 others, sending debris eight kilometres away from the site, and being heard as far away as New Orleans.
There's a reason for this history lesson. Reading into the history of Norco is like being presented with a disturbingly clarified mindmap of American wounds that remain gaping to this day; slavery, murder, corporate indifference, economic collapse, widening inequality, and reactionary politics.
Set in the same district, NORCO is a confronting video game; a confident, biographical and bewildering point-and-click narrative experience that feels more like something you inhale rather than play, with an effective cocktail of magical realism, societal heartbreak, and bummer coolness.
From the opening act of the game, it feels appropriate to draw direct comparisons to other luminaries of the 'video games for wonks' genre, such as Disco Elysium and Kentucky Route Zero, as you wade deeper and deeper into NORCO's magical realist miasma of inter-familial trauma, vicious class critique, and gorgeous, kaleidoscopic renderings of a constant Louisiana pre-dawn half-light.
However, as NORCO plumbs the depths of its characters, world and the forces within, it presents an at times far nastier, morally ambiguous and apathetic view; not buoyed by astounding world-building and cryptozoology as Disco Elysium was, nor a love of poetry and spiritual community as was the case in Kentucky Route Zero.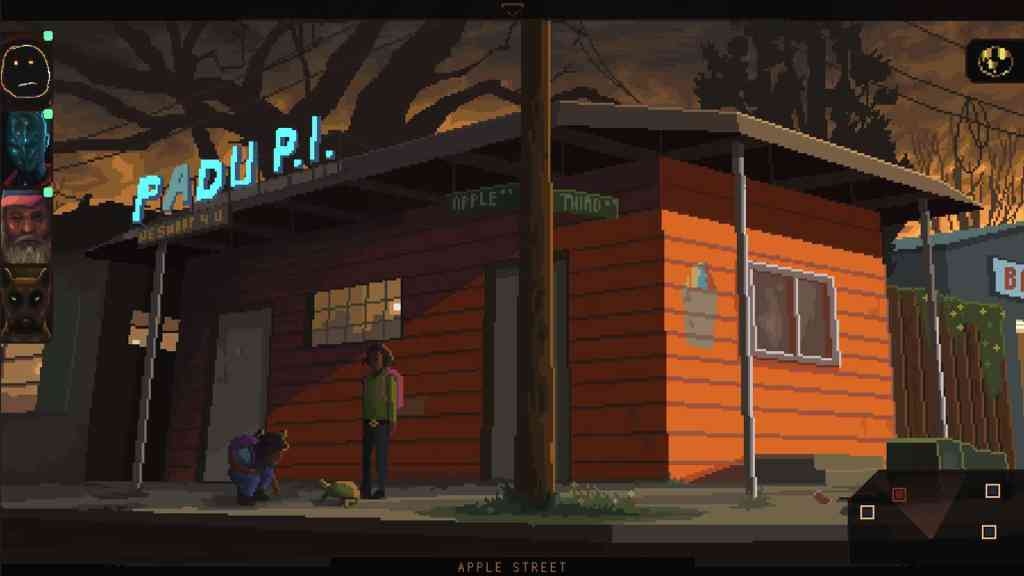 Whether it be from local refinery pollution, economic despondency, or directionless political apathy, the people of NORCO are spent; the walking consequence of negative externalities, constantly buffeted by the material consequences of unhinged ideological expression, the effects of which they either can't understand or can't bear to comprehend, if they have time to think about it at all.
You start the game as Kay, a faceless, wayward woman coming to the end of a five year sojourn through a great American nowhere, sleeping in car parks and on cargo trains. Kay's come back to her home in Norco, ostensibly because her mother, Catherine, has died. The opening prologue to the game is some of the finest and most engaging writing to be seen in a video game, the strength of its prose owing to the autobiographical nature of the game (the lead writer grew up in the town).
Almost immediately upon Kay's return, things only spiral in ways both fantastical and disturbing, building out Kay's 'Mind Map' that players can access at any time, which serves to link together NORCO's disparate pieces and answer what the final weeks of Kay's mother's life involved, and why Kay's younger brother Blake now appears to be missing.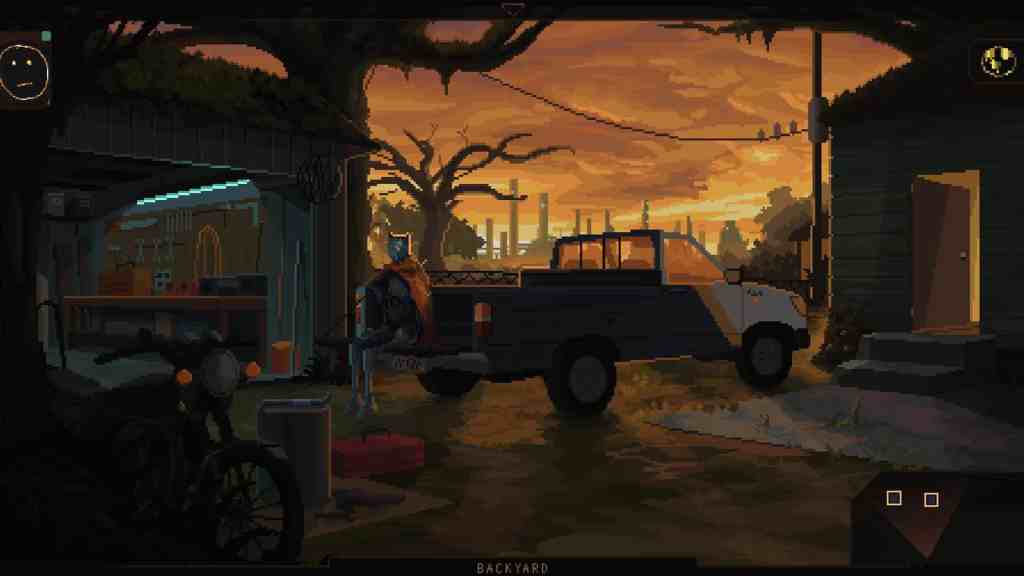 Other characters (and less easily described things) join you along the way; detectives, oil pirate transients, ditch-dwelling zealots, an android with a face of stars, to name a few. Much of NORCO is spent simply having conversations, peeling back the layers on the game's broader mysteries and the characters caught up in them.
You'll engage in app based religious experiences, be invited to have gamified spiritual awakenings, watch shadow puppet parables, and go fishing for severed heads in a bayou, all set to a soundtrack drawn from somewhere between ambient space odysseys and a persistent highway hum. There are no skill checks, no RPG elements, and there are few moments where inventory items are required. Moving forward in NORCO is dictated mostly by knowing enough information about one thing in order to relate it to another, unlocking dialogue options as you go, and ultimately being presented with a patchwork of events that are only equalled in their emotional resonance by their mystical strangeness.
Even amongst the almost suffocating humidity of hopelessness within NORCO, there are moments of humour and beauty, all flowing from the fact that NORCO has just as much love to give as it does scorn. The sincere giving of a gaudy birthday gift; old friends promising to visit each other, not too much, just once in a while; a companion who reveals, deadly serious, that the only music he listens to is Christmas music; an out of control argument between cultists about why only some of them get cool outfits.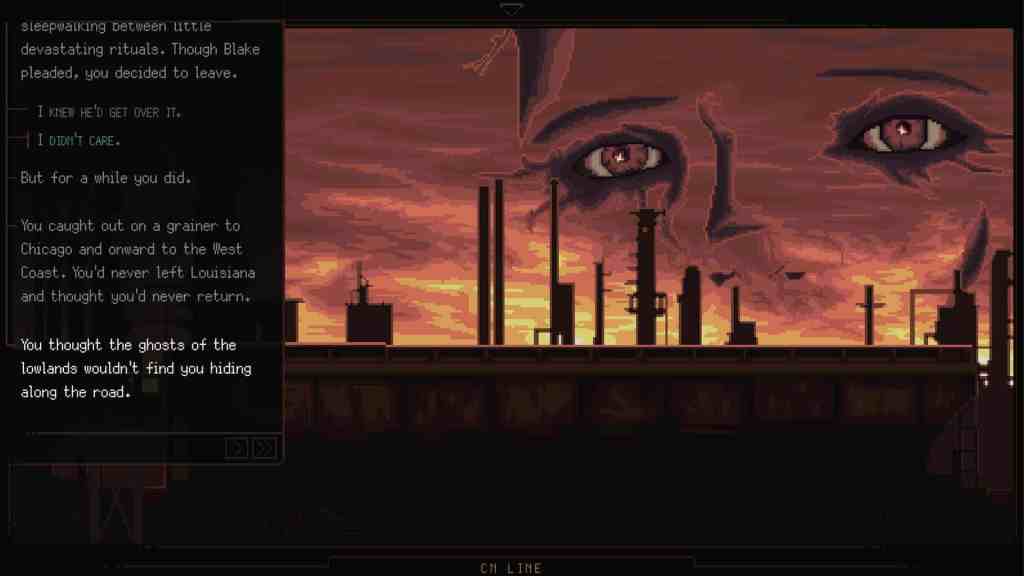 NORCO knows when and how to puncture its darkest moments and depictions with some of the most incisive and word-perfect jokes, relieving it from simply being a slog of desperation. In one moment, a character in a bar can be plied for more information about the whereabouts of your brother, provided you do something to quench his thirst. By the time the conversation is over, your contact is three pints deep, hoeing into some ridiculous 'loaded fries' on your dime.
It's through its many moments of tenderness and humanity that NORCO cements its overall tenor of both penetrating sadness and resolute weirdness. It both loves and hates the circumstances that birthed it. There's a feeling like you're at the end of history, one character describing the world as living in 'a long twilight' – but what happens beyond the history books, in the bodies and minds of those that live outside the kind of memories that get written down, the forgotten people like Kay and her family?
In NORCO, past and present blend together; one moment you inhabit the shoes of the terminally diagnosed, and in another, learn in minute detail about how your childhood home will, in time, flood, become abandoned, and eventually be razed.
All stories told in exquisite, beautiful detail, never pulling a punch.
5 Stars: ★★★★★
NORCO
Platforms: PC
Developer: Geography of Robots
Publisher: Raw Fury
Release Date: 25 March 2022
The PC version of NORCO was provided and played for the purposes of this review.