Mineko's Night Market offers the ideal cosy social sim experience; not just with charming art, a relaxing soundtrack and eccentric characters, but with a careful balance of routine and novelty. There's plenty to do and remember, but never so much to think about at once that you feel overwhelmed. That golden ratio is what gives it a deliciously addictive quality: I'll just finish this one task and then I'll turn it off.
A pointy-eared enigma
Mineko and her dad have just moved to a cat-filled, Japanese-inspired village at the base of Mt. Fugu. Their seemingly simple life in a forgotten village turns out to be more exciting than expected when the village's legend of the Sun Cat, Nikko, shows signs of being true. Secret agents have overrun the island as they investigate some top-secret business, and when Mineko has a run-in with two of them, she is mysteriously rescued by a giant, furry creature in the night. Could the two be linked?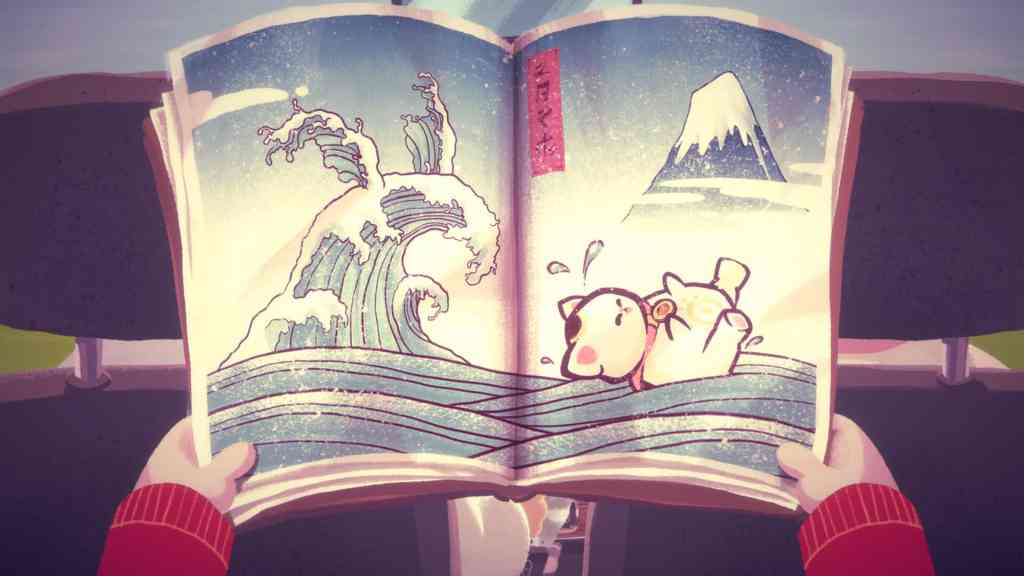 Mineko befriends the local residents and forms an alliance with Bobo, a kooky kid with a bowl cut and big ambitions to be the first to find Nikko. With a village that needs saving and an eager sidekick, Mineko has plenty of work to do.
Read: 5 Cozy Games to Try When You Feel Overwhelmed
Collect and craft
You spend the majority of each in-game day collecting materials to craft items, to sell at Bobo's Mom's store or your Night Market stall (more on that later), and you can harvest flowers, paper, wood, stone and many more materials around the island. I found it particularly entertaining to catch fish and then 'squeeze' them to receive coloured dyes for crafting recipes – though you can sell them or donate them to the museum if a squished fish sounds too barbaric.
Each act of harvesting uses a little of your energy, so you can't collect everything available on a given day. This requires you to plan your daily activities within the limitations of how many hearts you have. With only one heart to work with in the beginning, you can do little more in a day than pick a bundle of flowers and craft bouquets with them, but this was a welcome restriction for me – harvesting every single item, every day, can quickly grow burdensome in life sims.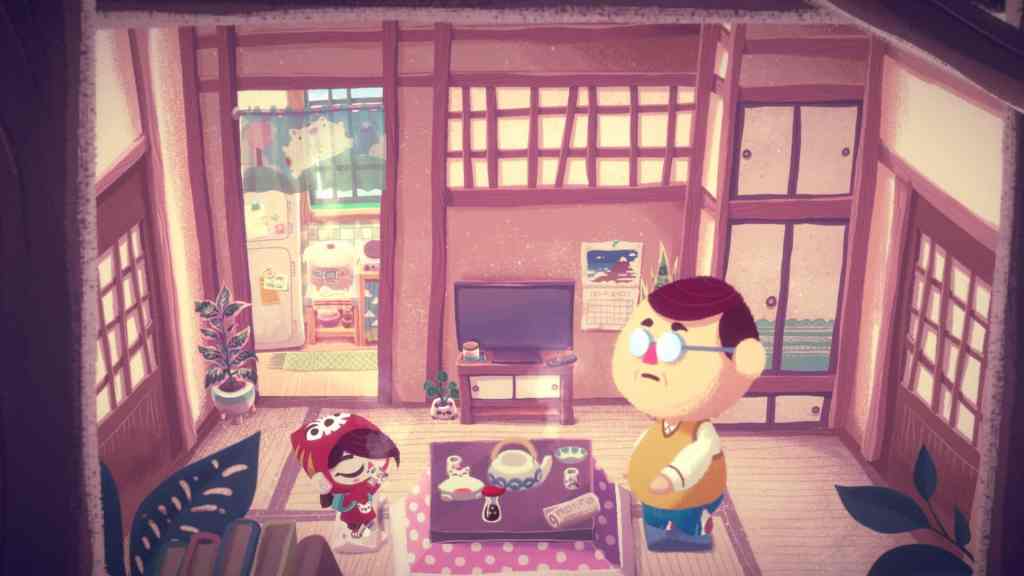 Things liven up once you've unlocked a few additional crafting recipes, bought new crafting benches from Bobo's Mom and discovered more harvesting locations around Fugu Island. You have the freedom to choose how you spend your time, whether that's dedicating full days to a craft like fishing or mining, or doing a little of everything at once.
To access more crafting recipes, you need to complete friendship quests for the people in Fugu Village: item requests for things you can either make or buy. They don't clutter up the quest log, so you just have to remember them, but that's surprisingly freeing. No need to consult a long quest list, just collect items on your travels and chat to everyone frequently to distribute the goods.
For each new crafting material, you need to unlock a new location on the map where it grows. To do so, you purchase a new tool from Hank the Hunk's tool shop and then take a bus ride to uncharted lands, posing as a worker to get past the restrictions the Secret Agents have placed all over the island. Then, you undertake a stealth mission to banish the agents from the area and free the kitties that they've locked in cages. It's a simple premise, with added rules and variations as you progress, but worth the trouble to see the cats free to run and litter their hairballs all over the island once more.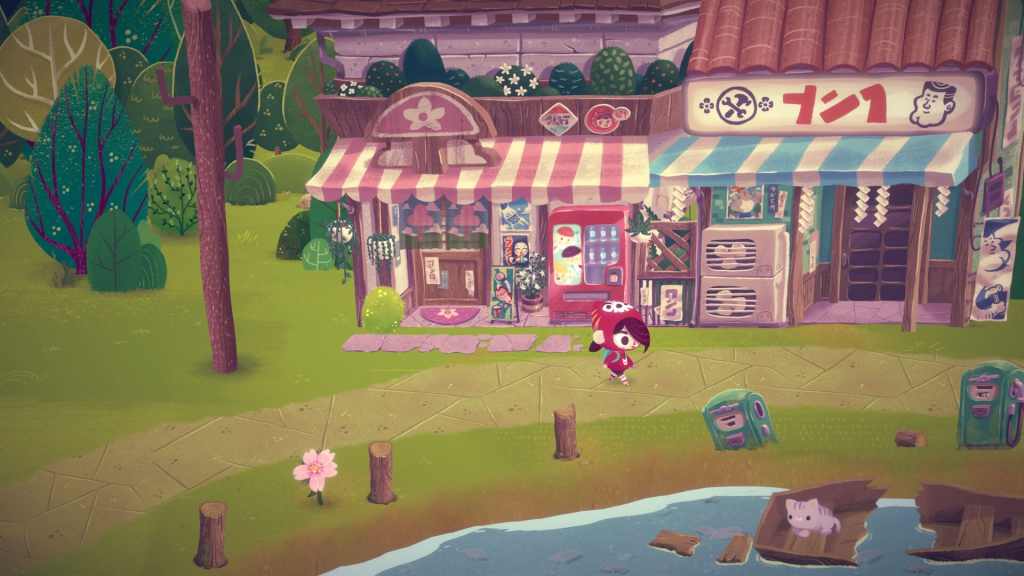 Fall into a rhythm
Time flows smoothly in Mineko's Night Market, making it the kind of game that you can accidentally sink hours into when it feels like you've only been playing for minutes. Time progresses from day, to evening, to night each time you take a bus ride, and a new day begins once you've gone home to sleep. 
The seasons change every four weeks, bringing a fresh colour palette and soundtrack, along with new flowers and fish to collect. You can donate flowers, food, fish and gems to their respective museums and once the displays are full enough, they'll be opened to the public. 
Days, weeks and months pass by freely in this fashion. As you work your way towards solving the island's mysteries, the pattern of collecting items, crafting and completing fetch quests easily fills the time in the week before the Night Market on Saturday evenings.
Night games
The Night Market is the highlight of the week – as you'd expect, given the game's title. Not only is it the main event that you spend every day preparing for, it's a wonderfully festive and extravagant affair. Hosted by an exuberant – and somewhat rude – man simply named The Market Host and his two assistants, Left Cat and Right Cat, (think Timmy and Tommy from Animal Crossing), each week's festivities run strictly as follows.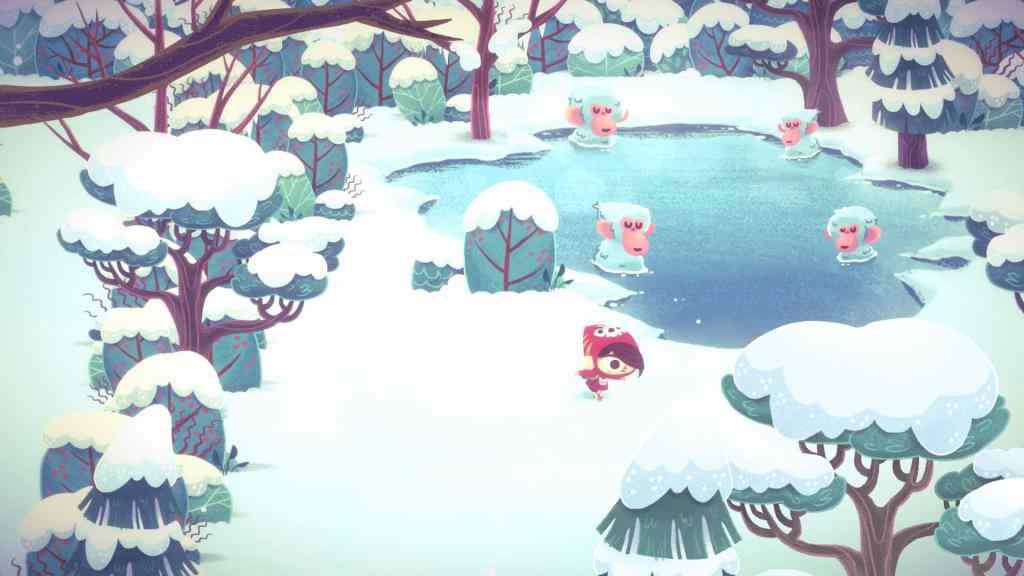 First, you sell your crafts at your market stall by picking which items you want to display – ideally the best quality ones to make the highest profit possible – and then calling customers over by ringing the bell. Once someone is interested in an item, you enter a bartering system that allows you to dictate the price and the buyer can purchase, haggle or decline. I'm a value-for-money kind of person so I usually picked the second highest price and haggled with buyers to get what I felt my handcrafts were truly worth and overall, the system makes it much more enjoyable than selling them for a flat rate at the store.
Read: The secret Instagram gardens of Animal Crossing
Once you've cycled through all the available customers, you're free to browse the market for any items you want to buy yourself. There are upgrades each week, with new stalls and decorations added, making for an exciting little treat with each visit. You can find a variety of items, many of which you can't get in town, like crafting supplies, food, fashion and plush toys.
You need to keep an eye out for the items villagers have asked you for, and also keep an eye on your wallet because those hard-earned coins disappear quickly. Doubly so for me when plush pug dogs and fairy floss were on the line.
Finally, comes the main event: a mini-game that varies each week. It could be a race on catback, a time-trial flower hunt or a theatrical performance of the legend of Nikko; Mineko finds herself roped in no matter what. These short and snappy mini-games are surprisingly enjoyable and if you win, you're rewarded with a trophy to display in your bedroom at home.
A place to call home
Overall, Mineko's Night Market is a carefully considered, cosy life sim, with an intriguing, low-stakes narrative and plenty of familiar activities to keep you busy. It might not sound groundbreaking on paper, but it delivers on everything it promises, offering a felicitous, feline-filled escape from your troubles.
Four Stars: ★★★★
Mineko's Night Market
Platforms: PC, Nintendo Switch, PS5, PS4, Xbox Series X/S, Xbox One
Developer: Meowza Games
Publisher: Humble Games
Release Date: 27 September 2023 (PC, Nintendo Switch), 27 October 2023 (PlayStation, Xbox)
The PC version of Mineko's Night Market was provided and played for the purposes of this review. GamesHub reviews are scored on a 5-point rating scale.
Mineko's Night Market (NSW)
Buy Now
GamesHub has affiliate partnerships. These do not influence editorial content. GamesHub may earn a small percentage of commission for products purchased via affiliate links.
12/04/2023 02:15 am GMT