Newly-released PSVR2 exclusive game Horizon Call of the Mountain is a technical marvel. Immersed within its world, you'll find sweeping post-apocalyptic vistas, wintery tundras, and the rusted remnants of the war between humanity and the machines. Turn your head to the sky, and you'll see mechanical stormbirds sweeping through the clouds, and the sun shining down across a green and natural landscape.
Look down as you traverse rickety structures and climb up rocky mountains, and you'll see the vast abyss below, rendered in gorgeous, haunting detail. In every corner of Call of the Mountain, you'll find something new to gawk at, to interact with, or to collect. It's a VR world that feels alive in every sense, and one that's supported by the tactility and graphical prowess of the PSVR2 headset. But despite the wonder the adventure instills, its magic doesn't last.
Read: PSVR2: The 10 best, must-own games for PlayStation VR 2
The mountains are calling
You spend your time in Call of the Mountain as Ryas, a Shadow Carja warrior corralled into helping Aloy and her pals investigate and defeat a rising threat in the heart of the mountains. While this tale is rife with conflict and possibility, any sense of narrative largely vanishes against the primary goal of the experience: to highlight the possibilities afforded by PSVR2, in the flashiest and most impressive ways possible.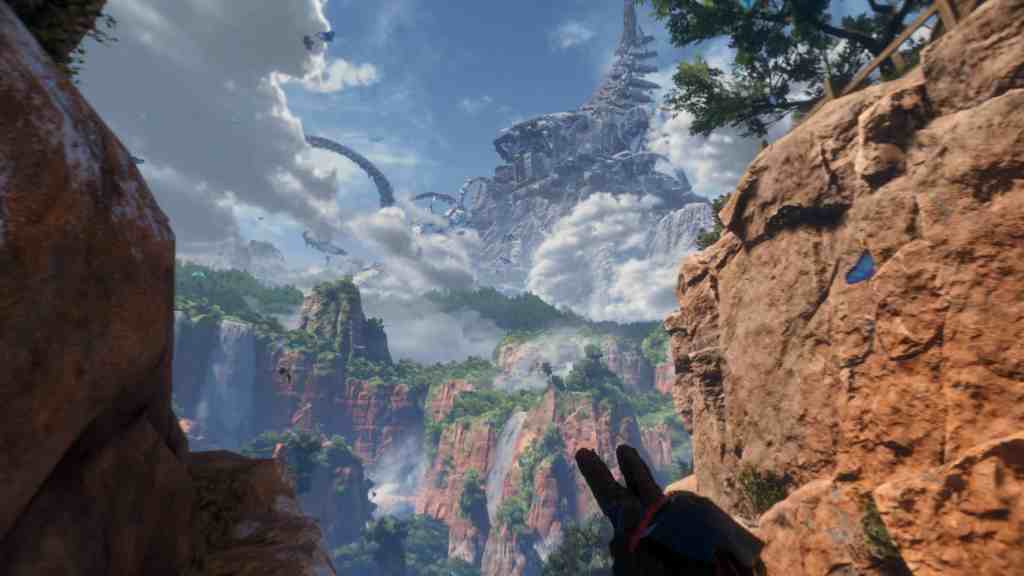 Story takes a backseat as you're thrust into quests hung on loose plot threads, where physical traversal (and occasionally, battles) become your primary focus. This isn't a narratively dense thriller, or a game designed to push the bounds of experimental VR; rather, it's an adventure hooked on clever gimmicks and an expansive, wonderfully-rendered world.
Each chapter of the game takes you to a new region, where tools must be deployed to overcome your surroundings. For the most part, you'll be climbing (either free-handed or with picks) along narrow pathways, keeping an eye on your real-world stamina, and finding the easiest landings to haul yourself to your final destination. This isn't a simple matter is pressing buttons, but a physical, real-world act; using the PlayStation VR2 Sense controllers to reach up and grab for ledges, stretching your body to mirror Ryas' in-game struggles.
Read: Horizon Forbidden West: Burning Shores DLC depends on PS5
The way the PSVR2 maps real-world movements to in-game actions is brilliant. While it's certainly a novelty that wears off after several hours and fairly severe muscle burn (some climbs are particularly rigorous), they add a unique physicality to Call of the Mountain. You'll genuinely feel like you've climbed a mountain in some areas of the game, to the point where you'll need to take breaks, and let your arms rest before continuing.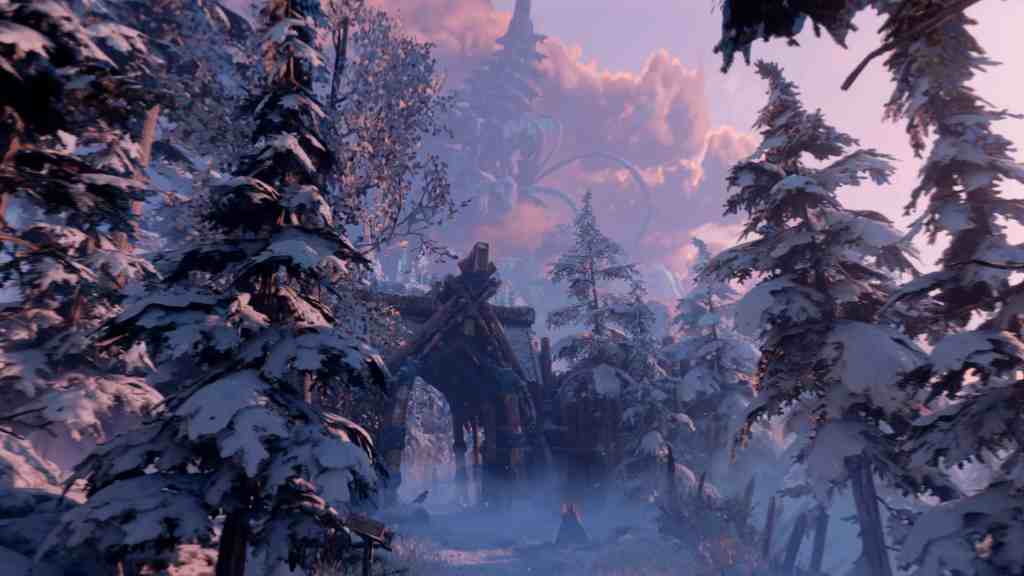 This satisfying feeling of pure, genuine immersion is amplified in the game's machine battles, which are rarely littered throughout the action. Some of its battles are telegraphed, theme park-like rides, where player input is reduced to firing an arrow at exploding barrels, or hiding in grass stealthily – but occasionally, Call of the Mountain opens its impressive jaws, for action-heavy set pieces where players enter open arenas, and must use their reflexes to survive.
In these arenas, players only have their bow and a small array of other weapons to get by, as towering machines cause havoc with unique environment-based attacks and earth-shattering stomps. While they make for impressive, daunting sights, particularly as they loom large in the PSVR2 headset, taking up your entire view and shuddering your world with haptics, the game's combat system provides a welcome sense of power and control.
To summon your primary weapon, you reach behind your back, grab a bow, and then an arrow, and fire endlessly as you avoid enemy attacks – for as long as your arm power lasts. The physical nature of these attacks makes every major battle enthralling, for every sense. Haptics give impact to every hit, and the PSVR2 Sense controllers give you a sense of ownership (and muscle tension) for every skirmish.
Read: Horizon Forbidden West review – a breathtaking journey
In these moments, Call of the Mountain shines brightest, as a beacon for what modern VR games can do. Aided by sharp, well-rendered graphics and the power of the PSVR2 – which provides scenes with impressive detail while maintaining player comfort – these battles are an achievement in immersive gameplay.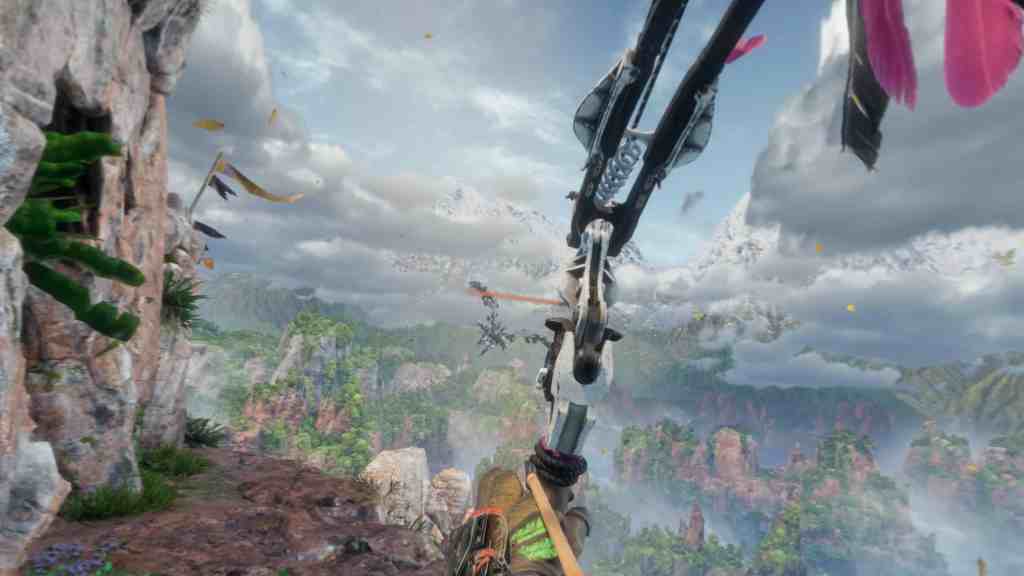 The only issue, then, is how infrequently they appear – and how much Call of the Mountain leans on basic movement and novelty climbing mechanics to keep you hooked within its relatively bare-bones tale.
A virtual wakeup
Virtual reality is now a mature technology. The Oculus Rift, which began the modern obsession with VR one-upmanship, has been available commercially since 2013.
Since then, it appears virtual reality has stagnated, with new games still premised on the gimmick itself. In the case of Horizon Call of the Mountain, it's a beautiful adventure that hangs itself solely on its traversal mechanics, the novelty of physical climbing, and of seeing your own movement in a virtual world.
In brilliant flashes of steel battling steel, the game reveals its potential, but for the most part, across its eight-hour runtime, it still feels like a technical showcase for the PSVR2, rather than a groundbreaking video game. While novelty may justify the experience for those brand new to VR, it reveals a strange conundrum for virtual reality technology as a whole – what exactly is it for?
If the role of VR is to create immersion, how does it generate new, meaningful, and memorable experiences that run alongside lauded console games? The PlayStation VR2 is a giant leap forward for immersive VR tech, and allows discomfort-free exploration of gorgeous virtual worlds, but Call of the Mountain doesn't feel like it fully grasps the device's vast potential to create sweeping stories where a first-person, hands-on perspective genuinely aids narrative.
In focussing on novelty over deeper intrigue or a more personal, intimate tale of survival, Call of the Mountain thrusts players along the game's many climbing paths without a real imperative, or a strong hook. After hours of a slowly trudging journey, littered with scattered bright spots and burning muscles, it's easy to question the game's purpose.
As a feat of technical artistry, it's impressive, sleek, and often breathtaking. But as you're dangling off a cliff edge, taking a breather from endless, repetitive mountain climbing, you'll find yourself wondering whether novelty is really enough to justify such a loosely-tied journey. While the experience is impressive in fits and starts, Horizon Call of the Mountain ultimately feels like a puzzle with several pieces missing.
3 Stars: ★★★
HORIZON CALL OF THE MOUNTAIN
Platforms: PSVR2
Developer: Firesprite / Guerrilla Games
Publisher: Sony Interactive Entertainment
Release Date: 22 February 2023
A copy of Horizon Call of the Mountain and a PlayStation VR2 unit were provided and played for the purposes of this review.