Let's face it: the video game industry has a bad reputation. From the scandalous 100-hour working weeks that went into Rockstar Games' Red Dead Redemption II, to the sudden shuttering of one of Australia's oldest indies, Defiant Development, the industry is rife with tales of crunch and closure. Everyone from Bernie Sanders to Hasan Minhaj is talking about games unionisation. Games Workers Unite Australia (GWA) is getting started, but it's early days and not everybody is on board.
The birth of a union
Like the international Game Workers Unite (GWU), GWA is not a union, but a pro-unionisation activist group. Working with the Media and Entertainment Arts Alliance (MEAA) to promote collective action against poor labour conditions, and to support developers at work, Games Workers Australia's role has been largely educational. Following major closures locally and internationally, they provide clear information on employee protections, and their newsletter covers topics ranging from employee protections, to election information for games industry workers. GWA also run a Discord server, where games workers (an all-inclusive label that covers developers, journalists, cosplayers, streamers and anyone else whose work depends on games) can organise meetups, share concerns, or ask questions about their rights at work.
Teething problems
While GWA advocates for the IT sector's Professional Employee's Award for a 'qualified game developer', games employees' roles and labour range over a variety of creative and technical fields, not all of which are currently represented. Unlike other tech industries, the vast majority of games workers in Australia also work on a freelance basis, with permanent full-time roles constituting a small minority of the disparate workforce. Similarly, few creative industries have found a watertight way of representing a growing industry body of freelancers, and while the MEAA have some guidelines, their fees are still prohibitive for many unprotected arts sector workers.
The GWA's work goes a long way towards elevating labour issues in games, and holding the industry accountable. The importance of supporting and connecting developers, who often work sporadically and remotely, also can't be overstated. Another major roadblock to a healthy and sustainable indie games industry is a lack of federal support for Australian game development.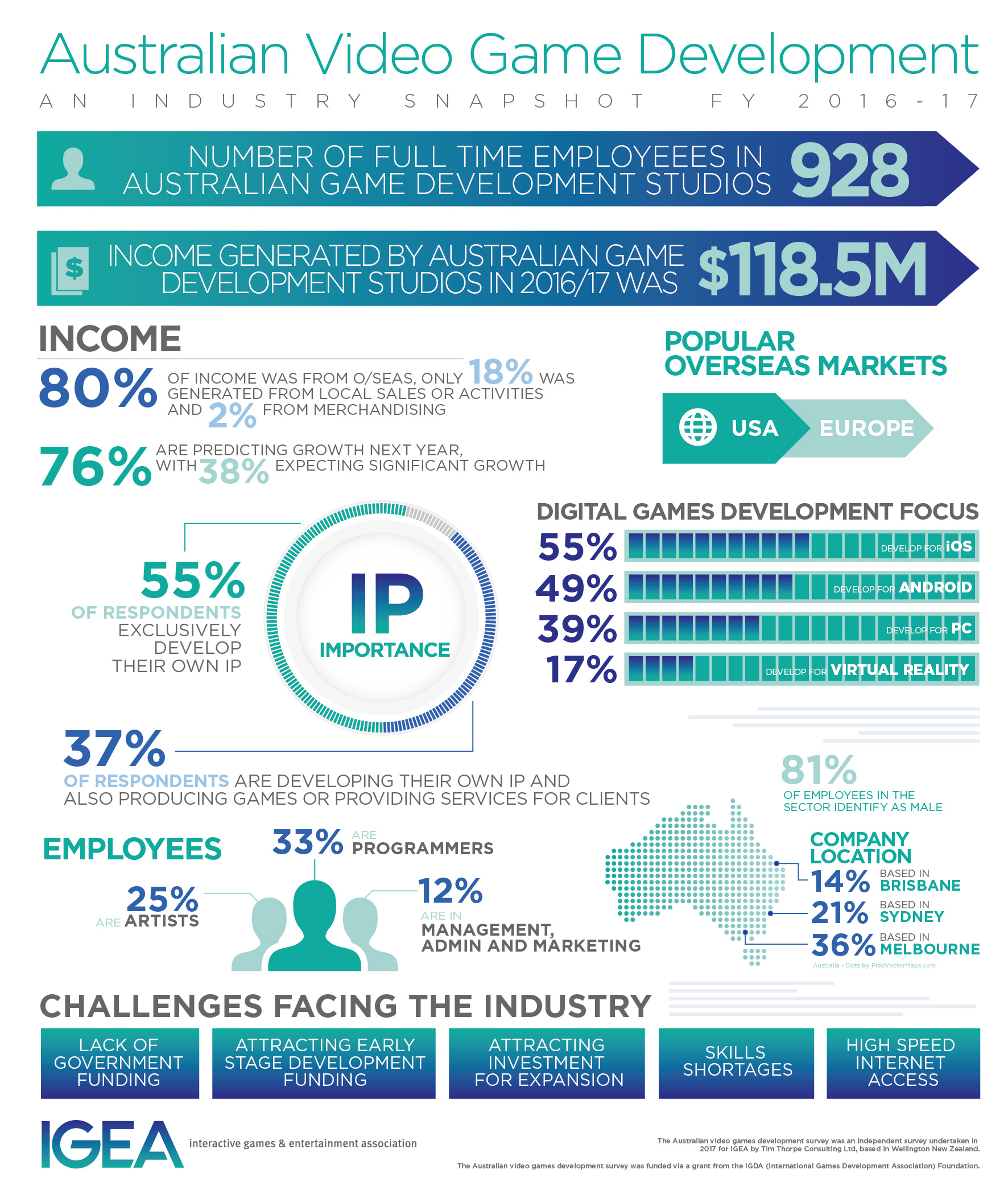 Recent statistics from the Interactive Games and Entertainment Association
A lack of serious ongoing funding
Aussie players dropped $4 billion on the games industry last year, but Australian devs aren't seeing a lot of it. Games giants like Rockstar might be raking in millions on the backs of staff working 100-hour weeks, but many Australian developers are working themselves to the bone just to stay afloat.
Screen Australia's Interactive Games Fund, established in 2013, was a $20 million fund dedicated to the sustainability of game development and studios in Australia. It helped fun Loveshack Gaming's FRAMED (hailed by Hideo Kojima as Game of the Year), The Voxel Agents' award-winning The Gardens Between, as well as Hand of Fate by the late and great Defiant Development.
In 2014, however, the fund was cut, along with $100 million from the federal arts budget. While the opposition vowed to renew the fund in 2018, with Morrison retaining office, this never came to be. In 2019, none of these studios have announced new titles in production.
For developers in Victoria, arguably the home of the Australian games sector, the picture is certainly better. Film Victoria has shown an ongoing commitment to the games industry, announcing in September 2018 that 14 games development companies would share in $815,566 to create new content and create more than 50 employment opportunities.
Nevertheless, despite the critical and commercial success of Australian games, the lack of federal funding leaves the industry full of studios struggling to establish a baseline of stability that they could healthily expand from.
The Australian games industry is doing brilliant things – but its labour movement lacks precedent. While the labour rights movement is still in its infancy in games, the lack of industry accountability dovetails with a lack of governmental support to create an environment where devs are often underpaid, overworked, and isolated. Collectivising devs are facing the issues that every Australian creative industry is grappling with, but they're doing it without the support of infrastructure, or institutional knowledge. So what's the next step for indie devs who deserve better? I guess we'll have to join the Discord to find out.