Cyberpunk 2077 is getting a brand new board game adaptation, subtitled Gangs of Night City. The story-based game will expand the lore of the video game and allow players to bump heads with various Night City icons – from Johnny Silverhand to Rogue Amendiares, Judy Alvarez, and Goro Takemura. All the action will play out on a unique map-based board, with players tasked with commanding gangs to control the underground and gain dominance over rival factions.
The game is for 1-4 players, and includes a solo mode for those who wish for a more video game-like experience. This mode allows players to face off against Silverhand or game protagonist V in a battle of wits, with actions controlled by AI.
Gangs of Night City launched on Kickstarter on 22 June, and has already been fully funded. As of writing, the total pledge goal is at AU $193,000 with 15 days to go, indicating there's already major support for the upcoming title. Publisher CMON is known for high quality, polished board game experiences – it recently launched Marvel United: X-Men to great success – which has likely contributed to the game's popularity.
Read: The most anticipated board games of 2022
According to the Kickstarter description, players will have choice in the game's winding narrative, with several branching paths available as you step into your quest for glory. You'll be able to choose your gang from a host of many (Tyger Claws, Valentinos, Voodoo Boys, Maelstrom) and hire famous Edgerunners to do your bidding.
Each character has their own special attacks and opportunity cards, which will guide how you progress the game's branching story.
To win, you'll need to amass enough Street Cred, dominate your opponents, and work through each chapter with your gangs at hand. CMON has released a detailed guide to introduce players to the flow of the story, and explain exactly how it'll adapt the high-speed action of the blockbuster video game.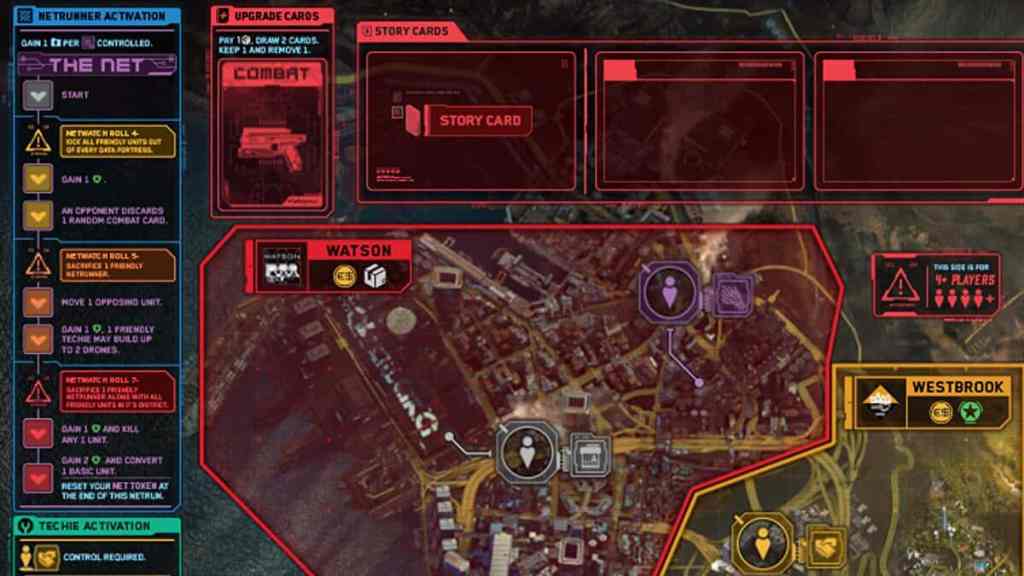 A number of Kickstarter Exclusive goals have already been unlocked for Gangs of Night City, with each introducing a new Edgerunner. CMON tends to be fairly generous with backer rewards, so expect a number of exclusive characters to be revealed as the campaign continues.
Cyberpunk 2077: Gangs of Night City is currently funding on Kickstarter. You can check out the campaign or support it for yourself here. The game is set to launch in July 2023.