Tiny Tina is a lynchpin of the Borderlands universe; a character that has featured heavily throughout the mainline games and even earned her own spin-offs, in the form of Assault on Dragon Keep (originally a DLC expansion for Borderlands 2) and Tiny Tina's Wonderlands, her first standalone adventure. But while it's easy to dismiss the character as absurd – she tends to hide her vulnerability behind over-the-top antics – she's also one of the most complex characters in the entire Borderlands universe. This is explored thoroughly in Wonderlands, with the game's art direction stemming from her childlike perspective and experiences as a young survivor in the post-apocalypse.
The action of the game is housed within a meta-narrative that sees Tina guiding players through a Dungeons & Dragons-like game called Bunkers & Badasses. Frette and Valentine, the game's deuteragonists, join players on their quest by providing a background of witty banter that guides each narrative step in the game. But despite their presence, it's Tina who is the focus of the action as she uses a tabletop game as a platform to express her creativity, imagination and grief, creating worlds from nothing with the power of her emotions.
While still a fantasy game in its own right, Tiny Tina's Wonderlands aims to tell a deeply emotional story with Tina at the centre. For Creative Director, Matt Cox, and Art Director, Adam May, this was an essential part of creating the world of the game.
'We didn't want to retread the same exact layers that we might have done in Assault on Dragon Keep [a story that expanded on Tina's mourning], but we did want to continue to investigate more layers of Tiny Tina,' Cox told GamesHub. 'In the bigger picture, we wanted all of our developers, from designers and artists, and everyone making the game to embrace the chaotic mind of Tiny Tina.'
Cox wanted the team to dive deeply into Tina's world, and for her creativity to influence every part of the game, from behemoth bosses to the sprawling vines you can climb in Tangledrift.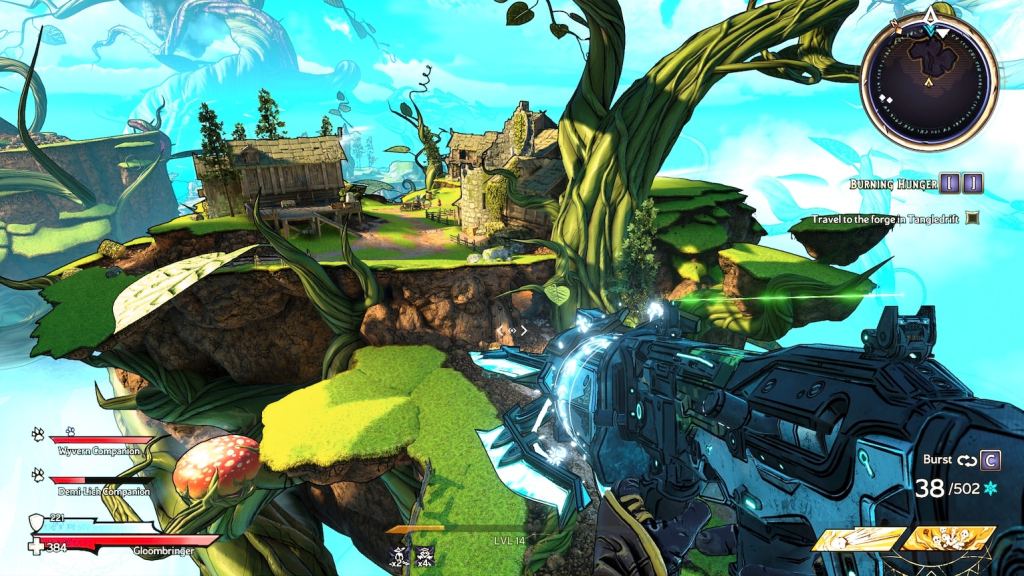 Tiny Tina's Wonderlands plays with imagination and fantasy
Each locale is designed to represent Tina and her interest in the world of fantasy – but also to show her character growth since the early days of Borderlands 2, where she's first encountered as an oddly dressed girl holding a deranged tea party.
To suggest a new level of maturity after her soul-searching quest in Assault on Dragon Keep, the design team worked on creating a new version of Tina that had gone through grief, and learned to bring her imagination to life once again. To create that sense of childhood wonder and imagination, the team turned to their own childhood experiences, with many of them already being fans of classic tabletop adventures.
'I grew up on [games like Dungeons & Dragons],' explained May. 'What we wanted to do was take some of the expectations of classic types of monsters, and the scary things in the closet that people are always thinking about … make cool monsters for us to fight, but then kind of turn those things on their head, as well.'
May spoke of the Cyclopes as a perfect example. This enemy strongly resembles a classic cyclops, with a single eye – but once its health meter is diminished, the eye bursts forth and becomes its own Beholder-like creature to defeat. While inspired by childhood adventures, the team wanted more to play around with these archetypes and inspirations to bring a touch of weirdness to Tina's unique world.
This was part of the joy in opening up the Borderlands universe to the realm of fantasy. While Borderlands has typically been a sci-fi story filled with androids and robots, Tina's world of imagination is one inspired by unicorns, magic, and beauty. Playing around with this 'meta' fantasy realm allowed the team to experiment in new ways, and to illuminate more of Tina's quirks.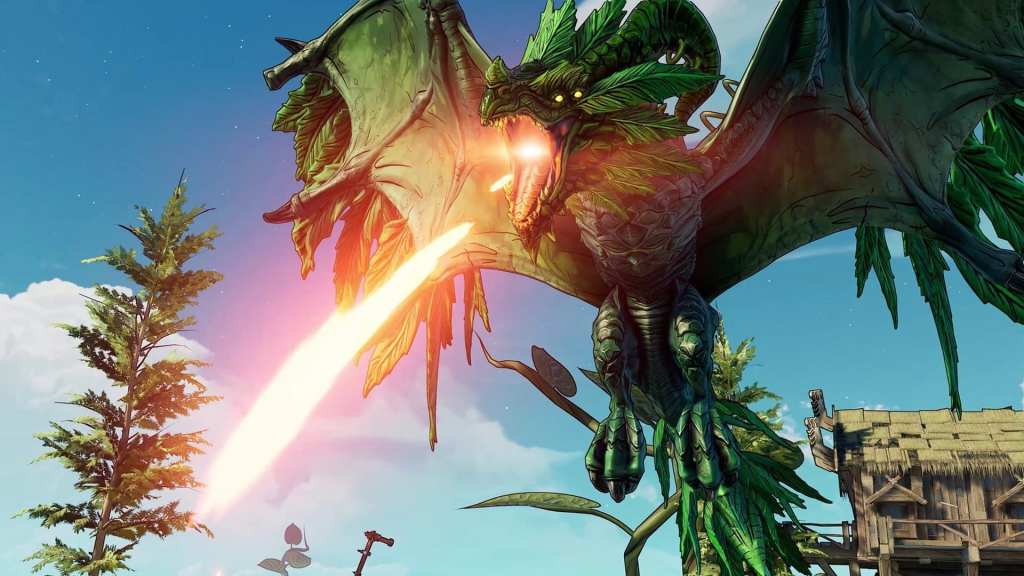 Tabletop roleplaying games inspired the action
'[Playing around with fantasy] really gave us some cool, fun opportunities from an art perspective. First off, [we could] make a fantasy world, but then fuse it with some of the things that would be in the mind of a crazy, wild post-apocalyptic child like Tiny Tina,' May explained. 'You see little hints of those things bleeding in, in different areas where instead of spikes, there'll be gnarled bolts and nuts… almost like a steampunk vibe.'
'We got to dive in deeper into doing big, epic, crazy dark castles and cool things like that.'
The team were also able to encapsulate their experiences playing classic tabletop roleplaying games in the Overworld of Tiny Tina's Wonderlands, which is designed to resemble a real life TTRPG table. In placing items like overgrown chips, soft drink lids and coins on the Overworld setting, the game blurs the lines between fantasy and reality, to remind players of the meta-narrative Tina helms.
While it is a fantasy story – one that brings players from wild, pirate infested coasts to mountain regions – it's also a tale of a young girl attempting to escape from a harsh post-apocalypse using the realm of fantasy. Tina is omnipresent in this world, and every piece of scenery and adventure is lovingly handcrafted through the lens of her experiences.
'It's already fun to design for Borderlands games because we have a sense of humour and comedy as a pillar, and we don't take certain things so seriously,' Cox said. 'But taking that formula, and [leaning more towards] fantasy just allowed us an entirely different level of creativity, where the contexts to the real world don't really matter, in the mind of a chaotic 13 year-old. It gives us a lot of license and a lot of freedom to do very, very random things.'
It's why players run into towering, strange characters like Kastor The Normal-Sized Skeleton, or beasts like Hammerhead land sharks. There's a whimsy in the game that's stretched to epic proportion as players dive deep into Tina's off-kilter imagination.
May emphasised the team's desire to have Tiny Tina's Wonderlands feel like a Dungeons & Dragons module, but with the weirdness and humour amped all the way up. While there are traditional fantasy-themed locations on the game's maps, there's also a signature 'weird, wild Borderlands twist' in each locale – whether you're running into a goblin love story, or accidentally being shrunk down to miniature size.
That said, the team worked tirelessly to ensure Wonderlands had its own identity.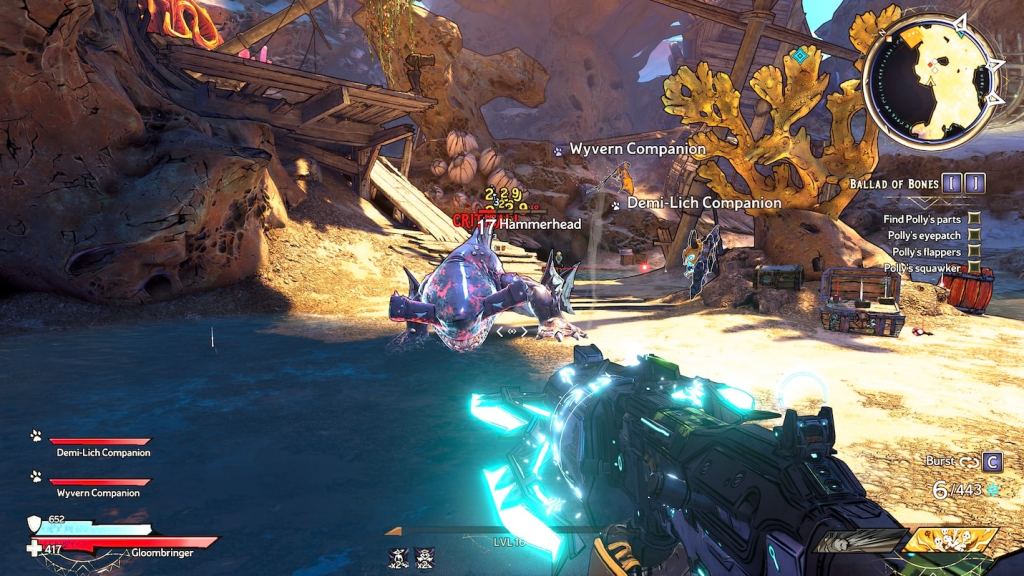 How Wonderlands escaped the shadow of Borderlands
One of the harder parts of designing the game was creating the next big villain for the Borderlands franchise. While each game has been helmed by its own antagonist, the impact of Borderlands 2's Handsome Jack is still felt across the entire franchise. As a charismatic, sympathetic villain performed gleefully by Dameon Clarke, Handsome Jack remains synonymous with Borderlands – and is well-loved by fans.
In Wonderlands, he's nowhere to be seen – but in his place is the Dragon Lord, a worthy antagonist that suits Tina's world excellently. For the team, designing and creating this scene-stealing character, voiced by Will Arnett, was a challenge.
'Handsome Jack holds a very special place in the entire Borderlands pantheon and universe,' Cox said. 'I think the most important thing for us, much like not wanting to just revisit Tina's grief and recapture something already done, was we didn't want to just follow the same blueprint of Handsome Jack – but rather, create a villain that makes sense for the story in the world that we're creating.'
'I think it's important for villains to have layers, and important for villains to have connection with the player in some way, shape, or form. That's a principle that Handsome Jack does very, very well. So it was like, "what principles can we take from that and apply to how we approach a villain for Wonderlands."'
Having a distinct connection between the Dragon Lord and players was key – and this is delivered superbly by comedic, sharp asides from Arnett's villain as players romp through each of Tiny Tina's worlds. While the shadow of Handsome Jack feels near impossible to avoid, the Dragon Lord feels like a worthy antagonist for this wild adventure.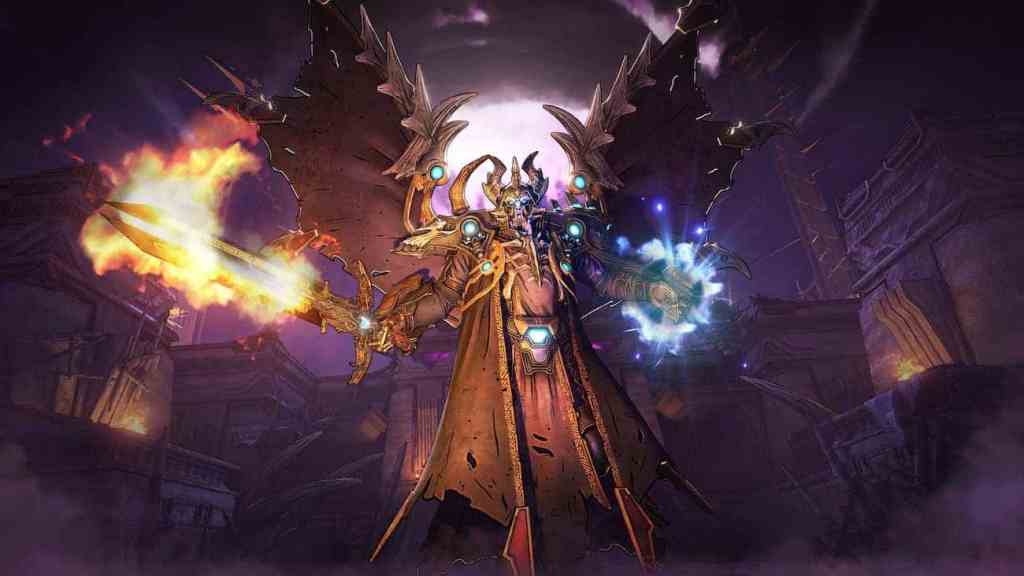 The break away from the traditional Borderlands formula was also aided by a franchise-debut feature: the ability for players to create their own characters, in the same way that Dungeons & Dragons adventurers can guide their own fate.
'Creating your own character is such a synonymous thing with so many tabletop RPGs, so we knew we wanted to do that. We've never done it at Gearbox, but it was the right thing, and the right decision … we wanted players to be able to express themselves and see themselves fully in these characters. So we fully voiced eight different actors [based on in-game personality types] to be the character that has agency through the story,' Cox explained.
This allows players to really embody their true selves, and to go on a quest that isn't like anything else in the Borderlands franchise. While past games have typically been driven by set characters, Tiny Tina's Wonderlands opens up much wider possibilities.
It's a core difference, and one that illuminates just how far Wonderlands strays from the traditional Borderlands path. While limited by its nature as a meta-narrative – one where the game's events aren't technically happening in game canon – this platform is an excellent one to explore deeper emotional threads, and for players to understand Tina better.
'One of our goals from the beginning was to have Wonderlands carve out its own path … People who like our gameloop for Borderlands will be able to dive right into Wonderlands. But we wanted to start something new with its own identity … we wanted to establish this as its own lane,' Cox said.
Going forward, there's certainly many lessons the Borderlands franchise can draw from Tiny Tina's Wonderlands – whether that be via the game's deeper narrative, its use of fantasy elements, or the endearing nature of Tina herself. For now, Wonderlands exists as a beautiful side story to this long-running series – and one that does justice to its zany, kind-hearted Bunkers & Badasses overlord.
Tiny Tina's Wonderlands launches on Steam on 23 June 2022. It's already available on PC via the Epic Games Store, as well as on PlayStation 4, PlayStation 5, Xbox One, and Xbox Series S/X.