The Sims 4: Werewolves is the next major Game Pack to hit the long-running franchise – and it's bringing a number of changes across the board, from introducing a lunar cycle to all Sims players, to enabling a range of strange werewolf abilities, hangouts, and environmental features.
With special werewolf interactions to new lots, lore, clothing, beast forms, and more, here's everything new coming to The Sims 4 when the Werewolves Game Pack launches for PC and consoles on 16 June 2022.
The Sims 4: Werewolves – New abilities, interactions
Werewolves in The Sims 4 will have a number of special abilities available to them as they unlock their true potential. Sims will start off with very little control of their wolf form, and eventually gain ability points by scratching, clawing, howling and transforming – interactions that would make any werewolf proud.
Each point can unlock a range of special abilities, much like the existing Vampire ability tree. In the case of werewolves, their powers are more closely related to the moon, and exerting control over their supernatural form. These are the new abilities we spotted in a recent gameplay preview:
Personal Grooming – the ability to clean yourself
Wolf Nap – the ability to nap anywhere, without the need to return home
Hunter – the ability to find food in the wild
Territory Marking – the ability to relieve yourself anywhere, including the floor
Curse Bearer – the ability to turn others into werewolves
Tunneller – the ability to travel to new locations via digging a hole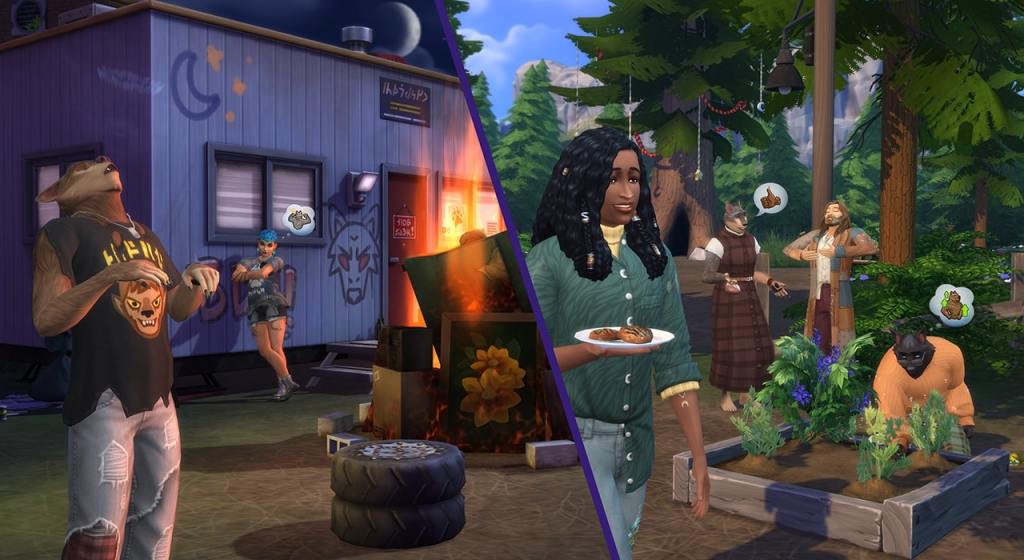 Other abilities mentioned by the EA team during the preview included: immortality, lunar resistance (avoiding the impact of moon cycles), and swift running. There's also 'dormant abilities' (like not scaring regular Sims) any werewolf can unlock by completing in-game challenges.
The newly-introduced lunar cycles will also have an impact on these abilities, with werewolf Sims gaining unique moodlets as the moon changes. Their moods will also be impacted by new werewolf-exclusive temperaments which determine the unique personality of each Sim.
Examples shown off during the preview showcase included 'Wracked with Guilt' – a temperament indicating a wolf Sim is not comfortable with their new form, and another temperament that meant a particular Sim gained more 'Fury' points when feeling flirty.
Eventually, a wolf's 'Fury' orb will build up over time (and while performing certain activities) until they go on an uncontrolled rampage where they destroy furniture, pee on the floor, and perform other destructive actions. This is a rage mode that is exclusive to werewolves, and one of the many challenges of looking after a werewolf Sim.
Sims can be lone wolves, or join two special Moonwood Mill packs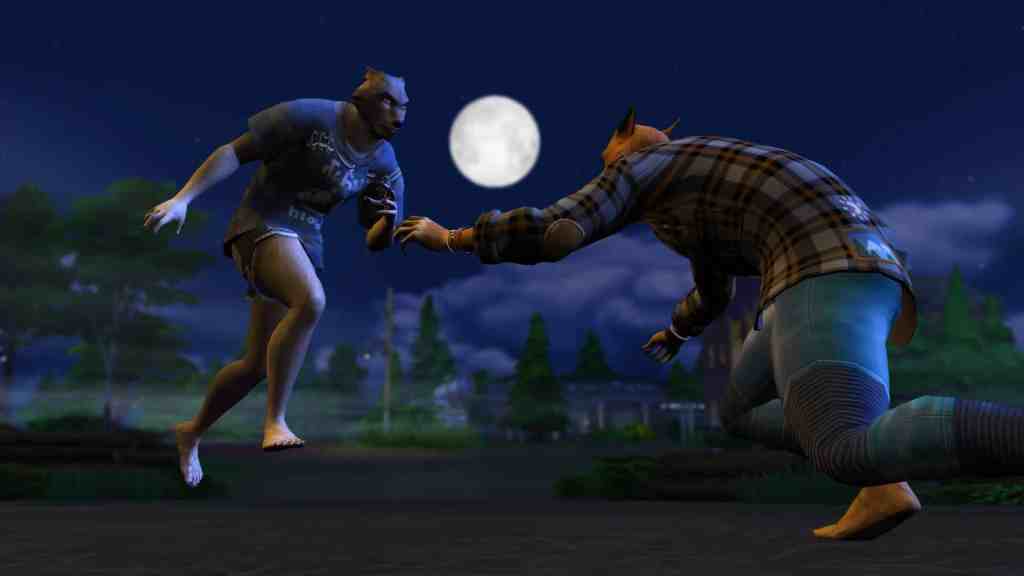 Moonwood Mill is the new location for The Sims 4: Werewolves – and is described as an abandoned town once filled with hustle and bustle, thanks to the now-defunct lumber mill. There are five lots in the town, three of which are available for residential use. The other two are a town library, where you can learn more about werewolf lore from librarian Wolfgang, and a hangout lot used by special werewolf packs.
In the game, your Sims have a number of options for becoming their own werewolf. If they choose, they can earn ability points on their own, and set out as a lone wolf. They can also join one of two wolf packs: The Wildfangs or the Moonwood Collective.
The Wildfangs are a group of scrappy, rebellious werewolves who believe in self-expression and independence. The Moonwood Collective is far more traditional, and are 'seasoned' werewolves that value community. Each has their own goals and aspirations, and can help players uncover more about how to be a werewolf, as well as teach them the history of Moonwood Mill.
It appears story and lore will have a key role to play in this game as secrets can be found in the local Moonwood library, by digging underground, by travelling through tunnels, or by researching independently. As Sims learn more about their new abilities, this lore will slowly be revealed.
New Create-A-Sim features in Werewolves include Paint Mode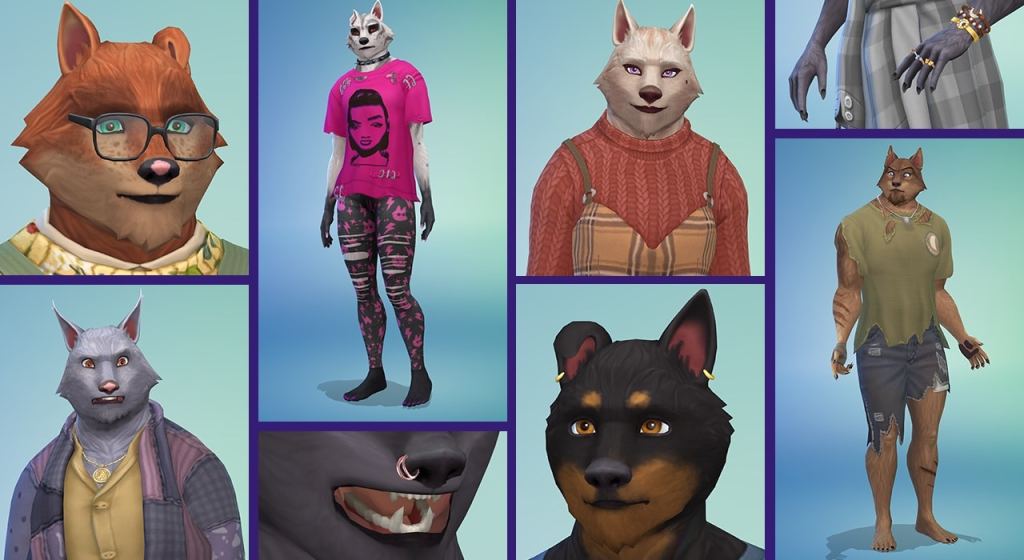 In Create-A-Sim, players will be able to create a Beast Form for their werewolf Sims – either linked or unlinked from their base human form. Here, you can add in scars, elongated noses, fluffy ears, new piercings, sharp teeth, wet noses, and other wolf-like features.
For the first time, Sims will also be able to have full-body scars – but that's not the only surprise lurking in the fresh version of Create-A-Sim.
Gameplay footage in the early preview also showed off Paint Mode for werewolf sims. Using brush tools – with multiple textures, sizes, stamps and colours available – players will be able to freely draw on their werewolves' fur to create their own patterns.
Werewolfs can be white with pink spots, or have a little stamped bowtie, or be covered in yellow octopuses. You can also use pattern stamps to put fuzzy fur onto your werewolf, or mark out patterns if you're less sure of your freehand drawing abilities.
While werewolves have so far been regular-coloured in previews, they can actually be rainbow, or pink, or purple, or orange – anything you like, really. The Furry community will be well serviced by this tool.
In addition to the werewolf-specific Paint Mode, the gameplay preview also included new looks at clothes in the pack, which range from shredded flannels to layered clothes, patchwork clothes, dirty clothes, and everything in between. 'Bush chic' is the best way to describe the fashion of this pack.
New furniture items include bassinets, telescopes, and more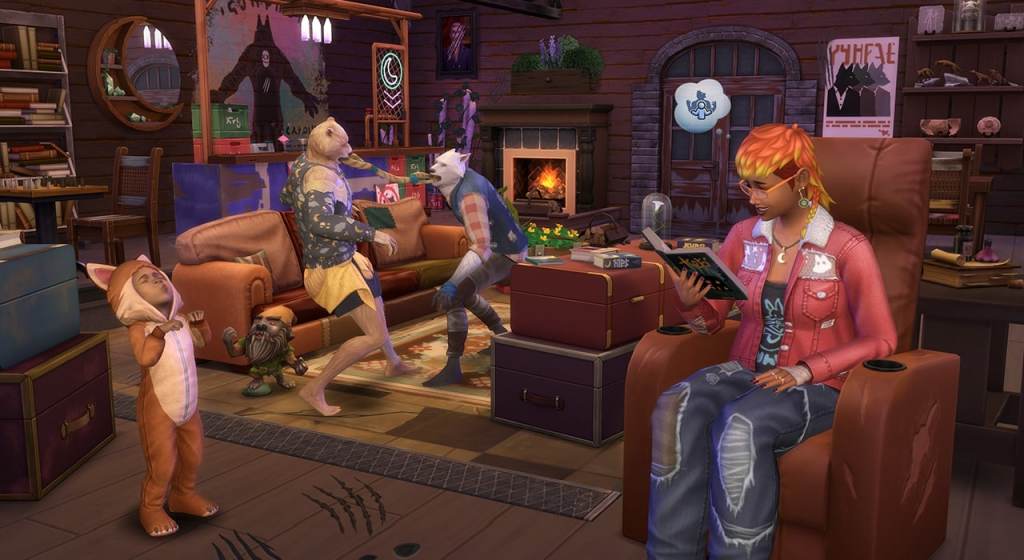 The Sims 4: Werewolves also introduces a number of rustic new furniture items to the game, including a brand new wooden telescope that takes up far less room than other models.
Items shown off in the gameplay preview included:
A secretary's desk
A tunnel entrance
A sitting log
New plants and ferns
Creepy, ripped paintings
A very scary new gnome
A woodsy mailbox
A moon bassinet
A new exercise machine
A giant, glowing crescent moon sculpture
In addition to new items, there will also be a new 'lunar fish' to catch by the light of the full moon in Lake Lunvik. This appears to be an important addition, as EA described it as having magical properties.
It's just one of the many mystery features coming to The Sims 4: Werewolves – a pack that feels absolutely stacked with new activities and features. There'll be plenty to do, and much to embrace, should you choose to take your Sims for a walk on the wild side.
The Sims 4: Werewolves launches on 16 June 2022 for Windows PC, Mac, and consoles.