Tay and Malia had a whirlwind romance with the Sims 4: My Wedding Stories game pack. It started when the unsuspecting Malia arrived on Tay's door step to welcome her to the neighbourhood. The conversation ended with a marriage proposal, just hours later – one that was accepted gleefully. In the short while they'd known each other (approximately two hours), Tay and Malia realised they wanted to be together forever.
Luckily, the additions in My Wedding Stories meant their big moment was smooth, enjoyable, and altogether lovely.
My Wedding Stories isn't an essential Sims 4 expansion. It doesn't add in vast and magical new gameplay options, like in Realm of Magic, or introduce button-cute canine companions, like in Cats & Dogs. But what it does add is a personal touch to the romantic life of your Sims that makes weddings feel far more personal, engaging and fun.
It also makes much-needed changes to the game's event system so that parties feel less like 'ticking boxes' and more like allowing your Sim to take part in fun activities they enjoy. Rather than the standard goal meter usually found in the game, My Wedding Stories lets you pick and choose what you'd like to do in a fresh set of wedding-themed events.

There's a range of activities to choose from when you're planning 'Bach Parties', 'Family Gatherings', 'Receptions and other wedding parties. You can decide to share tea together, share a dance, have a celebration feast, throw rice, or cut a cake. No timer will pop up during these events, and you can choose to take part in activities at your own pace.
It means your Sim can spend events chatting with their friends, getting together with family, eating, dancing, and enjoying themselves. It also gives players a bit of downtime to enjoy playing the game without the stress of needing to perform set actions.
There is no failure here – it's all about the relaxation, and making sure your Sims know how loved and appreciated they are. In the pack, you can draw out weddings into weeks or months of celebrations, strengthening familial bonds or just giving Sims an excuse to party.

Beyond the addition of breezy wedding-themed events, which help turn weddings into week-long love affairs, My Wedding Stories also introduces a smattering of new content, as in other game packs.
There's a new range of fancy wedding dresses, suits and accessories in the pack including necklaces, painted nails, earrings and gloves. Then, there's new wedding-themed decorations including flowers, arches, bars, fancy chairs and wallpapers. Each new item is a welcome addition – and while some of the dresses are questionable and unflattering, there's enough variety that you can avoid the uglier options for your 'perfect' marriage.
There's also a new locale in this pack: Tartosa – one of the best new maps in the game.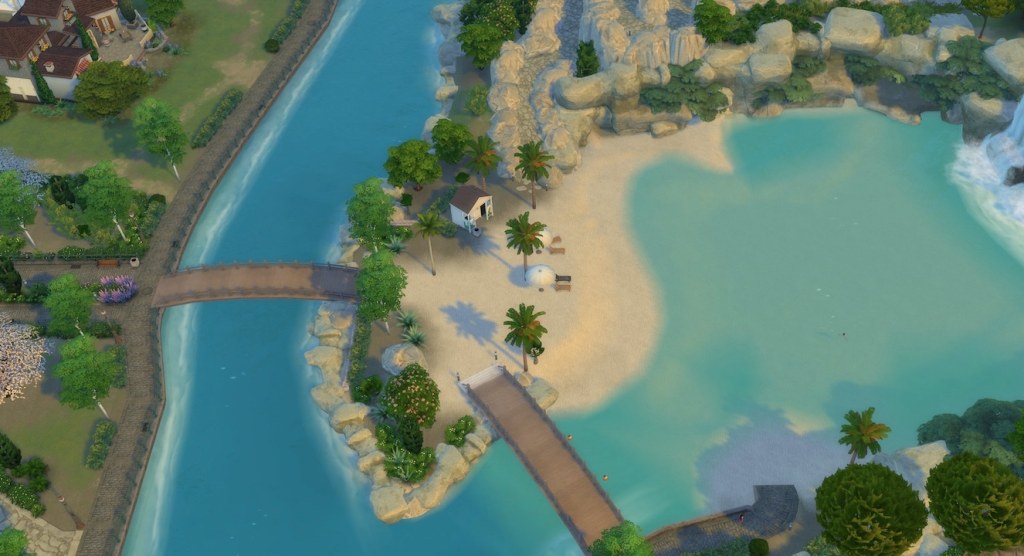 Tartosa is an island paradise, crossed with a whimsical cottagecore hamlet. There's cutesy village shops, and garden arrangements in the shape of love hearts – and also beachy lakes where players can kick back under some palm trees and enjoy a quieter life. The town is littered with swimming and fishing spots, and rapid waterfalls that feed into calm, flowing rivers.
It really is a joy to travel through, and should make for a nice sea change if you're looking to re-home your Sims family.
Read: The Sims 4: Modern Menswear could be the future of fashion
There are plenty of options for settling down in Tartosa – but it should be noted that the locale isn't very populous, and despite being the 'wedding' world, it only has one pre-built Wedding Venue.
To get married in Tartosa, you can only pick one spot – unless you build your own venue, which many will likely prefer. The existing Wedding Venue is grand, but it's also a bit bland, so prepare to get very familiar with building tools and planning if you're looking to create the perfect, memorable wedding for your Sim.
New pre-built room options make it easy, as do the many new wedding-themed items. There's plenty to choose from, including items that aren't your 'standard' wedding fare, like new tea sets and garden flowers. They liven up rooms and help keep those good party vibes flowing.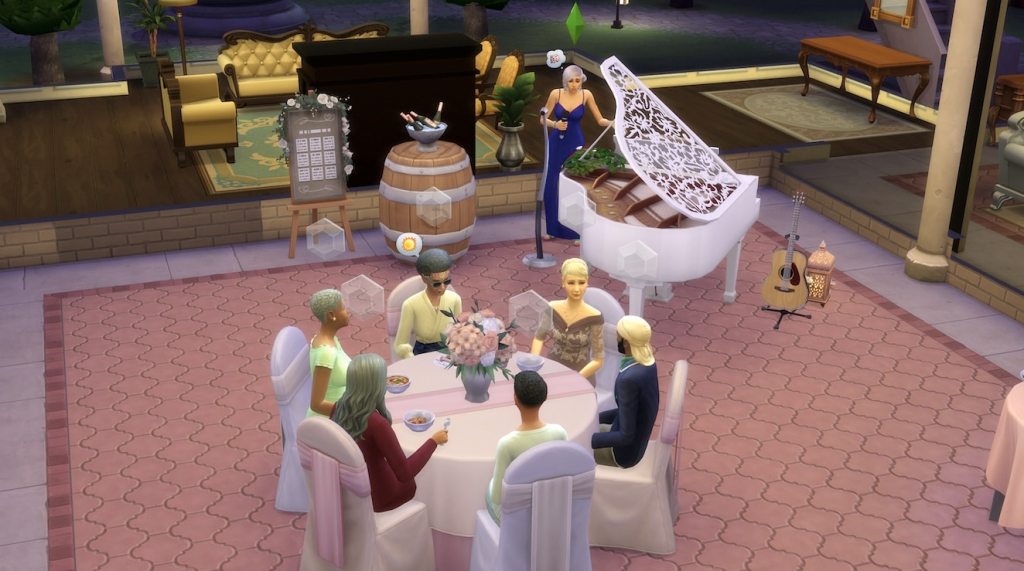 While My Wedding Stories doesn't feel necessary, it's still very nice to have.
Beyond the item and party additions, it's a pack that feels light-hearted, slower and more meaningful than other Sims packs. It gives you time to sit down, to celebrate the milestone achievements in your Sims' lives, and literally smell the roses. To that end, it feels like one of the most human and relatable game packs to date.
It's rare that The Sims 4 asks you to enjoy those bigger moments – instead, the game tends to push players forward on a career path where events don't seem to matter much.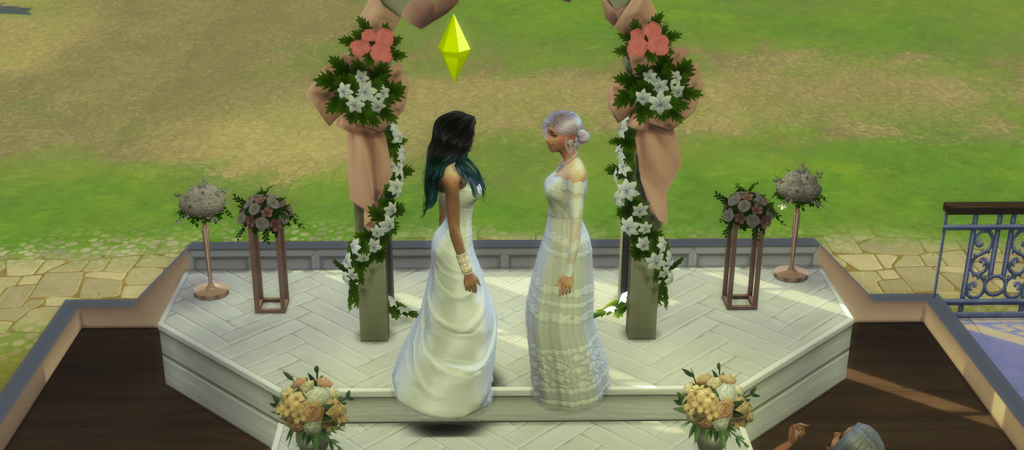 In My Wedding Stories, even the smaller moments feel grand – and while the pack isn't a game changer by any stretch, it'll certainly make your Sims weddings more memorable, and more meaningful.
An early code for The Sims 4: My Wedding Stories was provided for the purposes of this article. Images represent a still-in-development build from the game that may not reflect the final look.
The Sims 4: My Weddings Stories launches for PC and console on 23 February 2022.