Maxime Durand has always wanted to make history accessible, to let the world know that it's more interesting than just remembering dates and factual events. But early on in his career, he had no idea how to go about it. After he was hired by Ubisoft as a historian on the Assassin's Creed series however, he began to hear comments from teachers who wanted to use those games as classroom teaching aids.
Ten years later, Durand has just released the third entry in the Assassin's Creed Discovery Tour series, a game that puts the focus squarely on teaching people more about the historical eras the mainline games take place in.
'After four years of me making Assassin's Creed games and especially after we launched Assassin's Creed Unity, I realized that there was so much potential,' Durand told GamesHub. Set in revolutionary Paris, Unity featured a freely explorable interpretation of the city, with recreations of buildings like Notre Dame Cathedral so impressive fans believed they could aid in the rebuilding of the actual Notre Dame after it caught fire in 2019.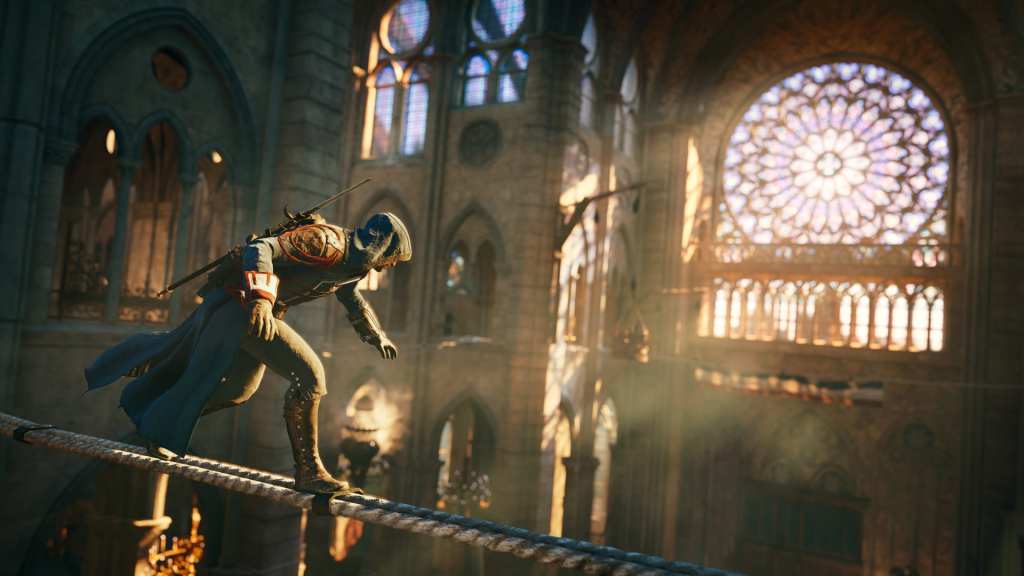 The aforementioned teachers remarked that the Assassin's Creed team was making something that they would have loved to use in the classroom, but found they couldn't hone in on what they needed to when they had to stop and fight to the death every once in a while.
It was that validation that encouraged Durand to push for the Discovery Tour idea after toying with it for some time. Separately, the creative director for Assassin's Creed Origins, Jean Geusdon, had also independently raised something very similar.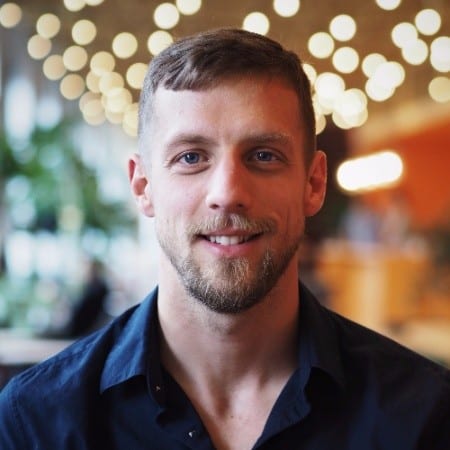 'We both had that dream, as many people did, and the funny bit is that we both tried to convince Ubisoft to actually do it without knowing that each other was doing it,' Durand recalls. 'I didn't know whether Ubisoft would've said yes. It didn't matter to me, I just thought we should do it.'
With Jean focussed on the creative vision of the mainline Assassin's Creed games, it was left to Durand to put in the time to do the research in regards to what would actually be useful as a teaching tool. Durand and his team attended history and EdTech (Education Technology) events to try and find out what the industry needed, and got in touch with teachers and museums to see how the games could best fit in the classroom environment.
'We came out at first with a list of so many ideas and things we'd like to do. But we knew we couldn't do everything to begin with. So we really focused on what things we could control.'
Fortunately, Ubisoft leadership appeared to back the project wholeheartedly. 'We somehow convinced the company to do it, even though there was no business plan – let's be super honest,' Durands laughs.
'It just sat right with the company – with their idea of being generous to players usually, so we were very lucky in that sense… It was a good, chaotic result'
Assassin's Creed Discovery Tour: Ancient Egypt and Greece
The first two Discovery Tour titles, Ancient Egypt and Ancient Greece, allow you to explore the open worlds of Assassin's Creed Origins and Assassin's Creed Odyssey respectively, as well as take yourself on a large number of guided tours, themed after various categories of learning – architecture, daily life, politics, art and religion, etc.
Both are incredibly text-heavy, however. They hinge on the interest of its participants to undertake self-guided learning, while teaching those who are interested about the process of game development too, through being transparent about the artistic liberties the team took.
With serious and educational games, having free agency is typically enough to be more engaged in classroom learning – anything is better than a textbook! Still, many educational games remain steeped in a textbook style delivery of information.
This was how the first two Discovery Tours more or less came out: designed quite literally as self-guided tours through the virtual worlds that had already been built for the game. Although those worlds were intricately detailed and freely explorable, the titles were tools for the classroom first and foremost, even if that did come as some surprise to those it had been built for.
'We were never going to make a game out of this with the first Discovery Tour.' Durand admits. 'At first, we were trying to prove a point, and trying to make a game at that point – I think we wouldn't have done it properly. We didn't have all the information that we needed to do this correctly.'
Ancient Greece took some steps to address this, and introduced a light progression system, with rewards for exploring its significant points of interest, and incorporated lighthearted quizzes to test you on what you had learned.
But then, more people started playing. The Discovery Tours were included as free updates to anyone who had the Assassin's Creed games they were based on, and some of the data the team received was eye-opening.
'It was a surprise to see how many people played the Discovery Tour. That was a very good surprise!', Durand said. 'But, the reality is that they were not playing as much of the content we created.'
In thinking about the third iteration, which would be part of Assassin's Creed Valhalla, Durand and his team wanted Discovery Tour to be engaging for those outside the classroom too – players who had played the Assassin's Creed games and wanted to learn more, or those that simply had a passing interest in the eras they were representing.
'We wanted to make sure that instead of creating 20 hours of content and people not playing all of it, we thought: why don't we just focus the same amount of effort we have been on crafting something that's shorter, but that is maybe more appealing to what gamers are used to? To have some control over an agency, over what they're doing in the game.'
Assassin's Creed Discovery Tour: Viking Age
Two years later, the Discovery Tour team is much more experienced, and knows exactly what they want. To that end, the newest in the series, Viking Age feels much less like a serious game, less like an educational program stuffed to the brim with textbook crib notes.
Viking Age sits much more comfortably in the realm of a video game. It is a narrative-focussed role playing game without any conflict, complete with real characters to empathise with, duties to fulfil, and quests to complete. And yes, there are in-game rewards you can carry over for use in Assassin's Creed: Valhalla.
Following the stories of four protagonists, the goal of Viking Age is to 'learn by doing' as you follow in the footsteps of characters who lived in England during the Scandinavian expansion into the region, and witness stories from both sides.
'We wanted to create something that was driven by narrative and by gameplay instead of the passive we did in the past,' Durand said. 'to leverage the things that we are best known for, which is making games.'
Those aforementioned points of feedback from educational institutions, which questioned why the Discovery Tour titles didn't have more video game elements in them, continued to ring on throughout the years. So the team finally took the big leap with Viking Age.
There were a few main objectives, according to Durand. One of them was to make sure they were telling the stories of everyday people who might have been living throughout these turbulent times, but were not fighters – Assassin's Creed: Valhalla, and many blockbuster video games already feature plenty of those kinds of stories, and this was their chance to do something different. There was more to Viking culture than just violence, naturally.
Another goal was making those everyday stories interesting enough for someone to stay engaged based purely on the tasks they were being asked to perform. According to Durand, their biggest challenge was working out how to convey the same amount of information, without having to tell it.
Every quest was designed around the kinds of lessons the team wanted to promote, such as the history and practices of monasticism and its influence on Christianity, the life of merchants, and the cultural approach to slavery. But humanising the quests to better connect to players was a huge goal.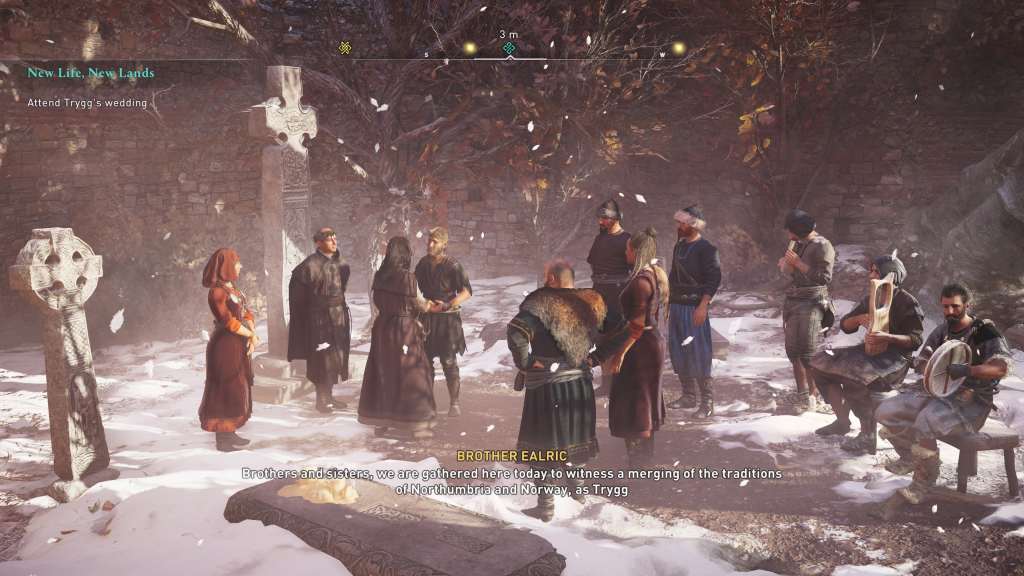 The character drama is a big part of these stories, as are the motions of day-to-day activities, and each aspect conveys ideas about the lives of people during the era. It's learning by doing, just like during a school excursion to a museum, only with a much more convincing virtual role-playing set.
Viking Age still has a healthy share of optional tour-style markers to communicate information more directly, but the ultimate goal is to not feel like you're really learning at all.
And it's been quite successful, if the focus groups are any indication, as Durand remarked that Viking Age showed that 'it was clear that people learned things that we wanted for them to learn. But also it was clear that they didn't realize it.'
Humanising History
Of course, one of the tricky things about trying to convey historical information in relatable terms is what to do with issues that we today have very different attitudes towards. In Viking Age, slavery was one of the most challenging topics, and one that is dealt with front and centre as the first quest players engage with.
The historical learning, according to Durand, was that Scandinavia and most societies around the Middle Ages in Northern Europe were very much accustomed to slavery, and it was something they wanted to explore as a subject that is often overlooked in Viking-focussed stories.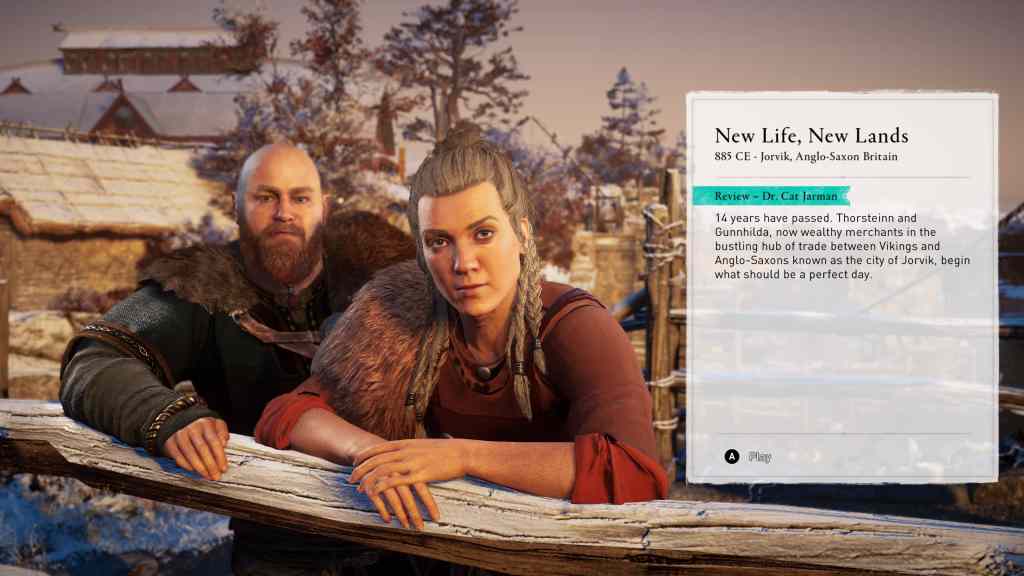 Viking Age immediately throws you into the shoes of a character who has a slave, eventually frees him, and the plot tries its best to explore the societal justifications behind slavery at the time, and the hows and whys the slave came to be in his position. To ensure the team gets the message across, additional information about the historical attitudes of slavery are provided.
'It has to be done correctly, and I do hope we have done it correctly,' said Durand. 'Of course don't want to glorify it, but we do want to explain it, because by understanding that slavery is a complex concept, it does it better justice in terms of education. And, it's easier for modern day people to compare aspects of it to things that might be happening now…'
A Game Is Still A Game
Of course, just like Assassin's Creed fans believed that the Notre Dame of Assassin's Creed Unity could assist in the rebuild the actual Notre Dame, Discovery Tour continues to be an exercise in teaching players about critical media consumption, the art of game development, and identifying artistic interpretation.
'We do want to make sure that what we're saying is accurate, is right, and our conception of it is the best, at least for 2021. But we want to promote critical thinking by making people understand that games are an artistic construct. It's not a faithful representation, it's adapting.'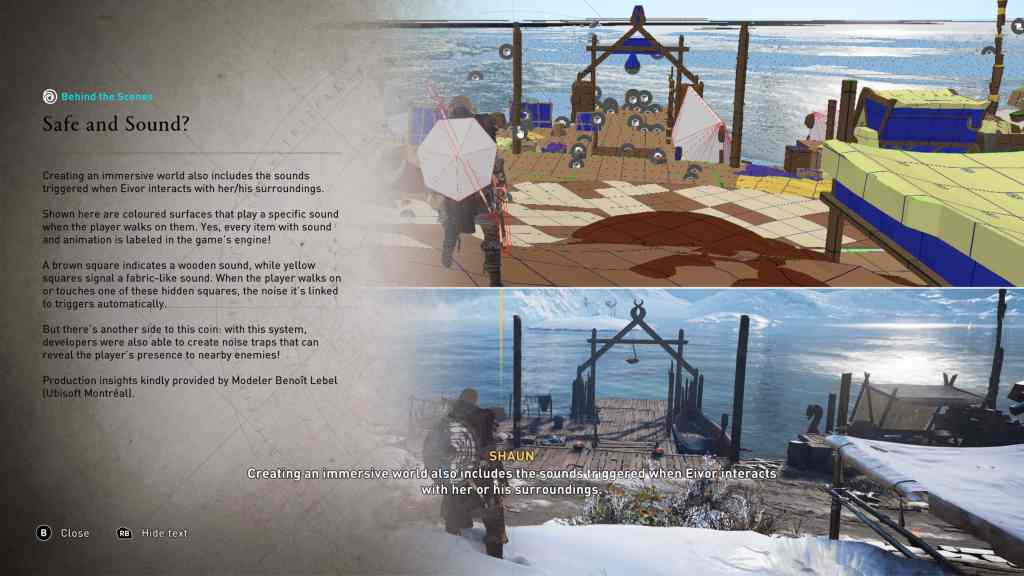 To that end, the Discovery Tour titles continue to identify where parts of its world design decisions may have been informed by the need to create a better game experience over historical accuracy. It's also the reason behind some of the titles' more game development-focused lessons, which explain how Assassin's Creed Valhalla's world was built in terms of its art, audio, and other technological aspects. It's all in service of promoting better media literacy around video games.
Discoveries still to come
In light of all these Discovery Tour improvements around Viking Age to make it a more approachable and enjoyable learning experience, Durand still points out that the learning experience does not end with the game itself.
'It's meant to be a tool for the teacher, and most teachers see it that way. And I appreciate that, because that really helps us continue to give them freedom in the way they want to use it.'
And what of the future of Discovery Tour? Well, the perpetual Assassin's Creed desire to depict different historical eras carries over to Discovery Tour for Durand: 'I do hope we have opportunities to talk about time periods that are not necessarily the most looked upon in terms of entertainment, although I understand that there's, you know, there's a lot of excitement coming from fans that we touch on certain time periods – Egypt was one of them, the Viking Age was one of them.'
Read: Age of Empires IV wants to teach valuable lessons about history, too
'I mean, let's just go back in time, Assassin's Creed 2 was set in the Italian Renaissance, who would have thought that this was cool? I'm still surprised by that. So I do hope we have opportunities like that to talk about time periods that are not necessarily expected.'
In the meantime, Durand is very satisfied with the more empathetic direction he and his team have taken Discovery Tour: 'I mean, I'm totally biased, but whenever I finished the game, I cry, which is not something I usually do in my life, but I got to care about the characters, and I forget about the history when I play.'
'The thing I'm most proud of is that we were able to leverage both our knowledge of making video games and our desire to make it into something that can be a powerful tool for learning too.
Assassin's Creed Discovery Tour: A Viking Age is included free with Assassin's Creed: Valhalla on all platforms. It is also available as a standalone purchase on PC.