GamesHub, Turn Left Distribution, and Capcom are giving Australian readers the opportunity to win a copy of the completely sold-out Resident Evil 4 Collector's Edition for PlayStation 5.
A thrilling reimagining of the game that changed Resident Evil and horror games, RE4 sees Leon S. Kennedy searching for the US President's daughter in an ominous Spanish village where nothing seems quite right.
In the GamesHub review of Resident Evil 4, we gave it a five-star score, saying that 'the remake reinforces what made the original RE4 such an essential game, and in modernising and rethinking the game's overall tone and structure, it also makes for a more intense and satisfying descent into survival horror.
Read: Resident Evil 4 remake review: A horror classic revitalised
What's in the Collector's Edition?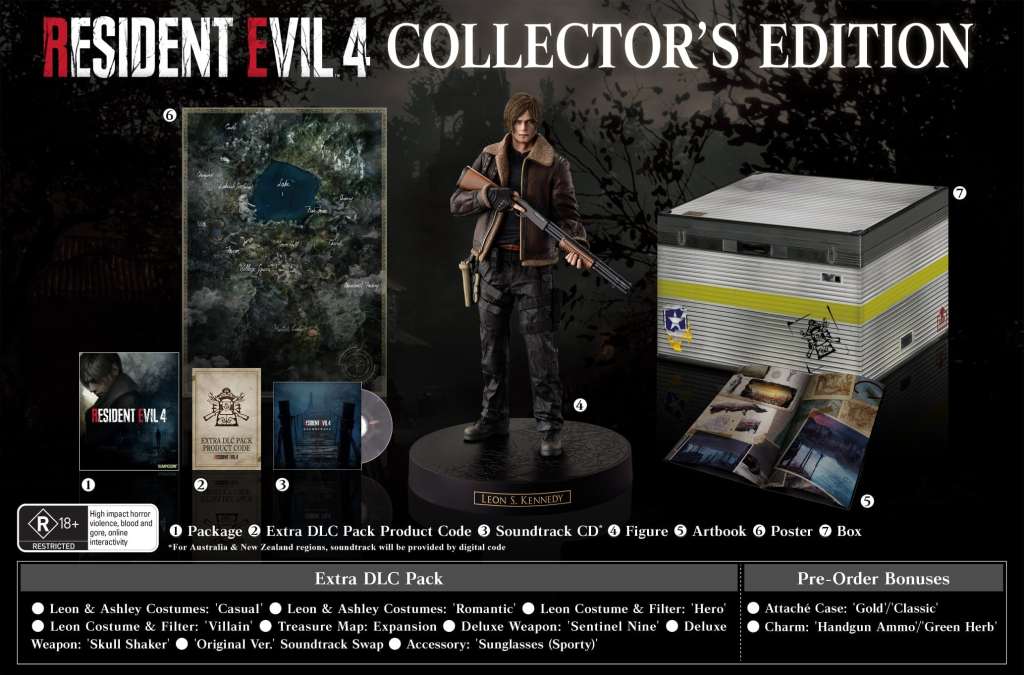 Valued at AU $599.95, the Collector's Edition is filled with both physical and digital extras that should be enough to tempt any Resident Evil series fan. Take a look at the contents:
Resident Evil 4 for PlayStation 5
Steelbook® case
Extra DLC Pack

Leon & Ashley Costumes: 'Casual'
Leon & Ashley Costumes: 'Romantic'
Leon Costume & Filter: 'Hero'
Leon Costume & Filter: 'Villian
Treasure Map Expansion
Deluxe Weapon: 'Sentinel Nine'
Deluxe Weapon: 'Skull Shaker'
'Original Ver.' Soundtrack Swap
Accessory: 'Sunglasses (Sporty)'

Digital Soundtrack download code
Physical statue of protagonist Leon S. Kennedy
Artbook
Special Map depicting the area of the game
Special Collector's Box
Pre-order bonus DLC

Attaché Case: 'Gold/Classic'
Charm: 'Handgun Ammo/Green Herb'
How do I enter?
To be in the running to win this incredibly limited version of RE4, here's what you need to do:
Fill out the form at the bottom of the page with your contact details.
Follow GamesHub's social media accounts.
Give us your most creative answer to the following challenge:
While barely managing to fight off an entire village of hostile Ganado at the beginning of Resident Evil 4, Leon's pursuers suddenly put down their weapons and shuffle out of the village. Confused, Leon utters the infamous quip:

"Where's everyone going? Bingo?"

Come up with your best alternative quip or dialogue option for this iconic moment, in 15 words or less.
The competition will close 31 March 2023, 9:00am AEDT. Winners will be contacted on the day.
This competition is open to residents of Australia only.
Resident Evil 4 Giveaway (GamesHub)