In The Legend of Zelda: Tears of the Kingdom, it often feels like you're cheating to get ahead. The world of Hyrule is so utterly enormous, and yet so detailed in how its environment and denizens operate and interact – that it felt incredibly rude for me to suddenly come crashing down into the middle of a town, from the sky, with a makeshift plane, in an attempt to skip a treacherous mountain climb containing several enemy encounters.
'Plane' is a very generous term for it, too. It was essentially a plank of wood I found on the side of the road, with a couple of large rotary fans stuck on with mounds of bright green glue, which I launched from the top of a neighbouring mountain by strapping a literal rocket to it. I'm embarrassed for myself, and especially embarrassed for my version of Link that is supposedly the prophesied hero of this world. But that's what makes Tears of the Kingdom so memorable. A triumph, even.
In Breath of the Wild, the predecessor to Tears of the Kingdom, much of what had been ingrained into the series template for decades was finally thrown out the window, and it was a revelation, to put it lightly. There was no strict pathway – you were simply dropped in and left to explore the world, guided by your own whims. All the tools you would need to solve the game's puzzles were effectively handed to you from the outset, and were multi-purposed and freeform in nature. Each could be used in a multitude of ways to manipulate and affect the environmental systems in creative ways. Heat, cold, fire, ice, rain, metal, wood, electricity – every element had its unique properties. The world was vast, humbling, and even after dozens and dozens of hours, it rarely ever felt like you were in complete control. You were always learning new things, and the environment was impossible to command.
The Legend of Zelda: Tears of the Kingdom captures the feeling of playing Breath of the Wild all over again, for the first time.
It comes with that constant feeling of wonder and awe, that continuously leads you down new paths, as you gasp quietly over little discoveries. Tears of the Kingdom makes you feel small and vulnerable, instilling the sense that you will never be able to truly grasp this new, divergent version of Hyrule – let alone its skies, or its vast and oppressive underground depths. It feels as if you could exist in this fearsome, breathtaking world forever.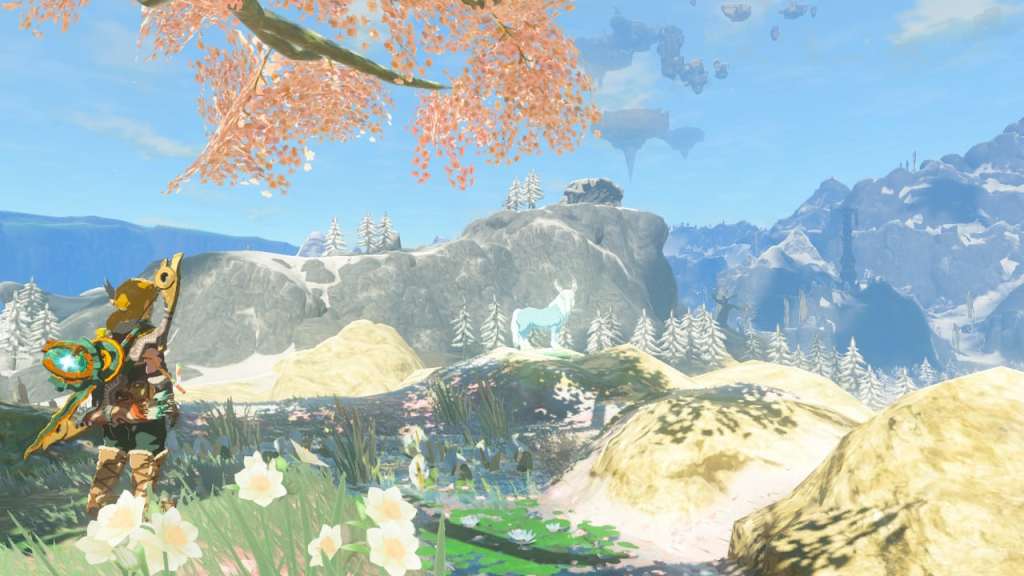 And even though you're given an all-new, more powerful suite of abilities with which to manipulate and bend the world to your will – as well as a team of allies, old and new, to assist you with their abilities and combat prowess – every small victory you earn, every puzzle you solve, and every problem you circumvent, feels like you've somehow surmounted all odds with your own creative ingenuity (or cheated them, depending on how you look at it), seemingly against the game's wishes.
That's a very powerful trait in the game's design, and it feels wonderful in practice too, because the more improvised and 'illegal' your solutions to puzzles and problems are, the more ownership you feel over the victory. You don't overcome a puzzle because you used the exact item the game wanted you to use, you overcame it because you used a series of freeform tools to make your own unique path, and that makes all the difference.
Breath of the Wild certainly featured this aspect, with its abilities that let you create bombs, freeze water, and compound momentum in objects. But The Legend of Zelda: Tears of the Kingdom does away with all those ideas (some of the effects persist in the form of consumable items, which can either be thrown or attached to arrows) and provides a whole new suite of more powerful tools.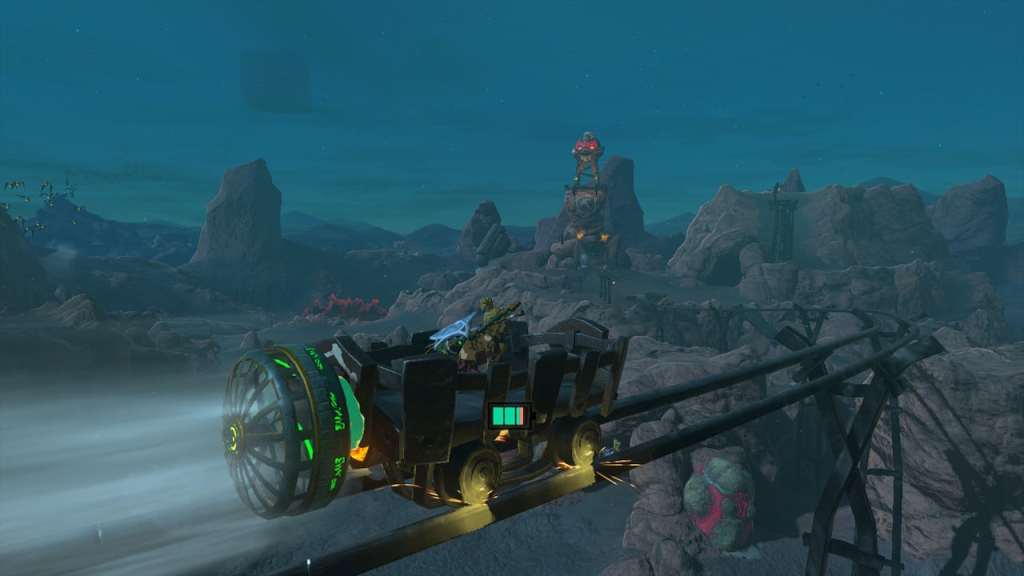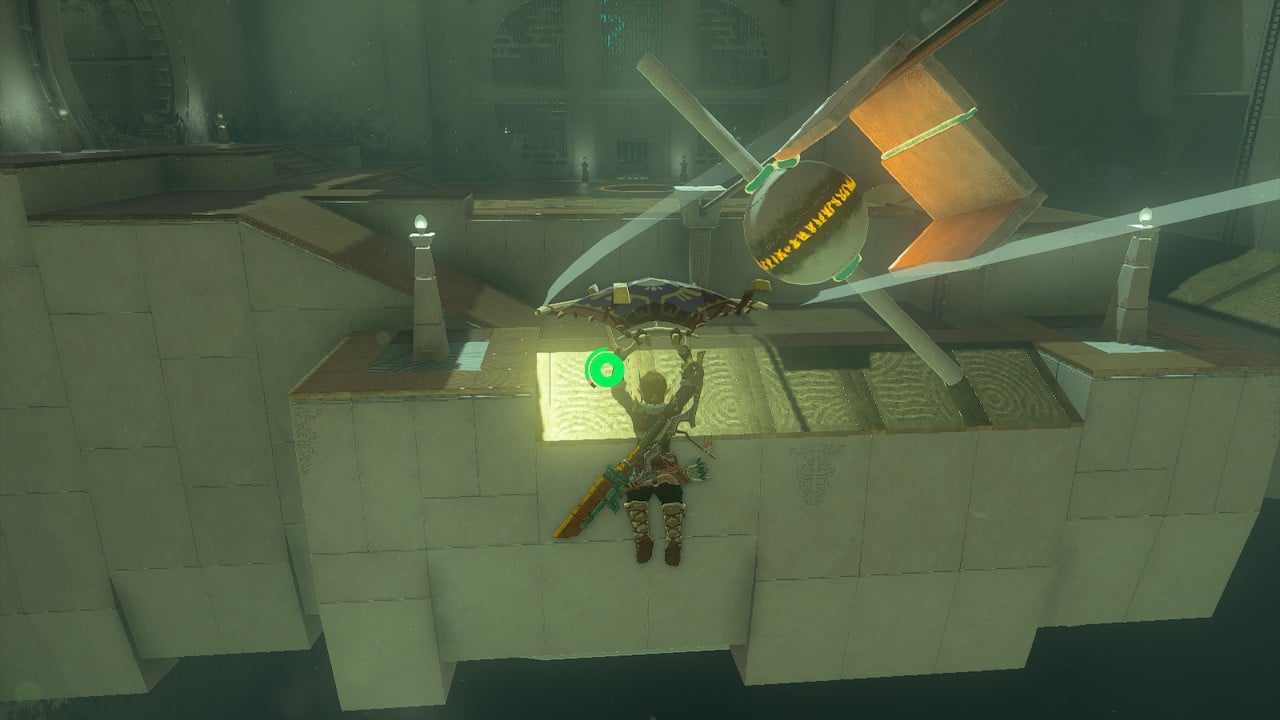 Key to producing the heightened satisfaction that comes with improvised problem-solving is Ultrahand, which lets you pick up and manipulate virtually any free-standing object, and fuse it to any other in order to fashion larger objects and structures. Another, Ascend, lets you 'swim' through solid surfaces directly above you, popping out on the other side – no matter the distance. Recall lets you reverse the trajectory of moving objects, as well as anything attached to them. Fuse lets you combine your weapons, shields, and arrows with virtually any other object you can find, which provides an array of useful (and useless) effects.
Combined with the new presence of 'Zonai Devices' in the world – pieces of 'ancient' self-powered technology like the aforementioned fans and rockets, as well as things like cannons, floating platforms, all-terrain wheels, sleds, springs, fire hydrants, and much more – the kinds of obtuse solutions you can fashion for almost any situation feel like they're only restricted by your imagination.
How do you light a fire on the other side of a large, bottomless chasm? Perhaps you could fuse a silly number of sticks together, pop a torch on the end, and light it directly that way. Or, you could build a dizzyingly high diving platform out of wooden panels, use Ascend to teleport up into the lip (sure beats climbing), and then float across the gap with your glider. Or, you could simply build a hastily put-together flying machine with some spare machinery you have in your pocket, and do things that way. There is a highly impressive leeway for experimentation in Tears of the Kingdom.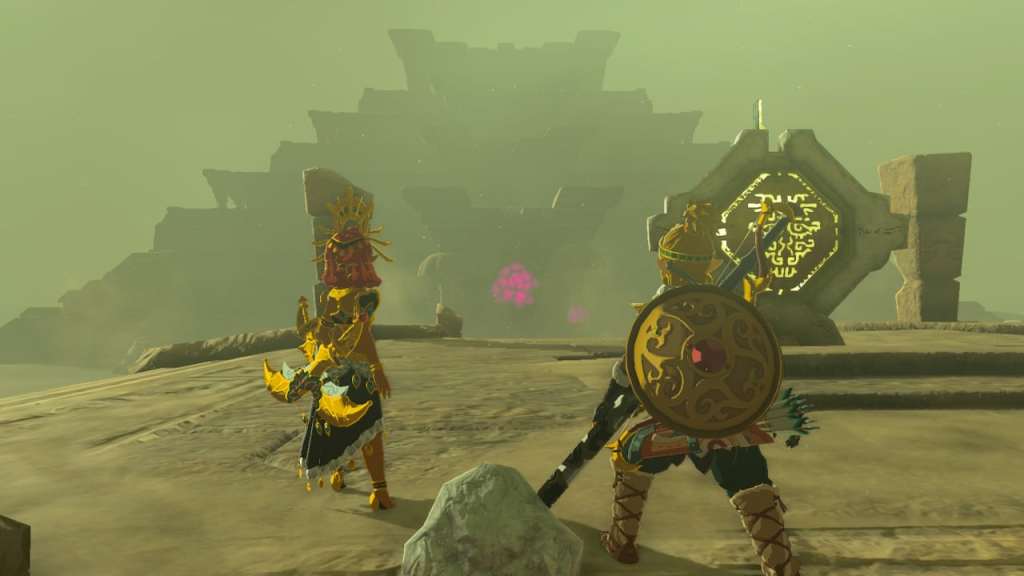 If you find yourself completely lost in one of the game's Temples – the complex (sometimes dastardly so), puzzle-filled labyrinths that are one of the few returns to Zelda tradition – you might decide to use that Ascend ability to cleverly enter that room you need to be in, instead of going through the rigamarole of doing it the 'proper' way. Again, it feels like cheating – 'They couldn't have planned for this, or did they?' you'll find yourself muttering – but it works, and it feels incredibly good when an esoteric solution suddenly clicks in your head.
Short tests of problem-solving skills exist in the game's many Shrines, which return from Breath of the Wild in new locations, and provide some gentle guidance to help you understand what you can do with your abilities. But the journey of discovering the great extent of what is actually possible continues to persist continuously throughout the game's entire narrative – and beyond. Like Breath of the Wild, Tears of the Kingdom will not stop surprising you.
Read: The Legend of Zelda: Tears of the Kingdom Guide – 8 Useful Tips and Tricks
Although The Legend of Zelda: Tears of the Kingdom uses the same rough topography of the Hyrule that existed in Breath of the Wild, a lot has changed, and a lot is new, which results in the same kinds of delights and surprises, despite the similarities of any prior experience (there are a lot more caves). Like revisiting a childhood home town, the presence of characters and places both familiar and strange is an intriguing onion to keep peeling – when something interesting catches your eye, you can't help but get carried off into a side tangent to learn more.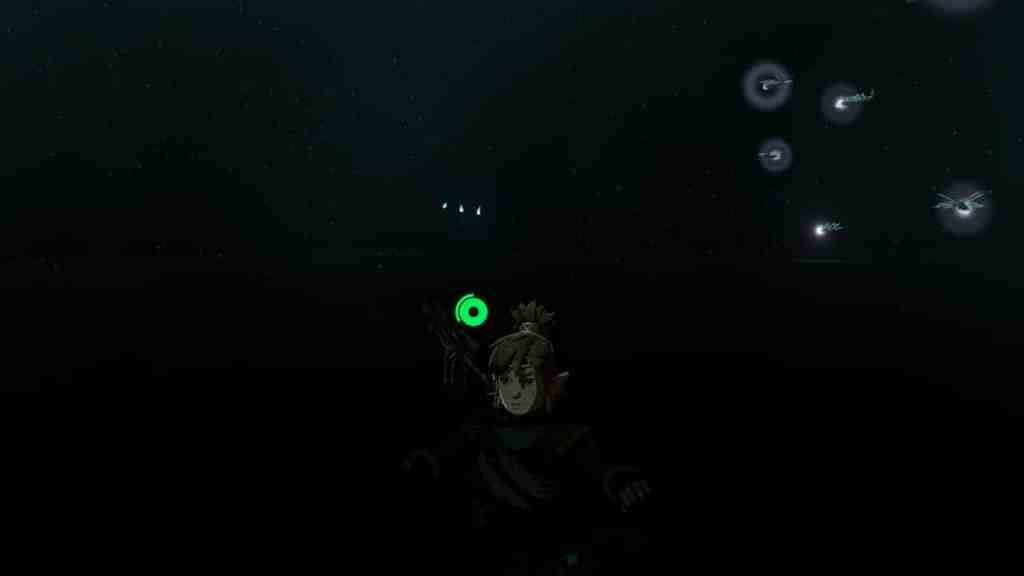 That touch of the familiar becomes vitally important to the game's sense of balance, too. Beyond the surface of Hyrule, Tears of the Kingdom leads you on forays into the vast, underground chasm that exists far, far below. The depths of Hyrule are seemingly the same, enormous size as the world above, filled with their own topography of mountains, structures, enemies, and secrets – only completely bathed in pitch-black darkness.
The sense of wonder is traded for fear when exploring the depths. You need to make sure you're well-stocked with light-emitting materials to incrementally light your way, and surfaces and enemies are covered in a substance called 'Gloom' that eats away at your maximum potential life bar when touched. Having to go down to the depths is frankly terrifying – especially for the long, extended periods you'll need to spend there during the one of the games' penultimate primary objectives. The sense of sheer relief when you're able to return to the surface, with its natural light and comforting, familiar locales, helps to build a renewed appreciation for it.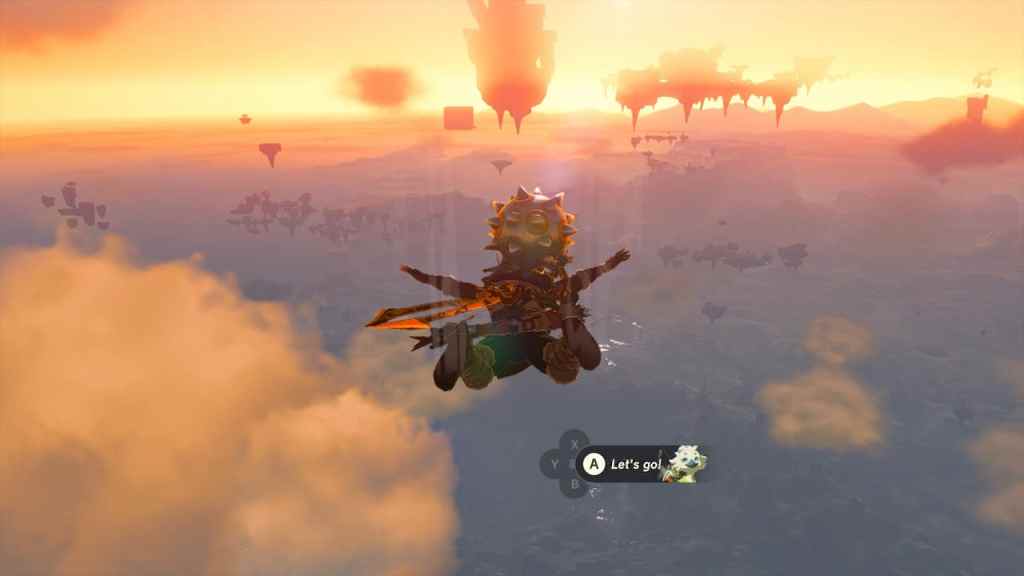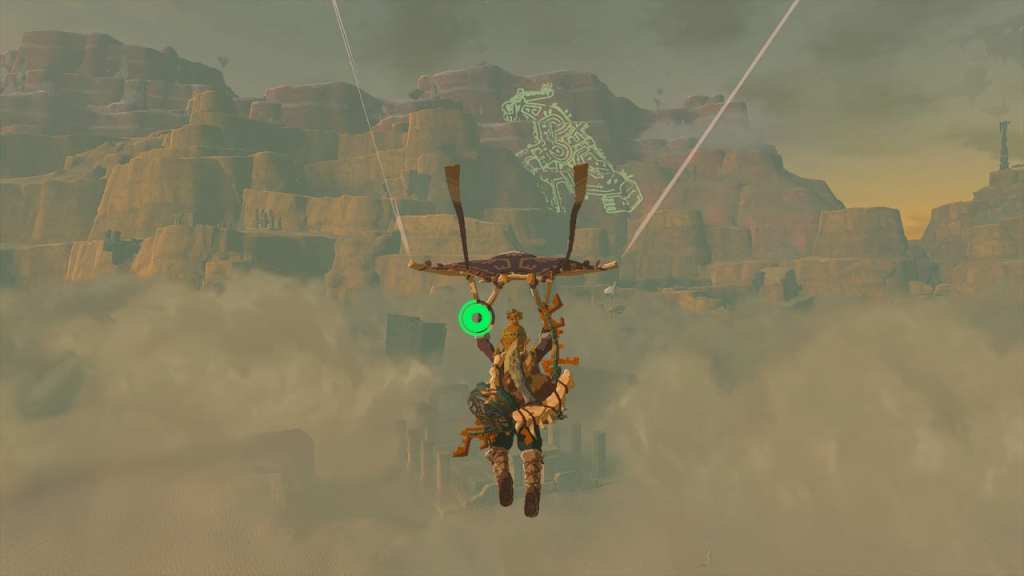 That appreciation goes several steps further with mandatory forays into the skies far above Hyrule, which are home to an archipelago of floating islands. The islands overall have a much smaller footprint than the surface and depths, but each provides challenging opportunities for higher-stakes environmental puzzle solving (with a punishing penalty if you misjudge your journey to another platform), and intriguing mysteries about the overarching narrative of the game, which spans thousands of years.
Being that high up, to see the expanse of the world, is simply breathtaking. Every outlook you have when you're in the sky is spectacular – the lands below sprawling further than you could have ever imagined from standing on top of the tallest mountain in the land. It's a beautiful and humbling experience, a testament to the games' evocative and beautiful art direction, as well as the technical achievement of the title – even if the game's performance does tend to suffer when there's an exceptional amount of visual effects on screen. The experience of rocketing like a bullet up to the top of the sky, and then free-falling for minutes until you land on the ground – or even continue falling into depths – is exhilarating, each and every time.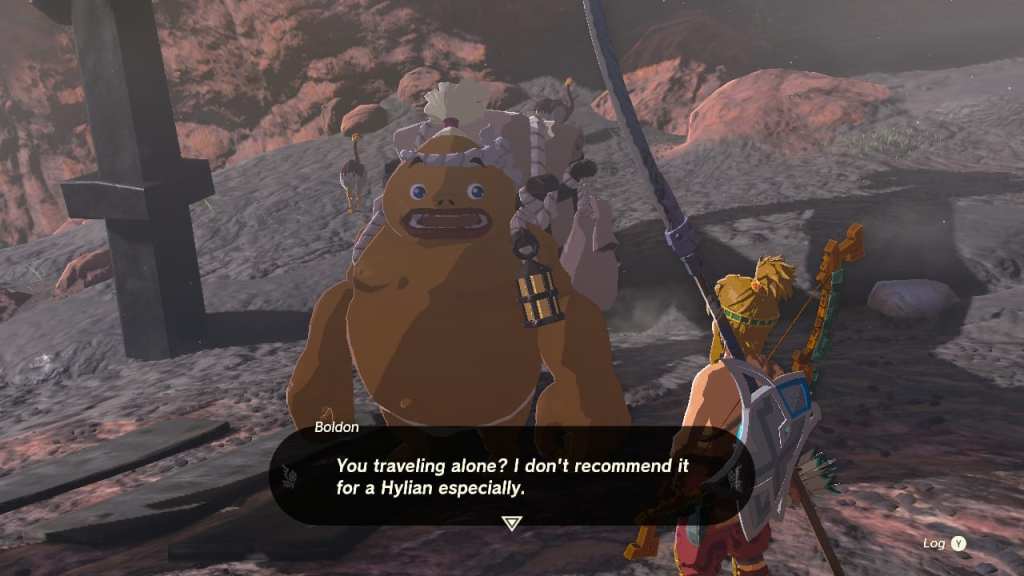 The Legend of Zelda: Tears of the Kingdom is an extraordinary piece of work that still carries the same air of unfathomable ambition, wonder, and inconceivability that its predecessor had. It fuels you with joy, terror, and admiration.
I love the quiet moments when I'm walking through forests and plains with my companions. I love how the game indulges my ridiculous propositions to its conundrums. I love how oppressive it can feel when all hell breaks loose. I love the minor inhabitants of the world, each with their own personalities and their relatable, mundane problems, as much as I do the key players in the grander saga – even if one doesn't quite live up to their full potential.
Breath of the Wild reinvented The Legend of Zelda. Tears of the Kingdom reimagines it once more, as a somehow more ambitious, freeform and creative game, with even greater highs – literally and figuratively. It's a staggeringly eye-opening game that expertly cultivates the joy of exploration, discovery and believing in your own abilities.
Five Stars: ★★★★★
The Legend of Zelda: Tears of the Kingdom
Platform: Nintendo Switch
Developer: Nintendo
Publisher: Nintendo
Release Date: 12 May 2023
This review was originally published 12 May 2023. A copy of The Legend of Zelda: Tears of the Kingdom for Nintendo Switch was provided for the purposes of this review.