Asked to define a laptop, I'd likely freeze up. The definition should be simple – it's a small, portable computer that should fit onto a lap. But for years, gaming laptops have stretched and warped this definition, to the point where a bridge between home computers and laptops has definitively been crossed. The latest HP Omen 17 (2023) laptop takes that bridge-crossing one step further.
Simply put, this laptop is unfit for a lap. It's massive, to the point of being too heavy and unwieldy to truly be portable. The HP Omen 17 chassis is hefty, weighing in at 2.76KG, and it's supported by a bulky 15cm x 15cm power brick – the largest I've seen on a modern computer.
When plugged in, this imbues the HP Omen 17 with hearty and enthusiastic performance worthy of its blockbuster frame. As it blasts through games on crispy, colourful Ultra graphics settings, it's hard not to dwell on its sheer heft – but then again, this Omen does go a long way towards justifying its bulk.
Table of Contents
---
36% OFF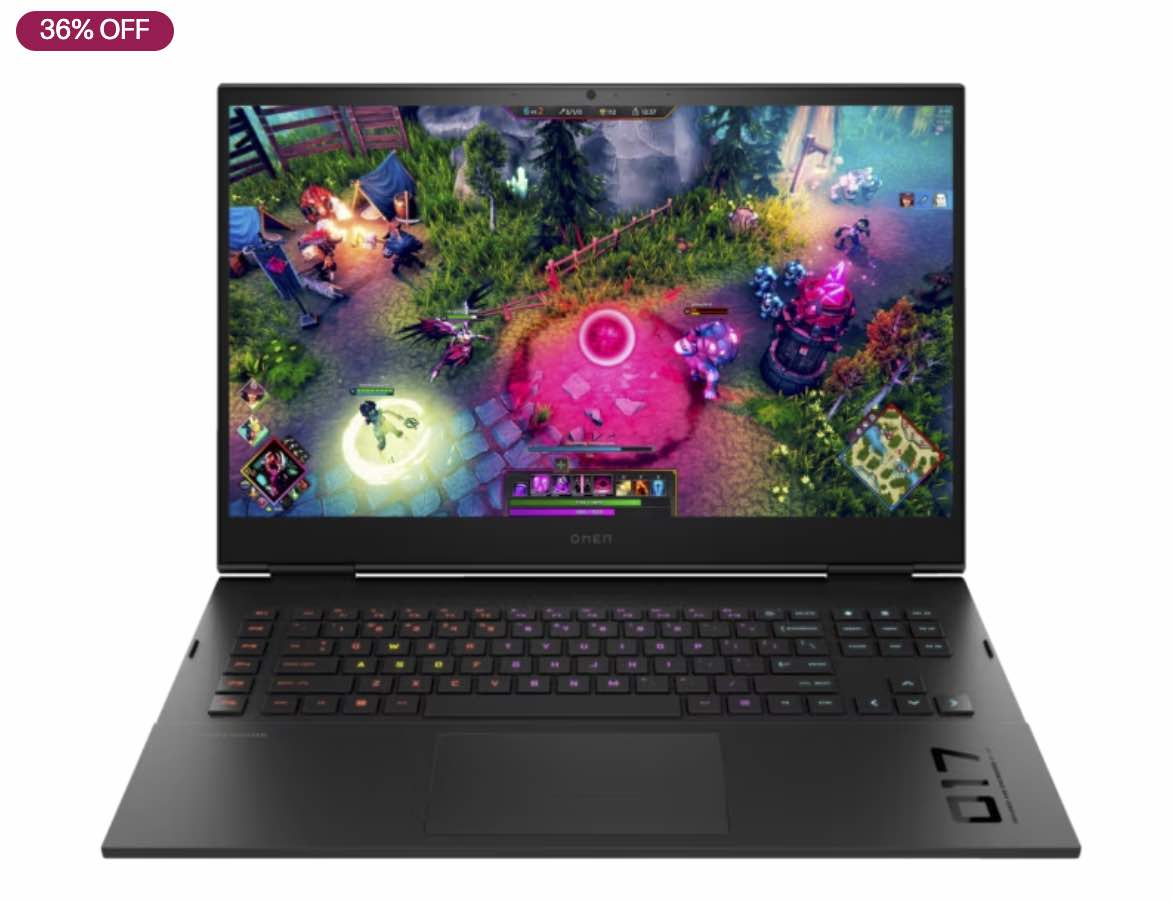 OMEN by HP Gaming Laptop 17-inch
OMEN by HP Gaming Laptop 17-inch ck1005TX
12th Generation Intel® Core™ i7 processor
17.3" diagonal, QHD (2560 x 1440), 165 Hz, 3 ms response time
NVIDIA® GeForce® RTX™ 3080 Ti
1 TB PCIe® NVMe™
SSD16 GB DDR5-4800 MHz RAM

Weighs 2.78 kg
Buy Now
GamesHub has affiliate partnerships. These do not influence editorial content. GamesHub may earn a small percentage of commission for products purchased via affiliate links.
HP Omen 17: Specs
Here's a quick rundown of the operating specifications for the HP Omen 17 (2023) delivered to GamesHub for review:
Processor: Intel Core i7-11800H
Graphics: NVIDIA GeForce RTX 3080 Laptop GPU (16 GB GDDR6)
Memory: 32GB DDR4-3200 MHz RAM (2 x 16GB)
Storage: 1 TB PCIe NVMe TLC M.2 SSD
Display: 17.3-inch QHD (2560 x 1440), IPS, 300 nits, 100% sRGB
Price: AU $3,429 (variable)
You can find the laptop on the HP online store.
---
HP Omen 17: Minimalist Design
Beyond its heft, the HP Omen 17 features a neat, largely minimalist design that shies away from the standards of the gaming laptop genre. There is no obnoxious font on its keys, no loud logos or strange colours. It's plain and simple, and that works well for the laptop. This version of the Omen has also done away with the obnoxious screen bezel of the past. It's now very thin – and with a square housing frame, opening and closing the laptop feels firm and reliable.
There are some caveats to this design – for example, the matte chassis picks up fingerprints extremely well, and is hard to clean, so you'll always have some smudges around where your fingers or wrists rest. The addition of the programmable macro keys on the left also throws out the alignment of the keyboard, meaning this laptop requires significant adjustment if you're a touch-typist.
The trackpad buttons are also strangely clunky, and don't feel particularly nice. This is in direct contrast to the keyboard keys, which are all satisfyingly clicky and responsive, and feel fantastic to use.
Despite these quirks, the overall design and build of this laptop feels elegant and understated, with muted shades of 'gamer' accoutrements.
Ports

Also worth mentioning in the laptop's design is its fair inclusion of multi-modal ports. It's not overly generous, but it does contain about the right amount – it's got a handy USB-C Thunderbolt port, three USB-A ports, a now-rare headphone jack, an SD card reader, a Mini DisplayPort, and an HDMI 2.1-compatible port.
That's the benefit of the aforementioned hefty chassis – there's plenty of room for great inclusions.
---
HP Omen 17: Display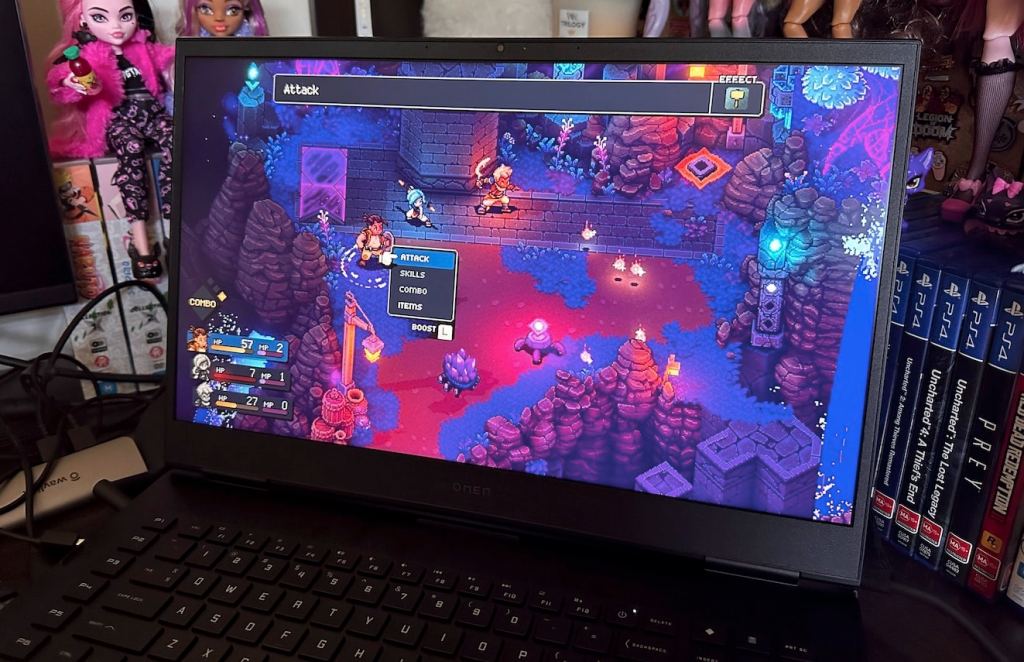 One of the brightest lights of the HP Omen 17 is its brilliant QHD (2560 x 1440) display, which is capable of delivering crisp and vivid shades with smooth motion. Playing through a range of artful Steam Next Fest demos – Sea of Stars, Sticky Business and A Tiny Sticker Tale – I was struck by the display's colour palette, and just how good every game looked.
My experiences were coloured by a transition from a mid-range early 2019 gaming laptop, but the upgrade was obvious and significant. The HP Omen 17's display is very good-looking, and I noted zero screen-tearing or obvious input lag while romping through indie demos, and more recent AAA video games.
It's all smooth sailing with the HP Omen 17 – and the more I used it, the more these features justified its bulk and lack of portability.
---
HP Omen 17: Gaming performance
The colourful Omen 17 display wouldn't be nearly as impressive if the laptop's performance didn't overdeliver with blistering confidence, however. As mentioned, the laptop is massive – and really, that's because it's hiding gut-busting performance beneath the hood.
Every game I threw at it – Marvel's Midnight Suns, Forza Horizon 5, Shadow of the Tomb Raider, Far Cry 5, Quantum Break – was a breeze. Textures loaded in snappily, action was incredibly smooth, foliage rendered dappled light in soft shades, jungles looked life-like.
I was particularly glad to see Marvel's Midnight Suns running cleanly on Ultra, with zero slowdown. This game is notoriously demanding, and on my home PC, requires the lowest settings to pull off the bare semblance of gameplay. On the HP Omen 17, it was a blast – and I was finally able to see smooth and complete animations for my favourite card-powered character moves.
It turns out the hero models of Midnight Suns are also much more detailed than I could previously see – with the HP Omen 17 taking great pleasure in easily rendering veins, skin pores, and other minute details.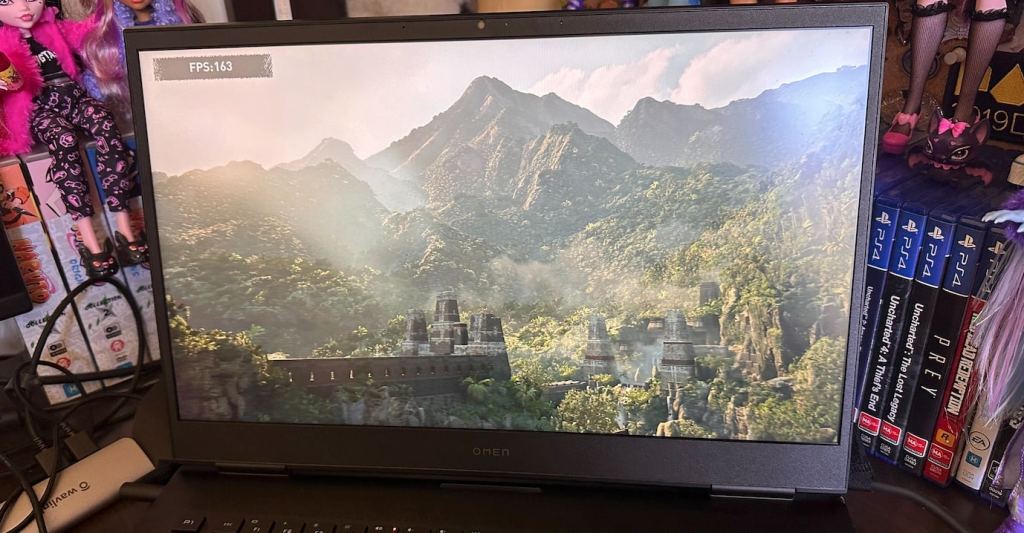 On a budget, 'Ultra' PC settings dance out of reach – a teaser for what's possible in the upper echelons of the gaming world. The HP Omen 17 pulled off Ultra with a yawn, and a simple 'what's next?'. FPS testing Shadow of the Tomb Raider delivered a 122 FPS average on the Highest settings (and 128.4 FPS on High settings).
FPS testing in Far Cry 5 – which includes perhaps one of the more relaxed benchmarking cycle of all modern games – delivered a 108.2 FPS average on Ultra settings (and 116.8 FPS on High settings). With a 165Hz refresh rate for the laptop's display, this smoothness was clearly depicted.
In fact, the HP Omen 17 managed to pull off the smoothest benchmarking tests I've ever completed, with zero stuttering or frame rate drops even as Lara Croft journeyed further and deeper into the mountains and jungles of Mexico and Peru. While the benchmarking tests included with Shadow of the Tomb Raider and Far Cry 5 are now several years old, they remain relevant because they've always pushed modern laptops to the brink. With sleek performance, the HP Omen 17 appears to have graduated from their demands.
The HP Omen 17 passed their tests with flying colours, justifying its skirting of conventional 'laptop' definitions. That said, this performance also comes with its very own caveat – namely, thanks to obnoxious fans (the cooling type).
Fan volume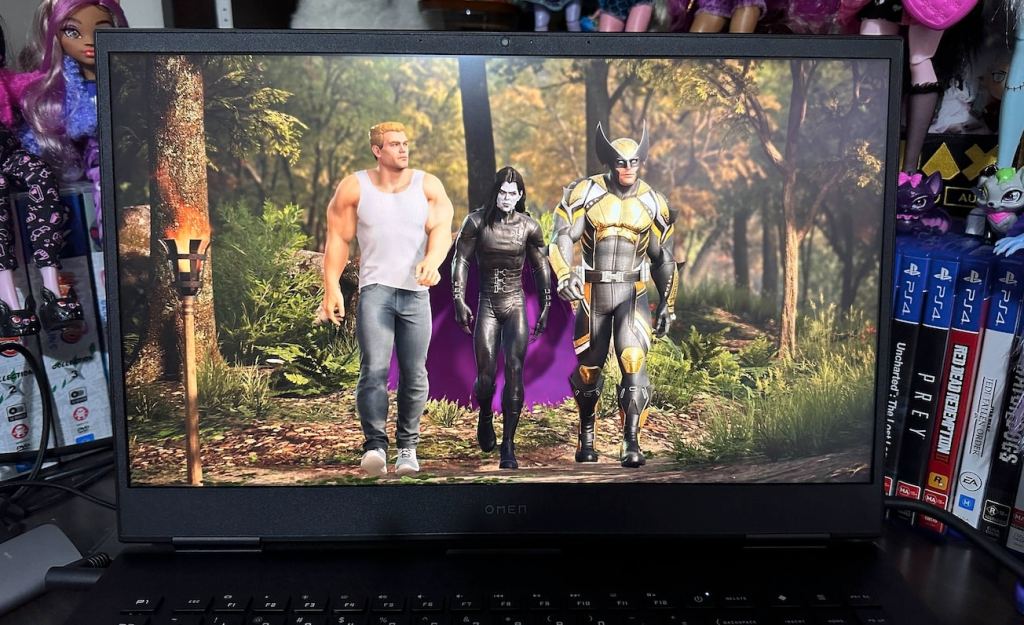 While you're playing the latest games, the HP Omen 17 tends to get a bit excited. The laptop's fans are extremely responsive, and while that's great for less demanding games or everyday web browsing – the fans will stay quiet-to-silent when they're not needed – once you've kicked off with a blockbuster game, prepare to be literally blown away.
Any game that requires a smidge of horsepower will immediately inspire the Omen 17's fans into action, with the fan noise equivalent to the sound of any game you're playing through the laptop's crispy Bang & Olufsen speakers. Because the fan volume tends to match the game audio volume, you'll be in a war for dominance, having to either really amp up the laptop's volume, or use a headset to deal with it, preferably a noise-cancelling run.
Great performance always comes with downsides – and unfortunately, the HP Omen 17 carries the familiar problem that comes with many gaming laptops. While performance and graphical horsepower continues to advance with each laptop generation, that tricky balance between keeping a laptop cool and keeping fan noise reasonable hasn't quite been reached just yet. This isn't an issue that's unique to the HP Omen 17, at the very least.
---
HP Omen 17: Battery Life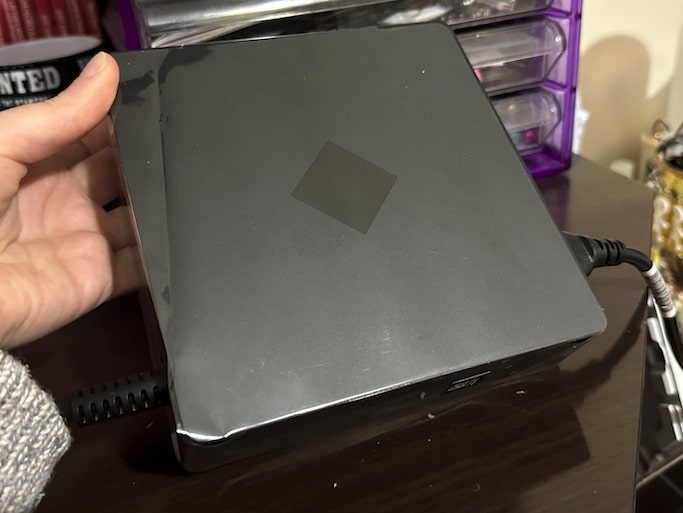 On a minor note, the majority of time spent with the HP Omen 17 will likely be devoted to stationary gaming with the power brick attached, and this is the ideal set-up for the laptop. Really, it's the only set-up – as the laptop's meagre battery life on power will likely dissuade any more adventurous plans.
Attempting to game while on battery power – even in its 'balanced' power mode – will only last around 1 hour and 20 minutes, potentially much shorter with the latest AAA adventure games. This is not a long-lasting machine, and it's seemingly designed for a sole configuration.
Keep that in mind if you've got plans for a wander, because you won't get very far. But stick with what the HP Omen 17 does best, and you'll come away very impressed.
---
HP Omen 17: Overall Impressions
It's completely fine for laptops to excel at only one thing, as long as they've perfected that selling point. The HP Omen 17 takes this approach to heart, with a strong dedication to high-performance gaming. If that's the only thing you're looking for in a gaming laptop, then you're absolutely sorted.
With a crisp, gorgeous-looking display, and tank-like horsepower that'll plow through most modern games with ease, the HP Omen 17 is a blockbuster machine that exceeds expectations with confidence.
HP Omen 17 (2023) Gaming Laptop Review
Release Year: 2023
Price: From AU $3,429
Find the HP Omen 17 on the HP Online Store.
36% OFF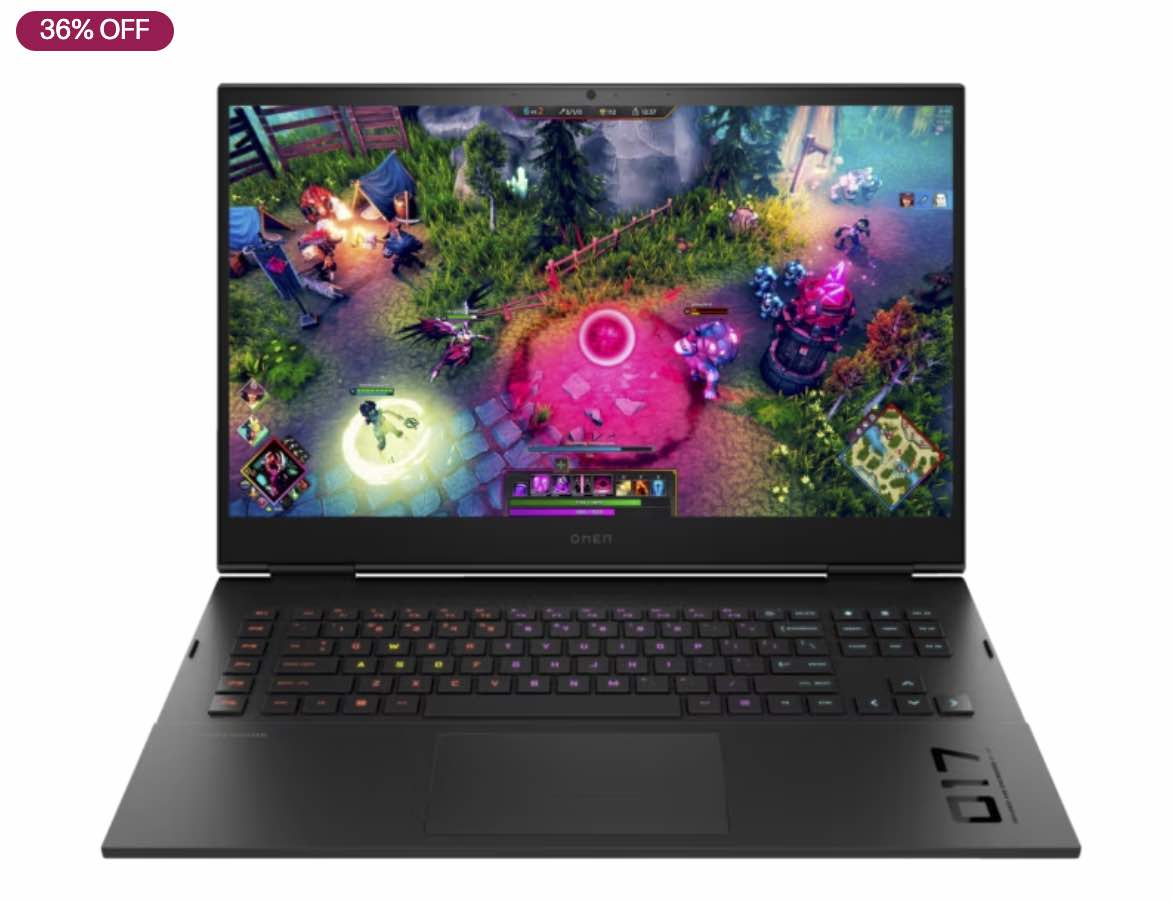 OMEN by HP Gaming Laptop 17-inch
OMEN by HP Gaming Laptop 17-inch ck1005TX
12th Generation Intel® Core™ i7 processor
17.3" diagonal, QHD (2560 x 1440), 165 Hz, 3 ms response time
NVIDIA® GeForce® RTX™ 3080 Ti
1 TB PCIe® NVMe™
SSD16 GB DDR5-4800 MHz RAM

Weighs 2.78 kg
Buy Now
GamesHub has affiliate partnerships. These do not influence editorial content. GamesHub may earn a small percentage of commission for products purchased via affiliate links.