The Asus ROG Strix G16 (2023) is a deceptive machine. With an impressively small, thin chassis and a slimline power brick, it suggests humble performance – but that's not the case at all. Rather, it comes packed in with an Intel Core i7-13980HX processor, an NVIDIA GeForce RTX 4060 Laptop GPU and 16GB DDR5-4800 RAM that lends it breezy performance with minimal fuss.
It's heavy – realistically, most gaming laptops are – but the ROG Strix retains some practicality and portability with a neat, slimline design that lends it a classy air of prestige.
---
Table of Contents
---
Asus ROG Strix G16: Specs
Here's a rundown of the specifications for the Asus ROG Strix G16 gaming laptop, as reviewed by GamesHub:
CPU: 13th Gen Intel Core i7-13980HX Processor
GPU: NVIDIA GeForce RTX 4060 Laptop GPU
Display: 16-inch QHD+ 16:10 240Hz 3ms anti-glare display
Memory: 16GB DDR5-4800 SO-DIMM
Storage: 1TB PCIe 4.0 NVMe M.2 Performance SSD
RRP: AUD $2,899
ASUS ROG Strix G16 (2023) Gaming Laptop
Buy Now
GamesHub has affiliate partnerships. These do not influence editorial content. GamesHub may earn a small percentage of commission for products purchased via affiliate links.
10/02/2023 09:18 am GMT
---
Asus ROG Strix G16: Design
The Asus ROG Strix G16 is, as mentioned, a classy device. Its outer chassis is a plain, matte black that doesn't pick up fingerprints or grit too easily, and its slimline design is very compact. That air of class is mostly retained when actively using the laptop – although the presence of obnoxious RGB lights are an acquired taste.
The moment you switch on the Strix G16, you'll be greeted by a familiar blast of rainbow lighting, with keys on the device being backlit in rainbow colours, and several keys being see-through to let in more light (at the cost of letter readability). There's also an additional RGB bar under the laptop which casts a strong glow across any tabletop. These features can be turned off, of course, but they're on by default, and part of the laptop's 'gamer' allure.
If you're looking to make a statement at your local library or coffee shop, you can't go past the radiant glow of the Strix G16.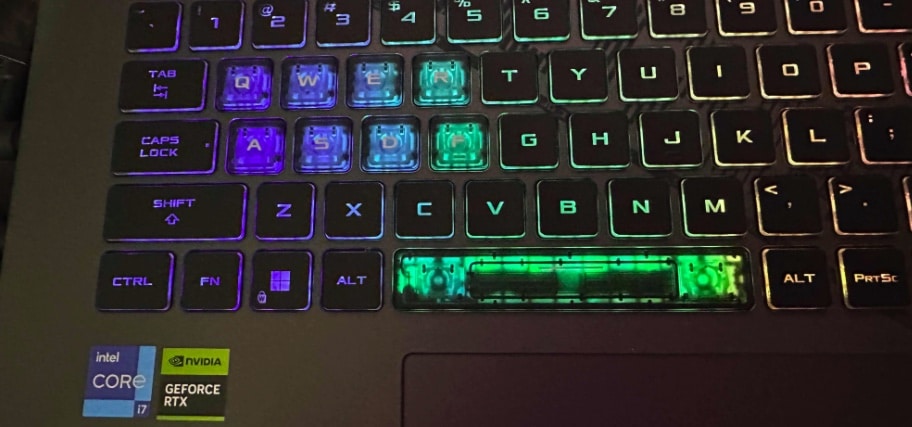 But beyond these lights, the rest of the laptop's design is fairly understated. The body is a matte black like the outer chassis, and it barely reflects grease. The hinges are sturdy and easy manoeuvrable. Perhaps the most remarkable feature is the laptop's QHD+ screen, which is incredibly thin and rocks a tiny bezel. It's very neat, and allows gameplay to shine without distraction.
And given the laptop is capable of some very hefty gaming performance, that's an essential feature.
---
Asus ROG Strix G16: Performance
The ASUS ROG Strix G16 G614 is an impressively configured machine that benefits greatly from packing in a high-end combo CPU-GPU. While costly, the combination of an Intel Core i9 and a NVIDIA GeForce RTX 4080 laptop means modern games barely present any challenge for the G614. Crank up those settings – Ultra is firmly on the menu, with no resistance.
Playing through Deathloop on Ultra, every detail sung – from the game's melting ice cap locales to grassy knolls in the hills of Updaam. Forza Horizon 5 was a sleek rush of crisp, metallic bodies and idyllic scenery, with sunsets painting brilliant shades of colour across the ROG Strix G16's pristine screen.
The foliage of Shadow of the Tomb Raider glistened with water beads, each tree leaf depicted with bright greens and in perfect shapes. More than representing high-quality textures, the ROG Strix G16 is also capable of maintaining them, with gameplay being incredibly smooth throughout two weeks of gaming – no visual pop-in, visible screen tears, or stuttering.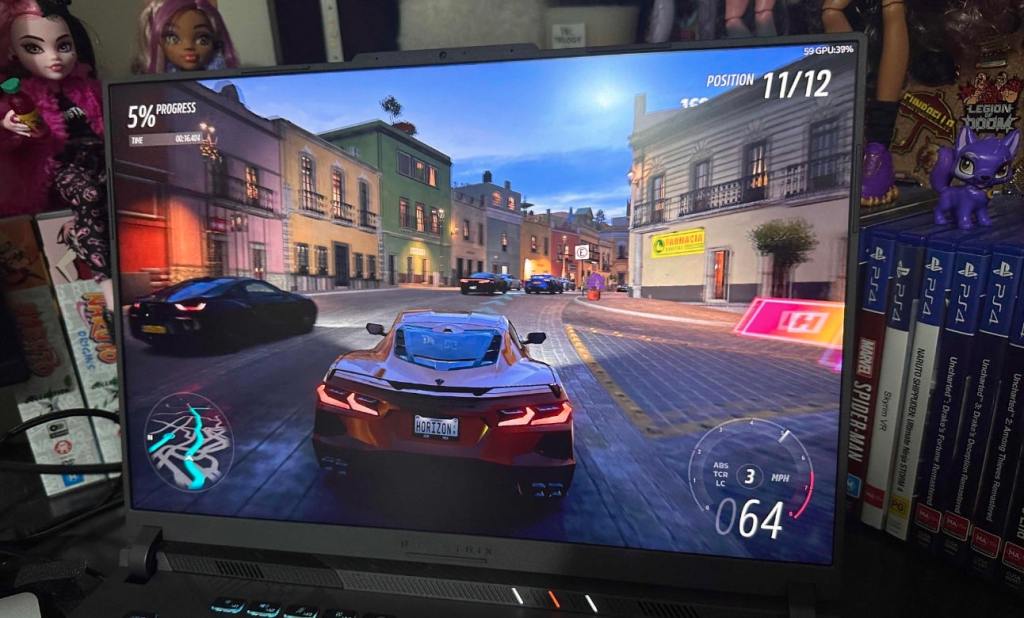 In benchmarking, here's how the Strix G16 performed:
Shadow of the Tomb Raider (2018) – 165.6 FPS average
Forza Horizon 5 (2021) – 74 FPS average
Hitman 3 (2021) – 112.2 FPS average in Dubai, 101.2 FPS average in Dartmoor
Of the tests conducted, Forza Horizon 5 is notoriously the most rigorous – and while the Strix G16 only hit a 74 FPS average, gameplay was smooth and clean throughout, with no hitches or perceivable frame rate issues.
Fans
A natural caveat with most gaming laptops is that great performance is often hindered by two issues: fan noise, and chassis heat. The Asus ROG Strix G16 didn't have either of these issues, with the combination i9-4080 ensuring the laptop never struggled with performance in any department.
Throughout gameplay, the laptop's fan noise was impressively low, with reasonable speaker volume easily eclipsing the sound – which was no more than a consistent hum. That consistency is really what makes the Strix G16's fans so good. By maintaining a low, steady speed, fan noise rarely disrupts gameplay, and instead fades into the background.
And even despite a seeming laziness to the game's fans, which nowhere near approach the typical 'jet speed' of other gaming laptops, the Strix G16's upper chassis remained at a lukewarm temperature after hours of gameplay. The lower chassis remained stone cold, even.
Given this is often the primary concern with gaming laptops, it was a relief to see the Strix G16 largely unaffected.
---
Asus ROG Strix G16: Battery Life and Everyday Use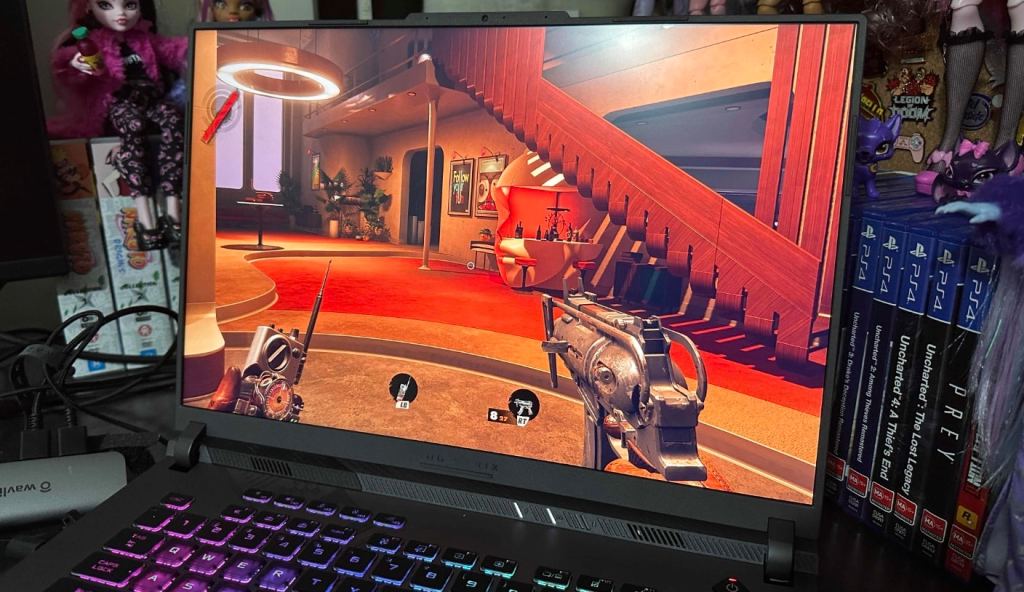 Primarily, the Asus ROG Strix G16 is built to perform as a high-speed, latency-free gaming laptop – and it certainly does this very well. But practically, you can also use it as a daily device. It's small and portable enough to fit in a backpack, and the power brick isn't too unwieldy. The device's battery also supports this approach, with surprisingly long life, for a gaming laptop.
If you're thinking of using it for portable gaming, you'll need to hold your horses as the battery lasts standalone for only around 1 hour and 15 minutes when playing titles like Deathloop. But if you're thinking of integrating it into your workflow, you can expect it to last around 6-7 hours on battery – practically, an entire workday if you're somebody with email and writing-based requirements.
Again, those RGB lights might be a flex on your coworkers, but the hybrid capability is there if you need it – and having a high-powered laptop that's genuinely portable is fantastic.
That's where the real strength of the Asus ROG Strix G16 lies. It's a very impressive all-rounder, with knock-your-socks-off gaming performance, and other practical use cases beyond this. It's fairly true that you pay for quality when it comes to gaming laptops, and while the Strix G16's price tag is hearty, in our time with it, the laptop managed to make a massive impression that balanced out the cost. With barely a flaw, the Strix G16, as configured, is the sort of laptop you've coveted in your dreams.
Five stars: ★★★★★
Asus ROG Strix G16 (2023) G614 Gaming Laptop
Release Year: 2023
Price: From AUD $2,899
Find the Asus ROG Strix G16 (2023) G614 on the Asus ROG Store.