The ASUS ROG Phone 7 Ultimate is a phone "built for gamers," according to the manufacturers, and wrongfully assumes that gamers are a very specific kind of person – but that's another story. Its components are ridiculously high-end, it sports a buffet menu's worth of features designed to augment the performance and function of said components, and yes, it runs games very well. By all accounts, it's one of the most powerful Android phones you can get in 2023. The question is, what are you going to play on this thing that actually makes the most of all that?
With a sci-fi aesthetic with bold ROG branding, including a mini-LCD screen that plays home to flashy animations and themed packaging featuring an onboarding experience that really drives the spaceship-like aesthetic home, the ROG Phone 7 screams "gamer" – the hardcore, all-black, RGB lighting and probably into esports kind – whether you want it to or not.
I do not, despite my entire life revolving around video games, but it's clear that given the continued aesthetic trends of ASUS and other gaming accessory manufacturers, it appears that many do. But what sets the ROG Phone apart as a "gaming" phone anyway, when all modern smartphones are technically capable of playing the same games?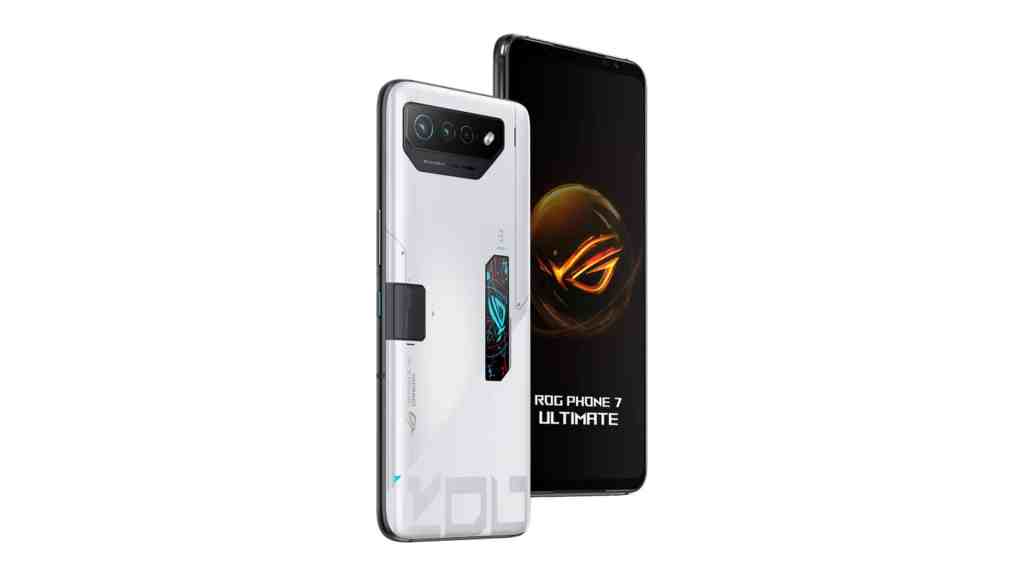 Priced at AUD $2,099 / US $1,399, the AUS ROG Phone 7 sits in the same price range as other high-end mobile phones – slightly higher, in fact – than the Apple iPhone 15 Pro and the Samsung Galaxy S23 Ultra, at their basic configurations. And at first, there is quite a bit to suggest that this kind of investment is worth it for the ROG Phone.
The eye-popping OLED Display is a clear standout initially, with great colours on the 2448 x 1080 resolution screen, and a 165Hz refresh rate to support the smooth motion it's capable of bringing out in games. Inside, the ROG Phone 7 Ultimate supports one of the most powerful mobile chips on the market – a 3.2 GHz Snapdragon 8 Gen 2 – along with a frankly excessive 16GB of RAM. The company also boasts twin 12×16 mm speakers to provide a powerful sound, though it still doesn't beat a good pair of headphones. On that front, the phone supports Hi-Res Audio as well.
What does that mean in practice? It means that you can play graphically demanding mobile games like COD Mobile, Genshin Impact, and Honkai Star Rail at a very smooth framerate of at least 60 frames per second (FPS) if not more, while confidently keeping all graphical options at maximum, which is a very nice experience.
To support extended playtime, the ROG Phone 7 Ultimate sports an enormous battery with a 6000mAh capacity, with the assumption that you'll play games a lot on the device, while still needing it to last a day for other practical functions. It certainly lives up to expectations in the real world, and when taking a break from heavy game playing, the phone would stay alive for several days – but the result is a device on the slightly heavier side, at 239 grams, and those extra grams can eventually take a toll.
Additionally, the ROG Phone 7 Ultimate also comes with an interesting-looking attachment it dubs the AeroActive Cooler, which connects onto the device while in landscape mode, and actively pumps air inside the phone through a small flap on the chassis that it opens up, once attached.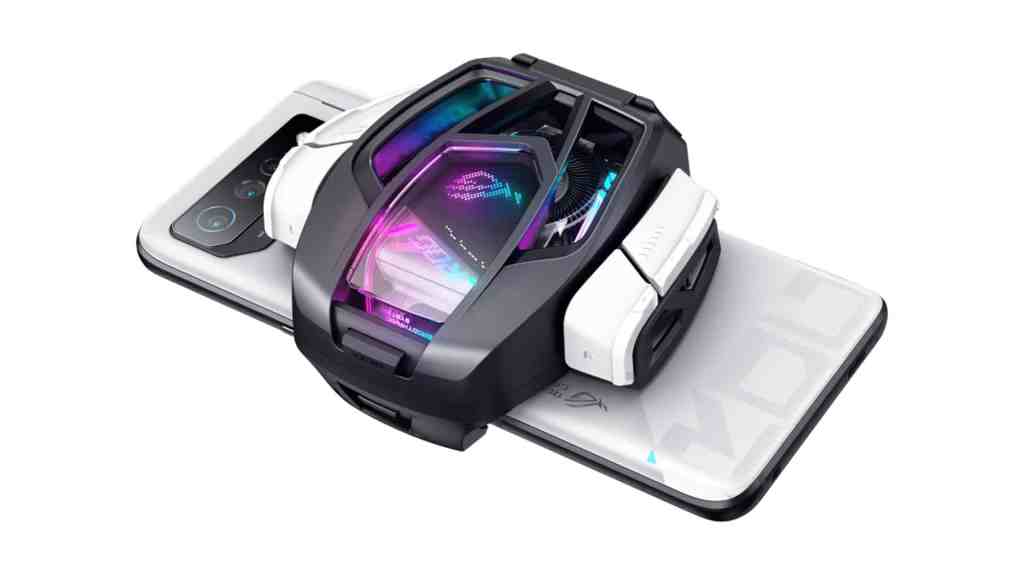 It's an amusingly ridiculous concept that takes a page from over-the-top PC cooling systems, but while it adds extra functionality in the form of programmable buttons on the side of the device, there are a number of caveats. If you have a phone case on, it makes for an unwieldy extra step. It also makes the ROG Phone 7 supremely awkward and borderline uncomfortable to hold in landscape mode, to the point where I loathed having to use it. Unfortunately, playing the aforementioned games without it for prolonged periods tends to result in a very hot phone, especially given the metallic edges on the chassis.
But here's the real conundrum: What games are you going to play on the ASUS ROG Phone 7 Ultimate that warrants all this excessive power and cumbersome cooling?
My time with the ROG Phone 7 unfortunately coincided with my time testing an iPhone 15 Pro, and in directly comparing Genshin Impact sessions, I saw a virtually imperceptible difference, practically speaking.
As someone who absolutely loves to play mobile games of all sorts, I had a lot of trouble finding a game that might actually push the ROG Phone 7 to show what it could really do. The company says that the hardware is capable of performing real-time hardware-based ray tracing, but what mobile game actually does that?
Most of the best mobile games out there will likely be optimised to run smoothly on mid-range phones, and very few will have considered designing their graphical tech to push things to an extreme that would make the absolute most of the capable hardware found in high-end phones of today. Perfect on-the-go console-turned-mobile games like XCOM 2 and Civilization VI have had their visuals scaled back dramatically. The console games with mobile ports that actually suit the platform usually have less of an emphasis on graphical grunt, and more on evocative art direction that pops.
There's a lot of talk about how good playing Xbox console games is on mobile, but that's done via its Cloud Streaming service, which delegates all its processing power server-side, rather than making use of phone hardware.
The one big attractive prospect is in emulation – with all the RAM and CPU power, the ROG Phone 7 is a very good option for emulating and playing 3D console games of yesteryear, provided you were savvy enough to put in all the legwork to get it set up correctly.
But again, that's something that other phones in its price range, and even in lower price ranges, can also do well enough.
So what else makes the ASUS ROG Phone 7 a "gaming" phone? The next most attractive feature is its Air Triggers, which use two customisable, ultrasonic touch "buttons" located on the side of the phone to simulate the triggers of a controller when held in landscape mode. It's a nice addition that takes some of the headaches away from touchscreen controllers, freeing up some screen real-estate when you assign your 'shoot' button to it.
However, if you are serious about playing console-like experiences on your mobile, you will likely already have a controller adapter like a Razer Kishi or Backbone mobile controller to take with you on the go – or better yet, an actual, full-sized console controller with a phone mount – which relegates the Air Triggers into the 'nice to have' bucket for those times when you're not quite as serious about your gaming.
To make matters a little more disappointing, the ROG Phone 7 offers little else that its closest competitors don't also offer – and sometimes they're also worse – like the phone's disappointing camera.
Apple recently announced that current-gen, console-level games like Resident Evil 4, Assassin's Creed Mirage, and Death Stranding would soon be ported to iOS, and playable exclusively on the iPhone 15 Pro and high-spec iPad devices, with a plan to encourage more publishers to consider the platform as a "serious" gaming device. It's these kinds of games that would really push the high-end hardware capabilities of a phone like the ROG Phone 7 Ultimate, serving as a proper test of what it can really do.
But unfortunately, as far as I can tell, there are no titles of that kind of calibre currently on the Android ecosystem. So for the moment, the ROG Phone 7 Ultimate actually does little to set itself apart from its nearest rivals as a phone "built for gamers", aside from the enormous battery (which remains its standout feature), its statement aesthetics, and some ultimately minor bells and whistles.
3 Stars: ★★★
ASUS ROG Phone 7 UItimate
Manufacturer: ASUS
Release Date: Available Now
Price: AU $2099 / US $1,399
The ASUS ROG Phone 7 Ultimate was provided to GamesHub on a temporary loan for the purposes of this review.