Forspoken, from Luminous Productions and Square Enix, is set to debut in January 2023 after a long wait and several major delays. It arrives as a rare original title, featuring an all-new fantasy world to explore, unique mythos, and a strong lead in a fish out of water situation, Frey Holland. While early previews of Forspoken's worldbuilding and combat have divided audiences, it remains an intriguing project – one well worth watching.
Here's everything we know about the game, including when it arrives on PC and consoles.
Forspoken: Release Date
Forspoken is set to launch exclusively for PlayStation 5 and Windows PC on 24 January 2023.
Reports have flagged a two-year console exclusivity for PS5, which means the title will not arrive on Xbox Series X/S until at least 2025 – if at all. A Nintendo Switch release has not been discussed in any capacity.
Forspoken: Plot Summary
Forspoken is an 'isekai' or 'fish out of water' action-adventure game about a young woman named Frey Holland who is taken from the modern era, and transported to the wild fantasy land of Athia. Early classification rulings for the game have indicated the narrative set-up will begin with Frey drinking heavily, and pondering her place in the world.
According to PEGI, the game begins as a 'despairing women [sic] stands on a ledge, while drinking alcohol, and considers whether the world would be better off without her.' This is assumed to be Frey, who is later saved by a mystical presence and swept away into a colourful, magic-infused world.
But while Athia appears idyllic on the surface – its sweeping trees and vistas boast gorgeous views and high rocky peaks – it hides a cruel darkness. The land is filled with danger, and ruled by the evil Tantas, magical dictators who rule with iron fists. As political conflict brews and the people of Athia fight for their freedom, a corrupting force known as the Break advances across Athia, transforming everything it touches.
Frey is immune to this force, and soon discovers she possesses magical abilities which are unlocked over the course of the game, with help from allies – including a sentient magical bracelet known as Cuff. To beat back the darkness and return to her world (or not), Frey will need to master her new skills, come to terms with her wild circumstances, and face down a corrupting evil.
The game's story was a collaboration between Todd Stashwick, Amy Hennig, Garry Whitta, K-Michel Parandi, and Allison Rymer. Stashwick and Hennig previously worked on the cancelled Star Wars game in development at EA and Visceral Games. Whitta co-wrote Rogue One: A Star Wars Story.
The action will be soundtracked by the musical talents of Bear McCreary (God of War Ragnarök) and Gary Schyman (BioShock, Middle-earth).
Forspoken: Characters and Cast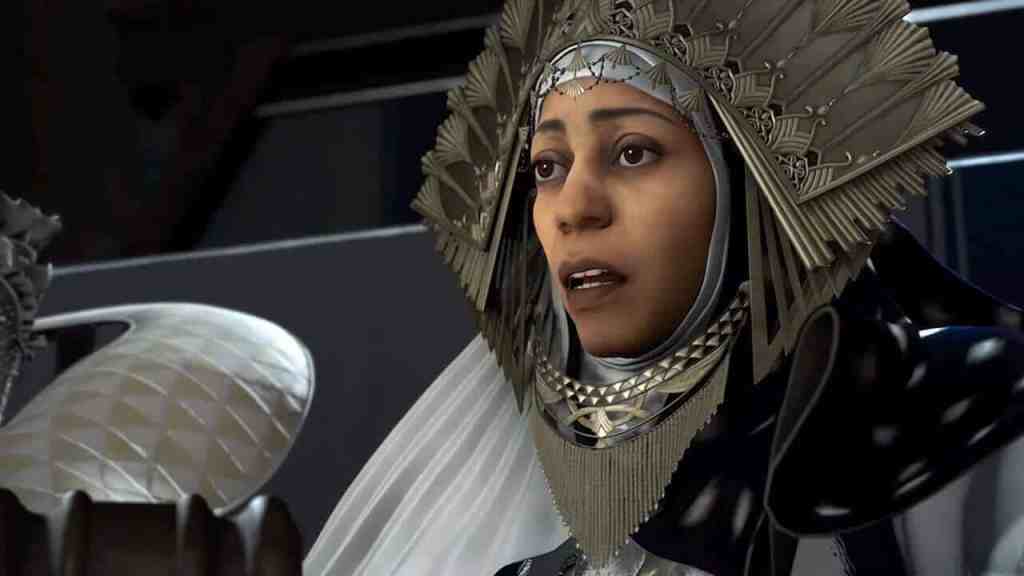 Forspoken features an ensemble cast, led by Ella Balinksa's Frey Holland. In her journey, she'll meet many friends and foes – including terrifying, corrupted witches (the aforementioned Tantas), and friendly Athians who require her help.
Frey's closest companions will be Cuff, voiced by Jonathan Cake – the sentient wrist cuff who helps Frey control her powers – and Johedy (Keala Settle), an Athian archivist who wants the land rid of the Tantas and their corrupting influence. Auden (Monica Barbaro), a mysterious young woman, will also aid Frey on her quest, providing her with the confidence and support she needs to travel through Athia.
Frey, Johedy, Auden, and Cuff will have deadly competition in their quest for freedom, as they face off against Tanta Sila (Janina Gavankar), Tanta Prave (Pollyanna McIntosh), and the rest of the corrupted tyrants. While there are many Tantas in the game, only two 'lead' Tantas have been revealed so far. They're described as hideous dictators who were once respected, but eventually fell to the power of the Break.
Forspoken: Gameplay and Combat
Forspoken features a unique traversal system that enables Frey to leap across great bounds at speed, fling herself up steep walls, and use magic to overcome tricky terrain. These skills will help players traverse the open world of Athia with ease, as 'magic parkour' becomes second nature.
The system appears to differ quite dramatically to other games, with some players remarking on its complexity after playing the newly-released game demo. It requires mastery to grasp the basics, so players will likely need to experiment with traversal controls before they get the hang of Forspoken's strange world.
Combat functions similarly, and depends on rapid attacks using a range of unique spells and magical-infused combat styles that players can change as they adapt to the game. There are plenty of spells to learn in Forspoken, and each lends advantages as you take on monsters of all sizes, like Gigas and Breakzombies (corrupted humans).
Frey will have four primary magic types at her disposal, including earth magic (purple) and fire magic (red), with more powerful skills unlocked as she defeats more monsters, and progresses through the game's story. According to Luminous Productions, there will be over 100 spells to learn and combine, with Mana determining how they can be used in battle.
Cloaks, Necklaces, and Nails are the primary 'gear' of Forspoken, with each offering combat boosts, skills, and other defenses. They will be the primary collectibles, as there don't appear to be real 'weapons' in the game – only a range of creative spells and magic shields.
Forspoken: PS5 Features, Ray-Tracing
Forspoken will take advantage of the PS5 and its capabilities in several ways, with the aim of creating a more immersive experience for players on the console. The DualSense controller's built-in speakers will broadcast Cuff's voice, the haptic feedback and vibrations will help paint a tactile impression of Frey's rocky journey, and the adaptive triggers will provide force and tension when casting spells.
The game will also utilise ray-tracing and a Global Illumination system to portray its world. According to lead graphics programmer Keiji Matsuda, these technologies were a priority for the team in building Forspoken's world, as they allowed for fine-tuned, crisp, and clean graphics.
Forspoken: PC requirements
Forspoken will require a hearty PC to play, according to Square Enix. Here's the recommended requirements, per a recent developer livestream:
Minimum PC specs
AMD Ryzen 5 1600 or Intel Core i7-3770 @3.7GHz+ (CPU)
AMD Radeon RX 5500 XT 8GB or NVIDIA GeForce GTX 1060 6GB VRAM (GPU)
16GB RAM
150 GB HDD drive space
Recommended PC specs
AMD Ryzen 5 3600 or Intel Coore i7-8700K @ 3.7 GHz+ (CPU)
AMD Radeon RX 6700 XT 12GB or NVIDIA GeForce RTX 3070 8GB (GPU)
24GB RAM
150GB SSD drive space
Ultra PC specs
AMD Ryzen 5 5800X or Intel Core i7-12700K @ 3.8 GHz+ (CPU)
AMD Radeon RX 6800 XT 16GB or NVIDIA GeForce RTX 4080 16GB VRAM (GPU)
32GB RAM
150GB NvMe SSD drive space
Will Forspoken Get A Season Pass?
At this stage, it's unclear if Forspoken will get a season pass – but Luminous Productions has already announced an additional story-based DLC chapter for the game. In the weeks following launch, a chapter known as In Tanta We Trust will launch, free for everyone who owns the Digital Deluxe Edition of the game, or pre-orders it by 24 January 2023.
This DLC will likely dive deeper into the back story of the Tantas, and alleviate some of the mysteries in the game's plot. For now, it's the only DLC chapter announced – but there could be more on the horizon, depending on Luminous Productions' vision.
---
Stay tuned to GamesHub for more on Forspoken as we head towards that 24 January 2023 release date.