How do you be all things to all people? The old Australian Centre for the Moving Image (ACMI) was a nexus of screen industry and audience, at once collecting and preserving screen culture while running talks and films that kept pace with changing media. But how do you re-think a museum designed to get couch potatoes and screenagers into a physical space?
A museum's collection is both its biggest challenge and biggest draw for visitors. Only a small amount of any collection can be shown and there's a universe of objects that make up a collection. Displaying the collection online seems like a good way to showcase it but collection management systems are often clunky and designed for back-end research rather than an audience. The new ACMI puts a Lens over their collection – linking everything you see in the revamped exhibition spaces to other media, including films outside their collection.
As you wander through the new Story of the Moving Image exhibition space you tap items with a cardboard disc reminiscent of a View Master reel. This Lens holds a Near Field Communication (NFC) tag that sucks up every item of the collection you tap so you can view it at home. It keeps exhibition visitors off their phones so they can tap the best of what's there to look at later. Why get a grubby iPhone image when you could see it in the collection management system?
Read: ACMI renews digital promise in virtual launch
And by letting you capture your creations – like the fun single-frame, flip-book animation you can make of yourself – the Lens keeps you in the exhibition rather than looking at your phone for the next selfie. And there are some big selfie opportunities in the new space, from the Countdown sign to the Mad Max car – if slightly altered.
The Lens is based on The Pen, a technology that ACMI's Chief Experience Officer Seb Chan led at the Cooper Hewitt Museum which let you collect items as you wandered through New York's museum of design.
'It's about using the museum as a catalyst of how and what you watch,' Chan explained on a walk-through of the exhibition with CEO Katrina Sedgwick.
ACMI's video for the Lens. Supplied.
Towards the end of the exhibition space you get to look at the Constellation with another tap of your Lens. A screen reveals everything you've tapped on as you've explored the permanent exhibition space, but there's a 'you might also like' function that sets up your collected items as a matrix of story networks. Tapped the Kelly Gang Armour? Then it shows you Heath Ledger movies, links you to the first Australian feature film, and connects you with other bushranger yarns.
'We call it the Constellation because in our world we have this universe of content and it is really hard to navigate it,' Sedgwick explains.
'The reason why you have a museum like us is that you have all of these human curators who are making fascinating connections and selections for you to discover … We're a human Google. Instead of an algorithm or a robot or a commercial outlet, we've got people doing that for you. And that's why a museum is important. It's about humans speaking to humans and discovering things that otherwise would never come into your life.'
Collaborating not compromising
The relocation of the gift shop onto Flinders Street signals that the revamped ACMI knows it has to be commercial and audience-facing. As Sedgwick quipped at the end of the tour, 'Exit adjacent to the giftshop'. The shop cleverly links to that part of Federation Square that's home to the National Gallery of Victoria shop and a regular market space, so it will hook in gift buyers and casual visitors who previously had to navigate their way to another floor. But you can also buy a natty flipbook of that stop animation you filmed in the exhibition.
'We're a human Google. Instead of an algorithm or a robot or a commercial outlet, we've got people doing that for you. And that's why a museum is important.'
– Katrina Sedgwick
The new ACMI is a masterclass in 3P – the Public-Private Partnerships that every cultural institution courts but also struggles with, given the commercial compromises they bring. New ACMI does it with flair, having opened itself up to collaboration with the ACMI X space that brought small independent creators into the organisation. The new preservation lab is sponsored by Black Magic (the Melbourne-based film gear company), the schools space which includes space for teacher development is named for the Gandel Foundation, and the re-thought high-end restaurant is a well-publicised collaboration with chef Karen Martini
Rather than the dark Screen Worlds permanent exhibition as the first point of entry, you get light, bright décor that invites you into the exhibition, box office and meeting spaces upstairs. The permanent exhibition breaks down into smaller spaces such as Moving Australia or Moving Minds, each ranging across film, TV and games.
There is a commitment to First Nations artists in this re-imaging too, with 70% of commissions by Indigenous creators – opening with Yanmeeyarr by Vicki Couzens, which references Indigenous dance and ochre painting.
One of the cleverer bringing together the old and the new is the Max Max car, sawn in half and grafted onto the Bush Mechanics vehicle that can still be photographed in full thanks to an artfully placed mirror that completes both cars in reflection.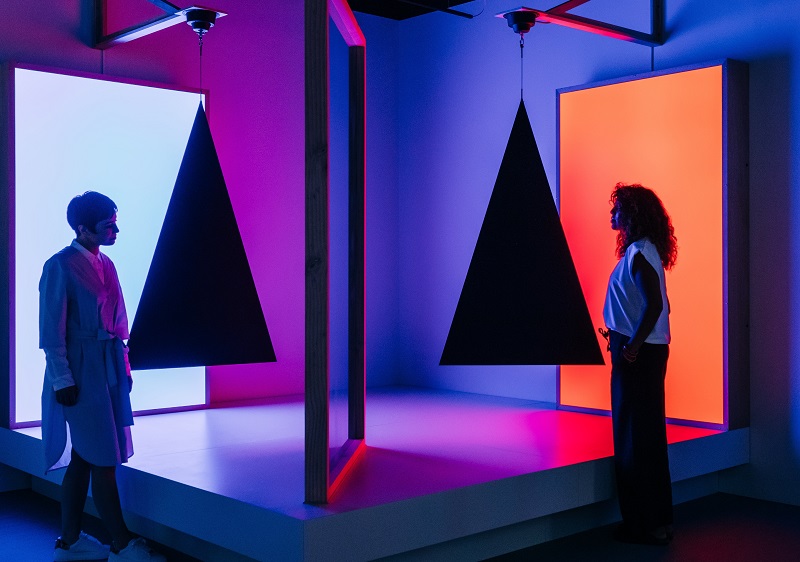 Pepper's ghost effect, triangles, cyan and red an artwork by Taree Mackenzie. Photo by Adam Gibson.

Chief curator Sarah Tutton has woven together many elements of screen culture, keeping what worked best in the Story of the Moving Image.
'It's very much a conversation because we haven't told the linear story in recognition that there are many ways you can tell a story,' Tutton explained.
The permanent exhibition brings together the old and the new, like the zoetrope (a 19th Century form of animation) with Cuphead characters from a videogame.
Elements of the old ACMI DNA have survived too. A quartet of classic arcade games spins off ACMI's Gamemasters exhibition which dusted off the likes of The Simpsons and Dragon's Lair for nostalgia fans and a new generation of gamers.
There are lots of nods to successes of the past, including using a Shrek pitch in the storyboarding exhibit, referencing the successful DreamWorks exhibition ACMI hosted in 2014. The exhibition is modular, with screens updated regularly (we saw footage of the recent storming of Capitol Hill on the walk through) to keep the display fresh.
That ability to keep refreshing will keep ACMI beloved by future audiences.
ACMI re-opens 11 February with free tickets available now for The Story of the Moving Image.