Australian developer SMG Studio always wants to say yes, whether that's to its players, its own developers, or to journalists like myself asking to talk about Moving Out 2, the sequel to the studio's 2020 couch co-op hit about reckless removalists.
After the first game sold its brand of team-based removals to over one million players, studio co-founder Ashley Ringrose and Senior Game Designer Dave Lockman told me their sequel's primary goal was variety. They had a lengthy list of unused ideas for new multiplayer challenges, as well the urge to add crossplay online functionality – a surprisingly demanding inclusion that forced them to rewrite their game engine to handle physics calculations server-side.
The suburban setting of Packmore and its cartoony, anything-goes logic, meant Ringrose could give the thumbs up to many imaginative new ideas. SMG added a huge number of mechanics and interdimensional realms, inviting players to pilot drones wielding wrecking balls in a futuristic cloud city, or smash through gingerbread walls in Candyland to get to the removal van.
Ringrose explained that his inability to say no is just one reason Moving Out 2 bursts at the seams with new ideas for their audience of F.A.R.T.s (that's Furniture Arrangement & Relocation Technicians). "We'll let the art have their thing, we'll let the designers have their thing and then we'll make it work, you know?" As long as it's fun, it's in. "I don't think I can work on a very serious, official game because I'd feel too restricted. People would come up with good ideas and, a lot of the time, it's just like, oh yeah, that sounds great!"
Embracing chaos
It's clear where the game's endearing, goofy sense of humour comes from – Ringrose compares game design to improv comedy. The Moving Out 2 team follow the famous "yes, and" principle to help ideas develop and flourish – to hilarious effect. "I think game design and a lot of the ideas are like improv where someone says like, 'OK, what, what about this?' It's like, oh, how do we add that? The best designs are always the ones where it's like you can take that and then recontextualise it."
His example is one of the first game's greatest, vandalistic joys, the reckless window-smashing players do in the process of moving out. (Who cares about windows? Insurance will cover it!) Naturally, they leaned into it: "How do we enable more people to smash stuff in this game?"
The designers thought a wrecking ball was a fun method to start smashing walls, as well as windows. So their artists came up with Snackmore's gingerbread walls, ready to crush into a shower of crumbs.
It's a seemingly simple destructive act, but when the designers had to ask how to smash a wall, it got more complicated. Throwing a wrecking ball was a single-player action. They wanted to encourage teamwork. The solution was combining it with another mechanic from the future levels, "What if we put a wrecking ball on a drone?" The trademark back and forth of improv fostered the creation of a flexible mechanic that can be used repeatedly. "They're great, because one idea spreads to five to six different things. It's emergent design."
Another mechanic, a hamster wheel where one player needed to run on the spot to power doors and move objects, failed the fun test. It got a rare "no" from Ringrose. To guide them away from the busybody tedium of simulation, Ringrose said they ask one question to anything they think about adding to their game: "Does it embrace chaos?"
Moving Out doesn't have to be hard
As Lockman explains, the studio designs its sandbox levels for players to have boundless options to find their own way, while wrestling with deliberately clumsy physics. But that doesn't mean they don't have fun with crafty item placement to cause maximum mess, always making sure to balance smaller objects around whatever the player needs to reach, primed to topple all over the place. And they always want to help players pull off the most outlandish trickshots, by liberally distributing bouncepads and other zany ways for players to load their vans in style.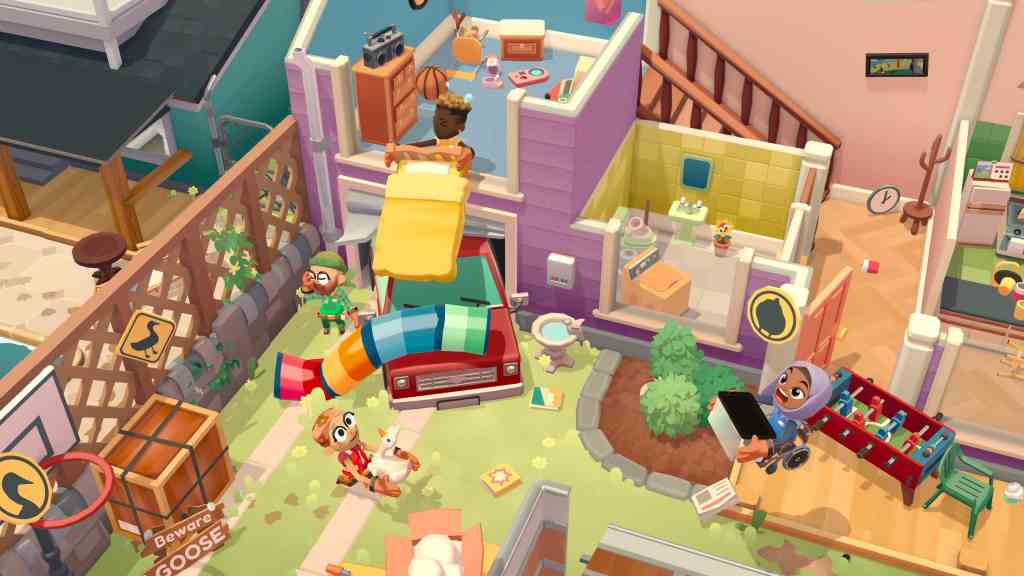 As designers, they need to be careful not to have too much fun. Lockman remembers a studio bet, where lunch was on him if anyone beat a level he'd made, turning into the development of multiple ultra-hard levels before they stopped and realised, "What's the point in putting really hard levels in a Moving Out game?" For all his respect and affection for difficult games, including tricky platformers he'd worked on, it didn't fit their easygoing design goals. "We made them easier because we wanted people to have fun. We didn't want people to start them, and just quit."
What the team wanted to create with Moving Out 2 was non-stop variety. Sequences of unexpected new situations that keep players on their toes, whether that's gumball basketball score attacks or navigating through bookcases of magical spellbooks, or even a crafty new camera angle to make a level feel fresh – never a skill-testing difficulty curve.
Handling players with care
"We really try and get as many people in there as possible. It's like a drug … Give us more people!" Lockman couldn't be clearer: he gets a real kick out of making it easy for as many people as he can to play SMG's games.
It's been a journey for the studio, and not always a successful one. Lockman describes the time when they realised they'd failed, during the first Moving Out's prototypes. Despite SMG's efforts, they were disappointed to see players bounce off the game's platforming and harder puzzles. So the studio cut those aspects in favour of doubling down on tossing furniture over ponds and tricky angles. Ringrose calls SMG Studio's extensive testing (Moving Out 2's tests began in 2021) their "secret sauce" for good reason, thanks to its role in creating the immediately approachable game we know today.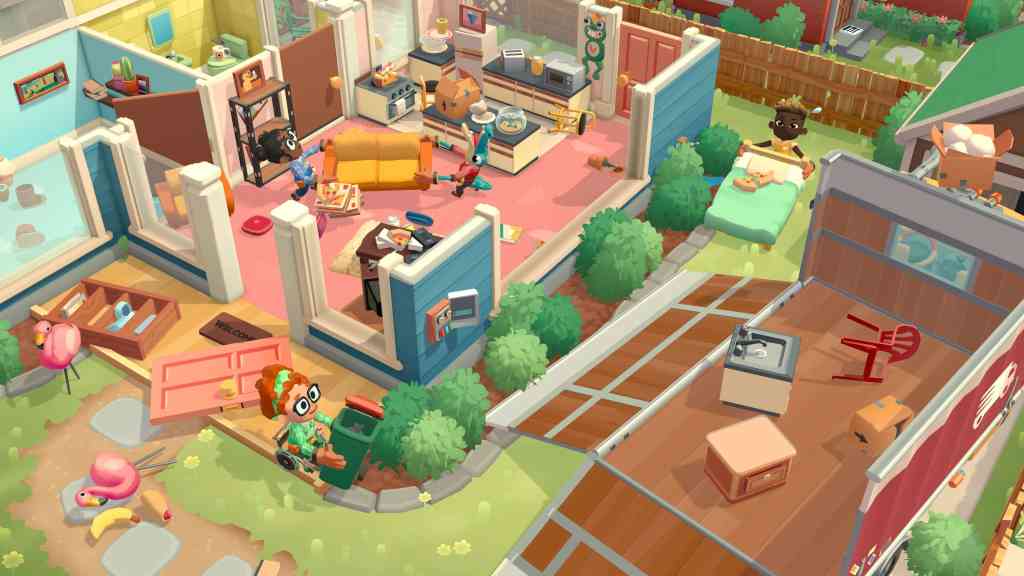 They set out to tick off as many Game Accessibility Guidelines as possible in their efforts, to cater for players of varied abilities and ages, and improve on the first game's accessibility features. Moving Out 2's comprehensive Assist Mode is now available at the touch of a button for players to make finely-tuned adjustments to the game's challenges.
These guidelines helped the studio understand that actions like button mashing and holding trigger buttons down can be a huge barrier. The game's playtesters, some as young as six years old, gave developers plenty more feedback. They addressed issues faced by colourblind playtesters (which they thought the guidelines had already catered for), as well as those prone to nausea from screen shaking. Players with limited wrist movement benefited from fully re-mappable controls that allowed the use of an arcade stick steered by arm movements, rather than wrist movements.
And these features are underpinned by SMG's generous attitude to their players. They just want players to have fun, not to be locked out of achievements or feel their accomplishments are smaller because they made use of these tools. Whatever players want to do, the answer's always a resounding "Yes!"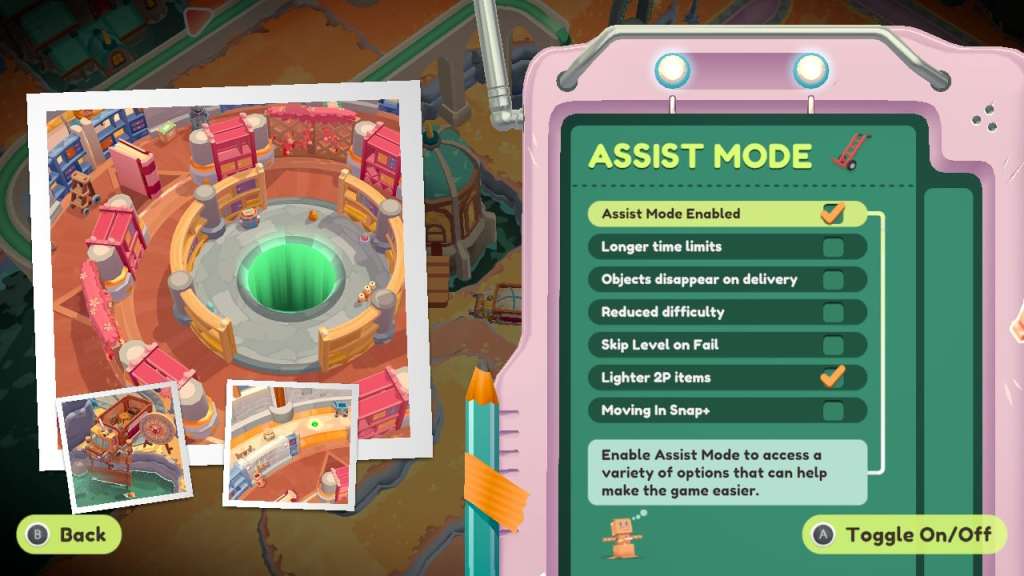 Ringrose points out these efforts shouldn't be regarded as anything special, they're just racing to meet the ever-rising standards for accessibility in games. There was a time when simply including subtitles was seen as enough. Now, subtitles should also include large fonts with multiple options – Moving Out 2 even includes a dyslexia-friendly font. "We're all trying to share and one-up each other, in a good way. How do we raise the bar for everyone?"
Alongside accessibility, the game has a clear commitment to representation, and its sequel is no different. Players can choose to play characters across a variety of ethnicity and gender representations, and popular options for characters to wear a hijab or use a wheelchair remain from Moving Out. Ringrose said it was inspired by Jan Rigerl, who worked on the original game, and how his previous mobile title Extreme Wheelchairing received encouraging feedback from disabled players unused to seeing wheelchair users depicted as anything more than a side character.
Lockman added that as longtime gamers, many of the developers at SMG played the same kinds of characters for 25 years. SMG is so varied, they want everyone to be represented –there's simply no reason not to. And of course, it adds to their games' global appeal as well – 97% of their sales are outside Australia.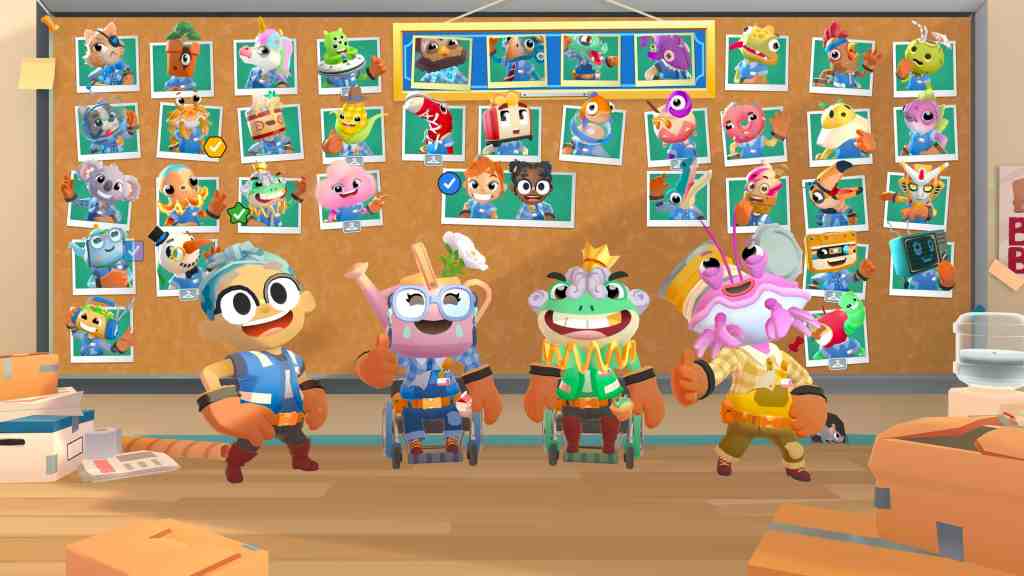 Raising the bar, together
IGEA's Australia Plays 2023 reported that inclusion, accessibility and representation were important to 80% of Australian players, compared to 50% in the UK and US. When asked why Australia may be so ahead of the curve, Ringrose felt that while SMG is very much part of a global drive to raise accessibility standards, it's a product of the close-knit Australian and New Zealand development scene.
"Their [Australia and New Zealand] scenes are predominantly indie, which means it's a lot more diverse in terms of who's making games, who they're making games for and what type of games they are, which then leads to accessibility. These are smaller industries and we all feed off each other. 'Oh, you guys did this for this game, you know, we'll put it in ours!'"
State grants for game development funding are another factor, encouraging developers to consider diversity and inclusion within their studio as a requirement for applications. And for Ringrose, it's also pride in representing Australia's small but impactful games industry. "We're putting our best foot forward, because Australia doesn't have the ability to fail too many times. So we want to punch above our weight."
Moving Out 2 is available now on PC, Xbox Series X/S, PlayStation 5, PlayStation 4, and Nintendo Switch.
GamesHub has affiliate partnerships. These do not influence editorial content. GamesHub may earn a small percentage of commission for products purchased via affiliate links.