Glance at the marketing material for Mortal Kombat (2021), the latest action movie from Warner Bros., and you'd be forgiven for struggling to recognise any of the faces on show.
Admittedly, the key poster is composed of two faces concealed by elaborate ninja masks so it's a tough ask. But while that image itself is significant, equally so are the noted actors behind those masks – storied Japanese actor Hiroyuki Sanada (Westworld, Yoji Yamada's Twilight Samurai, and the original Ring), and former Olympic judoka-turned-action star Joe Taslim (The Raid, Star Trek: Beyond) from Indonesia.
Just in case it wasn't clear: this is a Warner Bros. tentpole, and their latest mainstream pop culture play. A cash-hungry film based on a 'geeky' intellectual property, that isn't being sold by a Ben Affleck-led Justice League, a cute Ryan Reynolds-voiced mouse-thing, or an Oscar-hungry Joaquin Phoenix.
There is no singular, presumably American-sounding caucasian male that pops out at you on the Mortal Kombat poster, nor is there one in the Mortal Kombat cast. This is something to behold.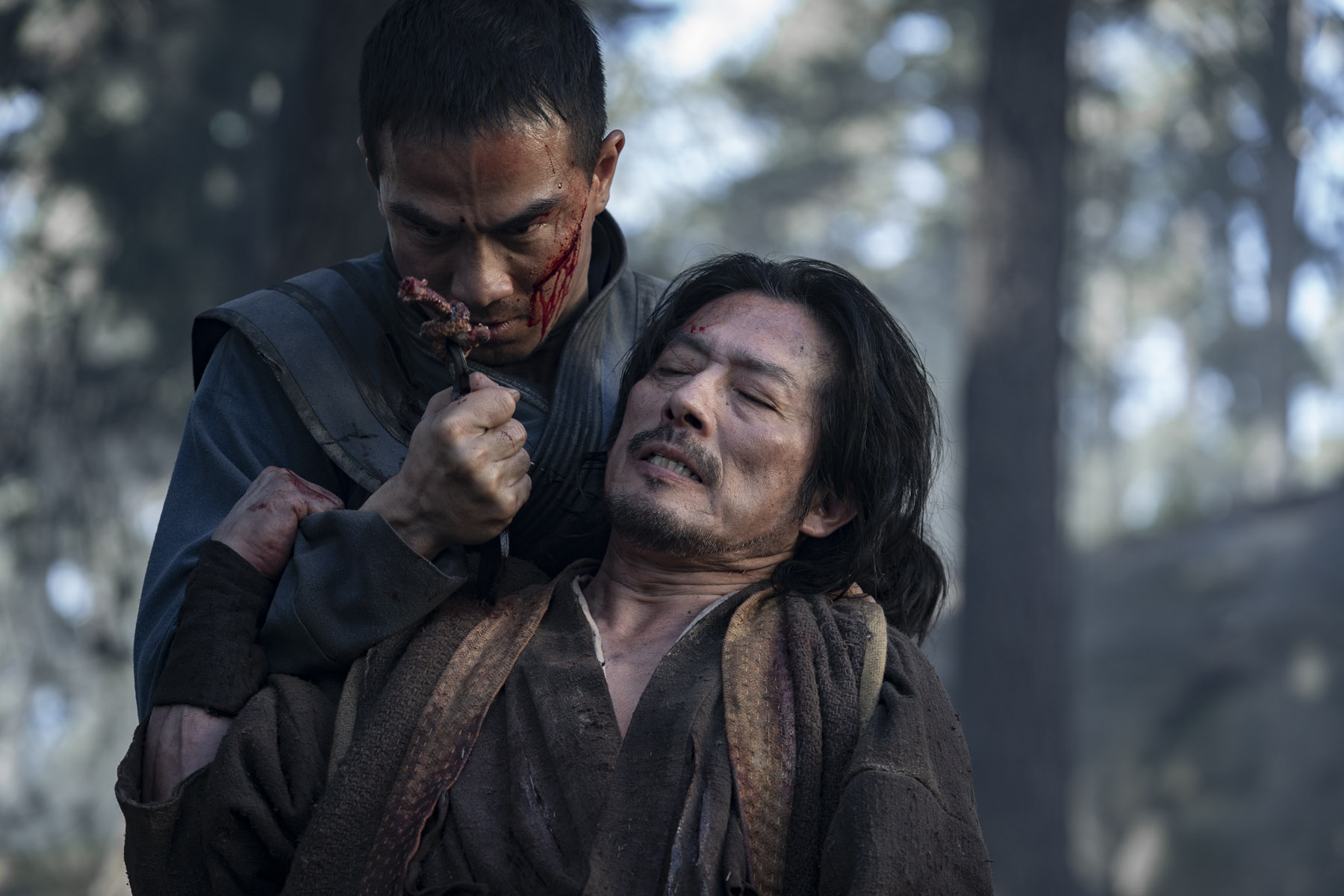 Joe Taslim and Hiroyuki Sanada Image: Warner Bros. Pictures
Mortal Kombat's cast is a diverse mix. It features Chinese-English actor Lewis Tan (Wu Assassins, Deadpool 2), African-American actor Mechad Brooks (Supergirl, True Blood), Chinese-German stuntman Max Huang (a member of the Jackie Chan's Team), celebrated Singaporean actor Chin Han (Marco Polo, The Dark Knight), and iconic Japanese actor Tadanobu Asano (Ichi the Killer, Silence, Thor: Ragnarok)
There is also significant Australian representation here. Chinese-born Ludi Lin (Black Mirror, Power Rangers) grew up in Australia, and newcomer Sisi Stringer plays a fan-favourite character, Mileena. Jessica McNamee (Battle of the Sexes, Packed to the Rafters) is the only Aussie that needs to put on an American accent, whereas Josh Lawson (Anchorman 2, The Librarians, Sea Patrol) gets to lean incredibly hard into ockerisms as 'Kano'.
But Lawson's voice isn't the only one that makes an impression. Sanada's character, Hanzo Hasashi mostly speaks Japanese, and Taslim's Bi-Han mostly speaks Cantonese. There's a moment in the film's opening where the two characters meet and interact, only for Sanada's character to express that he has no idea what the other is saying. It's a small moment, but a surprising one to see in a mainstream Western blockbuster. The use of subtitled dialogue is one thing, but respecting the existence of different Asian languages feels like a revelation in the Hollywood bubble.
Read: Hard data in the toughest market shows value of diversity
It's natural to look to a couple of names for this decision, namely Malaysian-Australian producer James Wan (Saw, Aquaman) and Perth-born director/producer Simon McQuoid, for whom this is his first feature; E. Bennett Walsh (Kill Bill) and Todd Garner (Disturbia) also produced.
'I really went into this film thinking more about character than I did about anything else, and particularly authenticity of character,' McQuoid told me. 'I really wanted to make sure that the Japanese characters were speaking Japanese, the Chinese characters were speaking Chinese.' The idea to remark on the language barrier came from Sanada himself, and it was quickly adopted. 'I didn't want them to all to magically understand each other.'
Being an adaptation of a property that's existed for nearly 30 years, a sceptic might think that having such a wealth of diverse characters to draw upon easily allows for diverse casting. But this has not stopped Hollywood before.

Ludi Lin and Max Huang. Image: Warner Bros. Pictures
Mortal Kombat (1995) saw Christopher Lambert (Kung Fu) cast as 'Raiden', a god derived from Japanese folklore; Raiden is played by Tadanobu Asano in the 2021 version. The 1995 adaptation also saw Sanada and Taslim's characters played by voiceless caucasian stuntmen, and the characters took a backseat to the main cast of Lambert, Robin Shou (Beverly Hills Ninja), Linden Ashby (Melrose Place), and Bridgette Wilson (Billy Madison).
In fact, the source material itself hasn't always been particularly considerate to its influences – Mortal Kombat is an American-developed videogame series based heavily on American action films of the 1980s, such as Bloodsport or Big Trouble in Little China. Raiden has often had a caucasian visage in the games. But for the characters in Mortal Kombat (2021), McQuiod said he simply wanted to create 'the most authentic rendition of them possible.'
Read: Making Mortal Kombat – The South Australian Blockbuster
It's not just the appearance of diversity casting that makes Mortal Kombat stand apart from other Hollywood tentpoles, but also the perspectives it takes. As an ensemble film, it does its best to share the spotlight between actors. The goal is to obviously highlight a number of favourite characters from the videogame, but that also means almost everyone gets to have ample time in the spotlight.
Significant depth of character is perhaps too much of an ask here – Mortal Kombat's sub-2 hour running time relies on some obvious metaphors to do that lifting, and the positioning of some of the Asian characters as mystical martial arts types can sometimes be a bit much. But the aforementioned cast members all get their big hero moments to revel in audience favour. And to witness a crowd cheer for one of the most outspoken voices of Asian representation in Hollywood, or an up-and-coming Indonesian actor, or an Australian dancer-turned-actress in her first big role – it can certainly give you pause.
There's also something to be said of the film's production, which took place in South Australia in 2019, with an overwhelming amount of support from the state government. While the audience surrogate is positioned as Lewis Tan's character, Josh Lawson's Kano is a surprising challenger to that mantle, given that the character he portrays has traditionally been more of a secondary antagonist. He serves as the crass comedic foil, who gets far more screentime than is expected and seems to revel in being as endearingly Australian as possible. I can only suspect that the sheer quantity of Australians in the cast and crew threw their weight around here.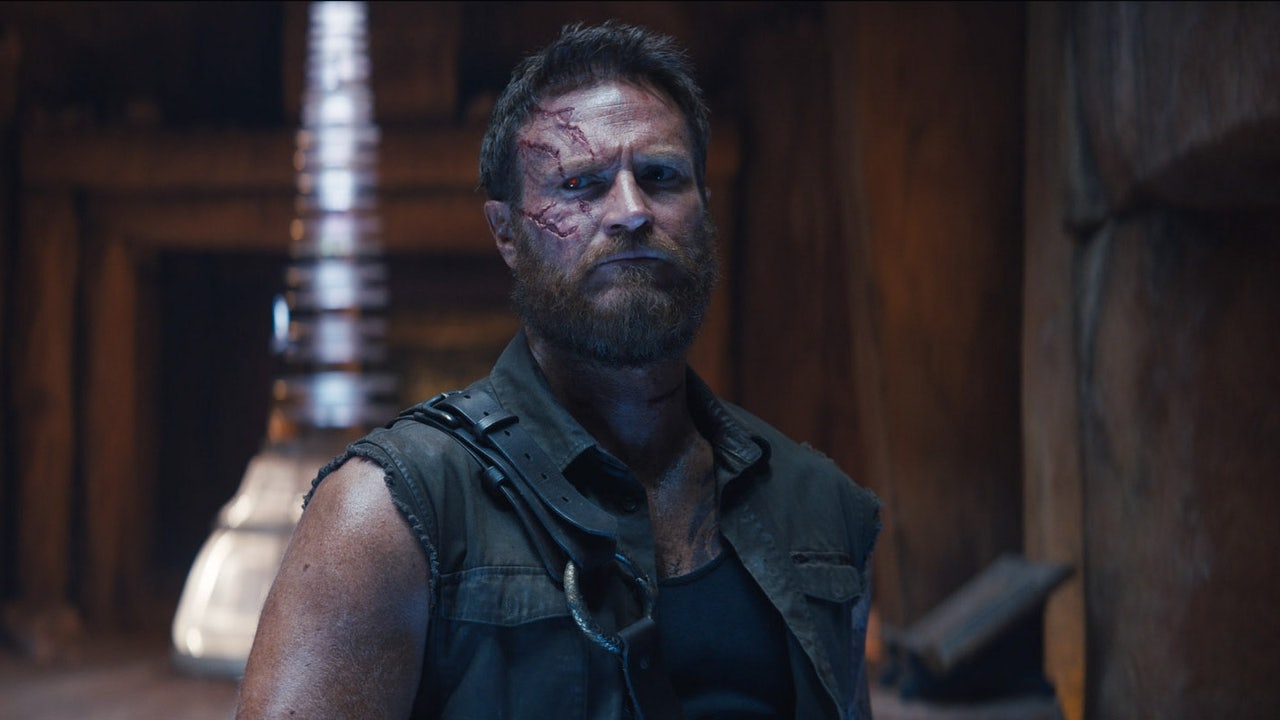 Josh Lawson. Image: Warner Bros. Pictures
The week Mortal Kombat was released in cinemas, Marvel Studios released their trailer for Shang Chi and the Legend of the Ten Rings, which hammered home the idea that the changes Mortal Kombat embodies will continue to ripple throughout the global movie market. This is not an isolated phenomenon.
Shang Chi also happened to also be filmed in Australia and features Simu Liu (Kim's Convenience), Awkwafina (Crazy Rich Asians), Australia's own Ronny Chieng (International Student), and frequent Wong-Kar Wai collaborator Tony Leung (Chunking Express, among many others).
Nomadland director Chloe Zhao is also helping to continue change after Shang Chi with her own Marvel project, The Eternals, which stars the likes of Kumail Nanjiani (The Big Sick), Lauren Ridloff (The Sound of Metal), Bryan Tyree Henry (If Beale Street Could Talk), Don Lee (Train To Busan) and Gemma Chan (Crazy Rich Asians). Disney's approach is certainly bigger on the household names, but from a cultural perspective, no less meaningful.
For now, Mortal Kombat is the film that represents a changing visage of Hollywood. A film that uses the clout of its source material to become a new kind of blockbuster – one that has a respectful approach to casting diversity, and acts as a vehicle to uplift said cast, rather than having a singular (and let's face it, expensive) hunky household movie star to uplift the film itself.
McQuoid's final thoughts on authentic representation: 'it makes it harder, but I think ultimately, it ends up feeling better.'
I agree.