Horizon Forbidden West protagonist Aloy has always been prickly; a result of a tough childhood punctuated by her status as a tribe outcast. In the post-apocalyptic world of Horizon, her continuous, learned push against love and community often leads her to danger, as the threat of deadly machines isolates her on all sides.
After years of ostracism, Forbidden West's post-game tale, Burning Shores, introduces a surprising new frontier for Aloy, in a sweeping story that not only tests her physical abilities, but also a newfound capacity for love. According to developer Guerrilla Games, this chapter represents a movement of growth for Horizon's hero, who has pushed beyond trauma to finally understand the innate value of love, and how it can change you as a person.
Story spoilers for Horizon Forbidden West: Burning Shores follow.
In an interview with GamesHub, Guerrilla Games Narrative Director Ben McCaw spoke of Aloy finding her 'match' in Burning Shores, in the form of bold Quen warrior, Seyka (Kylie Liya Page).
Over the course of several sweeping hours, the magnetism of feeling outcast and continuing to fight for a hopeless world draws Aloy and Seyka together, against the backdrop of a ruined Los Angeles. Bonded by a shared, burning desire for justice, the pair begin working in tandem throughout the course of Burning Shores, as darkness and mechanical tendrils press in from every side.
But their relationship continues to grow beyond simple teammates, as quiet glimpses and an awkward tension reveal the bond between the pair has grown warm. Both have similar backgrounds; a shared trauma, and a longing for something more.
Love at the end of the world
'We wanted for Aloy to meet her match,' McCaw explained. 'We wanted her to meet someone that had her drive, that had her physical abilities, and that had her force of personality. Obviously, they're different characters, but we felt it was super important for Aloy to see enough of herself in this character [Seyka] to really respect her – because Aloy has such a unique view of the world, and knows things that no-one else knows, has done things no-one else has done.'
Read: Horizon Forbidden West: Burning Shores review – Absolute Fire
Aloy's past as an outcast has coloured her entire worldview, transforming and warping her sense of human connection, in ways that McCaw and the entire Guerilla Games narrative team found fascinating. This exploration of how to untangle trauma, and reforge its threads into new connections is what drove the Burning Shores story. Between cinematic sequences on high-flying waterwings, and quieter, more intimate dialogue, it quickly becomes clear that Aloy has changed from her years in the wilds.
'We wanted to really tell a story about her learning the value of the tribal world, and how to integrate with it,' McCaw said. While Zero Dawn and Forbidden West were part of her growth, Guerrilla didn't feel these games left 'appropriate' space for her character's arc. Rather, she had to go through these trials to understand herself, and open up to the possibility of healing.
'We didn't think it was appropriate, for her character, to have her engaged in a romantic relationship until that process was complete. It didn't seem credible to us, that she would open herself up in that way when she was still trying to figure out what other people are like,' McCaw said.
'[Horizon] really is a story of an outcast joining the world. For [Burning Shores], the next real step of that was, "once you've done that, what happens next?" Having a romantic interest is part of that process.'
Seyka and the bigger picture
With just a handful of hours to tell its tale, sharp writing and powerful visuals combine to evolve Seyka and Aloy's relationship across a meaningful arc.
Players meet Seyka for the first time in this adventure, but her strength of character and a confident performance by Kylie Liya Page makes her immediately compelling. Her strength shines through, and her bond with Aloy grows swiftly as a result.
'Kylie immediately grabbed my attention because of how strong she was,' McCaw said of the evolution of Seyka's character. 'In her audition, she was really able to turn on the anger – and that's when I said "oh, that's her". We really wanted Seyka to have this inner fire, and we really wanted – even though this is, in many ways, a romantic story – for there to be conflict between the two characters.'
Balancing this need for conflict and character growth with a post-apocalyptic sci-fi story starring a megalomaniac immortal (played with over-the-top glee by Sam Witwer) was always going to be a challenge, but Burning Shores gives ample space for Seyka and Aloy to bond between hair-raising action sequences that weave themselves well into the game's narrative.
'In gameplay – the chasm beneath Griffith Observatory [for example], where they're firing off bolts and helping each other in combat – those were the moments, we felt we were trying to give them both time to shine,' McCaw said.
The flow that develops between the pair is obvious in both the gameplay mechanics, as well as this chapter's overarching story.
The power to choose
While players can choose to push pause on Aloy and Seyka's burgeoning relationship in Burning Shores – a late-game decision tree can lead to either the pair parting ways or engaging in a romantic kiss – McCaw made clear that this controversial choice is not a definitive referendum on Aloy and Seyka and how their relationship will continue to evolve.
'We provide flash points because we want the player to be able to express their feelings,' McCaw explained. 'We always try to make sure those answers each represent an aspect of Aloy's psyche. For such a big moment, we felt it was important to give the player that kind of opportunity, so if they really didn't feel it was the right moment to kiss Seyka, they could [step back].'
'We wanted them to be able to opt-out in a way that still expresses Aloy's newfound ability to share her vulnerability, in a way that's consistent with her respect for Seyka, and everything they've been through together.'
'But it is really, really important to note that the options where she shies away from a romantic encounter are not at all a referendum on her sexuality, and instead really just show that she's not ready for such a close emotional bond – and that's a theme that runs through Zero Dawn and Forbidden West.'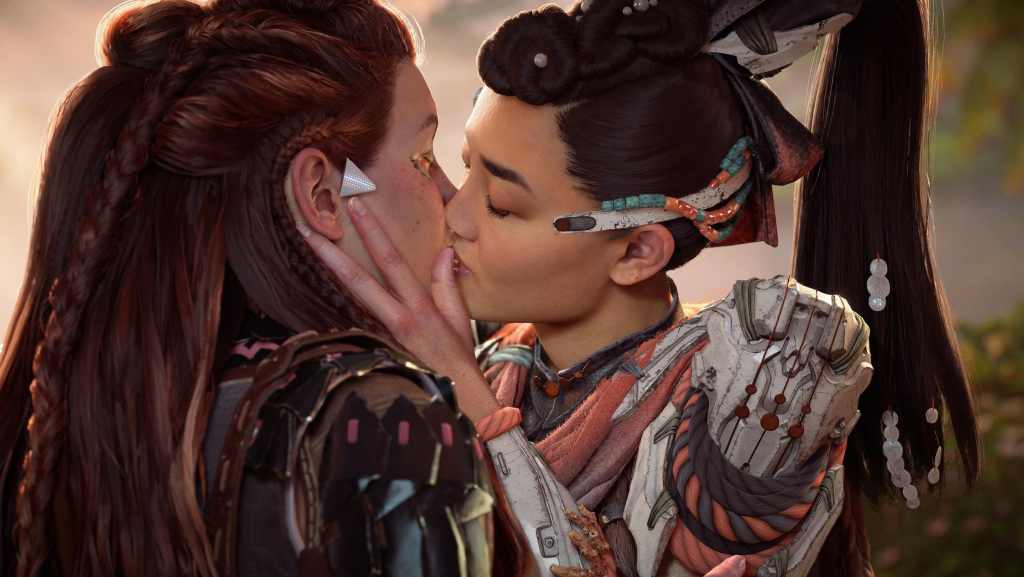 While this choice means Burning Shores lacks definitive closure for Aloy and Seyka's burgeoning relationship, it also gives scope to explore this relationship further in the newly-announced Horizon sequel.
Whether players choose to kiss Seyka or not, Aloy's journey towards self-realisation will continue. Seyka's strong debut in Burning Shores all but guarantees she will also return at Aloy's side.
Sailing towards the future
We know that Aloy will adventure further into the post-apocalypse, in a major Horizon sequel newly announced by Guerrilla Games. Burning Shores is an essential step towards this future – but more importantly, it's a glimpse at a more empowered, emboldened Aloy.
In Horizon Zero Dawn, audiences met a brash, occasionally grating young hero reluctant to rely on and trust people in any capacity. Her trials in this quest inspired reflection, and an open heart that helped her forge a found family in Forbidden West.
Burning Shores represents another stage of evolution for Aloy, as she finds love and trust in the eyes of her equal. The next Horizon game will build on this maturation, as Aloy reckons with her past, and what her future, post-Seyka, will become.
Horizon Forbidden West: Burning Shores is now available on PlayStation 5.
This article was originally published 18 May 2023.