Game developer Dan Ferguson has established himself as one to watch. A recent graduate of RMIT's Bachelor of Design (Games and Interactivity), the playful game designer recently won the ACMI + RMIT Games Prize for his gloriously quirky, pastel-toned game Completely Stretchy and Uncomfortably Sticky. The game invites players to explore the cartoonish vertical world of the Grombi Isles by swinging between buildings on their newly stretchy, sticky limbs, as they try to understand why they have woken up in this chaotic (but kinetic) new form.
This isn't the first time in his young game development career that Ferguson's work has turned heads: the gloriously silly game also took out the prize for Best Visual Art at the 2021 Freeplay Awards, and a previous game, titled Ascent of Grob's Domain, was awarded Best Student Game at the Freeplay Awards in 2020.
Across these two games, Ferguson's love of flat, candy-like pastels and sharp black outlines is clear, applying an aesthetic of classic Nickelodeon crossed with iconic French sci-fi cartoonist Moebius to a 3D game space. Completely Stretchy completes the thought that Ascent began: both games invite players to explore surreal, vertical environments, and Completely Stretchy introduces a deliciously tactile swinging mechanic that allows for fast-paced movement through the game's unhurried spaces.
READ: Frog Detective's Grace Bruxner is moving on
Due to his lighthearted tone and cartoonish character designs, Ferguson's work has drawn comparisons to fellow RMIT graduate Grace Bruxner's, who designed her first commercial game, The Haunted Island, A Frog Detective Mystery while completing her degree. But Ferguson cites A Short Hike and Sludge Life as Completely Stretchy's primary influences, which, unlike Bruxner's carefully plotted narratives, offer an open-ended, exploratory experience, where players can stumble across the narrative in the order and time of their choosing.
Screenhub spoke to Ferguson about his recent successes, and what the promising game developer has planned next: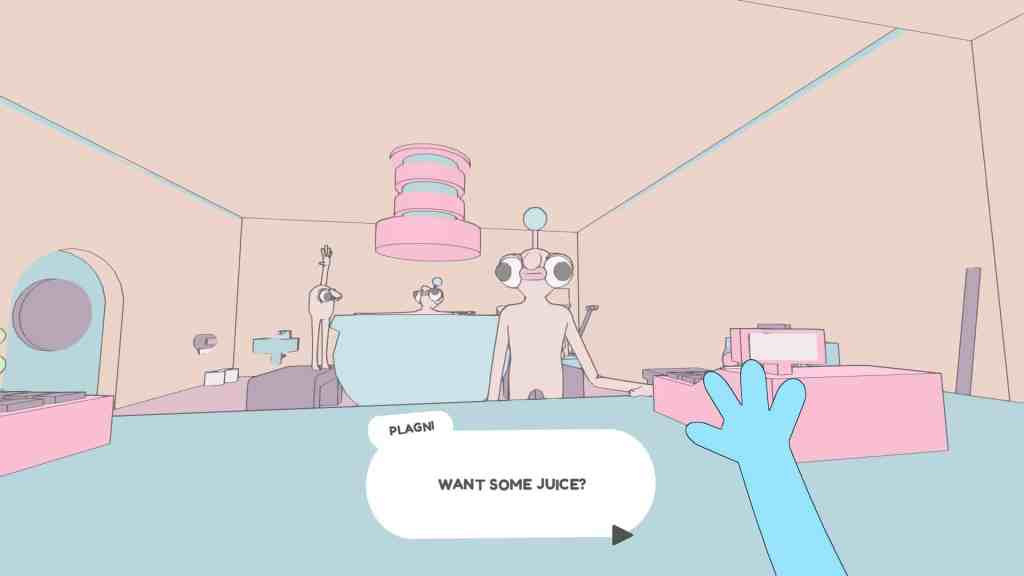 ScreenHub: First of all, I'm curious about your choice to work in 3D. You gave a talk as part of Freeplay's 2020 Parallels showcase, and you mentioned that you didn't feel completely comfortable with 3D art, and the aesthetic influences you cite, from Moebius to classic Nickelodeon, are primarily 2D. What drew you to working in 3D for Completely Stretchy?
Daniel Ferguson: I've chosen to work in 3D mainly to broaden my own skillset and take on a new challenge. With Completely Stretchy specifically, I felt I wouldn't be able to achieve the same sense of verticality or freedom to explore if I worked in 2D. I've tried to keep it fairly simple in terms of geometry and think that merging that 2D style of simple shapes and colours with the openness and scale of a 3D world has been a fun experiment!
In Completely Stretchy ,the movement is the one fast-paced element in an otherwise relaxed and languid world. I wondered what piqued your interest in exploring creative approaches to movement in games?
Movement is something I've always enjoyed in games and in real life. I spent most of my school years being really into dance and being able to express things through movement which is something I've wanted to try to carry over into games.
In terms of games, I always find myself going back to games like Skate, Katamari, Psychonauts, and a whole array of platformers. I thoroughly enjoy games with either unconventional or really honed in movement options that don't really need much more than an open space to play in to be fun.
Movement is such a feature in this game, which is mechanically relatively simple, allowing the bouncing, gliding and swinging to take centre-stage. What games do you think are the most satisfying to move around in?
The top three games for me movement wise would have to be Skate 3 for just how free and expressive you can be as a player, Katamari or Noby Noby Boy because of the fun and strange ways you move around a space, and in terms of pure kinetic feedback, I'd say Celeste is one of the best feeling games I've played.
Across Ascent and Completely Stretchy, you seem to be refining a concept — navigable, vertical worlds full of weirdos, who the player can talk to (or not talk to!) in any order, at any time. Of course, in Completely Stretchy, you also introduced the swinging mechanic which defines the feel of the game. What are you going to take to your next game from Completely Stretchy, and what design elements of Completely Stretchy are you keen to leave behind?
Over the course of 2020 I was definitely getting into the idea of making a game that would bring a lot of what I love about games into one. Fun/strange ways to traverse a world, funny or unique characters, and an overall sense of discovery.
As I've continued working on Completely Stretchy, a lot has changed since the initial project I made in uni. From the initial prototype, I plan to keep that sense of complete freedom to do whatever you want whenever you want, but would like to give players more of a reason to do so.
I want there to be more interesting interactions and stories to find in the world apart from just the silly characters. I hope that this mix of fun characters and games within the world will make a space that players enjoy exploring!
You're currently working at SMG studio as an artist and designer. What appeals to you about working in a studio and then following your projects in your own time? I imagine money is a significant motivator behind that decision, but do you think there are other benefits to getting some studio experience for emerging solo developers?
Being able to keep a roof over my family's head is one reason I chose to look into getting work at a studio, but it is definitely more to get that hands-on experience actually working on and shipping titles. So far it's been extremely fun and within the few months I've worked there I've already learnt new skills from level design to concept art.
I'd recommend it to solo devs, as it helps broaden your skill set and keeps you fed. If you have a supportive employer you can still work on your own projects outside of work.
As well as a cash prize of $5000, the ACMI + RMIT Games Prize gives you three months in the ACMI X co-working space. Do you have a sense of how you'd like to spend that time, and what you'll be working on?
I plan to use the time spent in the co-working space to continue development on Completely Stretchy as there is still a lot I'd love to do with the game and hopefully some exciting news coming up as well!