Following a two-year absence, World Science Festival Brisbane (WSFB) has returned in situ under the auspices of the Queensland Museum Network (QMN). Many of the world's leading scientists in areas as diverse as physics, artificial intelligence, space exploration, palaeontology, the natural world and climate issues, will come together at Southbank to share knowledge and expertise while imparting hard facts about our future world.
With more than 130 events and activities packed into six days from 22-26 March, the program offers an expansive range of conversations and discussions. But the Festival has also evolved significantly since it started in 2016 with its main premise being to take hard science and make it accessible to all. Thus, the QMN is utilising the talents of artists to communicate often-difficult concepts to a wider public in some diverse and fun programming.
Public artworks combine technology and science
Curiocity Brisbane commenced in 2019 and is now a key pillar of WSFB. Showcasing 14 inspirational artworks across South Bank, it is described as 'the creative expression of the WSFB.' QMN CEO Dr Jim Thompson says: 'We are excited to see Curiocity Brisbane artworks that propose thought-provoking temporary, outdoor active installations, designed to transform Brisbane into a creative and intriguing playground for the general public.'
Curiocity curator, Jay Younger, tells ArtsHub: 'The focus of the artworks chosen is to bring art, technology and science together. The artworks are experimental and research-based and, in that way, they are aligned to scientific procedures as well as to a shared creativity. Many of the artworks have inbuilt interactivity for public engagement and some are more sensory driven.'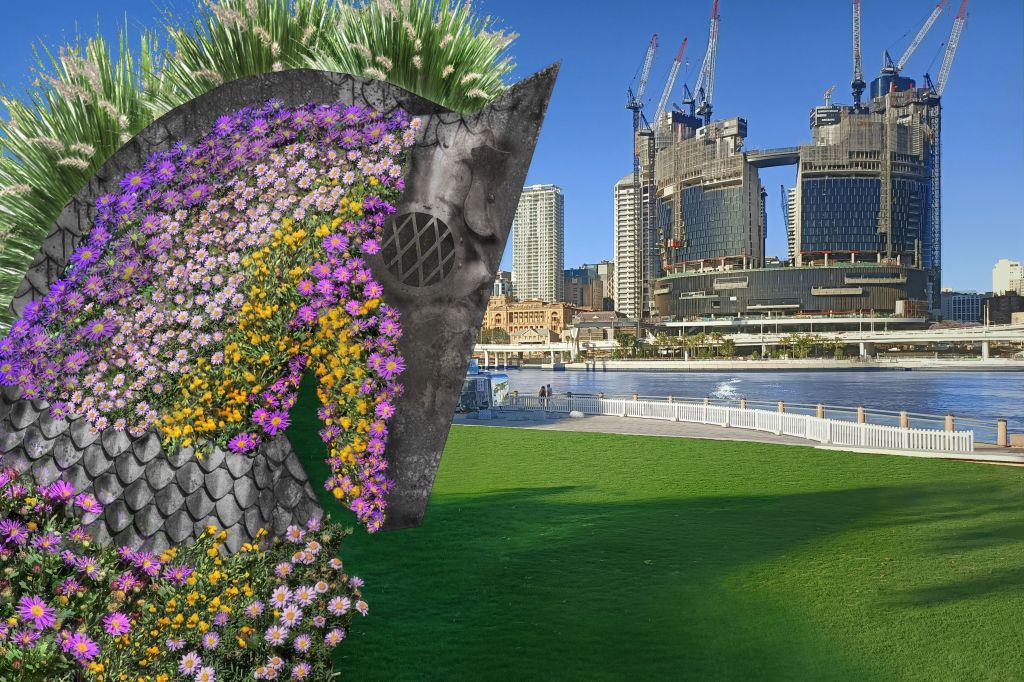 They are clearly imaginative and intriguing too. Younger points to artworks that include Madeleine Flynn and Tim Humphrey's Pivot, a field of semi-intelligent seesaws that talk, sing and create conversations; Simone Eisler's seven-metre tall Trojan horse, The Climate Wars, filled with natural fauna and plants; Indigenous artist Jennifer Herd's large-scale, visually impressive vinyl image, Amplify/Defy, and Hochschuh and Donovan's Cybernetic Intimacy, investigating interspecies communications.
Additionally, two international commissions have been included this year. From Germany, an installation of 15 hexapod interactive robots will demonstrate technological possibilities. From the UK, internationally renowned interactive art company Blast Theory has created Cat Royale, an AI digital screen work based on exploring levels of happiness over the 12 days of its installation in the Queen Street Mall.
Music and science working together
Paul Dempsey is the singer, guitarist and principal songwriter of one of Australia's most successful and respected bands, Something for Kate. Regarded as one of the country's finest original lyricists, he prefers to tackle subject matters that are well beyond the realm of rock'n'roll.
This year is Dempsey's first WSFB and he is delighted to have been invited to participate. He tells ArtsHub: 'Alongside music, I've always had this parallel passion for science and it's been a deep well of inspiration for me when it comes to my own lyric writing. Popular music is often written retrospectively, but my love of science makes me write in a more speculative way about what the future might hold.
'I'm not a scientist, at best a science communicator, but I think that art has a real place in science, by reflecting back the ideas that science throws up. The history of art and culture is inextricably tied to the history of scientific thought. The WSFB is trying to do just that, by engaging artists to use their specific artforms to convey truths.'
READ: The Changing World of Chamber Music
Dempsey will perform in The Pitch, which is part of the Social Science program. A rapid public speaking event, it will feature four speakers from different metiers each talking to 20 slides presented for 20 seconds each and then answering questions from the audience. Additionally, Dempsey will sing a few of his science-inspired songs and hopes these will speak for themselves. 'Music is a great leveller,' he says. 'You can put words together in quite different ways that music then lifts into another sphere.'
Comedy communicating fact-bombs
'Investigative Humourist' Dan Ilic, part journalist, part comedian, is undertaking his second season with WSFB by presenting the Q&A styled panel show A Rational Fear! Live. With a team of smart, funny people and some serious scientists, including NASA's Dr Jessie Christiansen, Ilic says he has a good mix. Christiansen is regarded as the number one planet hunter in the world and Ilic says they will ask her about aliens, among other things.
Additionally, he is a team captain alongside science communicator, Angharad Yeo, in Night of the Nerds. This is a game show akin to Spicks and Specks, and will be hosted by TV personality, Mark Humphries.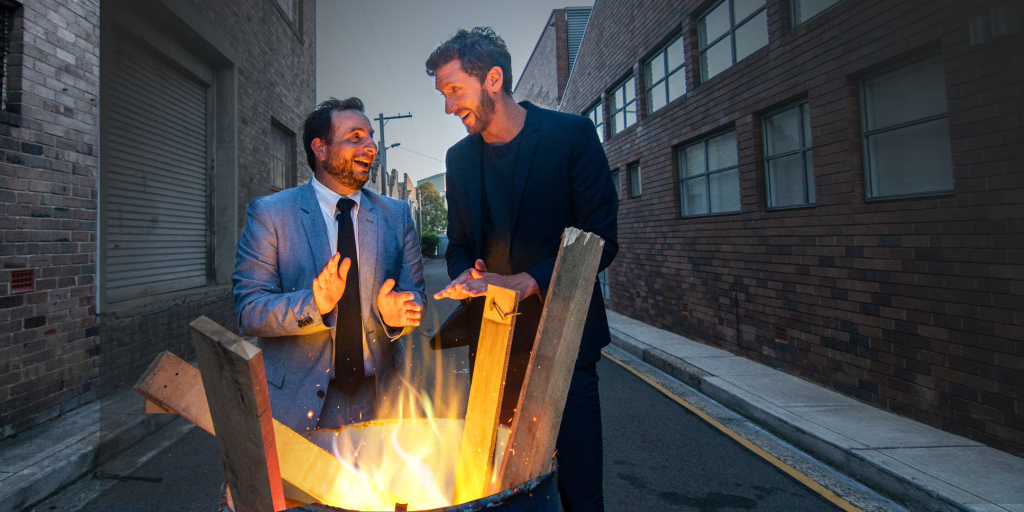 Ilic feels that these light-hearted formats are a great way to present serious scientific topics and are very popular with audiences: 'People tend to remember jokes better than they remember facts, largely because jokes have an element of storytelling, whereas a scary UN report might not be able to do the same thing,' he says.
'In my job, what we rely on is extremely good journalism and scientists who put out reports so we can do the jokes. It's a symbiotic relationship. We call them fact-bombs, where you pair a joke and a bit of information, which can then explode in the minds of the audience.'
He says: 'When you are doing comedy around serious topics, it can be daunting. But we're making people feel better and comedy can definitely do a lot of heavy lifting. I truly believe that satire can help change things for the better.'
Dancenorth's passion for the natural world
Kyle Page is Artistic Director and Co-CEO of Dancenorth. Based in Townsville, Dancenorth is across many issues relating to both climate and the Great Barrier Reef, while the company certainly takes its responsibilities seriously about the nature of being an artist in these troubled times.
All the works that Dancenorth create are unique, built and conceived in different ways, but share the same philosophy in relation to commenting on the state of the natural world. Its most recent and highly successful show, RED, returning for a season in Brisbane, reflects this.
Page tells ArtsHub: 'RED was born out of a deep concern for the natural environment and the loss of biodiversity, species and habitat right across the planet. Also an awareness that humans see ourselves as distinct and separate from nature, which is not the case. RED speaks to that sense of separation between humans and the natural world.'
He continues: 'We wanted to create something that was a visceral experience for the audience. The piece is very much a wake-up call, with a sense of reflection, contemplation and curiosity for an audience. Allegorical in nature, artistically the piece depicts two dancers in an inflatable dome who continue their lives without realising their plight until it is too late. The ending is powerful and audience reaction to this has been overwhelming.'
The response to RED and other recent works has convinced Page that the arts offer 'one of the most compelling and powerful ways to communicate these messages,' he says.
'We become desensitised through social media and news platforms, but shared communal experience, witnessing a performance or a piece of visual art, can connect us in a deeper way with an energetic human element.
'There is the potential for truly engaged options for the arts that can help shift human awareness and steer a better direction for the future,' he concludes.
World Science Festival Brisbane runs from 22-26 March at QPAC, Brisbane.
Curiocity Brisbane runs from 22 March to 1 April across Southbank, Brisbane.
RED by Dancenorth will be performed at the Playhouse, QPAC from 29 March to 1 April.