The Acemagic AD08 Mini PC is an interesting little computer, because it seems to be catered for a very specific type of person.
As a Mini PC, it's designed with a compact form factor in mind (of course), with the goal of cramming in as much performance as possible. Perhaps it's for those who prefer a full desktop setup, but don't have the room (or the cash) for a full-sized desktop tower. It's also a very attractive option for a lounge-room PC setup, something you can fit in your entertainment cabinet and hook up to your TV.
But the Acemagic AD08 is also positioned as a gaming-focussed product – the image on the Acemagic store literally has the word "Gaming" emblazoned on the side of the unit (though my unit said 'Mighty' instead). But confusingly, that marketing perhaps raises some questions about what 'gaming' is, and just how mighty a PC without a dedicated GPU can actually be.
---
Table of Contents
---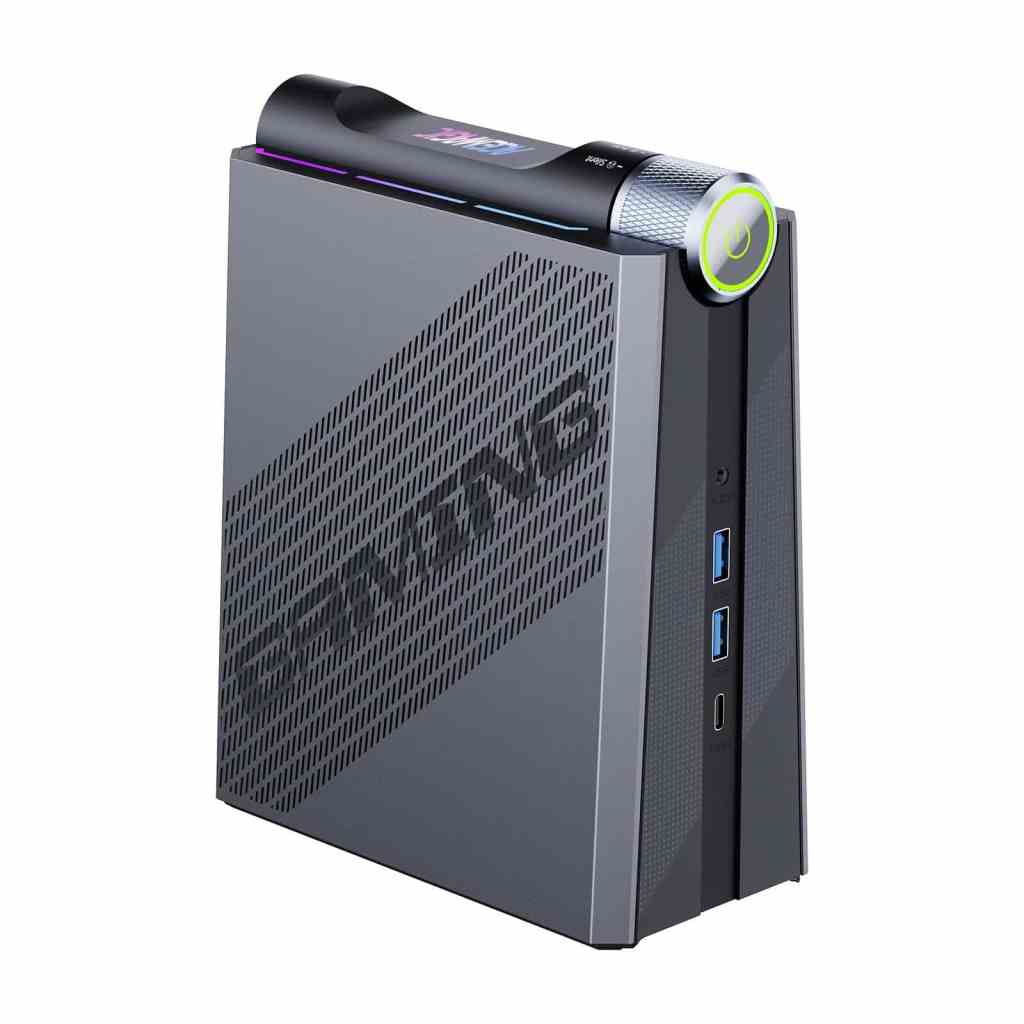 ---
What is "Gaming," anyway?
"Gaming" comes in all sorts of shapes and sizes. To take the most visible and stereotypical approach, it suggests RGB lighting, all-black peripherals, edgy fonts, and high-end blockbuster graphics among other tropes. But while the Acemagic AD08 certainly looks the part, it definitely isn't a machine that can play the latest and greatest PC games with impressive performance. As soon as I booted up Baldur's Gate 3, I knew I had made a mistake.
Instead, it's a machine that leans hard on its 11th Generation Intel Core i9 processor – not just for computing, but also for graphics processing. If you're familiar with the capabilities of built-in GPUs, you should have an idea of what to expect – a struggle to render high-resolution 3D graphics.
But can you only be called a 'gamer' if you play the latest and greatest, big-budget, high-end blockbusters? Of course not. Some of the best and most popular games in recent years are ones that rely on beautiful 2D art, nostalgia-infused pixel work, or low-poly graphics. Some of the most popular games in the world from Valve and Blizzard have been around for years, and you don't need to see every little detail to enjoy them to their fullest.
These are the kinds of games you can enjoy on the relatively affordable Acemagic AD08, and you can play these kinds of games for the rest of your life, and never run out of amazing experiences. Which is handy, because anything running on a 3D graphics engine won't be an ideal experience by modern standards here. They can certainly still run in some cases, but you do risk the potential disappointment of knowing what you're missing out on.
[Note: The AM08 version of the unit sports an AMD Ryzen 9 6900HX CPU and an AMD Radeon 680M GPU which seems like it could make a difference here, though it's not something we can verify first-hand.]
But as someone who's got a keen interest in cost-effective machines that can deftly handle a balance of work and play tasks, and who very much appreciates a small PC footprint (I'll never build a PC bigger than a Mini-ITX case) I found there's still a lot to like about the Acemagic AD08.
---
Acemagic AD08 Mini PC - Intel i9 11900H
Buy Now
GamesHub has affiliate partnerships. These do not influence editorial content. GamesHub may earn a small percentage of commission for products purchased via affiliate links.
12/05/2023 03:05 am GMT
Specifications
Here's what our Acemagic AD08 Mini PC had on the inside:
Intel Core i9 11900H
16GB RAM (with RGB lighting)
512G NVME Storage
Wi-Fi 6E and Bluetooth 5.2
Windows 11 Pro
Connectivity
Front:
AUX
2x USB 3.0 Type-A
1x USB Type-C (display compatible)
Rear:
2x HDMI
2x USB 3.0 Type-A
Ethernet
Power
---
Design
The best thing about Mini PCs are their compact design, and the Acemagic AD08 easily impresses right away, with a small and stylish form factor. Coming in at no bigger than say, two Xbox controllers stacked on top of one another, the unit's triangular prism form factor, as well as its dark and metallic panels, make it look look like a background Star Wars prop.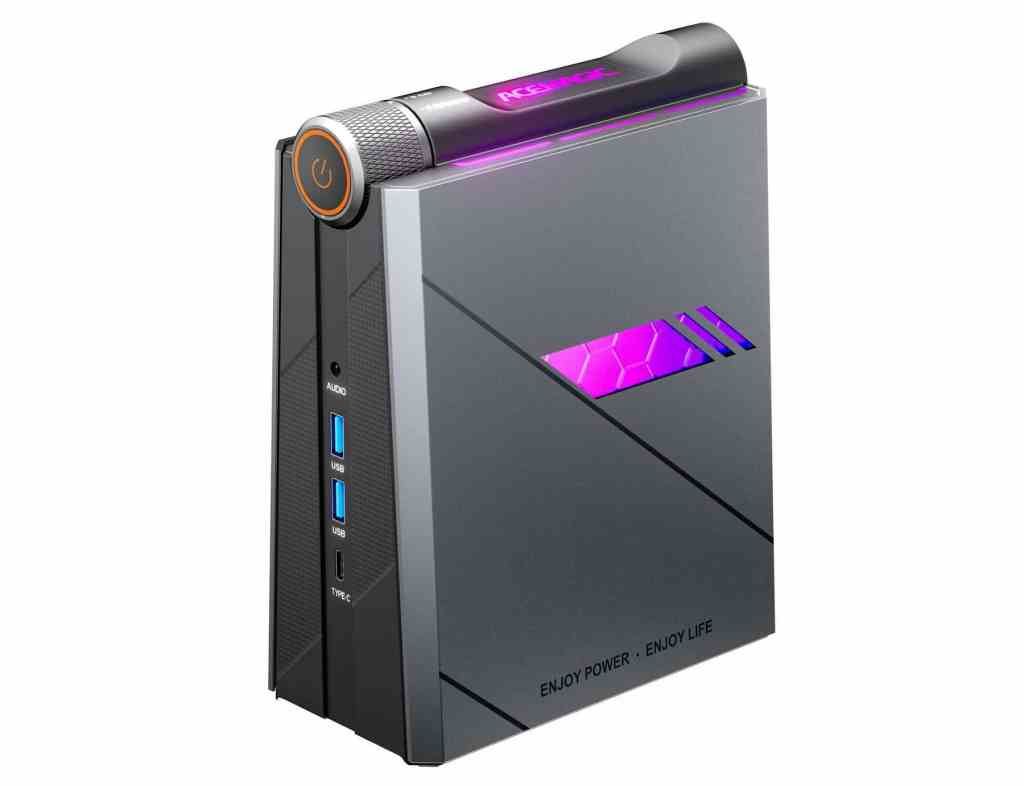 That the unit is built with upright positioning in mind means that it has a small footprint, which is much more preferable to a stout, flat box. It sits very nicely on a desk right beneath a monitor, and nicely on top or inside of entertainment unit, too. It's small and good-looking enough that you just don't really need to think too hard about where to put it.
Being a device geared towards a gaming audience it, of course, has RGB lighting. Six thin lighting panels adorn the top of the unit, along with a light-up Acemagic logo, and the front facing power button lights up too. Additionally, the RAM that comes included with the unit also has RGB lighting attached. It glows through a frosted window on the side of the right-hand panel.
The external lights are controlled through software, though the options are limited: Rainbow, Breathe, Cycle, and Off are the only choices, with seemingly no way to customise the colours to user preference.
Ports are situated on the front and back, with exhaust vents at the rear and the left panel. The right panel is magnetised, allowing for very easy removal, and easy access the neat layout of RAM slots, M2 storage expansion, as well as a SATA port to install a 2.5-inch SSD drive.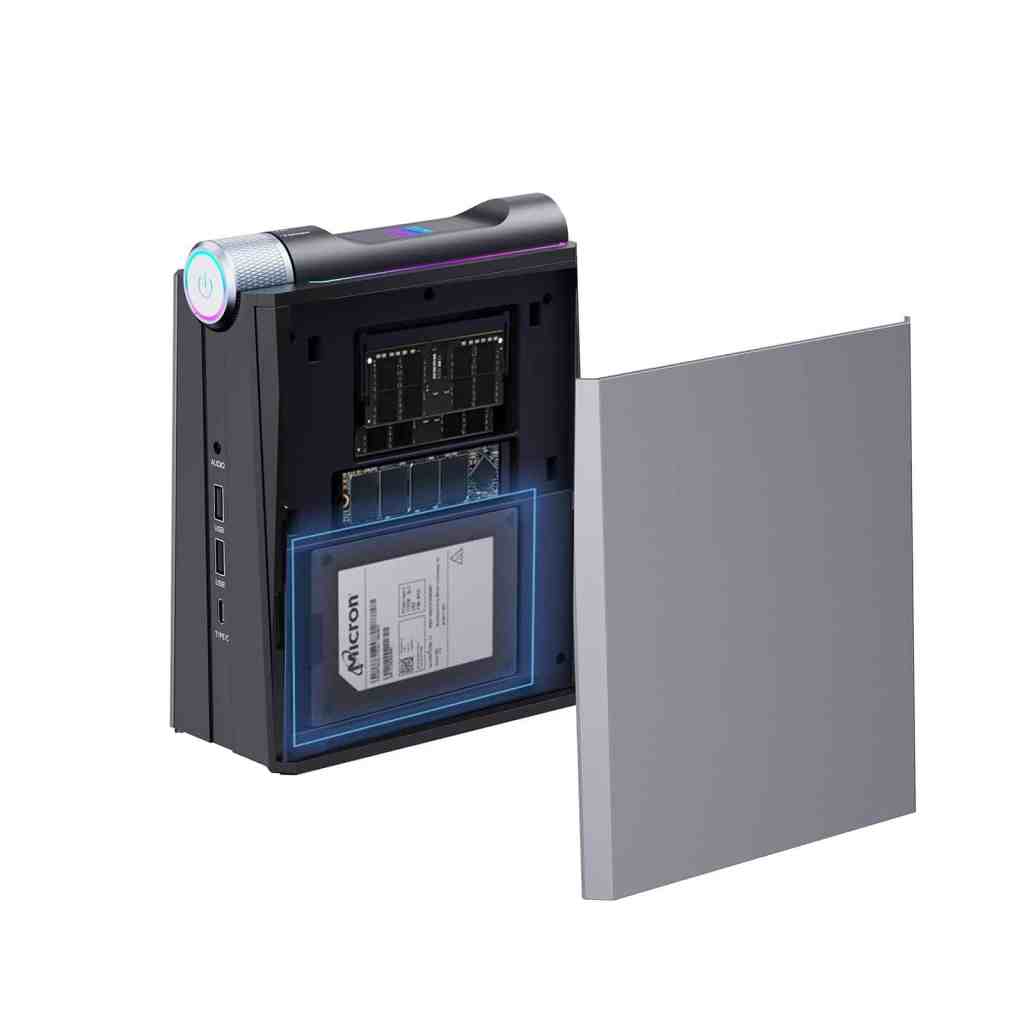 The power button, which sits at the top of the unit, is affixed to a dial, and the dial itself is used to adjust the performance modes of the Acemagic AD08 – Silent, Auto, and Performance – which will throttle the maximum amount of performance based on your preference for cooling fan noise. It's a neat touch that replaces what would usually be a software-based option on most desktops, and something that you inevitably forget about if you don't boot the interface up. With the unit easily placed in plain sight on your desk or entertainment unit, it's easy to crank up the juice when you need to jump into more strenuous tasks like video editing or playing games.
Overall, it's a great-looking unit, and in browsing the current state of the market, the Acemagic AD08 is definitely the best-looking Mini PC out there, too.
Gaming Performance
Despite the AD08's style being in-line with a lot of the high-end PCs (although perhaps a tad more tasteful than most), it unfortunately does not display the same kind of raw graphical performance that the coloured RGB lighting might suggest.
As mentioned, the first game I tried on it was Baldur's Gate 3, a very recent game that I was personally very quite surprised to see running well on my home desktop with a GeForce 1070 Ti from 2016. The integrated graphics on the Acemagic AD08's Intel CPU struggled immensely, with trouble getting even a 30 frames per second (FPS) performance average on the lowest graphical presets.
For those unfamiliar, the typical average framerate required for a game to feel playable is around 30 FPS, preferably a consistent, steady 60 FPS. And even then, there's a portion of people who prefer the smoothness of 60 FPS as the bare minimum – but that's a whole other argument.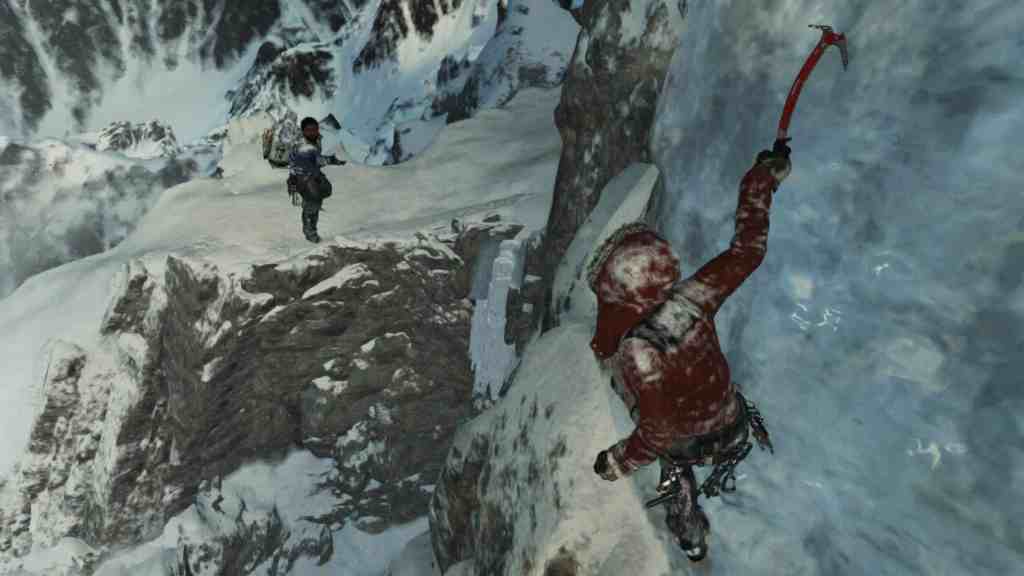 When I test out the performance of new computers I usually have a couple of go-to games, one of them being Cyberpunk 2077 (2020), and another being the slightly older Rise of the Tomb Raider (2015).
On the AD08, Tomb Raider averaged around 20 FPS on a display resolution of 1280×720 (720p) resolution on the low graphics preset, and managed to average 30 FPS on the lowest graphics preset.
Cyberpunk 2077 was much the same – averaging 20 FPS on a display resolution of 12080×720 (720p) on the lowest graphics preset.
All that said, we're certainly in an age where many people are used to playing these kinds of graphically intensive, action-adventure games at lower settings and on weaker devices – the Steam Deck is the prime example – but on a PC that you hook up to a big monitor, the size of the screen does put all those flaws in plainer view.
My very first reaction was to be confused by all of this, as I imagine others might be. Why would the Acemagic AD08 advertise itself as a gaming machine? In browsing some of their marketing materials however, I noticed the title that was being used to advertised its gaming potential – Valve's Dota 2.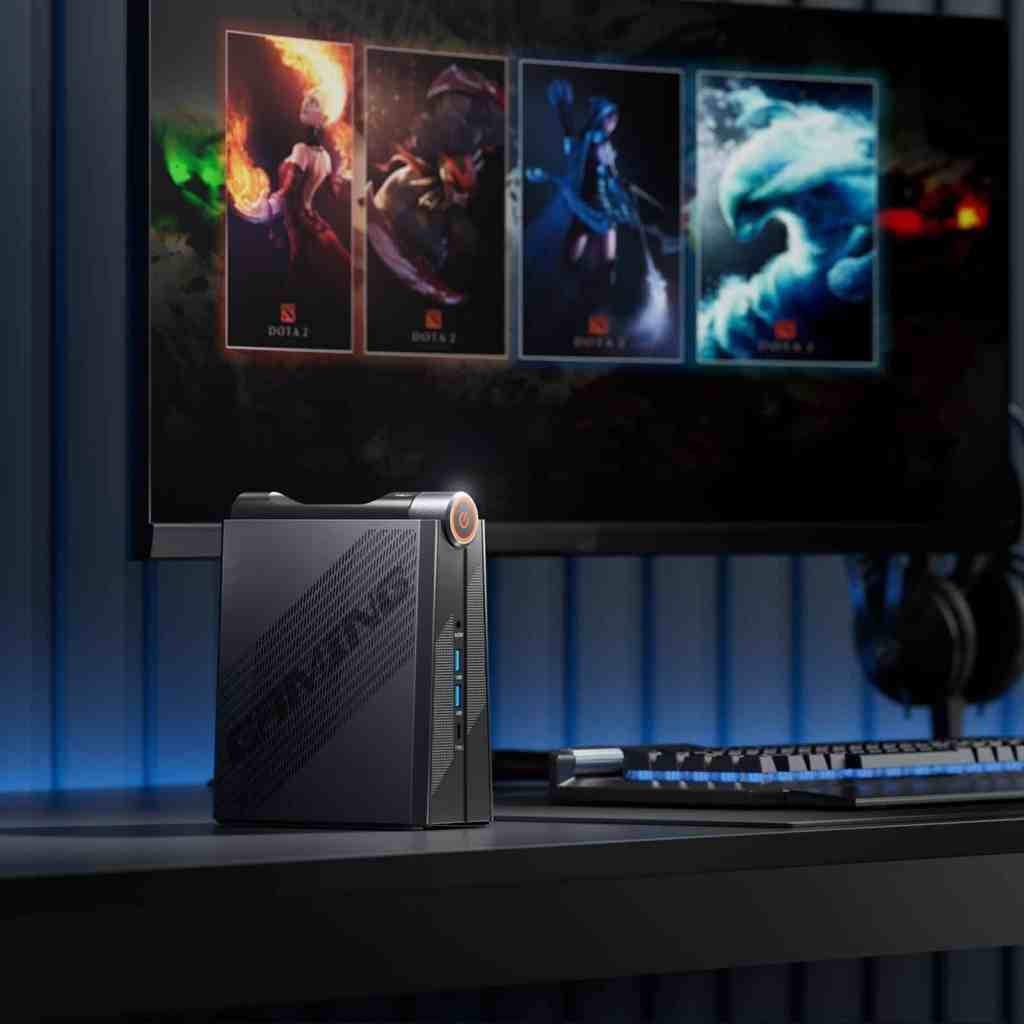 Certain games developed with PC audiences in mind, like those from Valve and Blizzard, have long had a reputation for being very scalable – that is to say, they run very well on computers of all ages and performance levels. It's why games like Counter-Strike, Dota 2, World of Warcraft, and others like them are popular in countries with greater populations of people living in lower socioeconomic conditions. Using Dota 2 as an example, it's a free-to-play game, it runs well on just about any computer, but is still bursting with visual personality. It's consistently been one of the most-played games on Steam since it launched.
In deciding to break my years-long streak of self-prescribed Dota 2 sobriety (thanks Acemagic), I saw a much better gaming experience, at least with a 1080p display resolution.
Dota 2's assisted graphical settings slider has four notches, with the lowest end being 'Fastest" and the highest being "Best Looking". At the lowest end of the scale, the game ran at 120 FPS on the Acemagic AD08 (but looked awful). The second lowest setting ran at 60 FPS (and looked fine) – the sweet spot. The second highest setting ran at 40ps (and actually looked pretty good, though framerate definitely takes priority in a game like this). Perhaps this is the kind of gamer Acemagic had in mind all along.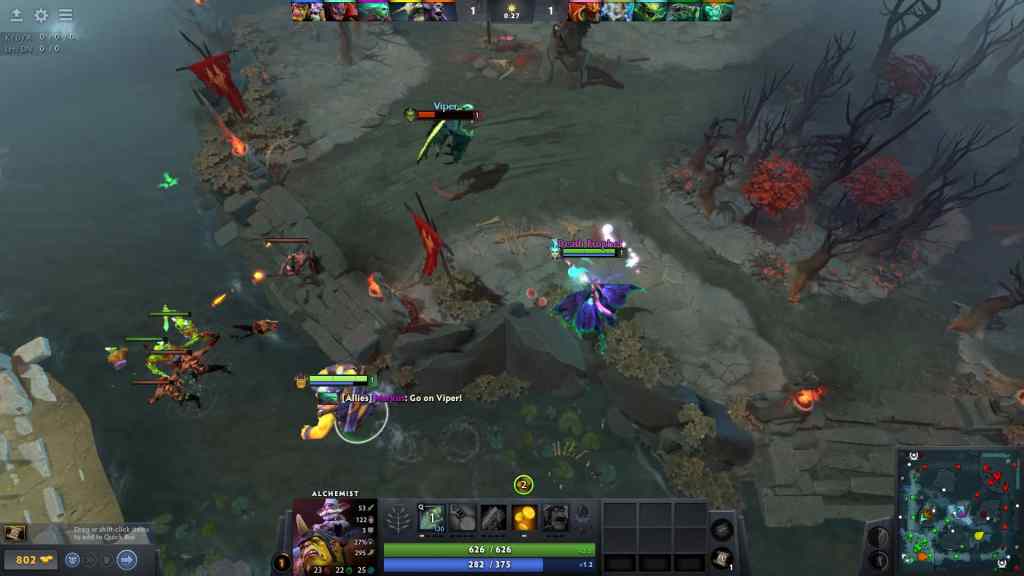 And of course, let's definitely not forget the countless games available on platforms like Steam and Epic that don't rely on cutting edge 3D graphics to build compelling epxeriences. Indie games, low-poly games, and pixel art games are all playable on the Acemagic AD08, with the Intel processor doing all the hard work when you turn the dial to push the performance of the chipset, and set the cooling fans going.
Great gaming does not need to mean cutting-edge, 3D, AAA blockbusters, and I had a great time playing some exceptional, all-timer games on the Acemagic AD08 as part of this testing period, including The Case of the Golden Idol, Dredge, Goodbye Volcano High, and several more.
Looking at some of the best games of the last few years, this machine can comfortably handle titles like Cult of the Lamb, Neon White, Norco, Vampire Survivors, Pentiment, and Return to Monkey Island. And yes, you can play games like Stardew Valley and Minecraft on this thing. You can play Hades. With the modern CPU, emulation is also very likely going to be a good experience with the Acemagic AD08.
And if you do really want to pursue high-end gaming, there's always the option of External GPUs, which can add as much power as you need via USB-C.
Productivity
And of course, with a powerful CPU comes excellent productivity – you know, the other thing you need to use computers for. It's hard to share any complaints about the AD08 in this facet. During my time with the device, the lightweight stuff like browsing and watching videos was as snappy as you'd expect. Light Photoshop and audio editing work are handled very well, with no noticeable bottlenecks in a fast workflow environment. Editing 1080p video footage was also smooth and pain-free, and given this kind of performance, the Acemagic AD08 would probably also be a suitable and convenient secondary machine for say, an enthusiast live streamer.
Final Thoughts
My initial reaction to the Acemagic AD08 was largely around preconceived ideas of what 'gaming' might mean to a company putting out a black machine with edgy fonts and RGB lighting. It's obviously a marketing play that could potentially run into a few issues with disappointed end users, but it's not wrong. Gaming is more than just the cutting edge.
That said, the Acemagic AD08 is somewhat comparable to the price of a new PS5 or Xbox Series X/S console, which can be considered cutting-edge. So who is the perfect user for this machine?
Perhaps it's someone who already owns a high-end console and needs an affordable desktop PC, one that can handle productivity tasks super well, as some mid-weight games too, so they can take advantage of the copious number of sale events on Steam. Perhaps it's someone looking for an affordable second machine to supplement their main PC as a dedicated streaming setup, or someone who moves around a lot for work and prefers a portable desktop setup when settling into a new office for a week. (Perhaps with an Espresso portable monitor?)
At the end of the day, the Acemagic AD08 looks good, is very small, and performs well in many situations. Just throw out the idea of blockbuster gaming on this thing, and you'll probably have a good time with it, provided you are a person with very specific needs.
Three stars: ★★★
Acemagic AD08 Mini PC
Release Year: 2023
Price: US $599
Acemagic AD08 Mini PC - Intel i9 11900H
Buy Now
GamesHub has affiliate partnerships. These do not influence editorial content. GamesHub may earn a small percentage of commission for products purchased via affiliate links.
12/05/2023 03:05 am GMT