A phrase I often hear when reminiscing with friends about the games and pop culture of our collective childhoods is: 'it was a simpler time'. Looking back at the 2000s, the decade seemed to be markedly less weighed down by an impending sense of doom. OlliOlli World, Roll7's new 2.5D skateboarding action-platformer, made me feel nostalgic. Not about the previous games – this is my first foray into the OlliOlli series – but about a time in my life that I can't go back to, and a genre of games that I stopped playing somewhere along the line: extreme sports.
It transported me back to the carefree days of playing SSX uninterrupted for hours at a time, bopping along to the soundtrack and chasing high scores. Beyond the bright colours, bold characters and aesthetically-pleasing locales, what OlliOlli World achieves is more than nostalgia. It hybridises the best elements of the past and the present to create an experience that is both old-school in challenge, and approachable for a new school of beginners.
Skate Paradise
In Radlandia, a wonderful world where everyone skates and trees have legs, you play as you – whoever you want that to be. The character creation is incredibly fluid, with diverse options: two sliders for body shape, some options for hair and skin colours, and a plethora of clothing and skateboard parts to finesse your look. There's an impressive attention to detail, enabling you to customise each individual piece of yourself to create a design that reflects your personality.
Your journey begins when you attend a tryout to become the next Skate Wizard, the link between the skaters in Radlandia and the Skate Godz in Gnarvana above. After seeing your raw potential, outgoing Skate Wizard Chiffon and her motley crew – Suze, Dad and Mike – agree to accompany you through Radlandia to meet the Godz and develop your skating mastery to take Chiffon's place.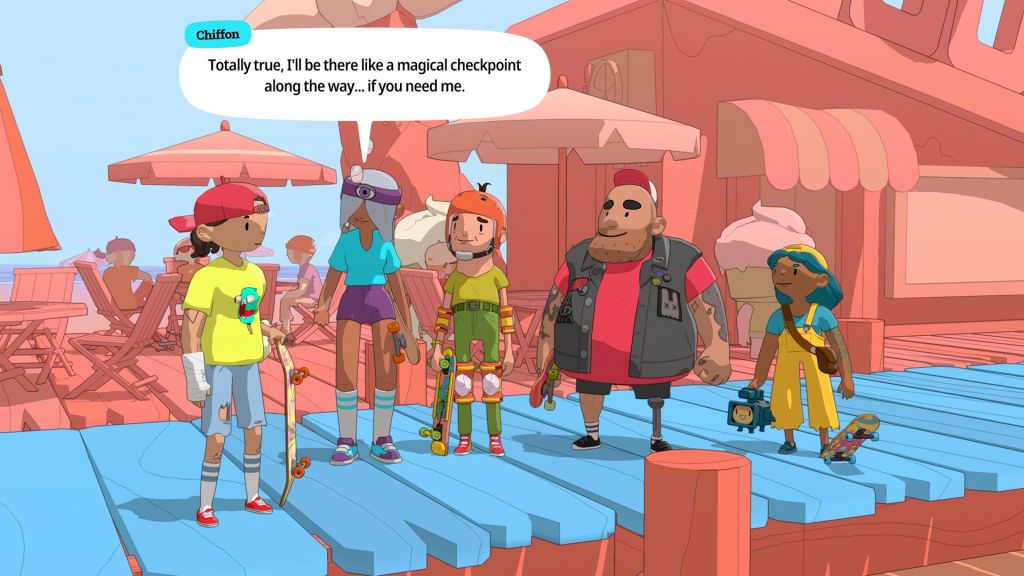 They teach you new skills and offer encouragement between runs as you traverse tourist-populated beaches and boardwalks, secluded forests, scorched desert plains and grimy cityscapes to hit all the best spots.
Each district in OlliOlli World has its own distinct look and feel, with local skaters to match. The soundscapes play a big part in worldbuilding here. By the beach in Sunshine Valley, you hear splashing, talking and arcade machines. The atmosphere in Cloverbrook is completely different. Here, there's the wind rustling through leaves, birdsong and bees buzzing. The use of a segmented map hinting at unexplored territories serves as a good incentive to push through each realm's trickier challenges, because the world is just bursting with character waiting to be enjoyed.
Ride or die
Levels consist of fast-paced platforming that test your reflexes and technical skills. They start off easy and relaxing with lessons in pushing, basic tricks and grinding, allowing you to fall into a flow state as you cruise through levels. Getting into a rhythm and smashing through a course on the first try is very satisfying, and it's easy to find yourself completely lost in the game, which is especially rare for me, now that I have adult responsibilities to account for.
But I was lulled into a false sense of security by the cutesy art style and lighthearted electro/hip-hop fusion soundtrack. What hides behind the colourful exterior of OlliOlli World is a deviously challenging game. By the time I reached the second district, I was finding sections that I needed to repeat multiple times before I found the perfect combination of speed and air to clear obstacles and stick the landing. It gave me horror flashbacks to the Mine Cart Carnage level in Donkey Kong Country on the SNES – in a good way. Crossing the finish line only becomes more difficult with the increasing repertoire of moves you unlock: lane changes, wallrides, grabs, spins and manuals, among others.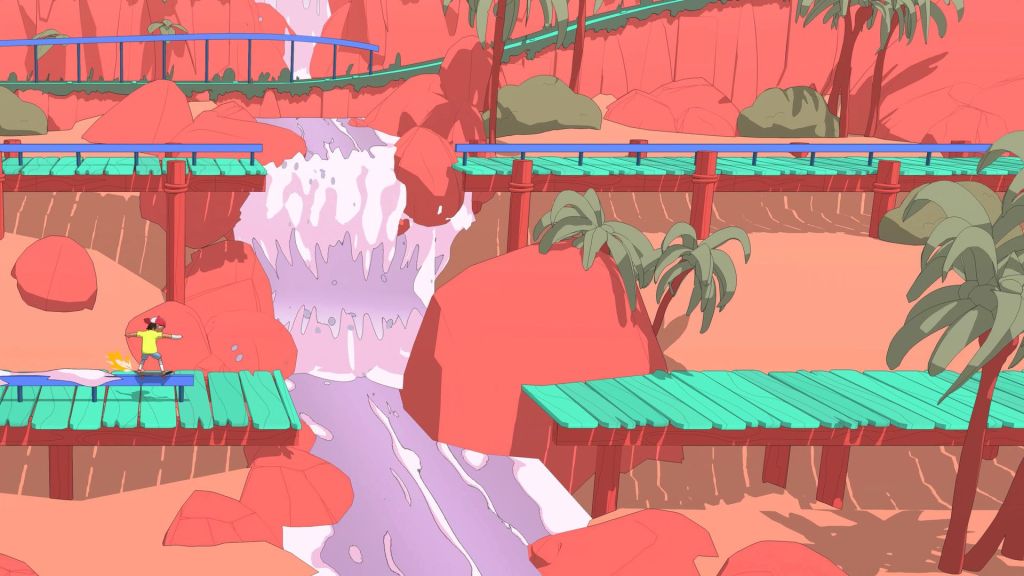 It's frustrating when you fail, but you're dropped back into the action immediately. If you're a perfectionist like me, you may find that you're less likely to beat yourself up for your mistakes because the game encourages you to jump straight back in and have another go.
Though the game doesn't have traditional difficulty levels, you do have some control over your level of challenge – you only need to cross the finish line to clear a level, so doing the bare minimum is always an option. Conversely, you can add a bit of trickiness and replayability by completing all of Mike's optional assignments, or aim to complete the level in a single run without Chiffon's checkpoints. It's an intuitive approach to difficulty, and there is a genuine sense of achievement when you finally beat a level and are rewarded with new gear for your efforts.
The difficulty ramp throughout OlliOlli World feels well-planned, too – whether it's due to an increasingly gruelling series of jumps, or the careful movement of the camera to prevent you from planning too far ahead. At times, it does feel like you're fighting against an overcomplicated control-scheme, especially when the left stick is doing all the heavy lifting – being used in quick succession to jump, trick, grind and wallride. There's certainly a high degree of challenge to be found in OlliOlli World, but it's up to you and how hard you want to push yourself, which is a great approach.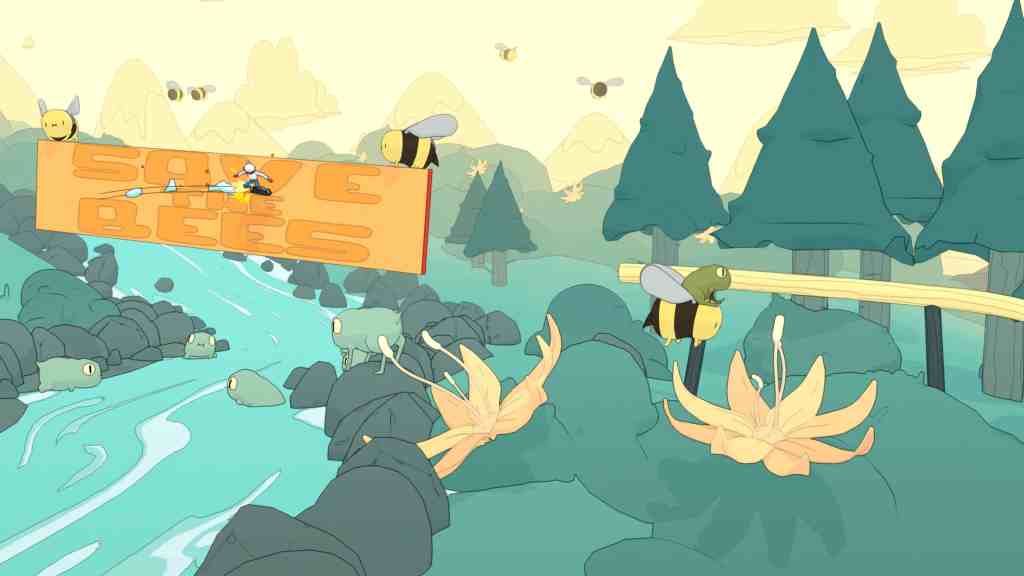 My experience of OlliOlli World came in two modes: relaxation and flow during the earlier stages, followed by patience and determination as I edged my way through the last two districts. The game takes practice, but I surprised myself with what I was able to achieve when I kept trying, and I revelled in my victories.
As I reached the end of my journey, reflecting on what I had learned, one of the Skate Godz put my feelings into words: 'the true skate of mind is not about winning. It's about pushing yourself within your own limits … making friends and cheering each other on … and mostly it's about FUN!'.
OlliOlli World embodies that positive attitude with its vibrant world and encouraging approach to its challenges. After finishing it, I immediately found myself getting pangs of nostalgia, pining to revisit Radlandia. Time to hit those side quests!
Five stars: ★★★★★
OlliOlli World
Platforms: Playstation 4, Playstation 5, Xbox One, Xbox Series S|X, Nintendo Switch, PC
Developer: Roll7
Publisher: Private Division
Release Date: 8 February 2022
The PlayStation 4 version of OlliOlli World was provided and played for the purposes of this review.