It's a question that anyone who has looked at a pair of headphones has asked themselves: what benefits does a top-of-the-line model actually give? When the basics of what you want out of an audio experience – great sound – is offered in the entry and mid-range models of your favourite manufacturer, you start looking at the increases in price tag and wonder what you get for all those extra dollars.
Take SteelSeries for example, a hardware manufacturer whose Arctis line of PC and console gaming headsets have attracted awards and kudos from various gaming and tech publications for years, across the whole range. Why should you even consider the high-end Arctis Nova Pro when the entry-level Arctis 1 is also a great-sounding product?
The answer is that it's all about the fine details, and the bumps in quality that you only begin to really appreciate once you've spent long enough with them – things that you miss when they're not there anymore. It's also about the feeling of getting a best-in-class, premium experience – especially when you expect to be wearing them for hours on end, day after day, whether you're working or playing.
The big thing for the Arctis Nova Pro line, of course, is top-of-the-line audio drivers, which not only boast almost twice the supported frequency response range of the mid and entry-level Arctis models, but also sport the prestige of being Hi-Res Audio Certified. This means the headsets have the ability to play back lossless audio, and to confidently handle the full sonic range that it demands – sound at its purest form. We can say this from experience: once you've experienced Hi-Res Audio, it's very difficult to go back.
To help drive a clear audio signal out of your PC or console, and to make sure as little interference is introduced as possible, both the wired and wireless versions of the Arctis Nova Pro come with a sleek little pre-amp, which features an OLED screen, and a satisfying dial – nice, premium touches.
The amp also provides an understated, but incredibly convenient feature, in the form of two USB inputs. You can, for example, connect the headset to both your PC and console simultaneously, and simply switch inputs via the amp. The amps that come with the 'X' variants of the Arctis Nova Pro for the Xbox Series X/S, have a port designated specifically for the console, so while there is a small trade-off in those models, you effectively get a headset that works on every platform.
In the same vein, the wireless version of the Arctis Nova Pro also supports simultaneous connections with a 2.4GHz wireless connection – the gold standard for low-latency audio in gaming headsets – as well as a Bluetooth connection. This means you can receive audio from your phone for calls, music, or podcasts while you use your console or PC, creating a multi-use device. Essentially, you never have to fiddle with your audio settings again.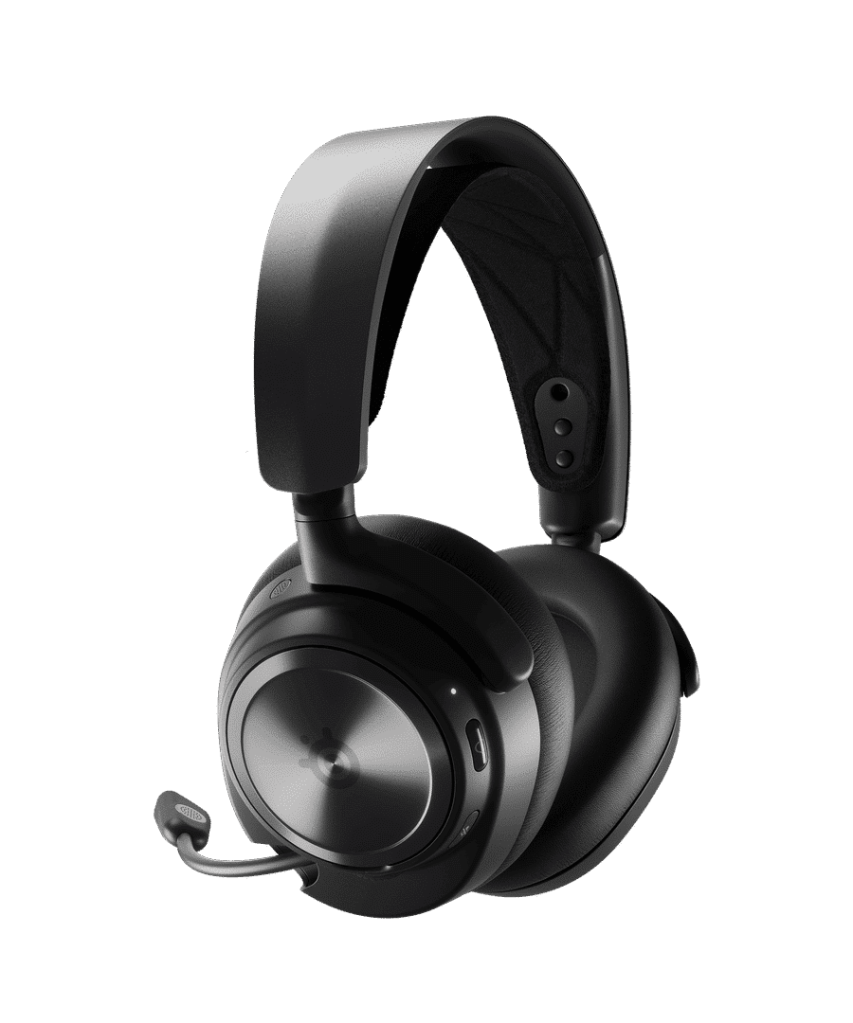 The Nova Pro Wireless also features a growing must-have in headphones: Active Noise Cancellation, which is necessary when you're trying to create an environment of complete immersion. That's especially true while playing demanding games – cooling fans on modern PCs and consoles can sometimes get catastrophically loud, destroying your gaming ambience.
The Nova Pro's dual battery on the wireless version, dubbed 'Wireless infinity', is also an exceptionally handy feature. While one battery powers the headset, providing up to 22 hours of usage (18 hours if using dual audio), the other will sit charging in the amp, ready to swap in when needed. A very sleek, retractable microphone on both wired and wireless models round out the laundry list of luxuries on the Nova Pro line, adding to the headset's premium feel.
Of course, to really make the most of the inherent technical capabilities of a high-end headset, your sound source needs to be to make the most of it, too. That's where SteelSeries Sonar, the company's proprietary audio software suite, comes in as a vital co-pilot. It works with all Arctis headsets, but it really shines with the inherent capabilities of the Arctis Nova Pro.
What Sonar does is open up several avenues to take the sound coming from your games, and customise the audio frequency profile that's being sent to your headset. Using a parametric equaliser, you can adjust the discrete volumes of the entire audio frequency range, meaning you have the capability to make important sounds more obvious, and push less vital ones into the background.
Combined with the software's ability for 360-degree spatial audio, this has the potential to give you an advantage in competitive games, especially of the first-person shooter variety. Not only can you hear where an opponent may be coming from, and accurately understand where they're positioned from your current location, but in certain games you can set Sonar to accentuate sounds that let you know what surfaces they're walking on, if they're in the middle of reloading, and what kind of loadout they might be handling.
Of course, all of this requires some nuance and know-how, which can be very, very daunting if you're not particularly savvy with audio. Thankfully, Sonar already comes with several hand-tweaked presets for popular competitive games for you to start with – Fortnite, Apex Legends, Valorant, Counter-Strike GO, Call of Duty, to name a few. You can then tailor these settings to your liking, once you've gotten a comfortable feel for things.
What's more, Sonar lets you utilise separate equaliser profiles for both game sound and voice chat – an important and very useful distinction. And yes, you can also create the perfect audio equaliser profile for different genres of music and movies as well.
Sonar also works with any other headset that might be connected to your computer via USB or 3.5mm jack, but some of its features will only work on SteelSeries brand headsets – like the very useful AI-enhanced microphone noise cancellation.
Sonar is bundled free as part of the SteelSeries GG suite, which includes Moments, a gameplay capturing software, Engine, which powers the RGB lighting, macro customisation and fine tuning of SteelSeries accessories, and Prism, which syncs lighting affects across all SteelSeries devices you might own.
When it comes to picking the right headset, it's all about finding the product that suits your budget and practical use cases. But like most things in your life, if it's something you're frequently using for hours and hours on end, then sometimes splashing out a little more can afford you an overall much better experience, and provide tangible benefits alongside a better quality of life experience.
Also, it's always nice to treat yourself.
The SteelSeries Arctis Nova Pro and Nova Pro Wireless currently retail for AU $565 and AU $735 respectively. 
SteelSeries also offers a wide range of Arctis headset models for every budget.