Xbox is beginning to roll out a new update to the shutdown state of Xbox Series X and Series S consoles, whereby the devices will only initiate automatic maintenance routines during periods when the electricity they draw from the power grid is more likely to come from renewable sources.
The goal, Xbox says, is to try to decrease the carbon footprint of these consoles, as well as dependency on fossil fuels, and to save its users money on electricity.
How will it work?
The carbon-aware update will be applied to the Shutdown (energy saving) feature on Xbox consoles, and will be available for Xbox Insider testers initially, before being rolled out to other Xbox owners.
To use the feature, Series X/S consoles will need to be connected to the internet, and carbon intensity data must be available for the region it's being used in. A version of the carbon-aware feature is already present in Windows 11 PCs.
Read: Xbox shares sustainability update in new report
Currently, Xbox consoles have two options for their shutdown states: Sleep, which allows for a much faster boot-up time, allows you to wake up the console remotely, and allows for the automatic downloading and installation of software and updates as they become available.
The other is Shutdown (energy saving), which allows the console to automatically download and install updates. The new carbon-aware change means consoles will only initiate these processes when conditions are relatively sustainable. The Shutdown (energy saving) option is also being rolled out for Xbox One consoles.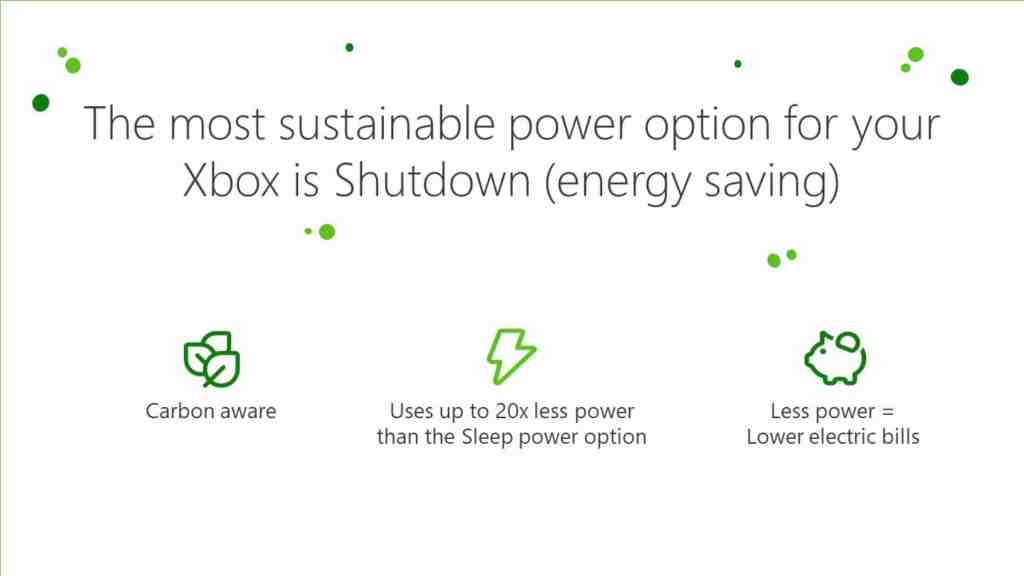 How effective will it supposedly be?
According to Xbox, the Shutdown (energy saving) option currently uses 0.5W of electricity, while the Sleep option uses 10-15W. The company estimates that for every 2 consoles that switch to Shutdown (energy saving) for one year, the amount of carbon removed is equal to that of planting a single tree, which is grown for a decade – calculated using the Greenhouse Gas Equivalencies tool.
While the company is obviously pushing more people to opt for Shutdown (energy saving) instead of Sleep, the best option to save energy when not using your console is, of course, to just unplug it entirely.
Is this a meaningful change?
Microsoft is currently among the most ambitious games-adjacent companies striving to make meaningful changes to its business operations when it comes to climate change and the carbon emissions of products, according to a recent report by environmental research and consultancy firm, AfterClimate.
Microsoft has stated that its goal is to be carbon negative, water positive, and zero waste by 2030.
In a comment provided to GamesHub regarding the carbon aware update, Dr Ben Abraham, founder of AfterClimate, remarked that 'how meaningful of a step it is depends on how it is implemented and its performance in the real world.'
'Given the sheer number of players, even small avoided emissions quickly adds up to substantial savings. But there may also be player behaviours and expectations that find the new system uncomfortable or takes some adjusting to if it introduces delays or inconveniences – hopefully not, and this becomes just one aspect of a broader range of attitude shifts that gamers are willing to accept in the name of saving the planet.'
When quizzed about the effectiveness of carbon-aware energy usage in other real-world circumstances, Abraham said that the principle of shifting of energy loads into periods of high renewable usage was 'a sound one' and 'has been proven in other parts of the economy to reduce and avoid emissions.'
He gave the following example: 'In Australia, this means using power when we have excess solar in the middle of the day – in other countries (like the UK) it might mean shifting to the middle of the night when there are few other loads and offshore wind is blowing.'
'Automating the process so that it becomes the default behaviour is a good way to add responsiveness to power systems around the world, which is a big part of every major country's net zero planning. This is just the first example of what is likely to become a more common practice, involving scheduling energy consumption in the near future.'
'In my book [Digital Games After Climate Change], I highlighted this shifting of loads to times with lower emissions as one part of the solution to games emissions. Delaying or shifting downloads and system updates is a relatively small inconvenience with potential to add up over time.'
For more insights on the environmental impact of the video game industry, subscribe to the AfterClimate newsletter, Greening the Games Industry.
More about Xbox's Climate Aware update can be found on Xbox Wire.