The Sims 4 is getting two brand new kits, in the form of Moonlight Chic and Little Campers. Both DLCs are themed around night-time activities as EA continues its push to liven up the game's nightlife. The kits launch Thursday, 26 May, and add in a number of fresh items and accessories for your Sims.
Moonlight Chic will offer a range of new outfits, including 'slinky dresses, flowing shirts and smart jackets' which can be paired with sneakers for a 'casual fun' look, or something a bit more formal for those really spicy dates. It appears this is a fashion-focussed kit only, so don't expect anything meaty here.
The Little Campers Kit also sticks to the night-time theme, but this one has a more activity and decor-based focus. It will provide a number of new decorations in the form of camping gear and fairy lights, and will also allow kids to build blanket forts in the shape of cars or rockets, and hold their own outdoor movie nights with an overhead projector.
'Let the kids take over the back yard with cute furniture, playful camping gear, and toys. Create childhood memories roasting marshmallows with your stuffed sasquatch pal in the glow of a million string lights,' the kit's official description reads.
Given the childish nature of the forts and accessories included, it looks like the items in this pack will only be available for kids.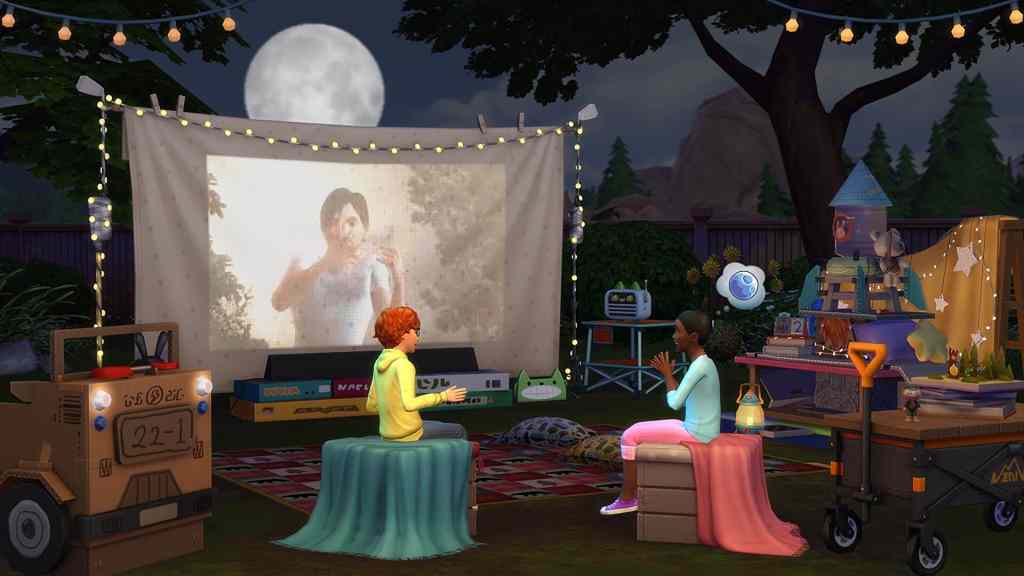 Read: The Sims 4: Modern Menswear could be the future of fashion
Not included in the announcement for the two DLC kits is word of the 'wild' new game pack set to launch for The Sims 4 sometime in June. Early speculation for this pack, which was teased by EA earlier in the month, is that it will finally reintroduce the 'werewolf' life state back into the game.
Werewolves have been a staple of The Sims since The Sims 2: Pets launched in 2006 – but the latest iteration of the game has been missing these furry friends for years. While EA is yet to confirm the nature of the upcoming game pack, which will round out the new trilogy of night-themed content, there's plenty of reasons to hope for the return of the beloved lycanthropes.
The Sims 4: Moonlight Chic and The Sims 4: Little Campers kits launch for PC, Mac and console on 26 May 2022. We can expect to hear more about the next Sims game pack in early June.