The first major DLC expansion for Sonic Frontiers has been dated, with keen players now able to mark their calendars for 23 March 2023. The incoming update is free for everyone, and will introduce a handful of new features to the game – including new challenges, a photo mode, and toe-tapping jukebox.
This jukebox mode will include 53 music tracks from Sonic the Hedgehog history, with the first 13 tracks being instant unlocks. The rest of the songs will need to be found on each of the game's main islands, with 40 new 'Sound Memories' available to collect as you roam free.
So far, the track list includes:
'Reach for the Stars' – Sonic Colors Ultimate
'Seaside Hill' – Sonic Heroes
'Deep Woods' – Sonic and the Black Knights
'Wave Ocean' – Sonic the Hedgehog
'Sand Ocean' – Sonic and the Secret Rings
'Emerald Coast – Act 2' – Sonic Generations
'Open Your Heart' – Sonic Adventure
'Live & Learn' – Sonic Adventure 2
While the jukebox mode on its own isn't particularly exciting, having to actually collect the songs makes for a neat twist – and should keep players well-occupied.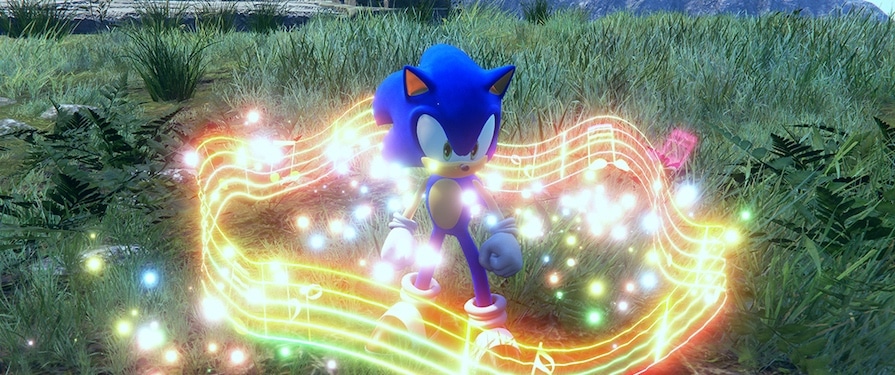 If that isn't enough, they'll also be able to spend their time snapping new pictures and creating memories with the game's debuting photo mode. This will allow players to pause the action, stick on some filters and special graphics, and make a colourful scrapbook of their time with Sonic.
Finally, two new Challenge Modes are also included with this free update. Both will be accessible after completing the game's main story, with players encouraged to jump in for added challenge. The new Cyber Space Challenge will task players with romping through multiple stages, competing against a clock. Meanwhile, the all-new Battle Rush is a timed battle mode where Sonic will fight waves of enemies, Guardians, and Titans.
This free update will be followed by two more DLC packs. The second is dated for Sonic's birthday (23 June) – and will introduce new collectible Koco creatures, and an Open Zone Challenge, as well as some form of celebration for Sonic's birthday. The third Sonic Frontiers DLC expansion will introduce new playable characters – Knuckles, Tails, and Amy – and a mystery story.
For now, players can look forward to enjoying more adventures in Sonic Frontiers when the game's first DLC expansion launches on 23 March 2023.